[video src="https://gfycat.com/joyousgravedegu"]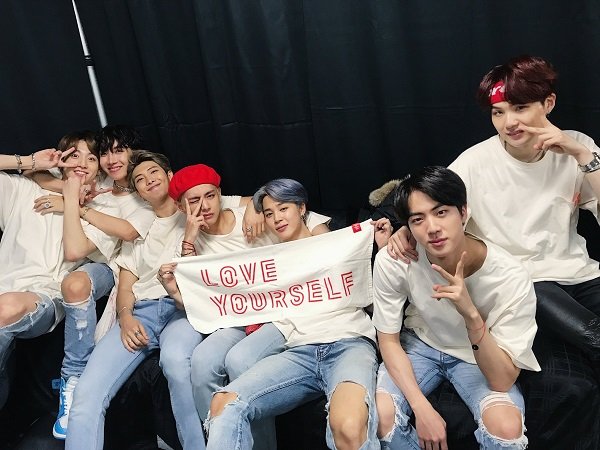 "Please, ARMY, remember what we say: love myself, love yourself."
It all started at the T-Mobile Arena in Las Vegas on May 21, 2017 when BTS attended the Billboard Music Awards for the first time — they surprised the whole industry by winning Top Social Artist, dethroning Justin Bieber who held the title for six years in a row. The Korean group's leader RM (also known as Kim Namjoon) accepted their award not only by thanking their fans but by reminding them to love themselves.
The statement was more than a cheeky foreshadow of the Love Yourself series, an album trilogy that BTS launched on Sept. 18, 2017 and wrapped up on August 24th of the following year. It paved the way for a two-year partnership with the United Nations Children's Fund (UNICEF), an anti-violence campaign called Love Myself, which sponsors UNICEF's #ENDviolence program.
Highlighting the Importance of Self-Love
"I live so I love," RM declares through a solo song called Trivia 承 : Love.
BTS is a fan of trilogies.
When they debuted in 2013, they presented the "School Trilogy," which revolved around the challenges that students commonly face. As the members of the group grew older, they moved on to the "Youth Trilogy" in 2015, which is basically a coming-of-age story told through songs.
The "Love Yourself" trilogy followed in 2017. The group introduced us to the Carl Jung-inspired "Map of the Soul" trilogy this 2019, but the Love Yourself era still remains relevant today. This is mostly due to the fact that the songs on the "Love Yourself" albums spoke of self-love and acceptance, which many people struggle with. But it is also because of the success of the Love Myself campaign with UNICEF.
BTS wants children and teens to grow up with love and dream of a healthy future. So they launched the campaign to promote the true meaning of love and lend a helping hand to victims of violence. They are donating income from physical album sales of the "Love Yourself" trilogy, along with income from two batches of Love Myself merchandise, to the cause. And as of April 30, 2019, the campaign has accumulated a total of 2,400,000,000 KRW or approximately 2 million USD.
Weaving Self-Care and Compassion into Music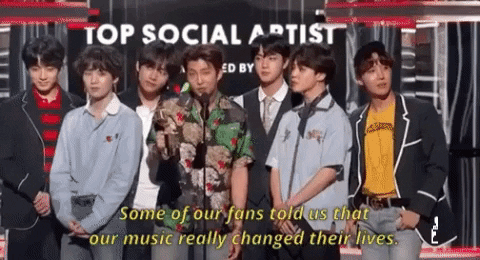 "You've shown me I have reasons I should love myself," BTS sings as tribute to their ARMY.
BTS never shies away from socially relevant concerns like mental health and bullying. They weave these issues seamlessly into their songs particularly because they, too, can relate. Even as a group, they have faced a lot of insecurities and bullying before establishing themselves as a force to be reckoned with.
The first few years after debut were particularly harsh on Bangtan boys. Their agency was on the brink of bankruptcy; they weren't satisfied with the album sales they were generating. But the group remained undeterred by everything that seemed to be telling them they would fail. They managed to stay afloat, turning a bone-dry desert into a bountiful sea, because of the love and support of their fans.
They know their impact on millions of people all around the world so they give back through songs like:
"Two! Three! (Hoping For More Good Days)"
On this song, BTS tells us that life isn't perfect and that we cannot avoid hardships. Struggles and sadness are important in our self-development, and we'll make it through them.
Often alluded to the 2014 Sewol Ferry tragedy, which took the lives of almost 300 students on a field trip, the emotional track explores the feeling of missing a loved one who has passed.
This heartwarming song reminds us that everyone gets tired and scared. But inside our hearts, there will always be  a "magic shop" that turns sadness and pain into warmth and comfort.
As a salute to the ancient Greek philosophy of microcosm, this song marvels at the limitless potential that each person possesses. It is a reminder to shine our unique light on the world.
These songs provide comfort and strength to people who face different challenges in life. But perhaps the most powerful song that BTS has released to date is "Answer: Love Myself." This song, which expresses the importance of accepting yourself wholeheartedly regardless of your mistakes and wrongdoings, wraps up the Love Yourself trilogy and moves us to the next phase of the Love Myself campaign.
BTS used Answer: Love Myself in a special video they launched on International Friendship Day (July 30, 2019) through UNICEF's online platforms. Check out the video below:
Using Their Platform and Experiences to Promote Respect and Kindness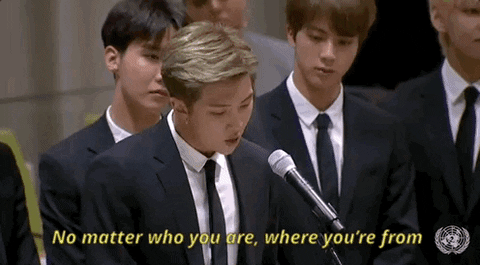 "What is your name? Speak yourself," BTS leader Kim Namjoon urges us.
The video that BTS and UNICEF released on International Friendship Day as part of the #ENDviolence program had a clear message — young people might suffer from bullying at the hands of their peers, but they can heal through music and friendship. But there are always two sides to every coin.
What makes the recent development in the Love Myself campaign so interesting is the idea that violence and bullying don't stop if we simply call them out. We have to dig deeper and understand that people might do the things they do because of the lack of love, respect, and kindness in their lives.
BTS acknowledges the importance of comforting victims of bullying and violence. But the group also acknowledges the importance of understanding the reasons behind these incidents.
The unexpectedly consoling music of BTS tells people there is someone who understands what you are feeling and that they are rooting for you. Complementing this, the UNICEF partnership as a whole speaks to both sides of the coin, saying that you have to be respectful and kind and understanding to help end violence. And for that to happen, each individual must first learn how to love, accept, and speak yourself.
A year into the Love Myself campaign, the group was invited to speak at the UN General Assembly (UNGA) where they dug further into the #ENDviolence program and launched the Youth 2030 strategy.
Take some time to absorb RM's message to the youth at UNGA's 73rd session in September 2018:
The group's leader delivered the moving Speak Yourself message, which serves as a reminder of our freedom of speech. It served as a gentle encouragement to be ourselves regardless of any social constructs and constraints. And how does this connect to the overall anti-bullying initiative?
Trauma isn't something we can easily recover from. Not everyone recovers from trauma, whether it is school bullying or domestic violence. But the Bangtan boys tell us we are bigger than that trauma. The Speak Yourself message urges us to take baby steps by acknowledging that we have a voice and that, regardless of how impossible it seems, there are people who will listen to and support us
All it takes is the courage to use our voice and accept ourselves wholeheartedly — the UNGA speech is a prime example wherein RM acknowledges that his faults and fears are part of him and that he embraces those factors completely because they make up who he is today.
That being said, violence and bullying don't end when we encourage each other to be kind and respectful to everyone. BTS reminds us that we must first respect our past and be kind to ourselves if we want to contribute to a safer and more positive world.
Where Do We Go from Here?
In terms of the Love Myself campaign, only BTS knows the answer. But they do have one reminder: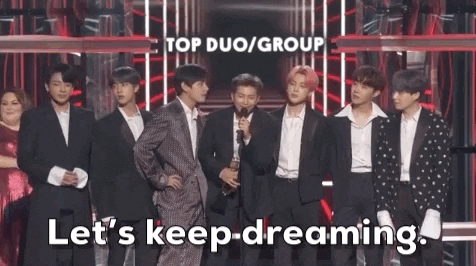 The seven young men share the same dream of making music and creating content that promote self-love, respect, and kindness. They still have a lot to learn and many more things to achieve. But little by little, through their socially relevant lyrics and their UNICEF partnership, they are achieving their dreams by proving that true success starts with holding each other up, not pulling others down.
Let's keep dreaming the best dreams for the world. More than that, we must actively cooperate in creating a safe space and positive place for everyone. We have a long way to go, yes, but don't feel discouraged.
Worldwide changes start with each of us. It starts by knowing, accepting, and embracing ourselves.
"No matter who you are, where you're from, your skin color, your gender identity — just speak yourself," says Kim Namjoon, also known as RM of BTS. So tell us, what's your story?