Marian Bartolome
Marian is an interior designer turned freelance writer who loves…
Southeast Asia has long been a favorite destination of many a world traveler, especially those hailing from the western part of the globe. To them, the tropical climes and abundance of beaches are a welcome change, and the prices are unbeatable. If you want to get the most bang for your buck, Southeast Asia's definitely the place to be.
We may be well familiar with the sweltering heat of the sun and the fine white-sand beaches that we often end up comparing to our own, but there's no doubt that our neighboring countries offer plenty of attractions to us Filipinos as well. Aside from their cheap buys and delicious eats, they boast of colorful histories and rich traditions that are reflected in their religious structures.
Southeast Asia is home to dozens of magnificent temples, and we've listed just a few of our favorites among those we've been to. Who said you had to get a visa to experience some really cool and exotic sights?
1. Angkor Wat, Siem Reap, Cambodia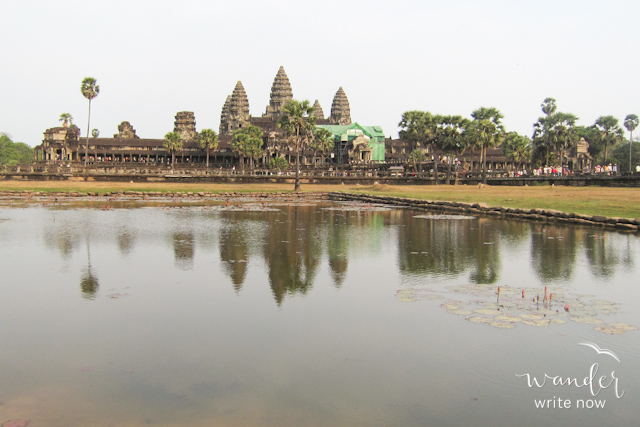 This here's the granddaddy of Buddhist temples. Funnily enough, it was originally constructed as a Hindu temple, which is why it follows the temple-mountain form of Mount Meru. Known as the world's largest religious monument, Angkor Wat and its towers, bas reliefs, and apsaras are spectacular at any time of the day, but they're especially mystical when seen during the first light of dawn. Come early to stake out a good spot, and don't forget to bring your flashlight and scarf!
2. Bayon, Siem Reap, Cambodia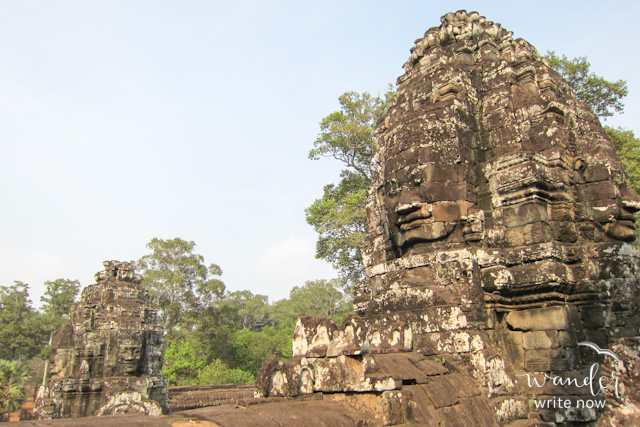 While you're in Siem Reap, you shouldn't miss out on the serene smiling faces of Bayon Temple. More than thirty of its towers still stand today, each of them adorned by two to four carved faces. Try to count them all and compare your tally with your friends'. Then enjoy taking "framed" pictures with its many doorways and windows, and capture your own "temple run" shot at the outdoor gallery.
3. Banteay Srei, Siam Reap, Cambodia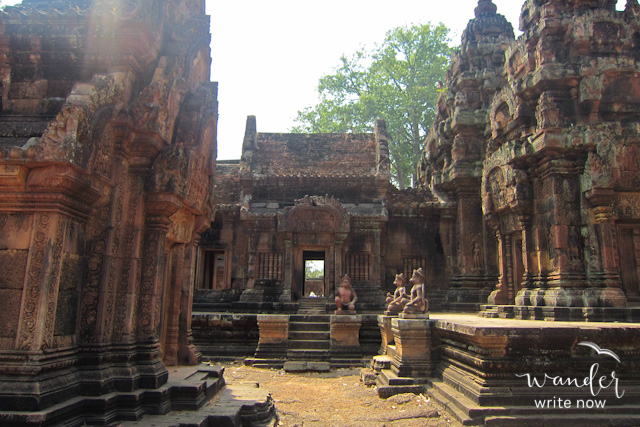 Banteay Srei is quite far from the main temple complexes of Angkor Archaeological Park, but it makes for a remarkable trip. As small as this Citadel of Women is compared to others, its intricate carvings in pink sandstone leave a great impression. This temple's definitely a beaut and well-deserving of its status as a UNESCO World Heritage Site along with its Angkor neighbors.
Other must-see temples in Cambodia: Ta Prohm in Angkor, Siem Reap, and Preah Vihear Temple in the Preah Vihear province
4. Wat Phra Kaew, Bangkok, Thailand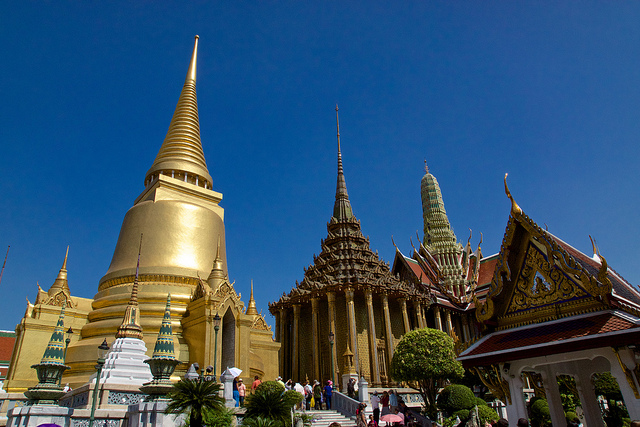 From Cambodia, cross the border into Thailand. Its capital, Bangkok, is known for its Grand Palace, which is also home to Wat Phra Kaew—literally the Temple of the Emerald Buddha—the country's most important Buddhist temple. Here, you'll find no lack of color or ornamentation from its bright tiles and mosaic inlays to its gleaming gilded motifs and the jade statue of the Emerald Buddha himself.
[crp]
5. Wat Mahathat, Ayutthaya, Thailand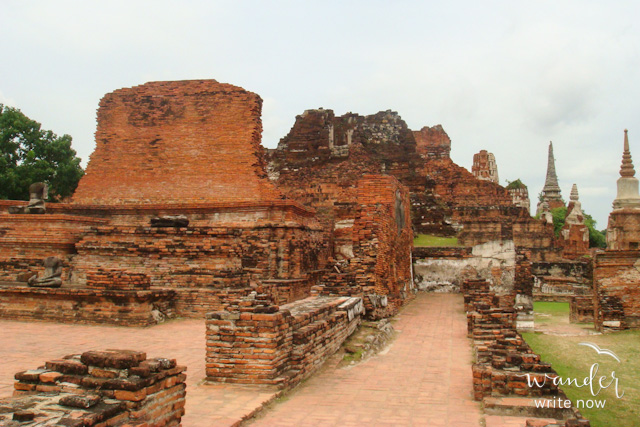 Like Angkor, the entire city of Ayutthaya is recognized as a UNESCO World Heritage Site. Just a short drive from Bangkok, this served as the second capital of the Kingdom of Siam and a flourishing center for trade. Though left in ruins, Ayutthaya's temples still evoke awe, including the grand Wat Phra Si Sanphet and Wat Phra Mahathat (shown above). During your visit, spot the Buddha head resting among the roots of what is known as a holy tree.
Other must-see temples in Thailand: Wat Rong Khun in Chiang Rai, and Wat Phra That Doi Suthep in Chiang Mai
6. Batu Caves temple complex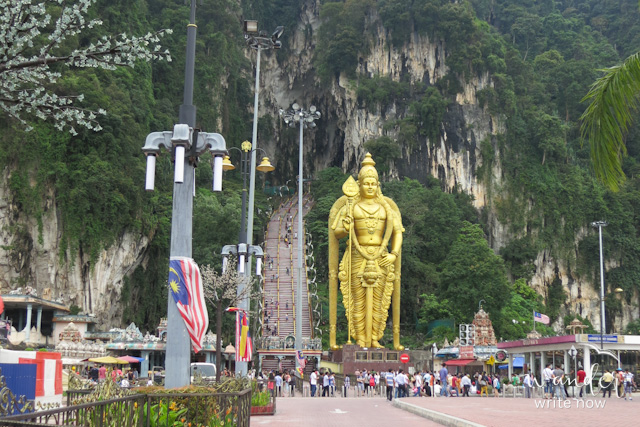 South of Thailand, Malaysia's Batu Caves draw pilgrims and tourists alike for a quick jaunt from Kuala Lumpur. This limestone hill is marked with a towering gilded statue of the Hindu deity Murugan. Inside, the Temple Cave makes for a unique experience with its soaring ceiling, dim lighting, and cool atmosphere, and it's even more memorable thanks to the journey up its 272 steps. Throw in some monkey encounters and the sweeping view from the top, and it's one temple visit for the books.
Other must-see temples in Malaysia: Sri Mahamariamman Temple in Kuala Lumpur
7. Borobudur, Magelang, Indonesia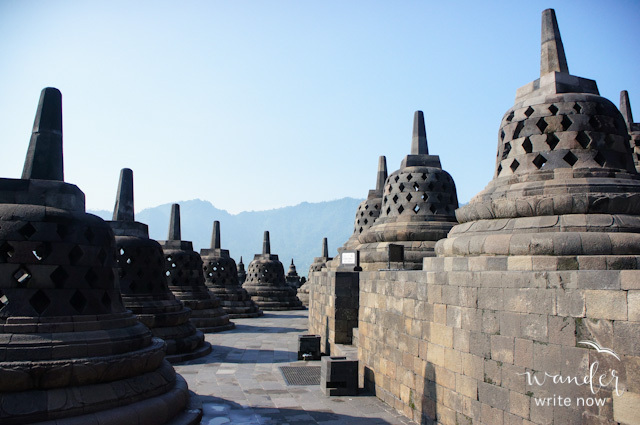 If the Batu Cave Temples are housed within a hill, Indonesia's Borobudur takes it one step further by actually being built around a hill. This Buddhist temple is even older than Angkor Wat and is considered the world's single largest Buddhist temple, as opposed to Angkor Wat's grand complex of temples. Borobudur is one structure that grows more astounding as you come closer to it and explore each of its levels. Experience tranquility as you emerge on its topmost platforms lined with these huge stupas. Each of these originally held a Buddha statue, but only a few are intact today.
8. Prambanan, Central Java, Indonesia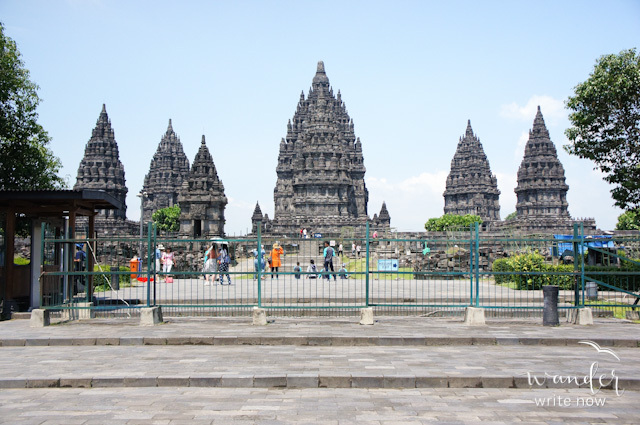 Last, but far from the least, is Borobudur's Hindu neighbor, Prambanan. This temple complex is the largest of its kind in Indonesia, housing more than 200 temples of varying sizes. Most of these are left in rubble, but its eight main temples have been reconstructed to give us an idea of its original grandeur. At its center are the three temples dedicated to the Hindu deities Shiva, Vishnu, and Brahma. Climb up their stairs to see the statues housed in their hallowed chambers. Interestingly enough, you'll find smaller temples devoted to each of the deities' vahanas or animal vehicles—Shiva's bull, Vishnu's kite, and Brahma's swan.
Other must-see temples in Indonesia: Pura Besakih and Pura Tanah Lot in Bali 
Marian Bartolome
Marian is an interior designer turned freelance writer who loves exploring the world on her feet and through her Kindle. Her favorite things to write about? Travel, lifestyle, coffee, and happily ever afters.