Pia Rojas
Pia Rojas has been writing about fashion, beauty, and health…
When it comes to picking out swimwear—or any outfit for that matter—you probably already know how to shop your shape. But what happens when you can't pin down your body type?
For example, you may be bottom heavy but still need to camouflage a tummy. What if you want to elongate your legs while minimizing broad shoulders? Or are you busty with a paunch? For those of us whose body type can't be pinned down, swimsuit shopping can be a difficult and frustrating experience. Which is why we came up with a few tips to help you easily find the best swimwear style for you. Behold! Our guide to help you dress up each body part so you can look great from head to toe.
If you have broad shoulders
Balance broad shoulders using asymmetric cuts like one-shoulder maillots. Or look for pieces with details that lead the eye away from the area you want to conceal by choosing flirty details that highlight the bust or bottom. Swimsuits with lines that sculpt the waist distract the eye towards more flattering curves. While padding your petite backside with pleats can draw the focus there. Finally, look for thick straps that cut your shoulders at a flattering angle—halter-tops and triangle tops also helps draw attention to the bust instead of the shoulders.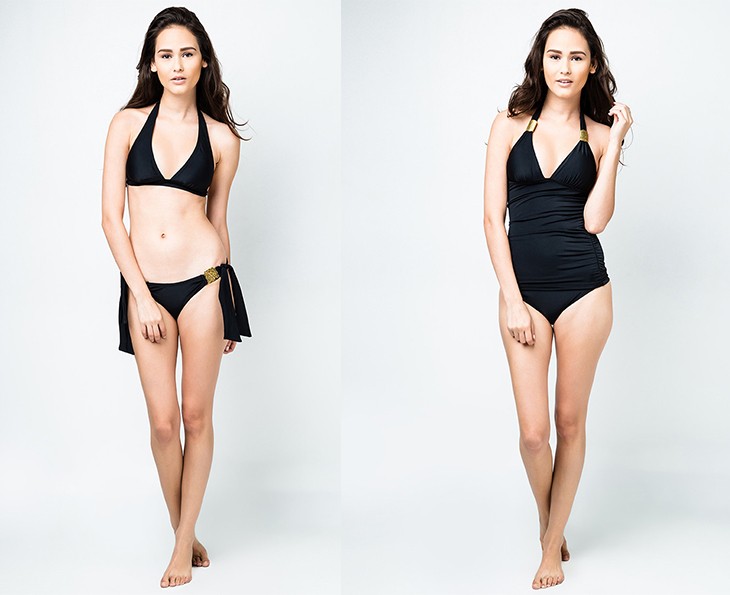 If you're busty
Your primary concern is to find the right support for your girls, so look for swimwear with underwire, support cups, and thick shoulder straps and chest bands. Of course, ample coverage, padding, and correct fit are essential for top-heavy ladies. Look for structured bra-type tops in a balconette or halter style to support your chest.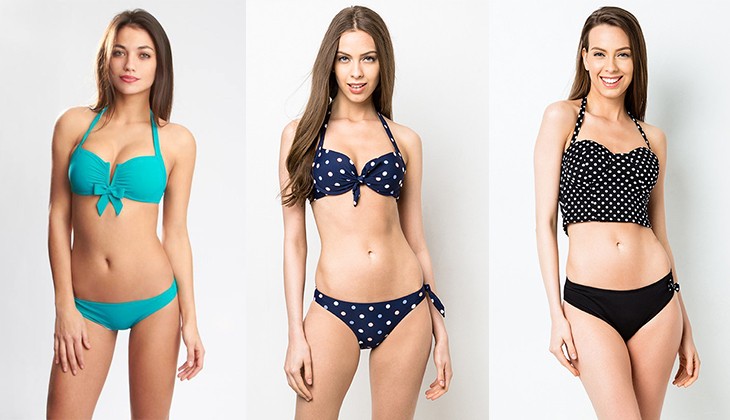 If you have a small chest
The most obvious choice for those who want to enhance a small bust would be to opt for padded tops. But you can also create an illusion of fullness by opting for tops with details like gatherings, ruchings, ruffles, and other embellishments in bright colors and prints. Bandeau tops can also help make the bust seem bigger—just choose one with busy details. Bikini tops that tie at the front pull the breasts closer to one another, making them look larger.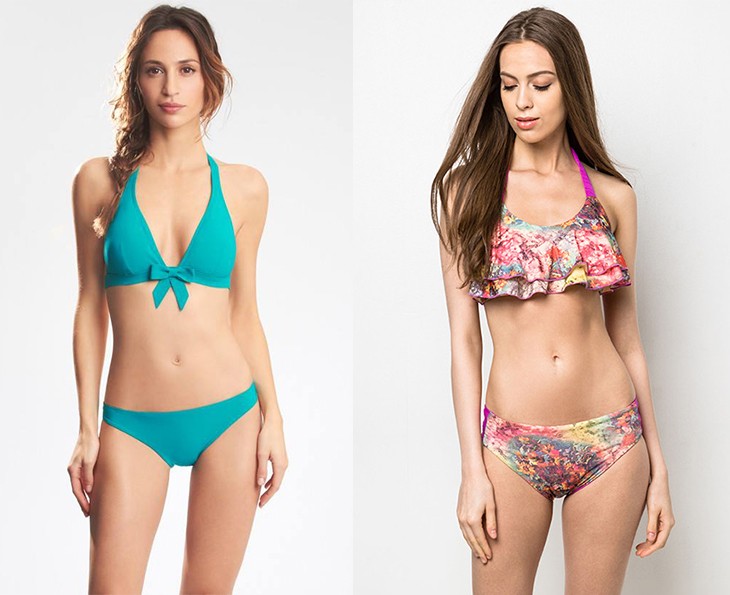 [crp]
If you're straight as a ruler
The trick here is to create curves where none exist. Choose bikinis with details like ruffles, ruching, and draping to enhance bust and butt. For example, a ruffled bikini top can help create the appearance of fullness up there while high-cut bottoms can show off the curve of your hips. One-piece suits with strategically placed color panels and illusion prints also create curves and add femininity to your figure. A halter string bikini can help you look shapelier—just choose one in floral prints, pastel hues, and other embellishments.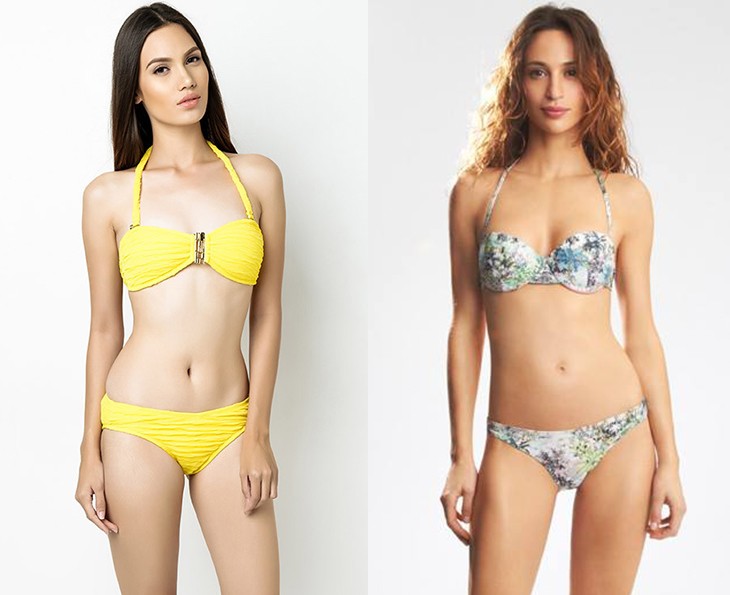 If you have a belly bulge
Trying to suck in that tummy? Look for swimsuits that have built-in tummy control, strategic draping and ruching, or curve-creating lines. A one-piece suit with shirred details over the stomach or all-over tiny prints can distract from a paunch. If you love bikinis, opt for a high-waist two-piece bikini or tankini. And remember—to hide something you don't like, use a dark solid color. To highlight a feature you like and draw the eye to it, use a bright color or pattern.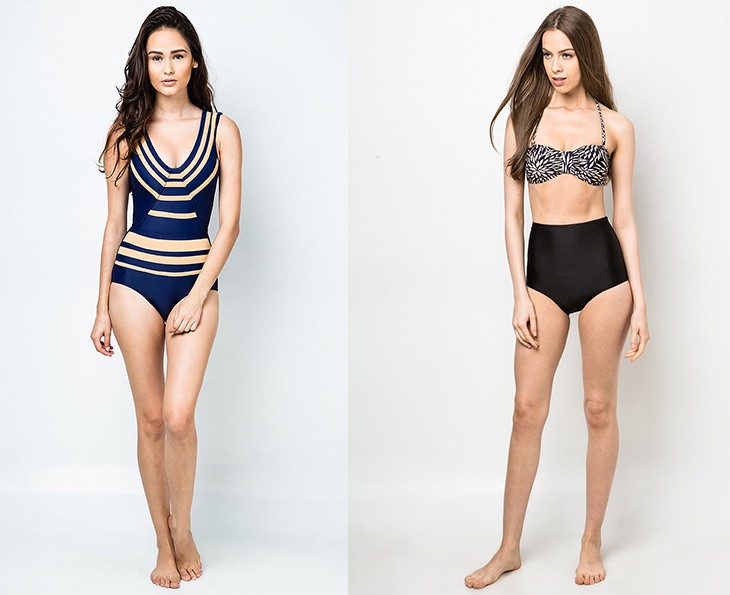 If you're bottom-heavy
If you have wide hips and a bootylicious butt and want to camouflage these, opt for high-waist or full-coverage briefs, hipsters, or boy shorts as well as matching bikini skirts. Choose your bottoms in solid colors and darker hues, which help minimize the appearance of a wide bottom. If thighs are your main concern, choose high-cut bikini bottoms to lengthen legs, making you look taller and balancing out your proportions. You can also camouflage hips and thighs by drawing the eye upwards with tops in brighter colors and loud prints.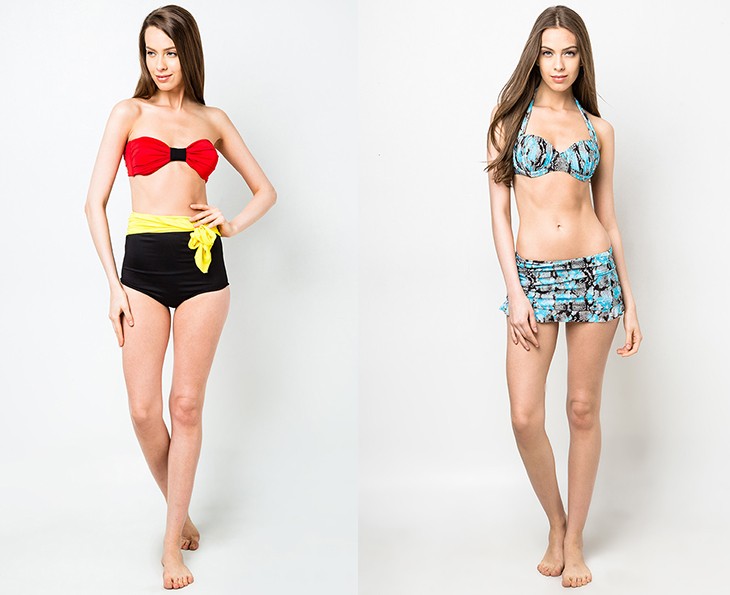 Pia Rojas
Pia Rojas has been writing about fashion, beauty, and health for 17 years. She's happily married with dog, and spends most of her time working and applying weird skin potions to her face.