Tash De Castro
Tash is often thinking of her next meal while palpitating…
Have you ever gone to the mall and tried on an outfit you saw a mannequin wear? It looks great on display, but you don't love the way it looks on you. This is a common frustration us women face, and it's not anyone's fault. It's just genetics.
Everyone has their own body types and it's really just a product of your genetics, starting from your height going all the way down to your shoe size. David Kibbe believes that each woman has the potential to look their best if they knew how to dress for their Kibbe body type, which is a body type classification according to one's natural curves and angles.
In this article, we talk about the 13 kibbe body types, how you can create a harmonious look for each one, and how you can determine yours!
What is the Kibbe Body Type?
In 1987, an image professional named David Kibbe, published his book that talked about the different body types of women.
Kibbe's style classifications are a body-positive philosophy that focuses on a person's natural lines and appearance. Different parts of your body are assessed according to their "Yin" and "Yang." Yin means that your features are feminine, which are soft and curved; while yang means that your features are masculine, meaning they're angular and sharp.
The different Kibbe body types are classified according to your bone structure, body flesh, facial bones, and facial flesh's yin and yang. Your body type is determined according to a lengthy test that goes through most of your physical features.
Dressing According to Your Body Type
The 13 Kibbe body types are classified into 5 main categories. Upon finishing the Kibbe body type test, you'll find out what yours is. But let's be honest, the wide variety of clothes available to us can be quite paralyzing so, it's still best if you had someone to copy in terms of looks. That's why we've listed down some tips and kibbe body type examples for you to get inspired!
Dramatic
Strong and lean, you have a powerful visage that's made for clothing that looks sharp, but simple. Think Megan Young and Alessandra de Rossi.
We suggest that you opt for dresses that can highlight your shoulders and keep your silhouette straight and clean.
Soft Dramatic
A sharpness in bone structure but softness in other parts of your body makes for a bold façade. Stick with clean silhouettes for your outfits with some waist accents. You can opt for fabrics that drape to accentuate your curves.
If you're feeling like you're in a slump on how to dress the part, peek at Iza Calzado or Pia Wurtzbach's many OOTDs to get inspired.
Natural
Your body isn't as sharp and angular as a dramatic's, but you've got your beautiful blunt edges to rest on. A celebrity that shares this body type is Anne Curtis, so it's best to take notes on the way she dresses for her affairs.
A good tip to have when rummaging through your wardrobe is to opt for relaxed and long clothing pieces for your body type.
Soft Natural
You've still got the long and blunt edges, but your features are softer than a regular natural body type. Create a harmonious look by using clothing that's relaxed and slightly flowy, just like how Angel Locsin dresses.
Flamboyant Natural
Tall with soft edges are words that best describe a flamboyant natural like you! Cool is an understatement and if you've ever wondered why baggy clothes look good on you even when you aren't trying, then you've got your answer here!
Stick with loose outfits with bold lines. Think Lisa from Blackpink, Catriona Gray, and KC Concepcion when you're trying to come up with outfits.
Classic
Symmetrical and in perfect balance between sharp and round, classic body types will look great wearing clothes that exude the same quality.
Classic cuts and neutral colors are your best bet when it comes to curating your outfits. Princess Grace Kelly of Monaco is an excellent example of this Kibbe body type.
Soft Classic
Just like my favorite Salazar sister, Bea Alonzo, you've got the grace and curves of a soft classic body type.
We suggest going for clothes that emphasize your waist with minimal design. You'll look great in anything, but just make sure to not over-embellish your look.
Dramatic Classic
While you may have the classic body type, you still have some cool, angular features. So, when you're thinking about how to dress for your kibbe type, you can take a page from Zoe Saldana and Solenn Heusaff's clean and structured silhouettes.
Gamine
A balance of curves and angles in different parts of your body means you're a gamine. Keep your outfits looking bold and sharp, while using loud colors, just like what Maine Mendoza and Carey Mulligan does.
Soft Gamine
You've got the tapered curves while exhibiting some sharpness. Soft gamines are known to look great in fitted and feminine outfits with vivid colors, like how Halle Berry and Jodi Sta. Maria does it.
Flamboyant Gamine
A combination of different curves and angles but leaning towards more masculine features is what a flamboyant gamine is. Keep your shape looking boxy by incorporating clothes with sharp corners into your outfit.
If you're ever stuck in a slump, you can get inspired by Audrey Hepburn's outfits throughout her many years as an icon.
Romantic
Queen of the Beyhive, Beyoncé, was pronounced to have a romantic body type by Kibbe himself. So, if you've got the curves like Yonce and Cheska Garcia-Kramer, then you'll look great in flowy but fit clothes that can emphasize your assets.
In fact, the inventor of the iconic wrap dress, Diane von Furstenberg, also has the romantic body type!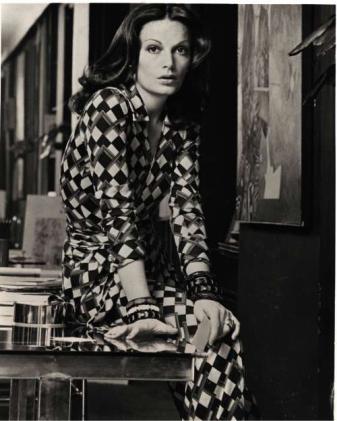 Theatrical Romantic
If you've got an hourglass figure with some sharpness, then it's best that you flaunt it off with bright fitted clothes. If you've ever adored the way Kim Kardashian, Rachel McAdams, and Marian Rivera dress then, we're glad to announce that you'll look great in them too!
How to Find Out What My Body Type Is?
If you still haven't gotten any idea about what your natural Kibbe body type is then, it's time to take the test!
Before you start on the test, we suggest that you take a photo of yourself while wearing form-fitting clothing. Put your arms to your sides, stand straight, and pose while waiting for your phone's camera timer to go off. Make sure to have your camera pointing at your mid-body for your reference photo.
Do you have your photo, piece of paper, and pen ready? Click here to find out what your body type is.
Dressing for my Body Type
Now that you've pored and obsessed over the Kibbe body type chart with me and you've gotten some great style inspos, it's time to walk the talk by confidently wearing clothes that empower you. Just be sure to remember that a harmonious image isn't just about the way you look, it's also about the way you feel.
Beauty starts from within and radiates outward.
Do you have any favorite outfits from when you dressed like your Kibbe type? Make sure to share it with us on Facebook!
Tash De Castro
Tash is often thinking of her next meal while palpitating over coffee. Legend has it that if you talk to her about food and bring her on a hike, you'll have her friendship forever.