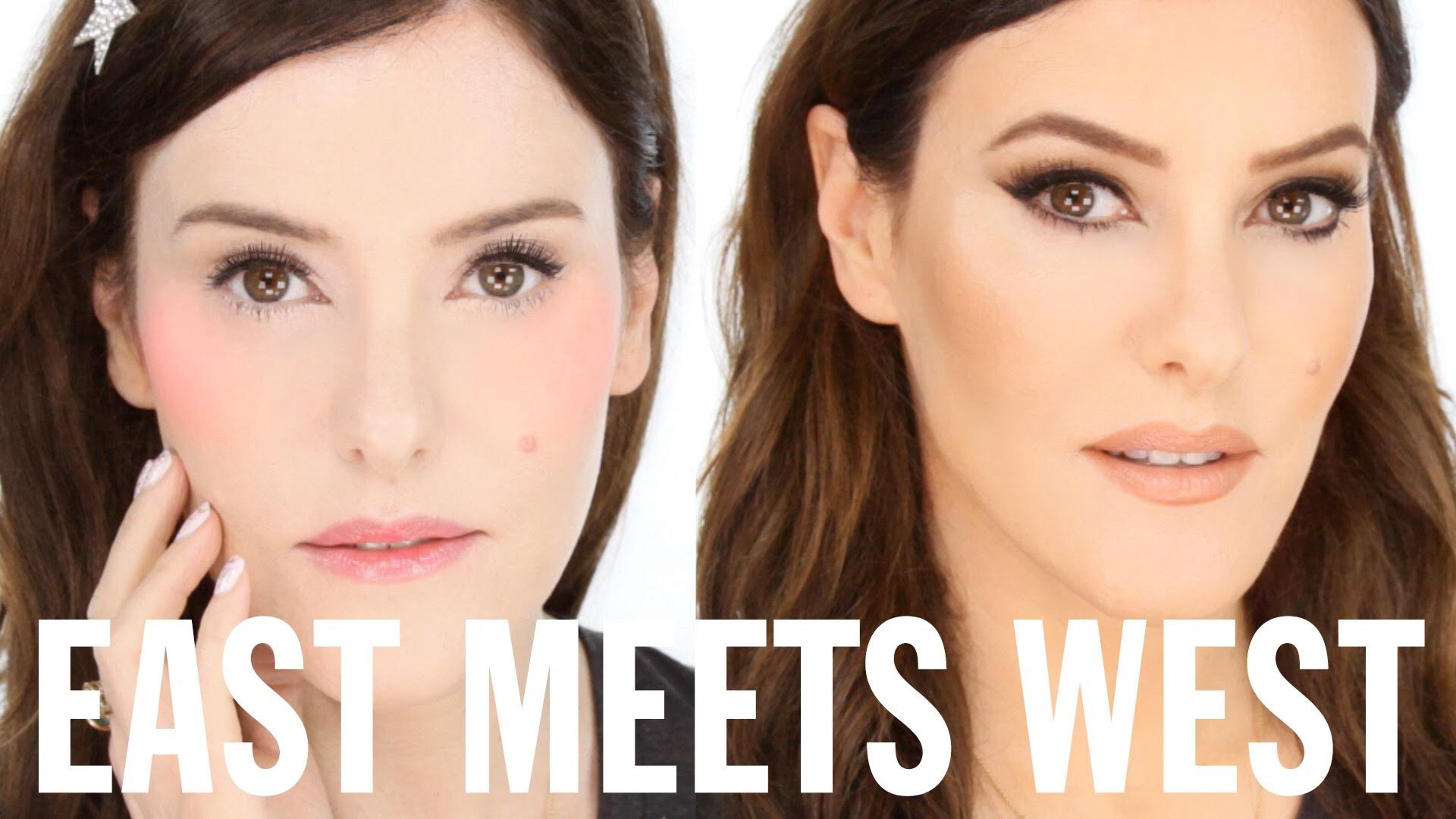 In my opinion, 2016 was THE year of makeup trends. I'm a lover of makeup so naturally, I stayed in the loop of what's hot and what's not. I came across alien terms that eventually made sense once I watched the YouTube videos: contouring, highlighting, strobing, baking, and the likes.
Out of all the commotion from the 2016 style books, however, one of the biggest realizations I made was the big difference between the East's (Korea) and West's (America) standard of beauty — according to makeup.
Apparently, Etude House's brand of pretty was different from NYX and MAC.
Hear me out: I'm not going to be biased. I'm a big fan of Korean dramas, which means I adore their dewy, no makeup look. But there was also a time I was deeply fascinated with Kylie Jenner's contoured and matte style (The ever evading Kylie Lip Kit has still not reached my turf, unfortunately).
Obviously, the two markets have different standards of beauty, which intrigue the interest of a number. But which style is the right one for you?
Have a look at the East Vs West standards below and see which one is your best bet:
Foundation
What The West Wants: In the US and other Western countries, people enjoy a tanned look. The sun-kissed style convinces more people to achieve the look through tanning. If it's not an option in their budget, makeup is their best bet.
When it comes to foundation, it's all about thicker and fuller coverages, as well as matte finishes. Most western women buy foundations a shade darker and come with very little (or no) SPF. Setting powder is essential for that matte finish.
East's Eager Picks: unlike their Western neighbors, Koreans are big fans of dewy looks. To achieve that wet and dewy finish, they buy foundations packaged as BB creams and CC creams.  The tanned look is never an option for the East; most shades are extremely light or pale.
Women with darker skin tones experience a more difficult time finding a color match with Korea's foundation range.
Eyebrows
What The West Wants: Ladies, it's all about the arches.
The West places a big deal on their eyebrows; almost every girl is meticulous with the shape of her brows. After all, these pair of arches do define the overall makeup look.
For the West, dark and defined is the way to go. A little blend of ombre towards the center, plus higher arches and contoured eye shapes perfect the look.
East's Eager Picks: Korea loves au natural more. Apart from keeping the shape straight, it's important to match the shade of your hair with your brows. As a result, your final makeup look is a combination of soft and blended.
Eyeshadow
What The West Wants: Westerners' makeup deals with double lids and cut creases, which results in looks that emphasizes this feature. Darker shades and matter shadows bring the spark out of the lids while lighter colors displays the brow line.
East's Eager Picks: The East, on the other hand, do not have double lids. To emphasize their eyes, they load on light pinkish shades, as well as glitters. By using less product and adding a bit of sparkle, they bring more attention to the eyes.
Contour
What the West Wants: Kylie Jenner and her sister Kim Kardashian are the forerunners of contouring—a huge makeup trend in America. Due to its capability to define suitable facial features, most women resort to full-face contours. Heavy blending and contouring results in better definition in cheek bones, as well as emphasis on the jawline. Highlighting also creates more dimension and emphasizes the sharper edges.
East's Eager Picks: Eastern beauty trends are not big on contouring. In some cases, Korean makeup artists do contouring on the nose, but that's just it. The East is a big fan of smooth, pearl-like look with smaller faces.
Blush
What The West Wants: It's an unbreakable code in the Westerner's makeup playbook: the tanner the better.
To achieve that bronzed and sun-kissed look, bronzers and neutral toned blushes are the perfect accessories. Pink is never an option since it looks stark against tanned skin. Women apply their bronzers below the cheek bone for a chiseled goddess look.
East's Eager Picks: If the West detests pink, the East loves it. Light and bright is always THE go-to option. Pink dolly blushes, which create the flushed look, encourages brands, such as Etude House, to release a line of peachy and orange toned blushes.
Lips
What the West Wants: Kylie Jenner is the Mother of Lips. Her full and luscious lips have become the envy of most women, which drives them to learn more about lip lining and matte lipsticks. Dark and vampy matte lips now haunt Instagram like the plague.
To achieve this look, most women buy mattes from NYX, Revlon, and MAC.
East's Eager Picks: if the West loves matte, the East is crazy for ombre lips. By combining vibrant peach and pink tones, they create a dark on the inside and light on the outside makeup look. Lip tints (such as Tony Moly's) are also popular, especially if you want to project an image of just eating a strawberry popsicle.
There you go. I'm pretty sure you've identified your style to one of more examples here. All things considered, it's time to answer the question: which beauty trend is the right fit for you?
Ashley Petallano
Ashley is an awkward potato in love with words, Kpop, and corgis. She spends her free time dancing like one of those balloon things you see in malls.