Mermaids are the stuff of many childhood fantasies, but they don't have to stay there. You may have cherished memories of watching "Aquamarine" with friends or singing to the tunes of "The Little Mermaid," but those days aren't over yet. 
With Disney's live action remake of "The Little Mermaid" just around the corner, you can bring your childhood fancies to life by applying some mermaid makeup.
Looking like a mythical sea-dweller isn't so strange anymore because people have been adding hints of Halloween to everyday makeup for years now. Mermaid makeup looks are also a great way to elevate your eye makeup and look fantastic while wearing a facemask. The glistening scales and dramatic colors truly evoke the wonders of mermaids.
Here's a quick and easy guide on how you can apply amazing mermaid makeup without breaking a sweat.
What Products Will You Need?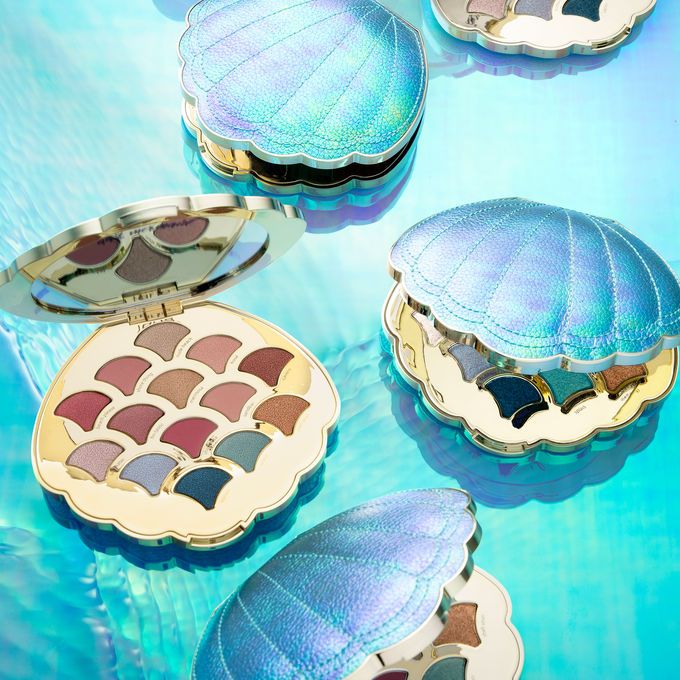 Just like with all makeup projects, you will need the best tools for the job. Although you can find assembled kits of mermaid makeup products online, in truth you only need high quality tools and makeup. 
For this mermaid makeup guide, you'll need the following:
Fishnet stockings you don't care about

Setting spray or a small spray bottle of water

Two eyeshadows of complimentary colors like blue and green or orange and blue

Metallic colored powder highlighter

Matching eyeliner

Gold or silver eyeshadow 

Mascara
How do You Apply Mermaid Makeup?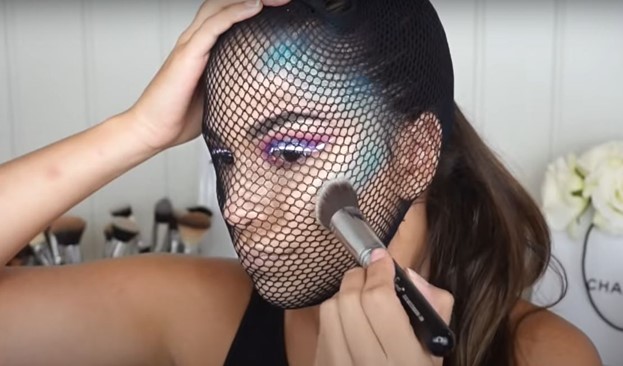 The key to looking like a mermaid is the scales and the colors involved. 
If you want to look like Ariel's best friend, here is a simple eight-step guide on how you can achieve mermaid makeup looks.
1. Put on the Fishnet
Use scissors to cut off one leg of the fishnet stockings. Slip this over the upper half of your face. The holes on the fishnets will help make the scale size consistent across your cheeks and temples. It will act sort of like a stencil for the rest of your makeup. Secure the fishnet with a clothespin at the back of your head so it doesn't move around.
2. Spritz a Little
Spray a few droplets of makeup setting spray around your temples and eyes. Setting spray is wonderful for making your eyeshadow look more dramatic. However, fi you don't have setting spray or don't want to buy some, you can always use a little water. This is essential to get the makeup to stick to your face more effectively. 
3. Apply First Eyeshadow
Dip an eyeshadow brush into your first eyeshadow and make sure the makeup is tightly packed. It's essential that you pick a good color because this first applicate will be the base for your mermaid scales. Blue is a great choice, but you can also choose green or orange for more tropical or exotic mermaid looks. Tap this first layer of eyeshadow through the holes of the fishnets. You should apply the makeup not just at the corner of your eyes but also around to your temples and the tops of your cheekbones.
4. Apply Second Eyeshadow
Use a second makeup brush for the second layer of eyeshadow. The second layer will act as the highlights of the scales. If your first layer was blue, green will make it pop more. Gold eyeshadow will look awesome with a green base and red eyeshadow will mesh wonderfully with an orange first layer. Apply this second eyeshadow like the first, tapping it through the fishnets.
5. Use Highlighter
Powder highlighters are great for accentuating your makeup. Metallic highlighters will give your mermaid makeup looks a distinct scaly shimmer. Give your new scales a light dusting for that mysterious shimmer. Then, very carefully, unpin the fishnet and slowly take it off your face. If you have difficulty removing it, use small scissors to cut off the fishnets instead. 
6. Bust the Eyeliner
Take your eyeliner and apply some on your upper lashes. Make sure the color you choose matches those of your scales. Blue-green eyeliner will look gorgeous with blue-base scale and a light gold liner for the green-based mermaid look will have a dramatic effect.
7. Now the Eyeshadow
Next, use an eyeshadow brush to blend your eyeshadow of choice on your lids. Gold is always a good match for a touch of some beach energy, but silver, blue and green can also work. Just be sure to blend the eyeshadow carefully, sweeping to the corners of your eyes to avoid clumping and mismatched colors.
8. Finish with Mascara
Finally, add two coats of mascara to your eyelashes for that extra dramatic look. If you'd like to look even more extra, attach large false lashes as well. Whichever you choose, your mascara will help give you those large mermaid eyes.
Mermaid makeup may seem too fanciful, especially if you're only putting it on for yourself. But everyone needs a little whimsy. Today, whimsy and wonder are in short supply; your new mermaid looks can give you your childhood fantasies back — even just for a few hours.