Did you know that women comprise roughly 45% of Asia's gaming population? Female gamers are the future of the industry, breaking out of the assumption that they remain a minority. In recent years, women in the gaming industry have gotten access to more opportunities and received more recognition across various social media platforms. The quarantine has especially become an interesting time for female players to bond, stream, and explore more games together.
However, even with these developments, and the impressive progress amidst player bases, some games continue to be challenging to play casually because of the toxic community. As an avid gamer myself, I have spent most of my quarantine going back to games and developers that I once loved, but no longer had time for. This has brought me back into the arms of some of my favorite developers and introduced me to plenty of new ones in the process—even if toxic communities come with them.
Getting back in touch with the games I loved most felt a lot like reconnecting with a friend. And though some of the games I'll mention in this article may be familiar to you, you'd be surprised to know about the steps that these games have taken to create progressive and safe experiences for female gamers and employees alike.
If you are a female gamer with a curiosity for the state of gender equality and feminism in the realm of gaming, then this article is the perfect read for you.
The State of Gaming: The Female Experience
It is becoming increasingly clear that girl gamers are making a name for themselves as worthy contenders in both competitive gaming and streaming houses. Female Youtube and Twitch streamers have found massive success gaming in front of online audiences from all over the world. From OfflineTV's Pokimane and LilyPichu, to 100Thieves' Valkyrae, Kyedae, and Fuslie—there is no shortage of female streamers that are making a difference for the visibility of fellow creators everywhere. Gone are the days when female gamers had to choose between being "one of the boys" or embracing their love for beauty and all things feminine.
However, the average experience for most female players proves to be a stark difference to our more famous community members. While 45% of Asian gamers are comprised of women, around 59% of total female gamers hide their true gender when playing online because they feel safer when anonymous. The primary reason for this secrecy is because most female players believe that they can be spared the risk of harassment in an effort to protect their mental health. This is unsurprising, considering that 77% of female players have reported experiencing gender-based discrimination while just trying to play games for fun.
I can personally attest to this myself. When playing highly competitive games such as Riot's action-based shooter, Valorant, or the classic 5v5er, League of Legends, I have always found myself creating usernames that made it hard to discern my true gender. In addition, I would often keep my Team Voice settings off. In the rare occasions that I did try to turn them on and commend my teammates, I would often get flamed for "doing badly"—even if I was the top-fragger for my team.
"Asan Ba Ka-Duo Mo, P*ta Ka" and Other Insults are Our Norm.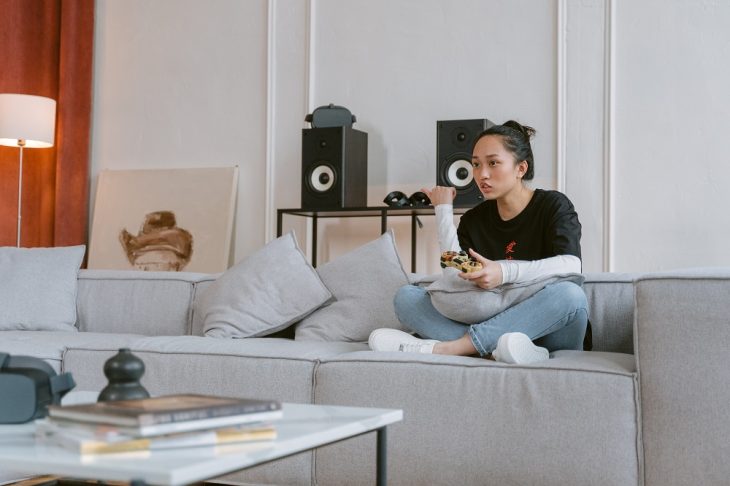 For the female gamers of my generation, these lived experiences are simply part and parcel of braving a hobby we love. Getting cussed out on voice and text chat is the norm, and we don't always feel safe enough to fight back. We Filipina gamers certainly don't like it and have no plans of accepting it, but we have also done our part to create safe spaces online where we can come together.
As a member of Facebook and Discord groups for Gamer Girls Philippines and Girls Who Game, I am happy to say that I have found people of my own. Endearingly called, "Fruit Salad," because of our mixed agent specializations and real-life careers, my Valorant team is my safe place in the turbulent gaming landscape.
Being afraid to try multiplayer games is a natural feeling—heck, I went through it myself a year ago when I first installed Valorant. I vividly remember how I opened the game and entered my first lobby. Within seconds, I was frozen in place in-game while I vowed to never play this game again. However, I didn't lose hope and you don't have to feel the same way either. Actively seek out online spaces and communities to find people that make playing games feel safe again.
At its core, gaming is pursued for fun. If you live in fear of being attacked while trying to have that fun, then you've already let them win. Show them that you are a force to be reckoned with and fight with pride.
Women at the Lead
This April, a female Riot employee took the game's toxic community by the horns and fiercely pushed back. Enter Sara Dadafshar, the Riot employee that responded to the iShowSpeed (a Youtuber) sexism controversy with speed (heh) and efficiency. Dadafshar was one of the first on the scene when the clip went viral on Twitter, and immediately set the gears in motion for the streamer, iShowSpeed, to be banned on Valorant and across other Riot platforms; to safeguard the very same community she has sworn to work for. In this day and age, Dadafshar is a classic example of how us women can champion and support each other—something we should always aspire to do.
As the gaming industry grows wider and more progressive over time, so too do the developers behind our favorite labels. Valorant itself is headed by powerful women like Preeti Khaolkar for monetization and Nikki Lewis for Global Action Game Marketing. Triple A games like Uncharted would not exist without the genius of Amy Hennig's writing, while household name Nintendo has Aya Kyogoku to thank for Animal Crossing's monumental success.  Entertainment agencies that specialize in gaming and Esports have also come to rise. While overseas examples include 100Thieves co-owner Valkyrae, our local scene has also exploded with Alodia "Boss A" Gosiengfiao's multinational joint venture, Tier One Entertainment.
When it comes to talent, there is no shortage of awe-inspiring female leaders that have what it takes to pick up the mantle of representation and responsibility. The true shortage lies in the opportunities that come along for women like us to show why we are MVPs in our own right.
Whether you are a casual gamer looking for your safe space, or an up-and-coming streamer battling fears of harassment online, take heart. This is a battle that we fight together.