Myra Mortega
Myra is a writer and an editor. She has penned…
We recently dropped by Human Nature's Kusina ng Kalinga event, which aims to provide healthy meals for underprivileged school kids. Kusina ng Kalinga has teamed up with various social enterprises who have pledged to help attain its vision. At the event, we met two inspiring modern Filipinas who are making a difference, one product at a time:
1. Catherine Patacsil, founder, First Harvest
Catherine has a vision for a more empowered Philippines, and for her, it starts by looking to farms all over the country.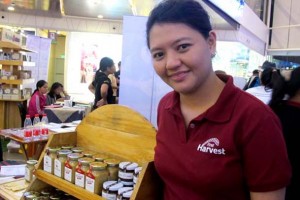 "'Di ba in Palawan, you have cashew nuts, in Naga, we have Pili nuts, Bukidnon has pineapples, and you have garlic and onions in Nueva Ecija, so if you take a look at the Philippines, we are so abundant in resources. So why don't we create more opportunities in provinces, in Philippine farms?" she says. Catherine shares that the country is brimming with talent, which she first got to witness firsthand at the the GK Enchanted Farm.
"My boyfriend works at the GK Farm. He's in charge of the kitchen, where they prepare meals for visitors. The mothers that we work with are very talented. One day, nag-uwi sya ng peanut butter na gawa ng isang nanay from the farm. It was so good that my family was able to finish the entire jar in one day! And I thought, 'If this can be consumed overnight, then this might be ready for the market.'. The nanays [at the GK Farm] are really talented, and it made me wonder about the many unexplored opportunities here in the Philippines. 'Yung mga nanay sa farm, they are very intuitive, they're really talented. And that's how First Harvest started." The brand sells scrumptious spreads, including the mouth-watering peanut butter spread that Catherine was talking about.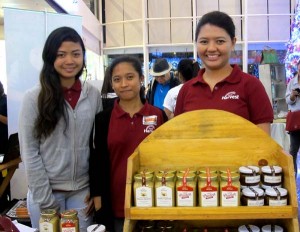 And she was right: their spreads are ready for mass consumption. "We started in November 2015, and we were selling 200 jars around that time. In December 2015, we were selling 8,500 for just three products!" Catherine shares, gushing at the brand's meteoric growth.
Of course, it's not surprising, as First Harvest is a brand that's rooted on providing the best products crafted from Pinoy talent. "When you get the first harvest–the first batch of produce–that batch is really the best one because by the time you have the second or third harvest, the produce are not as big anymore, as the plant already got all the nutrients from the soil. So this is really a dream to bring the best local products to the market and to help communities. It's all about giving the best," Catherine says.
2. Angie Kalungkagin, co-founder, Make Peace Cookies and Cupcakes
Angie is living proof that working your partner can be really rewarding, especially if both of you share the same vision for your company.
She and her hubby run a catering business together, but they wanted to give another venture a try during their off-peak months. Since they're both chefs who are talented in baking, they decided to go with  cookies (Angie's turf) and cupcakes (which are made by her husband), which they eventually called Make Peace. But what makes this partnership even sweeter is the couple's commitment: they've pledged 10 percent of their proceeds to help orphanages.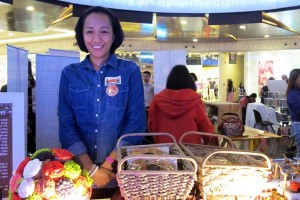 "I volunteer at orphanages, and I go there every week," Angie shares. The full-time mom and entrepreneur says that she has blocked all her Saturdays for volunteer work, where she spends time with the kids. She shares that her biggest event yet was holding a Christmas party for 7,000 orphans in Payatas, which she organized with her husband and various orphanages in the community.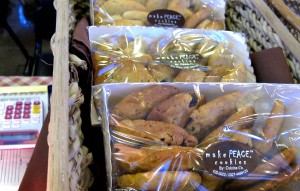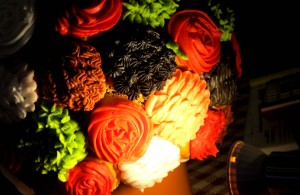 "My heart really goes out to the kids," Angie shares, who adds that nothing is as fulfilling as combining the things that one is passionate about, and being able to share the joy with other people. Make Peace's insanely delicious cupcakes and cookies prove just that.
All photos by the author
Myra Mortega
Myra is a writer and an editor. She has penned speeches, magazine articles, educational materials, and online content. She enjoys traveling, doodling, taking photos, and laughing to "Friends" reruns.