Tazeana Joandre
When she's not writing, Tazeana spends her day YouTubing cat…
It's the era of social media self-expression, where our thoughts and feelings can be transcribed in 140 characters or less. Because it feels like we're little kids and the social media landscape is our playground, we can easily trip on a rock. Metaphors aside, by abusing your power to express, your outbursts may fall on the ears of the wrong people and put you in their bad graces. Just who might see these, you might ask? We're talking about your boss and maybe the HR manager.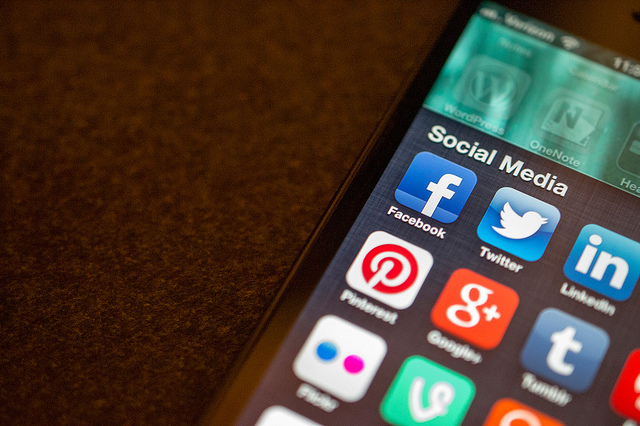 Below are some other examples of work-related things that should never appear on your feed.
1. Your hugot about upper management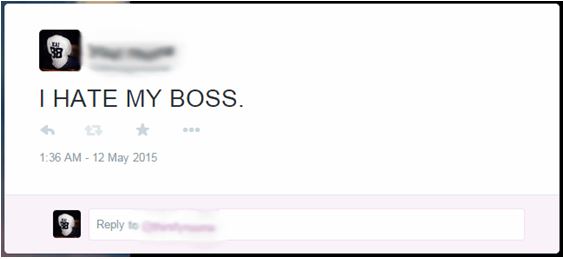 Those four words can potentially be the cause of your eternal downfall. Okay maybe not eternal, but for as long you're with the company—which, judging by the looks of it, won't be that long. If you happen to have a patient and understanding boss (which is unlikely, because why would you be ranting in the first place if you did), the best case scenario is that your name will be tainted and probably won't be appearing in the promotions list anytime soon.
2. Complaints about coworkers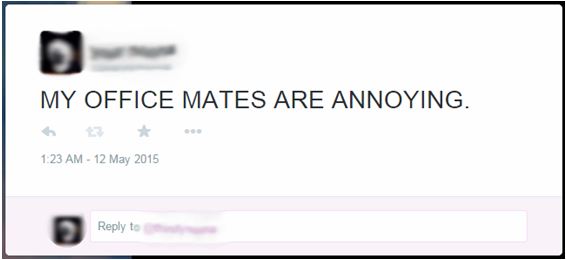 As the saying goes, "pigil pigil din 'pag may time." Even if you do have annoying office mates who keep intruding in your personal life and have that one Ed Sheeran song on loop the whole day, what are the chances they can't track your Twitter and Facebook profile and catch you badmouthing them to the the entire world, even if by "world" we mean your circle of friends? Answer: slim to none.
Worst case scenario: You'll become the number one annoying office mate in your coworkers' books, and this could start a round of drama or even avoidance that might affect your team's ability to work efficiently. Best case scenario: Your annoying office mate will stop playing "Thinking Out Loud" or whatever LSS tune is trending at the moment.
[crp]
3. Sentiments about your sahod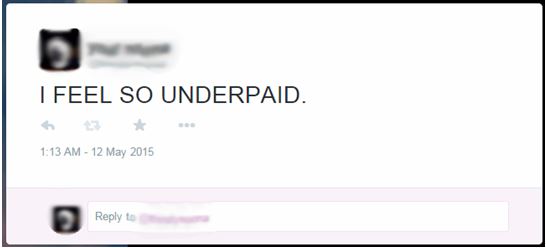 Or worse,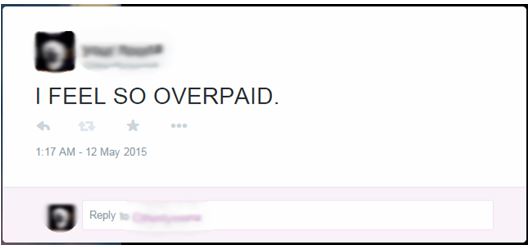 The former makes you sound ungrateful; the latter makes you sound undeserving. To be safe, don't let either grace the wall of your Twitter or Facebook feed. If you truly believe you deserve a raise, take it up with your supervisor, who can actually do something about it. No one else has any business knowing about your financial woes (or triumphs, as it is).
4. Not-so-blind items about your office crush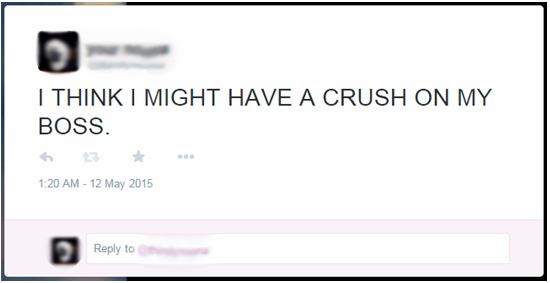 You're always encouraged to say something positive– but not too positive. Your boss finding your online confession can only achieve two things: he can leverage your admiration (on top of his superiority) to exercise a power trip, or things might get super-duper awkward in the office and your productivity will be affected. Even if it isn't your boss, it could still spell for awkward moments. And have you stopped to think about what might happen if your office crush has a jealous girlfriend?
5. Inside information about your company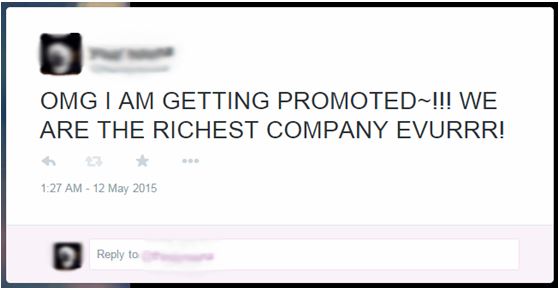 Okay, so the above example might not be the best. But if you post photos from your oh-so-productive and inspiring team meeting or maybe teasers about upcoming projects, you might not realize you've actually breached the trust your company places in you. This might seem like a common-sense matter, yet you'd be surprised at how many people aren't as careful as it should be when it comes to exposing company information. Even if you're dying to tell your Facebook friends about the new expansion or a big project in the horizon, think long and hard about how this information will be digested by possible competitors. Worst case scenario: Other companies piggyback on your ideas and actually beat your company to the copyright or production line.
The Internet has ears everywhere. While social networks make for a great way to connect with other people, just remember there are some things that should be kept confidential. Especially if they involve our career and future. If you're still having a hard time distinguishing between the two, stick to the grand rule of social sharing—think before you click. Especially if what you're clicking on is the "post" button!
Tazeana Joandre
When she's not writing, Tazeana spends her day YouTubing cat and dog videos and daydreaming about Jollibee fried chicken.