Marian Bartolome
Marian is an interior designer turned freelance writer who loves…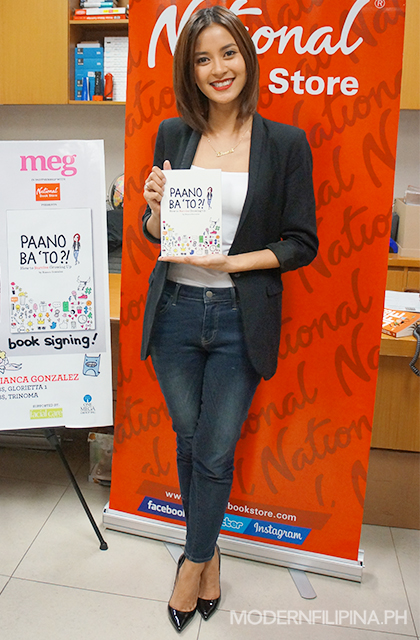 From hosting and modeling to writing and editing, it seems that Bianca Gonzalez-Intal can do it all. She ended 2014 with a bang, achieving her dream of publishing her own self-help book, Paano Ba 'To?! How to Survive Growing Up, and adding a dash to her name by marrying her then-boyfriend, basketball player JC Intal. As most of her social media sites proclaim, she definitely is "super Bianca." She's one modern Filipina that we can aspire to emulate—a woman who knows what she wants and makes it happen.
How exactly does she juggle all her commitments and still find the time to take on new challenges? That was the question we asked the supergirl herself during the release of Paano Ba 'To?! last November. Bianca gamely answered, "Time management is key talaga," admitting that at times, she didn't know how she does it. "It really takes effort, pero kaya eh."
"Actually, there's a whole part here [in Paano Ba 'To?!] on time management, kasi it was also a pretty common issue of young people. The opening is a lot of different quotes, and one of the quotes that really inspires me—I saw it lang on Instagram—it says, 'You have just as many hours in a day as Beyonce,'" Bianca shared as she showed us the first few pages of her book. "I remember I saw that quote like two years ago, and it makes you think, 'Oo nga naman.' Kasi diba there's also this quote na, 'I wish there were more than 24 hours a day.' But 'yun nga, you have to remember that all the great people in the world also just had 24 hours a day.
"To-do lists help immensely. Seeing your calendar and plotting, like by week two, I have to finish that, by week three… Lists like that help. Knowing when you should rest is also important. Tama naman na go, go, go lang, but at the same time, kapag feel mo na kailangan mo na magpahinga, kailangan mo magpahinga. So, all that put together will help you do as many things as you want. Oh, and little rewards like eating your happy food. For me, [that's] hot fudge and french fries. Feel mo na, 'Ah, yes, na-deserve ko 'to.' Or like watching a movie. Yung mga little rewards like that will help also."
Now that it's the start of the new year, it's the perfect time to put your goals into motion. Grab your cool new planner and plot away! For more time management tips and advice on common growing-up pains, don't forget to pick up Bianca's book at the National Book Store branch nearest you for only P245.
Marian Bartolome
Marian is an interior designer turned freelance writer who loves exploring the world on her feet and through her Kindle. Her favorite things to write about? Travel, lifestyle, coffee, and happily ever afters.