Marian Bartolome
Marian is an interior designer turned freelance writer who loves…
You may know Bianca Gonzalez from Pinoy Big Brother, Y Speak, and her modeling endorsements—not to mention that airport proposal video that went viral—but did you know that she's a writer too? Aside from running her own blog, aptly named iamsuperbianca, she's the editor-at-large at Meg Magazine and a columnist for The Philippine Star. Now, she's added "published author" to her impressive resume with the release of her debut book, Paano Ba 'To?! How to Survive Growing Up, a life advice book geared toward Filipino women in their teens to their 30s.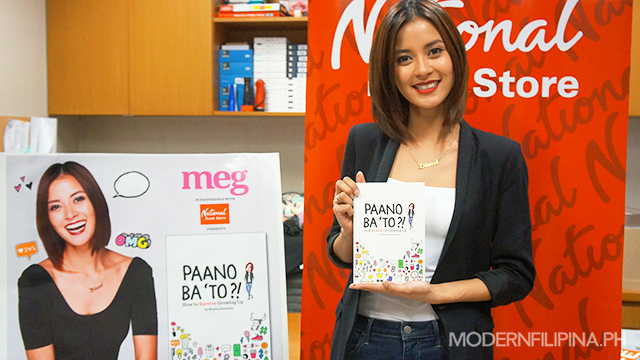 We sat down with Bianca before her book launch and signing at National Book Store's Glorietta 1 branch last Saturday to talk about Paano Ba 'To and how it made the transition from being just a dream to being a colorful, sketch-filled reality. She rocked a classy yet laid-back look that matched her book cover caricature down to the red lipstick—one of her go-to confidence-boosters—as she talked about how her years of giving advice to teens and young women inspired her to come up with a book that answers some of the burning questions that we've all had, and continue to have, growing up. She gave us a sneak peek of the pages of her masterpiece and admitted that she was very nervous about how people would receive it—so nervous that she couldn't eat before the event.
Judging by how many of her fans showed up to cheer on their "Ate B," Paano Ba 'To was one book that they couldn't wait to get their hands on. Bianca gave an emotional speech that took a turn for the tearful when her brother made a surprise appearance, and then she made good on her promise of signing each of the attendees' books. She did it all over again the next day during her signing in National Book Store, Trinoma.
If you're looking for a cute yet useful gift for your girlfriends, family members, or even yourself this Christmas, check out Paano Ba 'To. This is your ticket to advice from Bianca herself, along with some of her famous friends and expert consultants. Not only is it packed with wise tips that cover a wide range of topics from Love and Career to Purpose and Self, it's also peppered with lovely sketches and beautiful typography.
Want to know more about Paano Ba 'To? Read on to find out what Bianca had to say about it during our interview!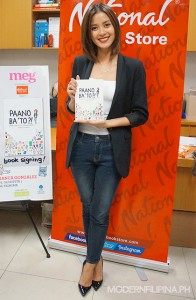 How did this book come about? Was this something you've always wanted to do?
"Yes. I think anyone who writes…or majority of us, deep down inside, it's a dream to publish a book. I started blogging in 2003, and then I became a writer professionally ng 2011—[by] professionally, I mean I became an editor and a columnist… And then I knew na someday, I'd really want to write a book. But who does that? Hindi naman ako Palanca Award winner or someone important enough to write a memoir. Only the greats do that. Until last year, my friend Liz published her own book, StyLIZed. When she was working on it, naisip ko, pwede pala yun? Parang sa normal na tao, pwede naman palang mag-publish ng libro.
"So I decided to do research, meaning I went to different bookstores, and then I looked at the books available, ano ba 'yung wala. Kasi ever since na may idea na ako that I wanted to write a book, I knew that I wanted it to be an advice book. Light, fun self-help, but for young girls. Usually, all the self-help now is either for parents, for moms… If ever meron for young people, it's usually about love. But 'yung about life in general, I didn't see pa any. So I knew that it was going to be about that. It was inspired by my blog, and then kapag sa social media, 'di ba may mga 'Ask Bianca'? Whenever I have that, I found it interesting that people would ask me advice. Advice about career or love or time management, building confidence…even friendship, family. So it was inspired by that, na there are some people who want to know my opinion on what my advice is."

What were the challenges that you faced while working on the book?
"The biggest challenge was the research, I have to say. I had to read the existing teen lit books, kasi I wanted to know the language that they use, kung ano 'yung nag-a-appeal sa kanila. I had to do different focus group discussions with either friends or fans or even followers to really crowdsource all the questions that I'd give advice for. Kasi the format of the book is more of like a Q&A. Those are actual questions that I sourced from people. A lot of them were common. There are so many questions about finding the right career, about breadwinners—sobrang dami—about looking for love, about not being interested in fashion and beauty, pero parang sa mundong 'to, kailangan… Building self-confidence, quarter-life crisis. So researching, and then actually breaking that down and outlining it was the hardest, kasi parang ang dami mong pwedeng i-tackle, but you can't be all over the place. So that was hard.
"Once that was done, the writing, I won't say it's easy, but at least it was more focused, so medyo mas nakahinga na ako sa process na 'yun. The biggest challenge for me honestly is making every page worth the reader's time. If you look at it, it's not novel-type na sunud-sunod. It's really chunks… I have no problem with those na really love reading, kasi they'll really read. But those who don't like reading really can only take little doses, 'di ba? So I wanted it to be friendly to them also. 'Yung mga hindi mahilig sa libro, pero this one is really bite-sized information. So yeah, the biggest challenge was making every single page siksik, busog, [with] a lot of information."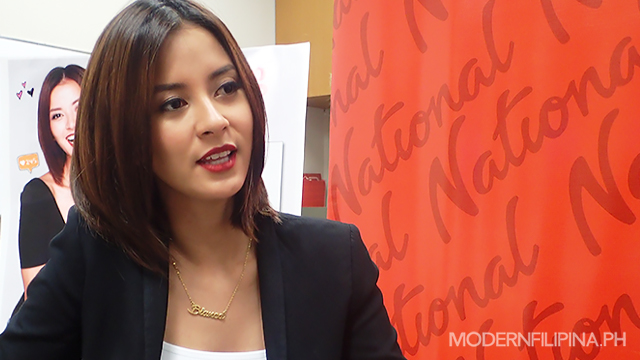 What was your favorite part of creating this book?
"Laying out was fun. I have a layout artist, but I sat beside her laying out every page. My team is very small—I mean, at least the ones that worked on the book. It's me, my layout artist, my illustrator who did all the doodles and the portraits of the celebrities, and then my letterer who did all the quotes. And then a contributor who helped me get—kasi I have parts here na, syempre I don't claim to know everything, so we have parts here na for the bigger questions, we have experts. Meaning psychiatrists, psychologists, and life coaches. The illustrator did this also. So every page, I sat beside my layout artist, kasi we would plug in the doodles of our illustrator. The idea kasi of the book is it's your high school textbook na parang ginanon [dinrawingan] mo nung bored ka. That's the idea. Laying out was fun.
"I think, though, the most thrilling was visiting the printers to see. Dito ko lang nalaman 'yung process na you have plates, and then how they cut the paper. When you see na ganito [kataas na] stack of paper for your cover, parang dream. And definitely when I saw this [printed book]. Parang nagkaka-flashback ka when you were just starting the idea."
What do you think are the must-read sections of your book?
"There are eight chapters. It's Family, Friendship, Love, Career & Money, Failures, Fashion & Beauty, Purpose, and Self. It's eight chapters. I can't choose one. It's so hard. If I were a reader, I'd definitely be able to choose. Kumbaga, parang anak mo lahat. Hindi ka maka-pili… So I can't say I have a favorite chapter. But I think what might be interesting for young people na baka wala pa sa ibang libro now would be Purpose and Self. I found that very interesting to research and write. And then the expert and the celebrity sharer I got for those two chapters, [I gathered] very good advice also from them."
Now that you've published your book, what is the next thing to check off your to-do list?
"Gosh, I don't know! The story though of this book [was] I knew that I can do it next year when I'm less busy. But I knew I wanted to release it now, especially before I get married, kasi the idea in this book is, if you're a young girl growing up in your teens, twenties, or thirties, kung may pinagdadaanan ka, know na hindi ka nag-iisa. A lot of other girls are going through it, and madami na ding napagdaanan 'yun and napagtagumpayan. You're not alone.
"I think this book proves—especially when I researched—[that] all our problems, they're pretty much the same with different backgrounds or situations around it. So I knew that I wanted to release it before getting married, kasi alam kong growing up, ang dami ko 'ring pinagdaanan na problems and moments na parang, "Lord, bakit?" but I was so lucky to have people around me who gave me great advice. And so that's why I wanted to make this book, kasi if there's anyone who went through anything like that, I would love to share the advice given to me kasi it worked for me or advice given to friends that worked for friends. Na kaya nila whatever they're going through."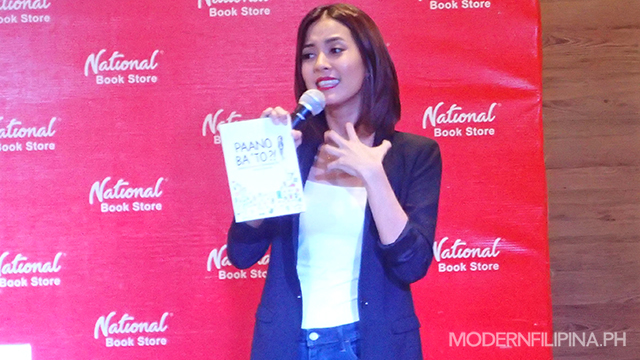 Do you have plans to write another book?
"I will be able to answer that when we're done with this. But talaga now, all I wish is that people would buy this. We'll see how it goes. But the second one is somewhere in the future."
What are your personal confidence strategies?
"My story is, actually, when I was younger, I was really shy. I'm more behind the scenes or support sa mga friends na mas biba. Ako 'yung taga-tawa. Actually until now. It comes siguro with growing older and [gaining] confidence in yourself na you'll also be more confident in front of other people… I think it's a process talaga. You need not rush it. But there is some sort of "on" button that you can find. I realize that I have that. Until now, I really have a shy side na sometimes people say, "Ay, ang taray niya." But it's really a shy side. But there is this "on" button na, uy, it's showtime. Not na it's a fake you, it's just a hyper-energized you.
"Dressing well is confidence-building. Wearing nice heels is confidence-building. And nice lipstick… When you're feeling crappy in the morning, tas ayaw mong lumabas ng bahay, pag mag-lipstick ka na bagay sa 'yo—usually red pag girls—parang feel mo pwede na 'to. Tas mag-shades ka lang, tas okay na 'to."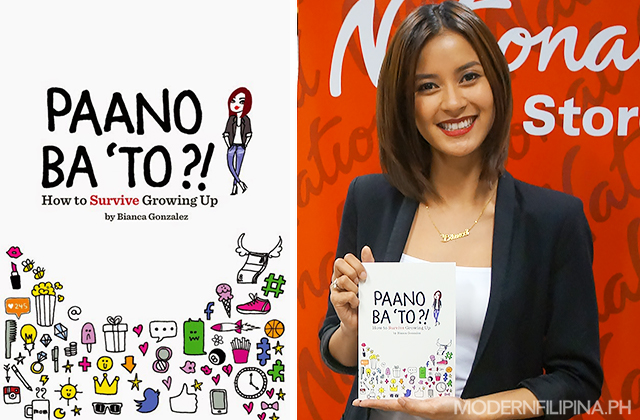 Want to learn more? Pick up a copy of Paano Ba 'To?! How to Survive Growing Up at National Book Store branches nationwide. The book retails for P245.
Marian Bartolome
Marian is an interior designer turned freelance writer who loves exploring the world on her feet and through her Kindle. Her favorite things to write about? Travel, lifestyle, coffee, and happily ever afters.