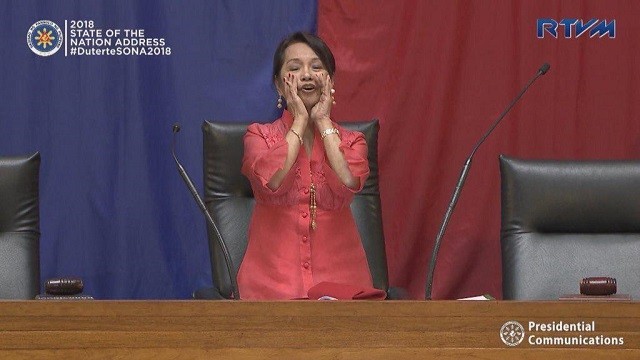 President Duterte delivered his third State of the Nation Address (SONA) last month, but it seems like people are not done talking about it. Rather, people are not done talking about the events that occurred before the actual SONA.
If you've been living under a rock — or if you simply don't have the patience for Philippine politics — here's what happened:
A majority of the 292-member 17th Congress voted for Former President and Pampanga Representative Gloria Macapagal-Arroyo to replace Pantaleon Alvarez as Speaker of the House. In what appeared to be a successful coup, she walked up to the rostrum and took her oath in front of everybody present in the Batasan main session hall — even though the sound system was cut off and nobody except for those standing nearby could hear what she was saying.
While Arroyo and her allies were celebrating on the rostrum, Alvarez and Senate President Vicente Sotto III were waiting for President Duterte to arrive at the Batasan helipad. The men were all smiles as they walked to the receiving area, but the atmosphere quickly became somber when they were informed of what was going on in the session hall.
There was a considerable delay in the delivery of the SONA while they figured out the best way to deal with the situation. To make the long story short, Alvarez took a seat at the House rostrum along with Senate President Sotto while the President delivered his speech. Afterward, the House held an impromptu session to officially declare Arroyo as the new Speaker of the House.
Gotta give it to Gloria Macapagal-Arroyo of the Philippines.

From presidential daughter, to Senator, to Vice President, to President, to someone jailed then acquitted for plunder, to a Congresswoman, and now House Speaker (via a coup).

So Machiavellian. Whew.#SONA2018

— Lala Rimando (@lalarimando) July 23, 2018
It seems like Former President and House Speaker Gloria Macapagal-Arroyo took Robert Greene's 48 Law of Power to heart. Just look at where she is now.
Despite everything, she's found her way back to the top. Having said that, I've condensed these laws of power into the top 10 that are most apparent during what transpired at the 2018 SONA.
Never outshine the master.
Rep. Pantaleon Alvarez gave his thoughts on former president and now Pampanga Rep. Gloria Macapagal Arroyo taking her oath as new Speaker of the House. #SONA2018

Read: https://t.co/5ERJ1J5xXq pic.twitter.com/5USTCMYfsS

— Inquirer (@inquirerdotnet) July 23, 2018
GMA may be a former president, but she didn't rub that fact in the face of Pantaleon Alvarez while he was House Speaker. She made him feel comfortably superior  — up until he left the session hall and the commotion began.
Always say less than necessary.
https://twitter.com/DolceAmorris/status/1021306874019246080
The things you say can come back to haunt you someday. GMA is well aware of this, so she mastered the art of impressing people and commanding their attention by saying less. Although, the sound system not working probably helped.
Win through your actions, not your argument.
Gloria Macapagal-Arroyo's life qoute this 2018. #SONA2018 pic.twitter.com/Eb7jovFIBV

— olǝʇɐ (@itsraflxs) July 23, 2018
Arguments, especially those that just keep going around, are a huge waste of time and effort. Instead of arguing during a House Session, GMA and her allies worked quietly behind the scenes and executed an arguably successful coup.
Use absence to increase respect and honor.
SONA 2018: Sino mag-aadjust, House leadership edition

— Bea Cupin (@beacupin) July 23, 2018
Everyone and their mothers thought GMA would sit at the rostrum with Senate President Sotto during the SONA. But she agreed to temporarily withdraw and make way for Alvarez. In turn, people wondered more about what happened.
Know who you're dealing with.
https://twitter.com/eIixrie/status/1021332118327083009
The former president may still have political power. But unless she runs for higher office again, she will never be as powerful as the President. She knows this  — and she knows not to offend the wrong person  — so she chose to go with Duterte's flow.
Transform weakness into power.
Swiping off a friend's FB. #Duterte should just admit #GloriaArroyo is running this government. LOOK AT HER. #Federalism #PrimeMinisterFeels pic.twitter.com/uCWDCv2Lom

— katrinastuartsantiago (@radikalchick) December 20, 2017
The Pampanga Representative may have had the support of the majority of the 17th Congress, but she thinks long-term and chooses her battles. She chose to surrender, stepped off that roster, and waited for Alvarez's power to wane.
Get others to play with the cards you deal.
"GARCI DO YOU LOVE ME???" #SONA2018 pic.twitter.com/anJZqMWCBK

— Nathania (@PilosopoTanya) July 23, 2018
GMA wouldn't be the current Speaker if not for her allies in the House of Representatives. She made them feel in control of their options — to vote for her as House Speaker or not  — and choose whichever serves their purpose.
Master the art of timing.
Gloria Arroyo to PH during #SONA2018: pic.twitter.com/H36OmIvG1y

— Pope John Pug II (@ligawnakalat) July 23, 2018
There is no better way to attempt a coup than when the person you're trying to overthrow has his hands full. While Alvarez prepared for President Duterte's arrival, Arroyo and her team worked quickly to get all those signatures.
Never appear too perfect.
Post your glow up in only two pictures. #SONA2018 pic.twitter.com/yy7mYB6xgG

— Sol (@spjlines) July 23, 2018
It's important to make your accomplishments seem effortless, but avoid appearing perfect. People feel more threatened when you appear to have no faults or weaknesses. GMA willingly embraced her past for the benefit of her future.
In victory, learn when to stop.
This SONA is more dramatic and full of twists than Game of Thrones! Gloria Macapagal-Arroyo is the Cersei Lannister of the Philippines. The woman knows how to play politics really really well. ?✌?#SONA2018 pic.twitter.com/z9M6WgRKPA

— Chris Dave Tan (@ChrisDaveTan) July 23, 2018
GMA knows not to bite off more than she can chew. Maybe she wants to run for higher office yet again; maybe not. Until she figures out her next move, she settled with her victory over Alvarez as the Speaker of the House.
Let's be real. Whether you dream about having a political career or are simply trying to climb up the corporate ladder, the goal is always to get ahead of everybody else.
Consider taking a page from GMA's book. The Former President and current House Speaker's 10 Laws of Power might just help you reach the top. But be careful not to trample over others in your way. As challenging as it seems, you can work your way up without destroying everyone in your path.