Katrina Tankeh
Writes, eats, and dances with an incomparable vigor but is…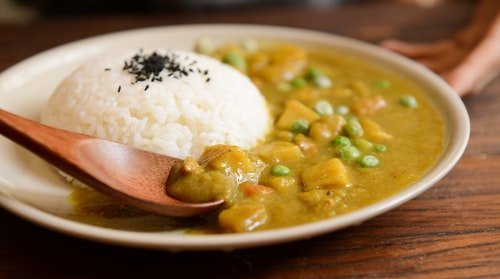 Kate Winslet, Liam Hemsworth, Peter Dinklage, Natalie Portman, and Jared Leto – what do they have in common?
Aside from being some of the biggest Hollywood celebrities with individual net values that are ten times the amount of my entire college fund, they're actually all vegans and vegetarians.
Vegetarianism used to be an alien concept to me. Back when I was a 7-year-old who worshipped Spam and ate Tender Juicy hotdogs for almost every meal, the mere idea of removing processed meat from my diet seemed almost impossible, let alone abstaining from any by-product of animal slaughter (which is the very foundation of vegetarianism, by the way).
Now that I'm a little older, it's starting to make more sense why more and more people are making the switch. I keep hearing about how they're fantastic for both our bodies and the planet, and I totally agree!
But I've always wondered: what's stopping the rest of mankind to follow suit?
The Numbers Don't Lie
I went around the office a few weeks ago to ask coworkers whether they were vegetarian or not, and whether or not they would try it out in the future. Out of 24 respondents, only four people confirmed they were vegetarians. Two people called themselves "flexitarians" ("We eat vegetarian dishes sometimes!"), but, of course, that doesn't count. Out of the 18 people who professed their love for meat, only five of them flirted with the idea of going vegetarian.
When I asked the 13 remaining meat crusaders why they wouldn't ever go vegetarian, they all answered the same thing: the price.
Going Vegetarian Without Breaking the Bank – Is It Doable?
In 2017, food blogger and social media influencer Erwan Heussaff once wrote about adopting a healthy diet that lets you spend only Php150.00 a day. Yes, he did get a lot of hate on Twitter for it because of his use of "manioc" (a sosyal version of cassava), but the guy still has a point.
Those who know me know I love a challenge. I work in Makati, and for seven days, I made it a point to look for affordable vegetarian lunches near my office that wouldn't cost me more than Php150.00. Although I won't be doing a meal plan for the entire day, I want to prove to you, dear reader, that cheap vegetarian lunches are completely within your reach.
Day 1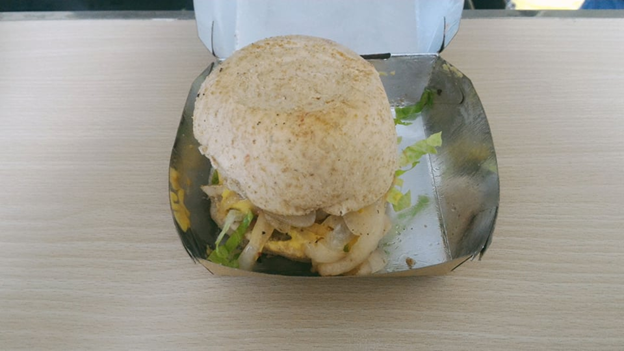 What I had: Corned Beet Burger
How much it was: P120.00
Where I bought it from: Planted, The Pantree, 119 Dela Rosa Street, Legazpi Village
I went all the way on the first day: my lunch was vegan. No meat, no dairy products – just all green-lovin' goodness.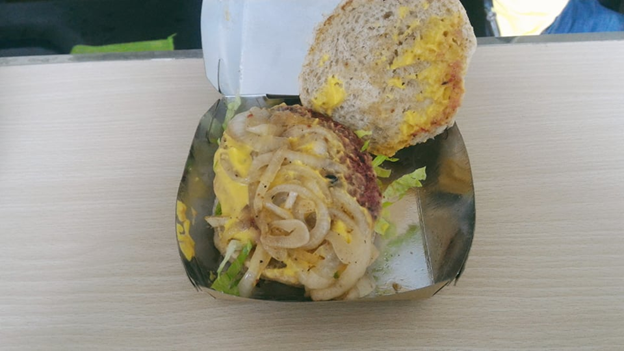 This is on the pricier spectrum of the coming lunches, but to anyone who works near The Pantree, give Planted a shot, and you're in for a treat.
Day 2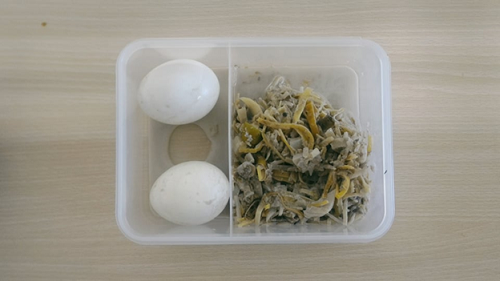 What I had: Puso ng saging and two hard-boiled eggs
How much it was: P64.00
Where I bought it from: Jollijeep in front of Dela Rosa Carpark exit
Jollijeeps are a gem. Although they were formerly known for being untidy or unhygienic, recent local government efforts pushed jollijeep staff to improve the sanitation of their stalls. They're much cleaner now than they've ever been.
They're also a great place to buy vegetables! With two eggs, puso ng saging is surprisingly a filling lunch I'd take over a burger any day.
Day 3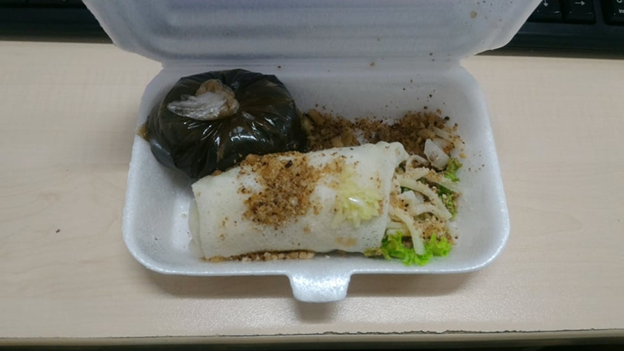 What I had: Fresh lumpia with peanut sauce
How much it was: P35.00
Where I bought it from: Our office vendor
I ate lunch a little late today because of all the meetings I had to run to, but this fresh lumpia was definitely worth the wait.
Day 4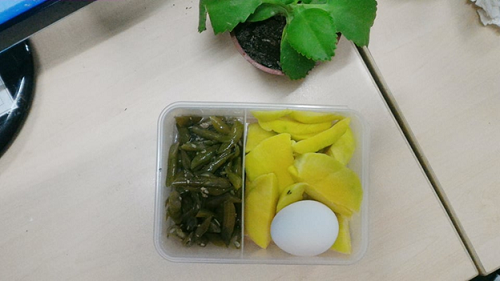 What I had: Sitaw, hard-boiled egg, and Indian mango
How much it was: P77.00
Where I bought it from: Two jollijeeps along Dela Rosa 2
I bought string beans and a hard-boiled egg for lunch. It honestly looked a bit sad, so I treated myself with a serving of Indian mango for dinner which made it the perfect meal.
Day 5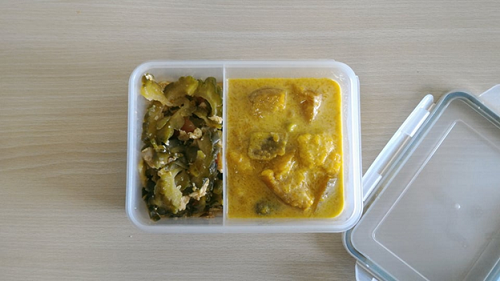 What I had: Ampalaya with egg and ginataang kalabasa
How much it was: P60.00
Where I bought it from: Jollijeep in front of Dela Rosa Carpark exit
Ampalaya and kalabasa are two of my favorite vegetables, so can you believe how happy I was to see them both in one jollijeep?
Day 6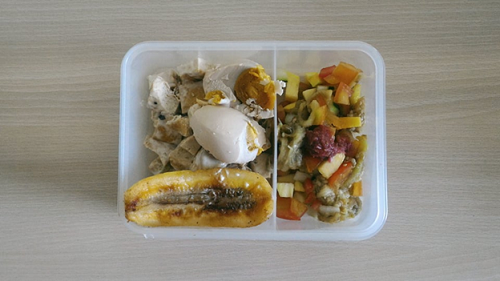 What I had: Tofu sisig, ensaladang talong, salted egg, and ½ saba
How much it was: P138.00
Where I bought it from: Mang Lirio's Jollijeep, Carlos Palanca St.
Mang Lirio is the fanciest jollijeep you'll see around Makati, that's for sure. The salted egg and tofu sisig combo is my favorite thing to order from his stall. At this point, I don't even remember what steak tastes like anymore (but I do miss my fried chicken).
Day 7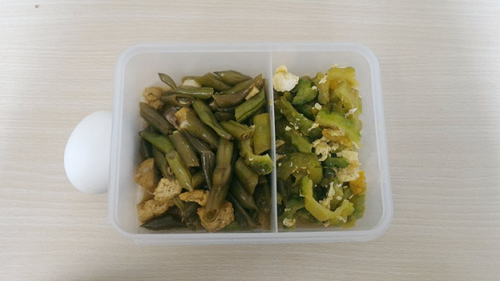 What I had: Sitaw with tofu, ampalaya with egg, and a hard-boiled egg
How much it was: P62.00
Where I bought it from: Jollijeep in front of Dela Rosa Carpark exit
The last days are always so bittersweet. The additional tofu gave the sitaw more substance and, together with the ampalaya, this meal was a filling lunch, sans the meat.
No, I didn't lose 50 pounds after this challenge (just 3 pounds, which is more than enough). And no, I won't be giving up cold cuts and braised pork anytime soon. But a scrumptious vegetarian meal every now and then won't hurt, would it?
Katrina Tankeh
Writes, eats, and dances with an incomparable vigor but is only really good at one of those things.