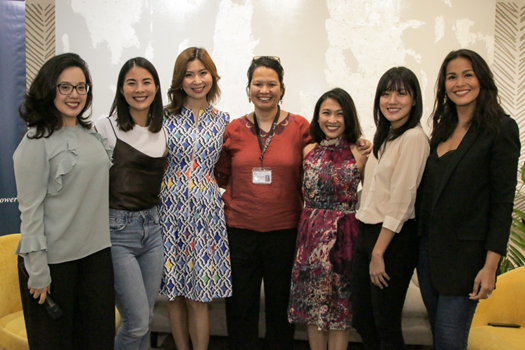 There's a long-standing myth that women secretly hate each other and would undercut, undermine, and compete with one another for personal gains.
But on Feb. 11, I watched that myth chip away as women from all walks of life banded together to form a sisterhood for science. The event was an intimate celebration of the International Day of Women and Girls in Science, which I had the pleasure to be part of for the first time.
Coincidentally, this was the first-ever STEMSisterhood Tribe Meetup, a joint effort between She Talks Asia and L'Oreal Philippines, two organizations that aim to strengthen female representation in the science, technology, engineering, and maths (STEM) fields, among other initiatives.
Over sandwiches and coffee inside Work Folk's snazzy co-working space, four inspiring women in STEM share stories of hope, hardship, and success.
Seated on the panel are Alex Suarez, an advocate for women in tech and Country Lead of Bumble, a dating app where women make the first move. Next to her is accomplished rheumatologist, Lupus Bridging Fund founder, and mother Dr. Geraldine Zamora followed by Dr. Maricor Soriano, a physicist and TOWNS awardee who helped develop Teardrop, a low-cost coral reef imaging technology. Carmel Valencia, L'Oreal Philippine's Corporate Communications Manager who speaks five languages completed the panel, with She Talks Asia's Lynn Pinugu, an amazing woman herself, as moderator. The tribe members were a vibrant mix of STEM students, liberal arts graduates looking for a career change, and passionate supporters (including a male ally).
Why We Need to Talk About Women in Science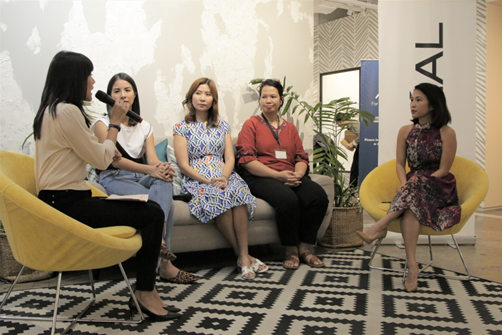 The dialogue began with this grim statistic:
UNSECO reports only 28 percent of the world's scientists are women. And although the Philippines has the narrowest gap in the number of students and professionals in STEM, only 11 percent hold leadership positions.
It's more than just a numbers issue, though. On top of the gender divide, female scientists also grapple with other complex issues, like self-doubt, gender bias, sexual harassment, powerful structural barriers, and traditional expectations – all of which can hinder success. Lynn also reiterates that the "pressure to be perfect" most women feel spills out in male-dominated STEM, as well. It turns out that tough choices had to be made for these competent and intelligent women to pursue their dreams.
Dr. Geraldine, for example, decided to switch from cardiology to rheumatology for a lighter workload so she can have more time for her daughter. These two priorities have taken over her life to the point that she had to let go of cooking for her family, which, in Filipino culture, isn't the norm and, in some families, may be even frowned upon. I asked her how she's able to manage the stress at home and in PGH, her answer is "I dance." But even her love of dance intertwines with her passion to heal, having been president of a dance troupe that raises funds for terminally-ill patients in PGH.
Finding a Balance Between Confidence and Competence
Life is also tough for women like Alex Suarez, who holds a top position in a tech company. She says that the "tech industry is a highly competitive environment, and for women who have families, it can be difficult to keep up with everyone else." She's also no stranger to the struggle of "leaning in" in an industry where men ooze with confidence and women still get anxious despite being equally competent, if not more.
For Alex, achieving broad change in society is challenging and complicated. But in the corporate world, progress starts within the company culture. She asserts that companies should establish continuity programs and policies for women – a path that allows them to start a family and still advance in their respective careers.
Being in the same industry myself, I can definitely say that it's hard for women to just "wing it" because of so many social and internalized barriers. After reading an article in The New York Times about how overqualified and over-prepared women still hold back in the workplace, I realized it's a pervasive issue across cultures. The author, clinical psychologist Lisa Damour, found that "women feel confident only when they are perfect," while men are more at ease about their abilities and, thus, progress faster at work. She strongly suggests that parents teach their girls not just to develop healthy academic and work habits but to take pride in their abilities, as well.
You Don't Have to be a Scientist to be a STEM Sister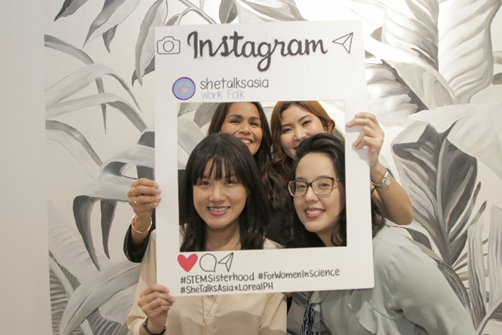 So how do we recruit more allies to the tribe?
For Dr. Maricor, or Ma'am Jing to her students in UP's National Institute of Physics, points out we can start by featuring more role models in the media (like a teleserye about a scientist heroine) so that more girls will want to be scientists. Iza Calzado, one of She Talks Asia's founder and an acclaimed actress herself, offers her mission to share the "hype" her celebrity affords to women in the STEM field.
All these come down to, as Carmel Valencia puts it, "the power of storytelling." She believes that sharing stories of women in science will help shatter stereotypes and inform young girls of opportunities in store for them. Another solution, adds Carmel, is to not exclude men and to help them become better champions of gender equality in science. Men can foster a more enabling and understanding environment, and become the caretakers, too, so that their female colleagues or partners can put in more time and effort into their work.
For us non-scientists and modern Filipinas, we have a role to play, too. As digital natives, we have the power to share these stories across all platforms, challenge the status quo, and give the spotlight to our sisters in STEM. These are just small steps, but they can inspire young girls to follow paths once believed to be reserved only for boys.
As French physicist and mathematician Emilie du Chatelet once said, "Let us choose for ourselves our path in life, and let us try to strew that path with flowers."