Myra Mortega
Myra is a writer and an editor. She has penned…
The Philippine Atmospheric, Geophysical, and Astronomical Services Association (PAG-ASA) has officially issued a Tropical Cyclone Alert for Typhoon Jenny (international name: Dujuan), which means that it has already entered the Philippine Area of Responsibility (PAR). PAG-ASA further reports that the "estimated rainfall amount is from moderate to heavy within the 600-km diameter of the typhoon." As of September 25, 10:00 p.m., the center of the typhoon was reported to be approaching 955 kilometers east of Batanes, but it is predicted to move northwest. According to an Inquirer.net report, we can expect light to moderate rains over the weekend starting this Saturday afternoon, so don't forget to bring an umbrella if you're planning to go out later.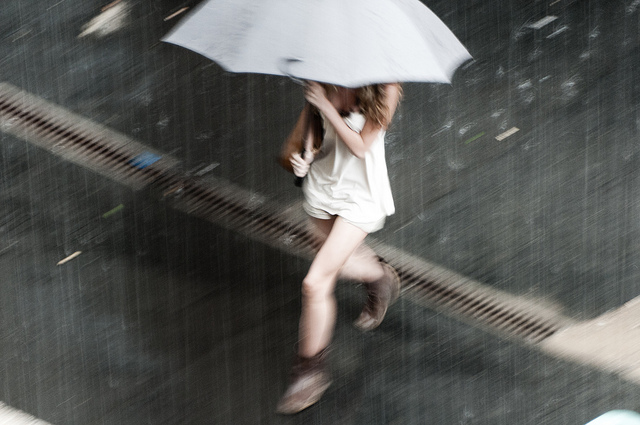 Need typhoon safety tips before typhoon Jenny hits? Here are four things to keep in mind:
1. Stock up on supplies
Make sure you have food, drinking water, and medicine all packed in a handy container. That way, you can easily carry them with you should you need to quickly evacuate. Load up on food biscuits, cookies, and candies (for that emergency sugar rush) as well as drinking water. For medicine, make sure you list down all medicines and the corresponding illnesses that they address, just in case you have family members who need to take multiple medicines in specific dosages.
2. Prepare an emergency kit
Do you have an emergency kit at home? Make sure you at least have a flashlight, a fresh set of batteries, a radio, a swiss knife, a first aid kit, toiletries, and power banks stashed in a water-proof container. Make sure you charge all your gadgets beforehand as well.
3. Take note of all your important documents
Applying for birth certificates, SSS IDs, and other legal documents could be a hassle, so make sure you safeguard all of them as well. Keep all of your important documents in a folder, and stash them in a water-proof container or a ziplock plastic bag so they won't get drenched.
4. Don't forget your pets
Don't forget your fur babies! Keep them leashed or secure them in cages to keep them safe. Pets tend to get stressed when faced with unfamiliar sounds and surroundings, so make sure that they're properly secured–you don't want your fur baby to suddenly take off in a different direction because he or she got scared of thunder. Also prepare a pet kit should you need to evacuate. Include medical records, food, water, and medicines in a handy container, so you can easily tote it with you if you need to stay at a safer location.
Myra Mortega
Myra is a writer and an editor. She has penned speeches, magazine articles, educational materials, and online content. She enjoys traveling, doodling, taking photos, and laughing to "Friends" reruns.