Carol Premacio
Audacious,vivacious and loquacious, Carol Premacio's greatest loves are, and always…
Monica Santiago is the epitome of grace and poise and her position as program director of La Vie Institute (translated, "The Life Institute") in Alabang, which specializes in personality development, fits her like a glove. Teaching, as they say, is a vocation. And Monica Santiago has taken this to heart. Keep reading to learn her story (and the lessons you can take away from it).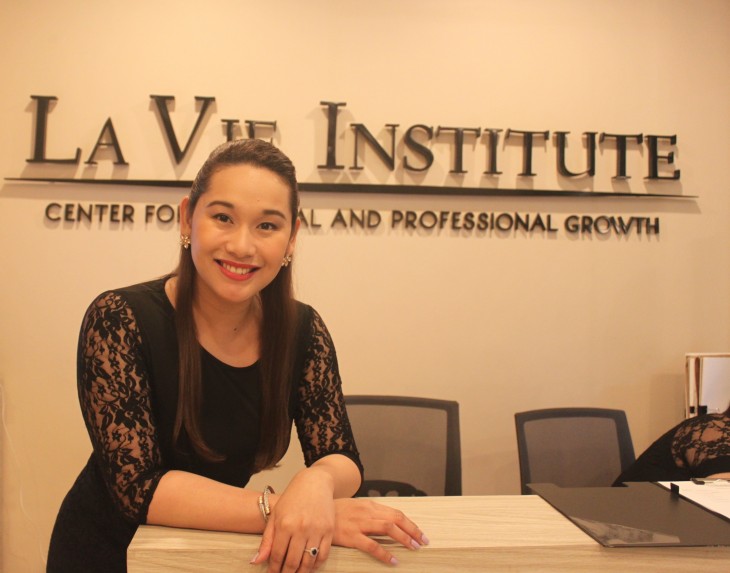 A Teacher Is Born
"My love for teaching started, I would say, through a teacher," Monica shares. "It was in St. Scho, when I was in high school during a speech class. I remember distinctly it was Miss Loza. I remember thinking, I wouldn't mind being somebody like her. Because she really made me look forward to speaking in public. I just felt so inspired, and I felt that for somebody to be able to help you get over something that's so frightening and make you love it is such a huge accomplishment. So I really wanted to be a speech teacher and then I also wanted to teach personality development."
After finishing college at the California State University–Hayward, now California State University–East Bay, she headed back to the Philippines and decided to apply as a teacher at her alma mater, St. Scholastica's College Manila. Her intention then was to teach personality development to high school students as this class was part of the curriculum during her time. "And that was one of the best high school memories for me," she adds. Unfortunately, it's no longer offered by the school, although she still had the opportunity to teach Speech and Grammar (Writing) to her fellow Scholasticans. And that was exactly what Monica wanted.
After teaching in private institutions, Monica decided to go full time into personality development. "I wanted to intersect all of my passions. Because I love to read, I love to teach public speaking, I love speeches, and I love theater. That's my undergrad in college. So, when I think about it, my love for literature, my love for theater, and then my love for teaching, perfect siya, e. Personality development is basically utilizing all of those skills to help you become more comfortable with other people."
The Need for Character Development
"I really feel, honestly, that traditional schooling is not enough nowadays when it comes to preparing kids to go into the workforce," Monica says to explain her foray into personality development. "Why? Character development is now an afterthought, it's just like a bonus, an added extra whenever people plan lessons. In a traditional school, there's so much information, so the teacher is very loaded in terms of making sure that they cram all that information into your brain. So there's not a lot of time and freedom for teachers to dwell in the why. Why are we studying? What is after the grades? What is after the diploma? So I really felt that as you are only young once, you will never pass that way again, and if you don't get that experience where people ask you, 'Who are you? What can you offer? What can you work on? What do you need to do to work on that?' Hindi mo na maiisip 'yun, e. You'll just go through the motions. Get the diploma, get a job, pay the bills, and then walang meaning. Wala nang purpose 'yung life.
"I find there are so many colleagues of mine who have gone on in their careers and they are well off, they are paid well, but they are not happy. So why is that?"
[crp]
We are often told that we should live life to the fullest, but how can we do that if we don't have an idea of what our full potential might be? If we don't know the reason why we are actually doing something? "That's your compass," she says. "Once you work on your character, regardless of where your career takes you, financial struggles, geography wise, kahit anong country ka dalhin, if you're solid with who you are, what your values are, what you want to be, nobody can shake you. Regardless of weight, religion, acceptance, you will be unshakable."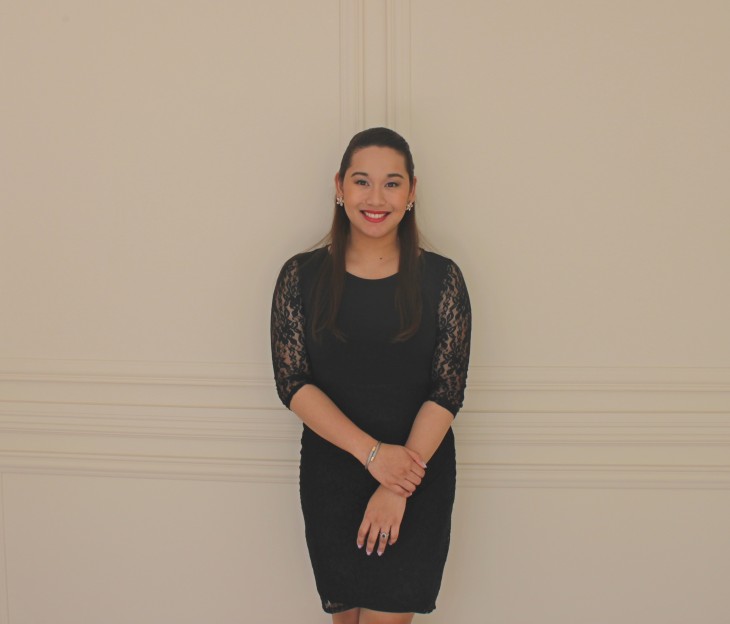 Beginnings in Character Development
Growing up, Monica's own character was molded in part by personality development classes offered by her high school. This, she says, was her introduction to personality development. Apart from this, her mom would enroll her in Speech Power classes and Philippine Educational Theater Association (PETA) workshops during the summer. "For me, that's really the training ground for personality development. You get to meet kids from different schools, different backgrounds. I was [also] very active in Youth for Christ (YFC) when I was in high school. So apart from a formal training, in terms of leadership, in terms of values, I really got it from Youth for Christ. And then theater." She shares that she was also active in theater as a college student in the States. Even then, Monica preferred being behind the scenes, directing, which she says is a lot like teaching.
On Teaching
After a stint in California as a teaching assistant, Monica came to realize why she enjoyed acting and dancing, but more importantly, why she really wanted to pursue teaching. According to her, "It made sense when I was teaching it to somebody else. And when I saw them learn to love it, it kind of reminded me of my high school self. When I looked at that teacher and I said, 'That's something worthwhile.'"
As a teacher, Monica believes in exciting her students, making the lesson an experience in itself. "It's not about teaching them Shakespeare," she says. "Its about them experiencing Shakespeare and understanding why Shakespeare is who he is.
"It's like theater. You get them to experience [being] somebody else. You get them to live a different life, you get to show them a different reality. So that's what teaching is." Monica believes that teaching is an opportunity that not everybody gets to have to change the way students look at life.
Program for the Future
Now that she is program director of a personality development institute, she has so many plans for future projects and goals. "First and foremost, I want people to change their perspective when hearing [the term] 'personality development.' Majority of the time, when people hear 'personality development,' they think it's only for people who want to become celebrities or who want to model. Actually, personality development in its essence is character education. Your personality is your biggest asset. Why? Because there's nobody else like you. So you have to figure out who you are, what makes you unique. And I think that's the essence of being competitive."
At the end of the day, though, what Monica really wants to do is make a difference in people's lives. "My bigger mission is really to inspire people. To make them see that being confident is not a surface issue. Its not only about looking good, it's not only about speaking English well—it's a holistic component."
Carol Premacio
Audacious,vivacious and loquacious, Carol Premacio's greatest loves are, and always will be, fashion and writing. She enjoys writing and reading books,fashion magazines and lifestyle magazines. One of her aspirations in life aside from working in the fashion and publishing industries is to travel and be able to see the world in all its beauty.