Nikki Uson
Nikki is a petite marketing copywriter by day, unicorn-chaser by…
Finally, the moment many of us have been eagerly waiting for has arrived. Data shows that COVID-19 cases are going down which means we can slowly ease back into our pre-panini selves. Say hello to dining out more, going on revenge travel trips, and meeting up with friends (without the fear of heading to the hospital). For some, this may also mean heading back to the office. I don't know about you but I sure have missed hiding out in the pantry (see: procrastinating before work) and catching up on the latest office gossip, but I don't think I'm quite ready to let go of the pambahay I've grown to love so much these years.
Good thing I don't have to all at once! Enter loungewear.
Loungewear: Your Post-COVID Staples
Loungewear are pajamas older, more mature siblings. Still possessing the same level of comfort we love about our pambahay, loungewear is just slightly more dressed up and more stylish than our raggedy t-shirts and bacon-y boxers.
Made of soft silks, breathable rayon, and slinky satins, loungewear is comfortable enough to be worn in and out of the house.
Love, Bonito Loungewear
This April, Love, Bonito released its newest loungewear collection which celebrates renewal. A fitting theme to embrace the renewed life we have after more than two years in quarantine, the pieces have been heavily influenced by beauty of transience in our journey — of budding, blooming and wilting.
Its beautiful specialty in-house print is centered around the French phrase "fleur fanée," which translates to wilted flower. This term is often used as a way to describe the beauty and elegance that flowers possess as they near the end of their lives.
Love, Bonito has put careful thought into coming up with this special pattern. Producing this poetic design begins with pressing a variety of wilted flowers to come up with an assortment of textures and outlines to draw inspiration from. Once pressed, their silhouettes are digitally drawn, colored in, and strategically placed to come up with the whimsical Renewed Blooms print used in all of this collection's pieces.
Choose from a selection of well-tailored matching sets and dresses to fill your wardrobe with. Whether you're in the mood for structured numbers or are keener on flowy ones, you're sure to find something that resonates with your needs and unique sense of style.
Styling Loungewear
The beauty of loungewear is that it's typically designed in sets, making it easy for you to build your outfits. You can wear it together or mix and match them with other items in your wardrobe to maximize the number of looks you can create. You also have the option to dress it up or dress it down, depending on the day's agenda.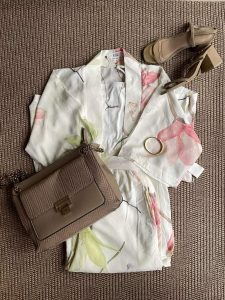 Office Chic
Pair Love, Bonito's Lennea Lounge Kimono in Renewed Blooms in White with a white tank top and the matching Pelicia Elastic Lounge Pants in Renewed Blooms. Accessorize with simple gold accessories and your favorite heels and you've got a fool-proof office look that takes minutes to put together.

Weekend Brunch
With Love, Bonito, you don't need to sacrifice comfort for style. Wear the Lennea Lounge Kimono in Renewed Blooms in White with a pink camisole to bring attention to the pastel details. Throw on a pair of denim shorts and cute sandals and you've got a dainty yet cozy outfit for Sunday lattes.

Relaxing Me-Day
Repeat after me: self-love days are productive days! Slow down, relax, and renew yourself however you please in your favorite pambahay top and the Pelicia Elastic Lounge Pants in Renewed Blooms. Lose yourself in your favorite book or find stillness amidst the chaos through meditation. Trust me, your future self will thank you for it!
Love, Bonito Rest & Renewal Loungewear is priced between US$ 30.90 (approx. ₱ 1539) to USD 35.90 (approx. ₱ 1788.00) and is available at lovebonito.com.
Nikki Uson
Nikki is a petite marketing copywriter by day, unicorn-chaser by night with a thirst for exploring the big world.