[video src="https://www.youtube.com/watch?v=wSNd02kVv8o"]
It was the day before Christmas. Everyone was probably busy preparing Noche Buena or doing last-minute shopping when Big Hit Entertainment dropped the first Twitter bomb: a purple-tinted image of the reflection of seven boys with the word "TOUR" written underneath it.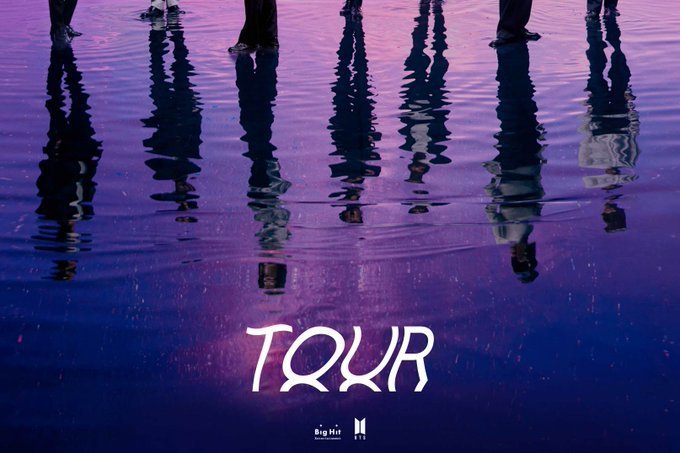 Naturally, ARMY had a meltdown. Everyone started speculating about the announcement of a new BTS world tour — or maybe it was related to their much-awaited comeback. Map of the Soul: Persona was released almost a year ago, after all, and everyone's ears are itching to hear new music.
A lot has happened since the Korean septet released MOTS: Persona in spring 2019. They were named one of TIME's 100 Most InfluentialPeople of 2019, with a warm caption written by their good friend and fellow artist, Halsey. They sold out all shows during the Love Yourself: Speak Yourself Tour:
Rose Bowl in Los Angeles (2 shows)
Soldier Field in Chicago (2 shows)
MetLife Stadium in New Jersey (2 shows)
Allianz Parque in São Paulo (2 shows)
Wembley Stadium in London (3 shows)
Yanmar Stadium Nagai in Osaka (2 shows)
Shizuoka Stadium Ecopa in Shizuoka (2 shows)
King Fahd International Stadium in Riyadh (1 show)
Olympic Stadium in Seoul (3 shows)
They released the Bring The Soul movie in theaters and a docu-series with the same name online. They launched a mobile game called BTS World and an OST album to go with it. They won their first Top Duo/Group Award at the 2019 Billboard Music Award, where they also continue to defend their title as Top Social Artist for the third year in a row. They also swept all major awards at the 2019 Melon Music Awards, 2019 Mnet Asian Music Awards, and the 2020 Golden Disk Awards — some of the most prestigious award shows in Korea.
There were some musical collaborations, too. Lil Nas X featured RM on "Seoul Town Road," a remix of Old Town Road. J-Hope and Becky G released a music video for their trilingual rendition of the early 2000s hit song "Chicken Noodle Soup." And Suga bared his soul on "SUGA's Interlude" in Halsey's new album, Manic.
Of course, there was also the BTS x Lauv collaboration on Make It Right, which is a fan favorite from the group's Map of the Soul Persona EP. It was received so well that there's another Lauv collab on the way. This time, it's a song called Who, which will feature on the soloist's debut album, How I'm Feeling.
And in case anyone has forgotten, they even turned the Empire State Building purple for a night.
It was a busy year, indeed, but the boys were even able to enjoy a well-deserved two-month break during summer. ARMYs, on the other hand, couldn't catch a break because the boys and their label made sure there was a lot of content to feast over regardless of the group's public and private schedules.
Despite all the content released throughout 2019, however, the excitement and anticipation of a new album is still different. ARMYs around the world had another meltdown when the boys dropped their second Twitter bomb — a comeback map: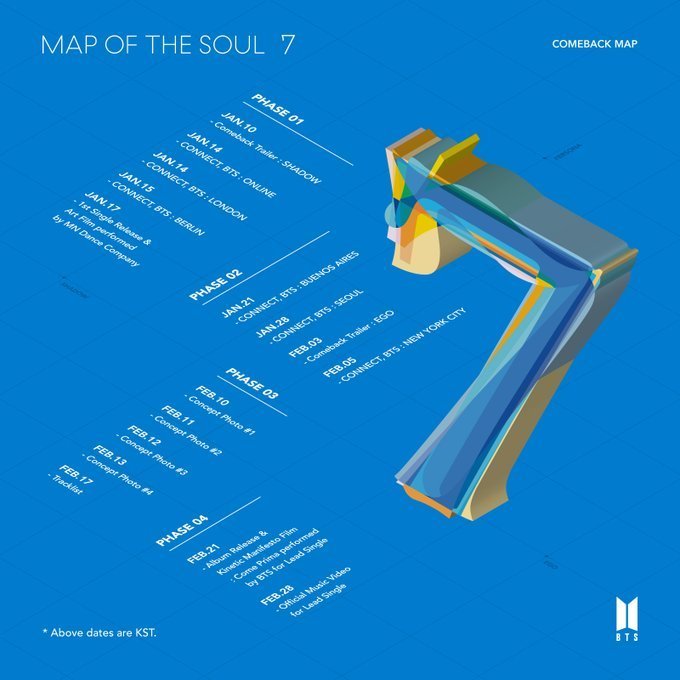 New ARMYs took to Twitter to ask veteran fans for an explanation. But this approach is completely different from the group's usual marketing strategy, which was to release a comeback trailer, share concept photos, then at the same time, launch the music video and album.
While we wait for the last week of February for the official album release and the official music video for the boys' lead single, let's take a look at what they've done so far.
PHASE 01
Only hours after Big Hit released the official comeback schedule — the map of Map of the Soul: 7, if you will — they dropped the first comeback trailer. The unapologetic "Interlude: Shadow", performed solely by Suga, marks the beginning of what looks like BTS's strongest, most powerful era yet.
Both the lyrics and the video were a lot to take in. Whereas their previous single, Boy With Luv, talked about enjoying the love they share with ARMY, this one discussed the shadows that grow darker with fame and success. It's only fitting that Suga, who has always been open about the hardships that come with their lifestyle, took the reins for this one.
The second part of Phase 01 was the launch of CONNECT, BTS which Big Hit remained tightlipped about.
The entire ARMY fandom, which usually has no problem pointing out comeback hints in the past, had no clue what it could be about. And on January 14, everyone learned that CONNECT, BTS is a global art project in five cities that features 22 artists whose unique philosophies resonated with the members of the band and the message they want to share with their fans.
BTS is breaking down barriers in the art world, particularly between contemporary art and music, through this cross-disciplinary collaboration with world-renowned artists.
According to the website, it's a collective curatorial practice that aims to redefine the varying relationships between art and music, the material and immaterial, artists and their audience, artists and other artists, and theory and practice. The first two exhibitions are in London and Berlin:
CONNECT, BTS: LONDON (Serpentine Gallery)
The first exhibition highlights Danish artist Jakob Kudsk Steensen's "Catharsis." Steensen uses virtual reality and video installations for viewers to experience ecological realities. His artwork Catharsis is a digital simulation of an old-growth forest that remains undisturbed for centuries.
CONNECT, BTS: BERLIN (Gropius Bau)
It highlights a performance series called "Rituals of Care," curated by Stephanie Rosenthal and Noémie Solomon. It's an exploration of contemporary urgency and radical acts of care and repair as told through somatic techniques, queer re-imaginings, and indigenous perspectives.
Wrapping up Phase 01 of Map of the Soul: 7 is the first single release and an interpretive dance video performed by the Slovenian dance troupe, MN Dance Company. The art film fittingly opened with a quote from the late dancer and choreographer, Martha Graham: "A dancer dies twice — once when they stop dancing, and this first death is the most painful."
The Black Swan choreography, backed by Martha Graham's quote, successfully conveys the theme of the song: an artist's fear of a time when their craft no longer brings happiness. This brings us back to Suga's "Interlude: Shadow" which explores the dirty side of one's passion and success.
PHASE 02
BTS barely gave ARMY room to breathe. Only a few days after the release of Black Swan, the group shared their schedule for the upcoming Map of the Soul Tour. It includes various cities in North America and Europe, but the only confirmed Asian cities so far are in Japan and, of course, South Korea.
But never lose hope, Filipino ARMYs! Remember that the Philippines was Bangtan's first stop outside of Korea and Japan for The Red Bullet Tour — their first-ever concert tour. They'll be back soon!
The Map of the Soul tour dates was announced at the start of Phase 02, which opens with two more CONNECT, BTS exhibitions:
CONNECT, BTS: BUENOS AIRES
The third exhibition highlights Tomás Saraceno's "Fly With Aerocene Pacha." Saraceno uses his artistic platform to address the climate emergency the world currently faces. As such, Aerocene Pacha attempts to set the world record for a fully solar flight, solely powered by the sun and air.
CONNECT, BTS: SEOUL (Dongdaemun Design Plaza)
The fourth exhibition features two major shows. Ann Veronica Janssens forces viewers to confront their unique perception of space through "Green, Yellow and Pink." Yijun Kang simultaneously conceals and reveals identity through the BTS choreography inspired "Beyond the Scene."
It's also during this phase that BTS performed for the first time at the Grammys, where Lil Nas X decided to share his stage with the group and other artists who contributed to the success of Old Town Road. While the boys served looks that night, ARMY was more excited for their James Corden appearance.
The audience of The Late Late Show with James Corden witnessed a hilarious game of hide-and-seek with James Corden, Ashton Kutcher, and BTS. It was also the first time ever that the boys performed their choreography for Black Swan. The sharpness, expressiveness, precision, and grace displayed throughout the performance further solidified Bangtan's status as artists who are dedicated to their craft.
After seeing this new choreography, ARMY is more excited than ever for the main single to drop. Big Hit rode on this momentum by releasing another song from the upcoming album Map of the Soul: 7.
We already know that Suga's "Interlude: Shadow" connects the songs and storyline from RM's "Intro: Persona" which opened the Map of the Soul: Persona EP. The third song in this unofficial trilogy is J-Hope's "Outro: Ego."
In this solo, J-Hope advises the viewer to "just trust yourself" and "look ahead." It stays true to the theme of ego, which is self-esteem and self-importance. The bright and hopeful song is a sound conclusion to the journey that a philosophical RM started with "Intro: Persona" and that a tenacious Suga continued through "Interlude: Shadow."
Not only is this reminiscent of the Cypher series which showcased the technical and lyrical skills of the group's rappers. It effectively ties up the three aspects of Carl Jung's Map of the Soul: Persona, Shadow, and Ego. It also makes ARMY more curious about the sound and storytelling that connects "Interlude: Shadow" and "Outro: Ego."
While people continue to speculate about the direction and diversity of the upcoming album, the fifth and final CONNECT, BTS exhibition opens in New York City.
The final exhibition of BTS's unprecedented global art project is at Brooklyn Bridge Park Pier 3. It features Antony Gormley's "New York Clearing. The display is made of 18 kilometers of aluminum tubing that has no beginning or end, putting emphasis on art (and a world) that has no barriers.
PHASES 03 AND 04
The third and fourth phases of the Map of the Soul: 7 comeback map seem simple. Phase 03 includes the release of four sets of concept photos, along with the official tracklist of the upcoming album. Meanwhile, Phase 04 includes the official release of the album, along with Kinetic Manifesto Film: Come Prima, on February 21. The official music video for the lead single is set to be released a week after that.
But when have things ever been simple for BTS? Their hard-hitting song Dionysus drives the point home by sending the message that music remains empty if there's no artistry and authenticity behind it.
There's no doubt that the upcoming album isn't going to play it safe. And at this point, there isn't much left to do except to wait for the release. Until then, let's keep supporting "Interlude: Shadow," "Black Swan," and Outro: Ego." Of course, let's not forget the Queen of All Bangtan Songs, "Spring Day." She may be a three-year-old song, but nobody can dethrone her on the charts.