Marian Bartolome
Marian is an interior designer turned freelance writer who loves…
After 2014's head-bopping success of Grease, 9 Works Theatrical once again lights up the stage at RCBC Plaza's Carlos P. Romulo Auditorium, this time with their rendition of the Tony Award-winning musical La Cage Aux Folles. Don't be intimidated by its exotic title, though! Once you hear it for the first time, those four syllables will roll off your tongue like molasses—thick, sweet, and decadent, much like the musical itself.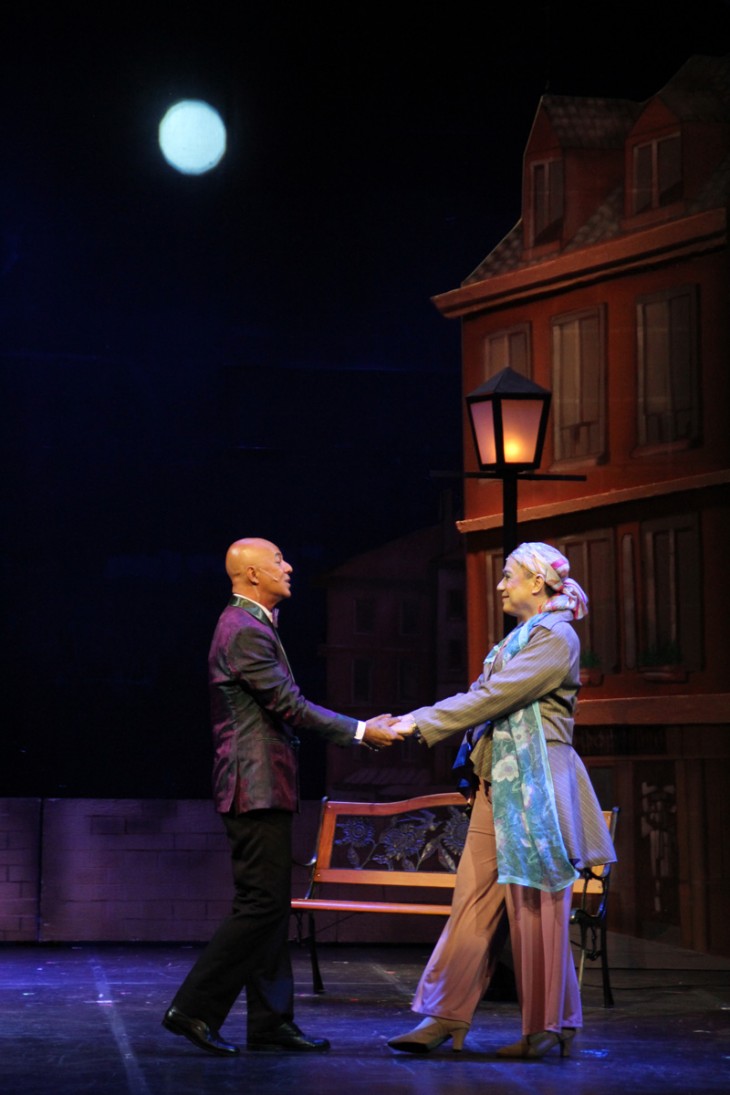 Created by Harvey Fierstein and Jerry Herman based on Jean Poirot's French play, La Cage Aux Folles tells the story of life partners Georges and Albin. Georges runs a nightclub where drag performers rule the stage, and the star is none other than Albin, aka the legendary Zaza. All's well and good, until their son Jean-Michel comes home to introduce them to his fiancée and her ultra-conservative parents. Bonds are tested as they try to reconcile their Jean-Michel's wants with their identities and values.
Sound familiar? Apart from this musical, Jean Poirot's play inspired a 1978 film by the same title, which was later remade for Hollywood in 1996 and titled The Birdcage. The adaptation starred the Robin Williams and Nathan Lane.
When we attended the press preview of La Cage last Friday, we had no idea what to expect other than actors in drag. The moment Michael de Mesa stepped out as Georges and the music started to play, we were transported to his nightclub in exotic Saint-Tropez. Then the curtains parted, revealing the colorfully garbed Les Cagelles, who twirled and tap-danced their wigs off in a dizzyingly enthralling rendition of "We Are What We Are." With its flurry of color and movement and the strong message underlying it, this first performance set the tone for the rest of the production.
We quickly learned that there was more to this musical than its glitz, gaiety, and bawdy humor. It spoke of struggling to be true to your identity in the face of other people's disapproval, of working through tough times as a devoted couple, and of valuing your family regardless of your differences. These are themes that we can all relate to, proving that no matter our gender, race, or stature in life, we share the same desire for love and acceptance.
This relevant story is brought to life by an incredible star-studded cast led by the aforementioned Michael de Mesa and theater veteran Audie Gemora. Michael worked the stage with charisma, earning our sympathy as Georges, a man trying to appease his son without hurting his partner. Meanwhile, Audie's raw, emotional performance as the flamboyant Albin tugged at our heartstrings, especially when he launched into his memorable solos "A Little More Mascara" and "I Am Who I Am." Together, they had us believing in and rooting for Georges and Albin's tried-and-tested love.
Other familiar faces include Steven Silva as the young and foolish Jean-Michel, ballerina Missy Macuja-Elizalde as his fiancée Anne, and stage favorites Raul Montesa and Sheila Francisco as Anne's parents. Analin Bantug portrays restaurant owner Jacqueline, while Noel Rayos dons various extravagant outfits and serves up the laughs as Jacob, Albin's hilarious assistant and butler. And let's not forget the dancing Les Cagelles, who amazed us with their athleticism and grace, not to mention their willingness to pluck, shave, and wear heels and wigs. A hearty round of applause goes to JP Basco, Mara Celine Javier, Randi de Guzman, Carlos Deriada, Chesco Rodriguez, Dindo Divinagracia, Cheeno Macaraig, James Stacey, and Rafa Siguion-Reyna. We must say, it was especially startling to witness Rafa's transformation from Grease's tough guy Kenickie to a high-pitched diva in a dress.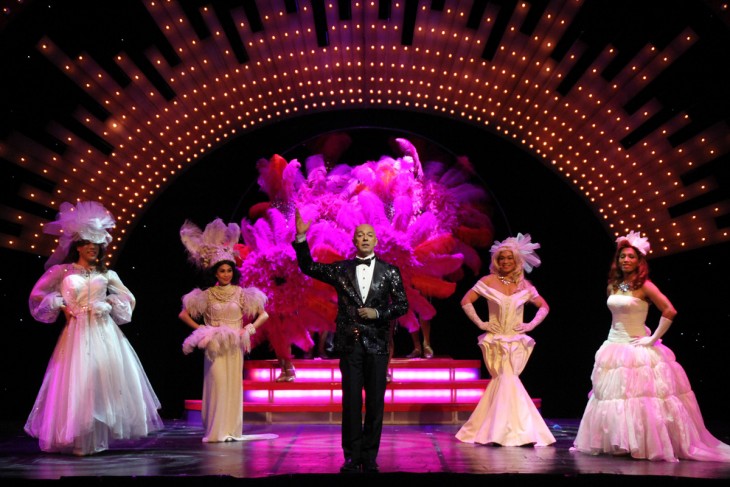 As always, 9 Works Theatrical outdid themselves in the staging of La Cage, transforming the Carlos P. Romulo Auditorium stage from a fancy nightclub to an eclectic home to a charming plaza in Saint-Tropez and back again. For that, we give major props to Mio Infante, who not only handled the set design, but also spearheaded the costume design with the help of the Fashion Designers Association of the Philippines and Twinkle Zamora. Myrene Santos ensured that the performers' hair and makeup matched their elaborate outfits, while Martin Esteva made the stage glow with colorful lights. Of course, we have to mention choreographers Arnold Trinidad, PJ Rebullida, and Yek Barlongay; musical directors Joseph Tolentino and Sweet Plantado-Tiongson, and overall director Robbie Guevara.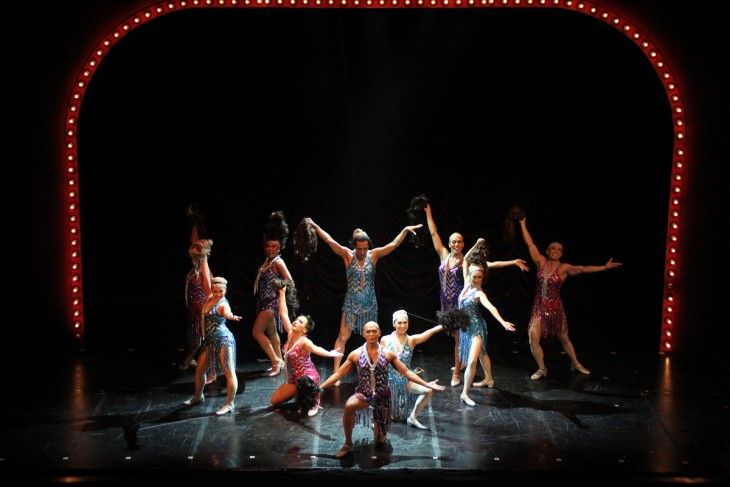 Whether you're looking for some flash and laughs or a story to touch your heart, La Cage Aux Folles is definitely not a musical to be missed. So gather your friends, set a date with the stage this March, and prepare yourself for a different kind of theater experience!
---
Catch La Cage Aux Folles at the RCBC Plaza, Makati on March 7, 8, 21, 22, 27, 28, and 29. Friday and Saturday galas are at 8:00pm, Saturday matinees at 3:30pm, and Sunday matinees at 4:00pm. Dial 586.7105 or 0917.554.5560 for ticket and fundraising inquiries, or email info@9worktheatrical.com. For updates and sneak peeks, follow 9 Works Theatrical on Facebook (9workstheatrical), and Twitter & Instagram (@9WTonline). 
LA CAGE AUX FOLLES is presented by 9 Works Theatrical and The Rockwell Club, with MAC Cosmetics as the Official Makeup Sponsor. Official photos by Photoworks Academy. 
"La Cage Aux Folles" is presented by special arrangement with SAMUEL FRENCH, INC.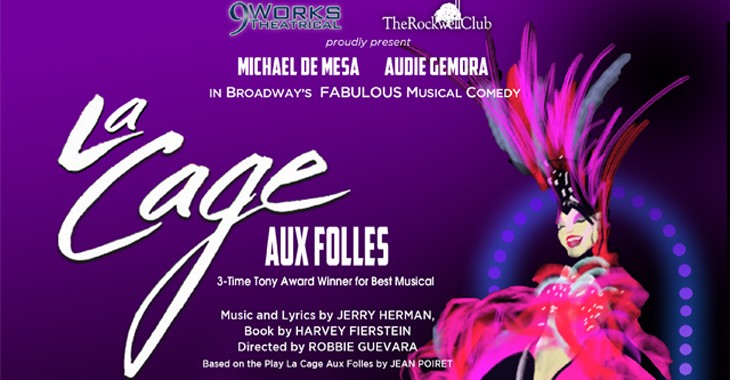 Marian Bartolome
Marian is an interior designer turned freelance writer who loves exploring the world on her feet and through her Kindle. Her favorite things to write about? Travel, lifestyle, coffee, and happily ever afters.