Justine Lubag
Justine is a Slytherin who loves cosplay, horror fiction, and…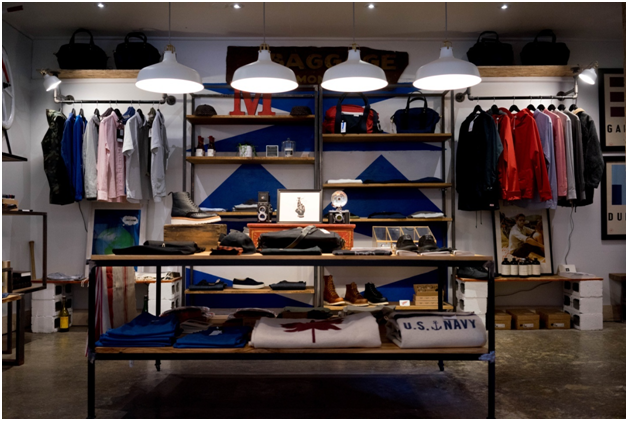 When I was in high school, there wasn't a section for plus size clothing yet. When I had to shop for clothes or shoes, it was always a struggle to shop for my size because all the brands were mixed and not all of them carried larger sizes. My mom was fairly patient searching with me, but when I was shopping for jackets, jeans, or sneakers, there was always that one line she said that made me realize she was beginning to lose hope for finding my size:
"Maybe we should check the men's section."
It was always an embarrassing moment for me when I had to walk around the men's section and pick out clothes designated for men.
I am a woman. I identify as a female. I use the pronouns "she" and "her."
So to be seen picking out clothes next to other men back then was like saying I had a body type that could not be considered feminine.
But then I grew up and realized all clothes could be gender neutral if you wore it right and stopped caring about which section you buy it from. So I went around my local SM Mall, SM Southmall, to see if shopping in the men's section would be any different from buying in the women's section.
Clothes Shopping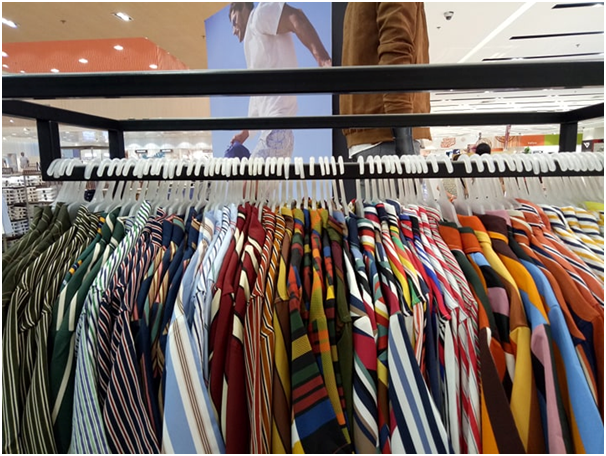 My little sister, Jillian, and I started casually browsing the men's wear for clothes. The men's section on the ground floor kind of resembled the women's section downstairs and had sections for undergarments, formal wear, and casual wear. It was much smaller than the women's section, though: if the women's section occupied like half of the underground floor of the department store, the men's section was like 20 percent of the ground floor – the ground floor was dominated by beauty care and women's shoes.
I was having no luck finding something I'd want to buy. I thought that since men's sizes are bigger than women's (a man's XL fits a 47-inched chest, but a woman's XL size fits a 40-inched bust), I'd have an easier time finding clothes. But I found that it was still pretty difficult because most of the casual wear I liked came only in small, medium, and large. There was an area for bigger sizes (just like the women's section), but I didn't find any style that I liked.
I was getting pretty tired of finding stuff that either fit but didn't have a style I liked, or designs I really liked but didn't fit. But then Jillian saw these colorful short-sleeved polo shirts and decided she wanted to try one. She was a bit embarrassed having to browse through the men's racks, so before one of the salesladies approached us, we decided to pretend we were buying a gift for our non-existent brother who just happened to be the same size as her.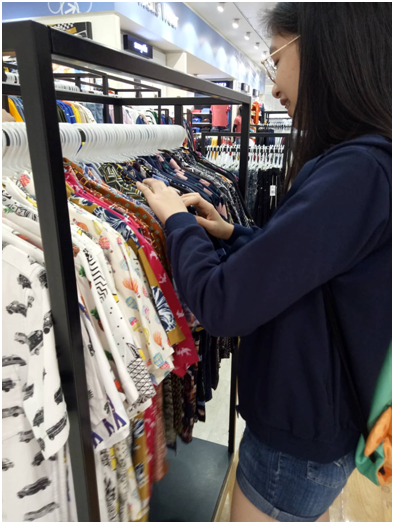 Jillian has a thin, slender figure, so finding her size was no problem. But the one shirt she liked only came in a medium size, so we were worried it might be too big for her. Downstairs, all the fitting rooms in the women's section had a clear "Women Only" signs. We figured the fitting rooms in the men's section might be the same, so we decided to go to the women's fitting rooms to try on her shirt.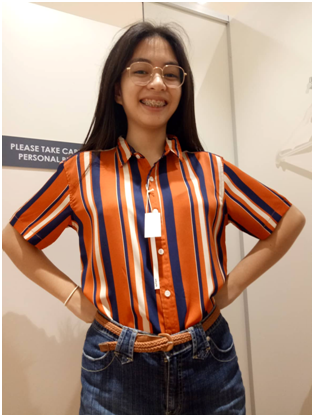 Jillian fell in love with the shirt and how stylish it looked on her. I thought it might have looked better in a smaller size, but she felt comfortable and liked how it looked when she tucked it in to her shorts. The shirt was from a brand called "Smythe," and she paid about P600 for it. It's not the cheapest shirt, considering you could find something similar to it in ukay-ukay stores around the city for much less.
As her older sister, I kind of have an idea what her style was, and this shirt was it. After she decided on buying it, I wondered if we could have just skipped the awkwardness of going to the men's section and find something similar in the women's section. But when we searched the area, there was nothing remotely similar to it. So if Jillian wanted to buy another top like this, she'd have to go back to the men's department.
Shoes and Other Accessories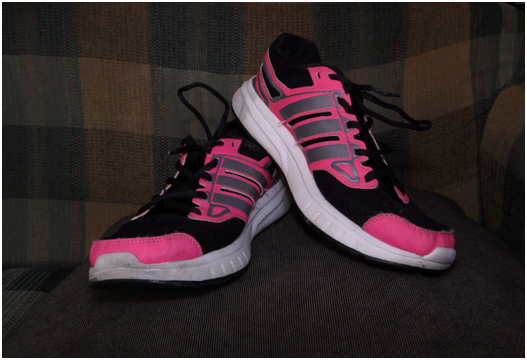 Aside from plus sized clothes, I've also had a problem with buying shoes. Unlike my older sister and my mom's side of the family, I wasn't blessed with normal-sized feet and instead got my dad's big feet. I could always remember struggling to find size 10 shoes whenever I needed black shoes for the new school year. Thankfully, girls won't have that problem now that SM Department stores (or at least SM Southmall does) have special sections in women's shoes dedicated to larger sizes up to 12.
But back when I needed to buy rubber shoes, most brands sold in the women's only went up to a size 9. I was finally forced to search the men's section for shoes. I was worried that I'd be forced to buy those bulky men's shoes that were so obviously made for athletes, but I found that there were a lot of choices, some of which didn't even look like a traditional pair of shoes.
I can't remember what brand my shoes were, but I picked them out because they fit really well, were comfortable, and because pink and black were my favorite colors at the time. Had I not chosen to look at the men's shoes, my only other option would be to go to Payless. The designs there are really nice and they have shoe sizes until size 12, but the quality isn't very good and usually lasts less than a year. I've had these shoes for years now, and I've found them to be very durable, so I'm thankful I found them.
Looking at Clothes Regardless of Gender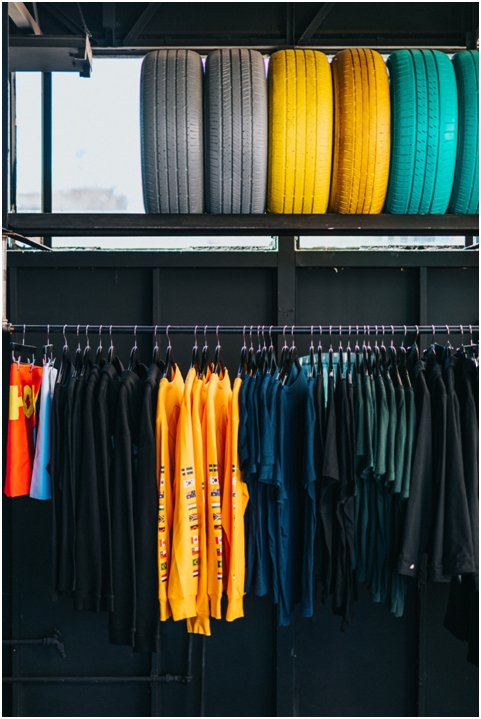 In my search for clothes in the men's department, I've found that while theirs is a lot smaller than the women's area, they're basically the same: they have the same sections and their clothes costs roughly the same. And whether I was a plus-sized man or woman, my options would still be limited to the clothes that cater to a larger clientele because not all brands have a wide range of sizes.
Men's and women's clothes differ. Women's jeans have smaller pockets and require women to bring bags to carry all of their belongings, and you can tell if a button-up shirt was made for a man or a woman by the position of the buttons. But when you think about it, all clothes are basically just the product of a corporation keen on making a profit.
So why is it necessary to label men and women's clothing as such when a piece of clothing can look good on either sex?
Clothes don't have to be just for one sex or the other. So the next time you happen to see something from the men's department that you think will look good on you, don't be afraid to get it and try it on. Ignore the distinction between men's and women's clothes — and wear whatever feels and looks good on you.
Justine Lubag
Justine is a Slytherin who loves cosplay, horror fiction, and puns. She is the certified favorite human of her dog, Pud.