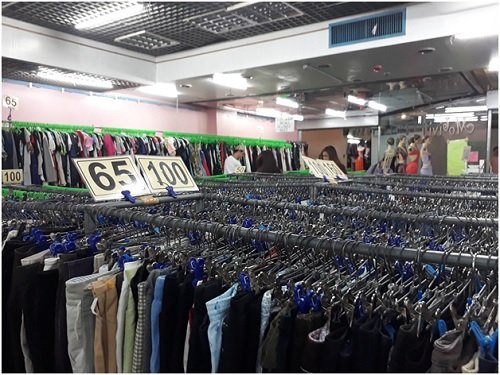 UKAY IS LIFE — that is one of the fashion mantras I live for.
Thanks to my recent Baguio trip, I now believe that fashion gems exist in these thrift stores. Your P1,000 is enough to buy you three sets of clothes, I kid you not. So, when I heard that Makati Cinema Square is a nearby haven of ukay, I couldn't resist.
I took the Modern Filipina team with me, and we had our own P500 Ukay Challenge.
The Basics
Makati Cinema Square is located at 2130 Don Chino Roces Avenue, Makati. The establishment opens at 11 AM and closes shop by 9 PM.
There is no one ukay-ukay shop in one of the oldest malls in Makati. There is one shop located by the mall's entrance and four to five more inside. Apart from the fashion thrift finds, Makati Cinema Square also offers other activities, such as archery ranges, bowling alleys, theater stores, and Chinese restaurants.
The Shopping Begins!
The team and I were #shook with the things we found. The first thrift shop (the one located by the entrance) already held so many gems.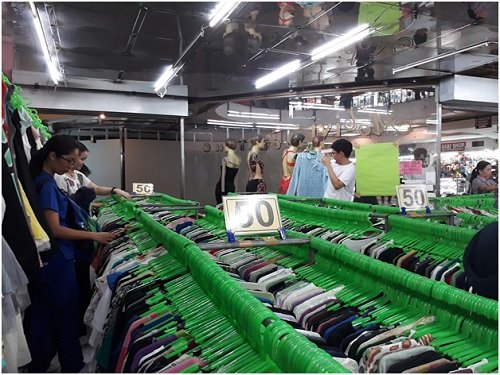 There are a variety of items you can buy in these shops. From branded bags and shoes to baby clothes and toys, Makati Cinema Square's ukay-ukays beat SM in terms of having everything for you. We found a lot of vintage pants for men and women, formal clothes, amazing jackets (my editor Pauline won at this one), and dresses.
The massive selection put our searching skills to the test.
The options were fascinating. I stumbled upon odd clothes perfect for a Halloween party or the occasional "I just want to be whatever I want" night. There were standard white t-shirts, cool jackets, and pants of all sizes. We even found strange Nike jogging pants with Jollibee's brand on it.
The price ranges vary from one shop to another. The first shop had a P80 to P200 range while the third one we visited was more expensive: P100 to P500. The team and I bought the most from the second shop since their price range was P50 to P100.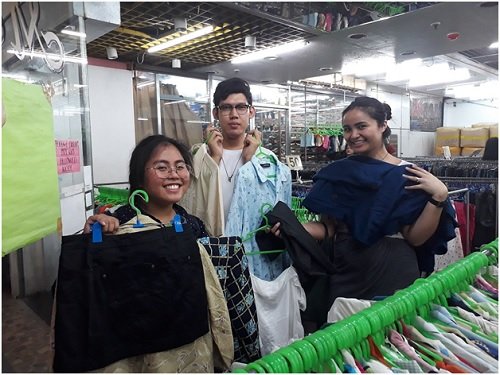 At the end of the day, we managed to buy at least four to six pieces of clothing and kept to our budget. Pauline's haul originally caused P510, but she got at least a hundred-peso discount because of her excellent bargaining skills (yes, you can haggle at ukay, guys!).
The Haul
So how far did our P500 get us? Here's the team modelling their amazing ukay hauls: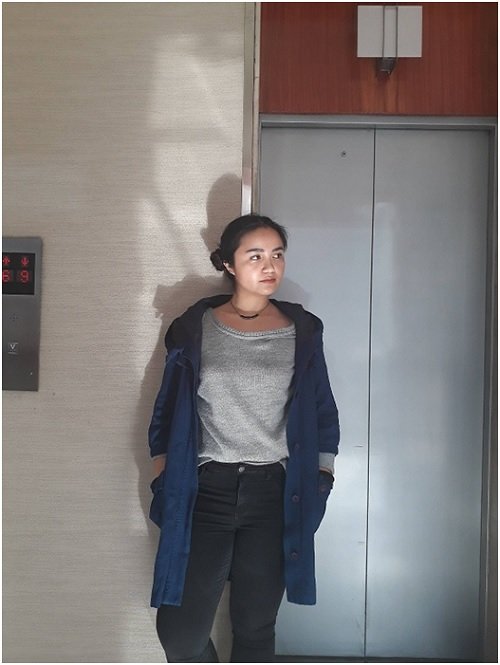 Pauline's top and jacket ensemble cost her less than P300. The jacket featured a hoodie and multiple pockets. We're in love with the color, too!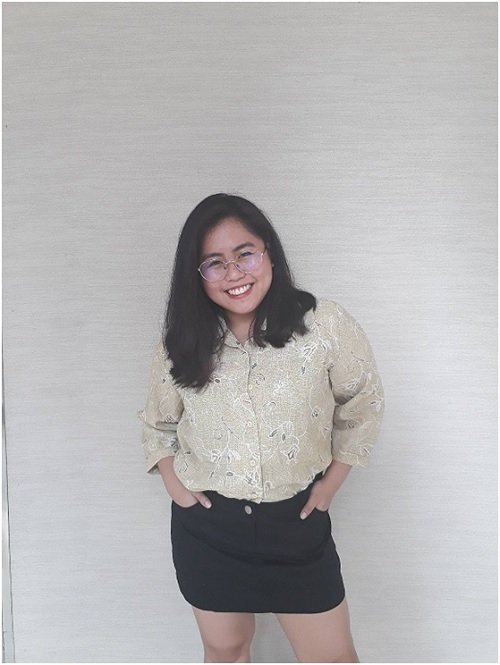 Sharee's light green top doesn't look like it costs less than a hundred bucks. It goes well with her black skirt, which also costs less than a hundred bucks! Her wardrobe is a comfortable ensemble that didn't make her wallet cry.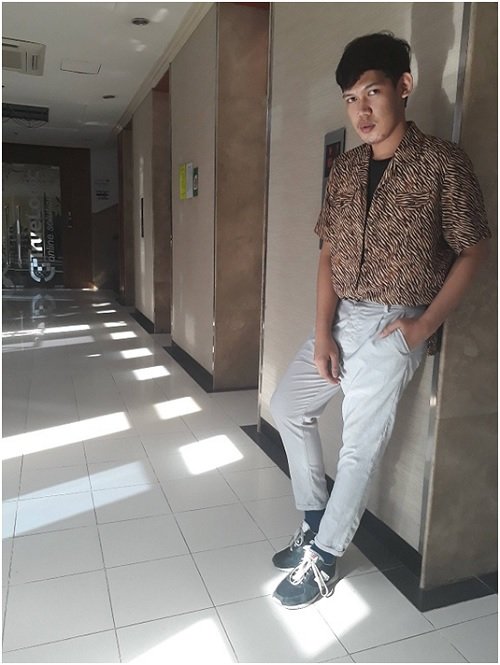 Rick had a harder time searching for his clothes. The first stops didn't give him enough options. After hours of searching, he hit the mother lode when we dropped by the last shop. His chino-style pants are from ZARA Man. He and Pauline were gushing over how it costs about P2,000 in the brand's stores, and Rick bought it for just P135. The pants, topped with his loose leopard print shirt (a bargain at P50), creates effortless cool — even though it took him hours to score the pieces.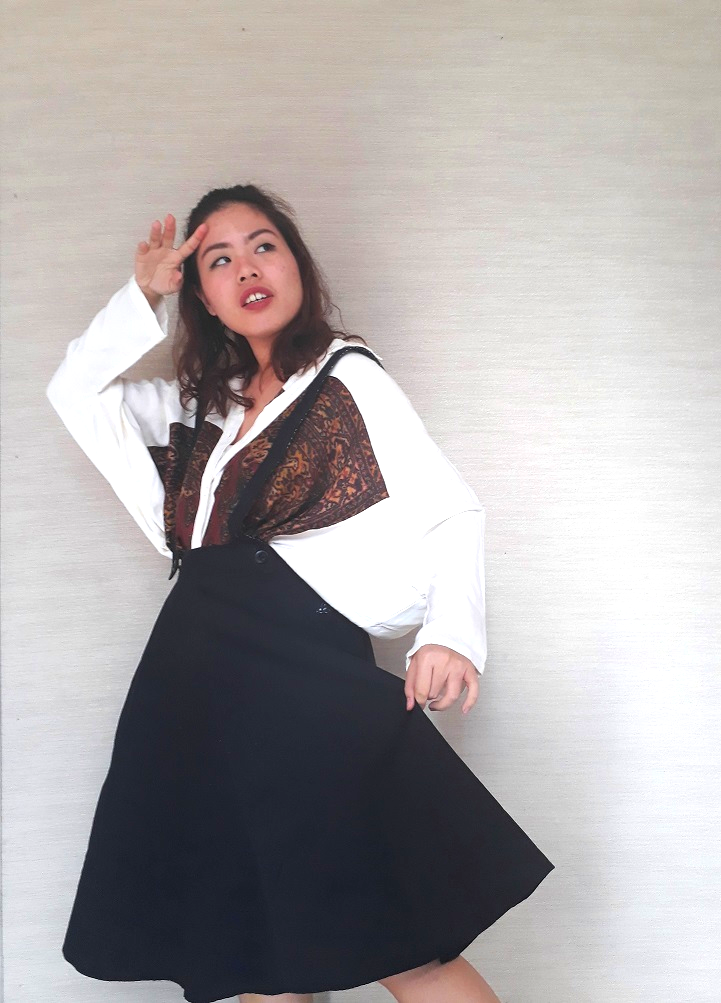 I hit the jackpot at the first shop. Funny story about the attire: I found this gem with a bunch of dresses priced at P130. Pauline then handed me a super oversized shirt that looked like an ancient rug, but I fell in love with it ASAP. When I tried it on, it all fit like a dream.
The dress shirt, according to Pauline, was P130, too.
When I reached the counter, I was expecting to pay P260. The cashier looked at my purchases and said, "P160 for both." She charged me only P80 for each.
P160 FOR THIS SWEDISH RUNAWAY LOOK? Sold! Apart from the look, the fabric was still intact. There weren't any rips or tears; everything was perfect.
Anyone who saw our clothes would think we spent a lot. In reality, we didn't and we all looked fab: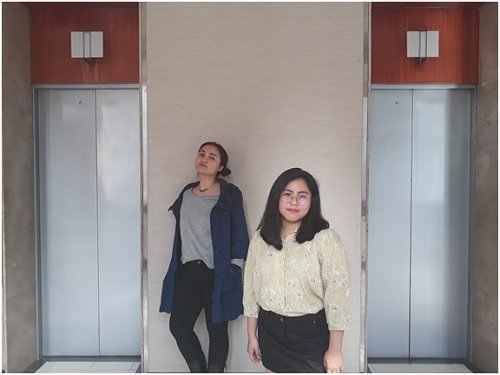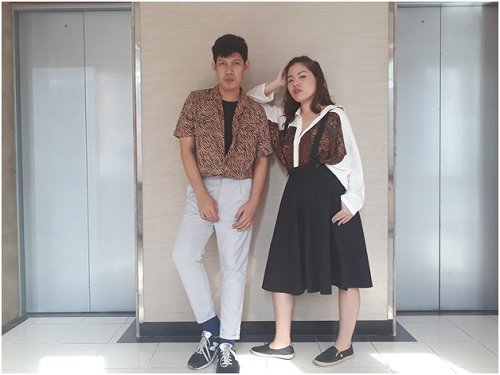 All in all, there were no losers in this P500 ukay challenge at Makati Cinema Square. Now if you'll excuse me, I'm off to find more gems at local ukay-ukays!
Where do you think we should go to next?
Ashley Petallano
Ashley is an awkward potato in love with words, Kpop, and corgis. She spends her free time dancing like one of those balloon things you see in malls.