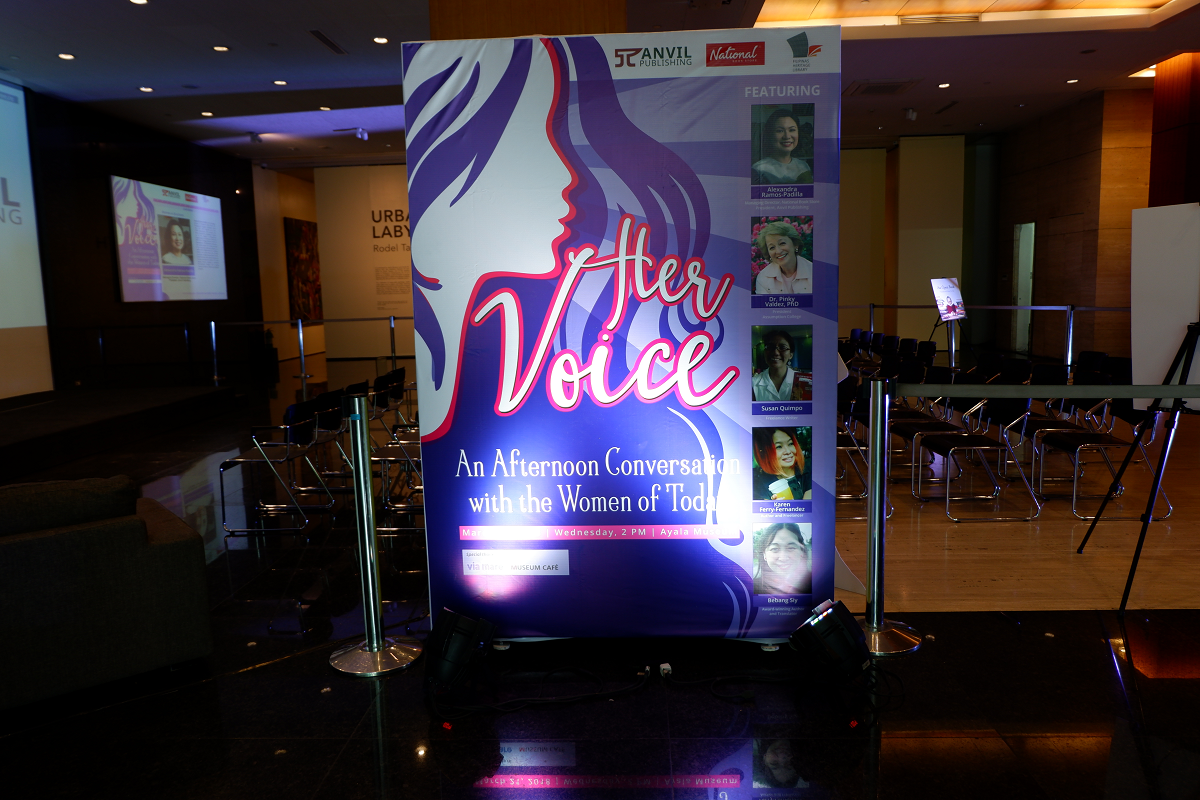 March was an eventful month for women. It was, after all, International Women's Month. But out of all the gatherings and events that celebrated the power of women, there's one that stood out — Anvil Publishing's "Her Voice: An Afternoon Conversation with the Women of Today." And I am beyond grateful that I was able to attend this unique gathering of women from different walks of life.
On March 21 at the ground floor lobby of the Ayala Museum, Makati City, I sat in the second row of chairs, beside a group of female senior high school students. Dr. Pinky Valdes, president of the Assumption College, was the first of five speakers to grace the stage. She began her talk with stories of abuse and violence — a rather heavy but fitting way to start a women's forum.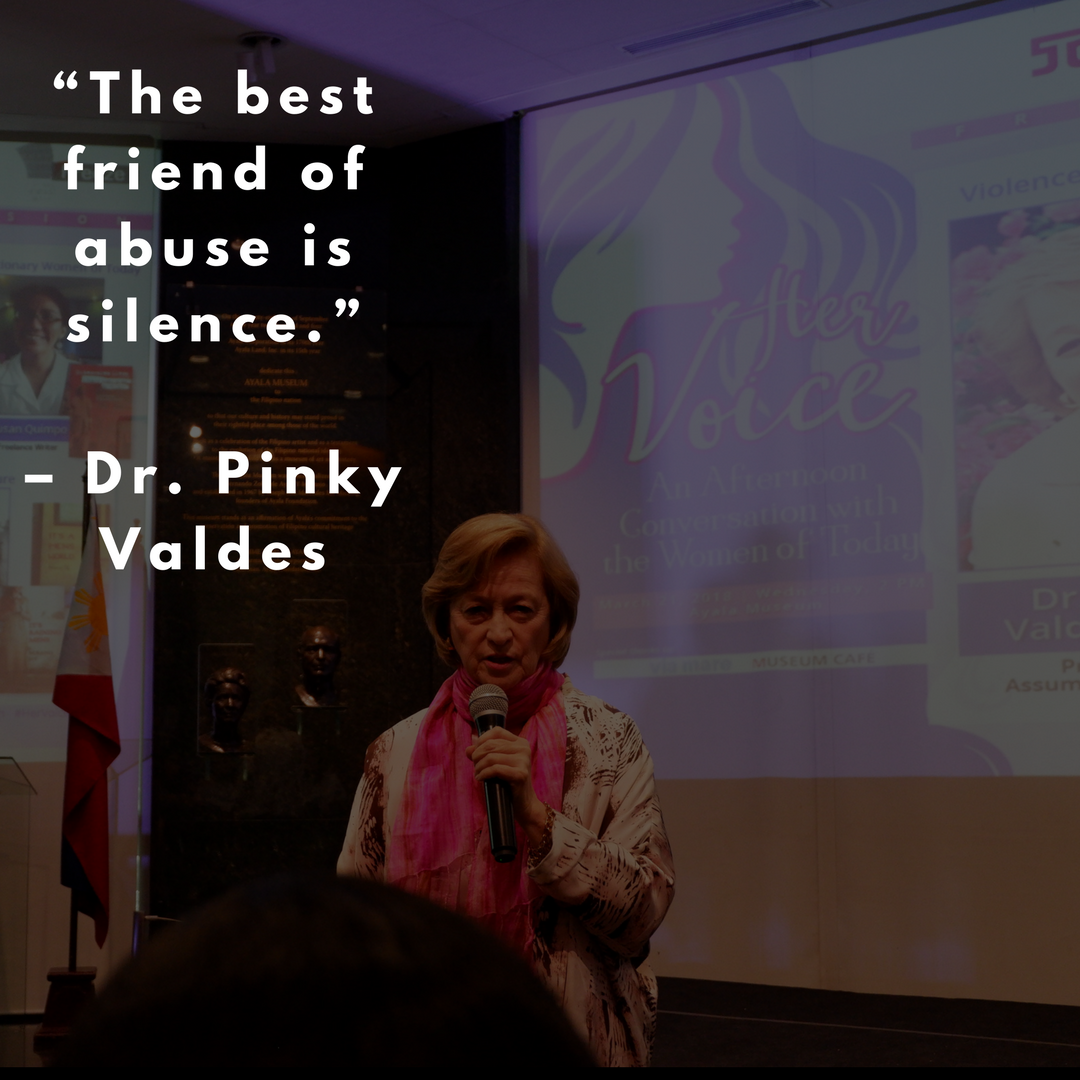 Dr. Valdes revealed that like many vulnerable women, she experienced sexual abuse, too. She was six when her teenage cousin raped her repeatedly for over two years. When her family moved to the US, she was molested again, this time by a family friend. She, however, used those experiences to lead a purposeful life teaching students to overcome trauma and change the normal, or rather, the patriarchal mentality.
The Assumption president urged us, especially the young students in the audience, to speak up for ourselves or for anyone who's vulnerable. Before she left the stage, Dr. Valdes reminded all of us that "the best friend of abuse is silence" — thus, it is highly important that women reclaim their voices.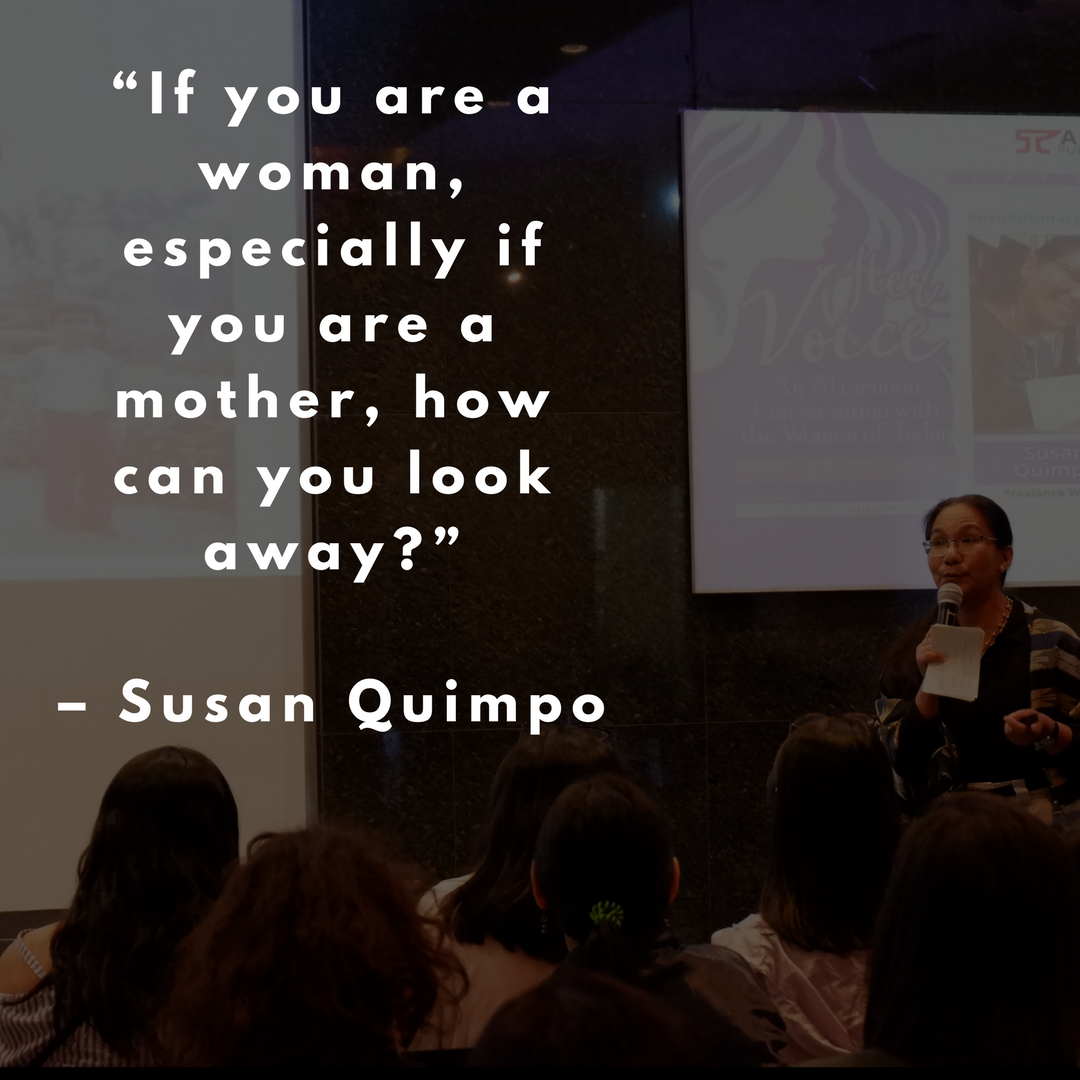 Susan Quimpo, the co-author of "Subversive Lives: A Family Memoir of the Marcos Years," took the stage next and continued the afternoon conversation. Susan is the youngest in a brood of 10. Six of her siblings were activists during the Martial Law period. In a matter-of-fact manner, Susan shared the violence committed against her siblings, making the audience grimace in pain at each sibling's story of suffering.
She was so calm the entire time that I did not expect her voice to crack when she ended her talk by leaving a challenge to all women to continue the battle against violence and saying "If you are a woman, especially if you are a mother, how can you look away?"
While the first two speakers challenged us to reclaim our voices, the next three speakers inspired us to take charge and put a dent in this male-dominated universe. Karen Fernandez, author of "7 Stages of Good Grief…Freelancer na Ako?!," spoke about being a girl boss today. "It's a Mens World" author Bebang Siy introduced the audience to the "Leading Lodis" of Philippine Literature. The last speaker Xandra Ramos-Padilla, the president of Anvil Publishing and managing director of National Book Store, shared life lessons from her lola, Nanay Coring, the founder of NBS.
I left the event feeling more than empowered. After all, I learned a valuable thing, and that is women, when they band together even just for a quick afternoon chat, can prompt a shift in perspective. At least, that's what I saw in the eyes of the ladies — young and old — at the ground floor lobby of the Ayala Museum that afternoon.
Berna Sastrillo
She's a web content writer, a playwright, and the author of the children's novel, Detective Boys of Masangkay: Ang Mangkukulam.