We all know that health is wealth, but it's really easier to just stick to unhealthy lifestyle. It's more difficult when you're stressed, and popping a bag of chips or heading to the nearest fast food joint may seem like the only things that could give you comfort. So here are some ways to slowly switch to a healthier (if not totally healthy) lifestyle.
1. Choose to be healthy.
Being healthy is a constant choice. It is choosing to be more active. This is as simple as choosing to walk to a nearby restaurant instead of taking a cab. It is also choosing to consume healthier food and intellectual content. And what's good about this is that you don't have to turn into a complete health buff overnight! It could be as simple as choosing a veggie burger instead of a regular one or opting for pizza toppings without too much grease and fats.
2. Free your mind of negativity.
Being healthy is not only about being ripped–it's also about having a healthy mind. Make sure to feed your mind with awesome content. Filter content that will elicit negativity in your life. Your friend criticizing your dress? Stop listening. A new Facebook status update from your ex? Skip it. This includes any negative thoughts that tell you that you can't switch to a healthy lifestyle. Keep your mind clear of clutter by choosing happy and positive thoughts. You'll see how freeing your mind from garbage will reflect your health physically.
3. Read up!
Research about how to maintain a healthy lifestyle. It is important to know the ins and outs of being healthy to know how to be one. There are plenty of reading materials that'll help you get on the right track. Find books or articles that you can easily relate to. Thinking of having a vegan lifestyle? Look for books and videos on what it's all about. Read up on restaurants that serve healthy food or a good gym that fits your workout style. Just remember to get as much information as you can to reach your goal. Where's a good place to start? Try here.
4. Talk about it.
Everybody needs support. So it's important to also talk about switching to a healthier lifestyle. First, talk about it with your doctor. Ask for their help to know how you can start having a healthy lifestyle. Second, talk about it with your family and friends. Some may have knowledge about kicking old bad habits and you'll be able to get more tips from them. Lastly, you may also talk about it with strangers who are currently in a journey to healthy lifestyle like yourself. Join a yoga class or a cooking seminar. Meet new people who have the same interests and share it with them. You'll feel more motivated in switching to a healthy lifestyle.
5. Build a habit.
Research says that it takes 21 days to make a habit. Take the opportunity to a healthier lifestyle by creating small habits. Try with simple acts like drinking a glass of water every two hours. Aside from making habits, in 21 days, you can also break a habit. Choose an unhealthy habit and try breaking it in 21 days. Always sleeping too late? Try sleeping as early as 10:00 p.m. for 21 days. When you've made a healthy action into a habit, it'll be easier to continue living a healthy lifestyle.
6. Take it easy.
Did you eat at a fast food for lunch? Got tired and skipped your workout? Forgive yourself. Nothing good will happen if you will constantly beat yourself up whenever you fail to stick to your healthy lifestyle. What's important is that you know how you will get back up and continue being healthy. Remember to take it easy and slow. It doesn't matter if you've taken one step or a thousand steps to become healthy. What matters is that you continue taking that step.
See Also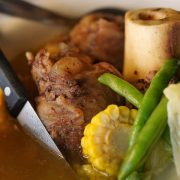 7. Invest in a healthy lifestyle.
You may think that this is the hardest tip but frankly it's not. Although it is important to start saving up to make more healthier choices, investing in a healthy lifestyle is not limited to money. This just means you also have to invest your time and emotions. This may mean spending more time in preparing your food or having to say no to a quick cigarette session. Don't worry, all investments reap rewards in the end.
Aside from these tips, remember to make the commitment in becoming more healthy. Without commitment, these tips won't work. Again, remember to first step, choose to live healthy!
Featured Image from The Silver Linings Playbook courtesy of The Weinstein Company
Lorey De Guzman
Lorey is a small girl with a big appetite for love, life, culture, and food. Yes, most especially, food.