[video src="https://www.instagram.com/p/BlQG9EUAX1T/"][video src="https://www.instagram.com/p/BXHHwFkAzqb/"][video src="https://www.instagram.com/p/Bk2S1YyAXda/"]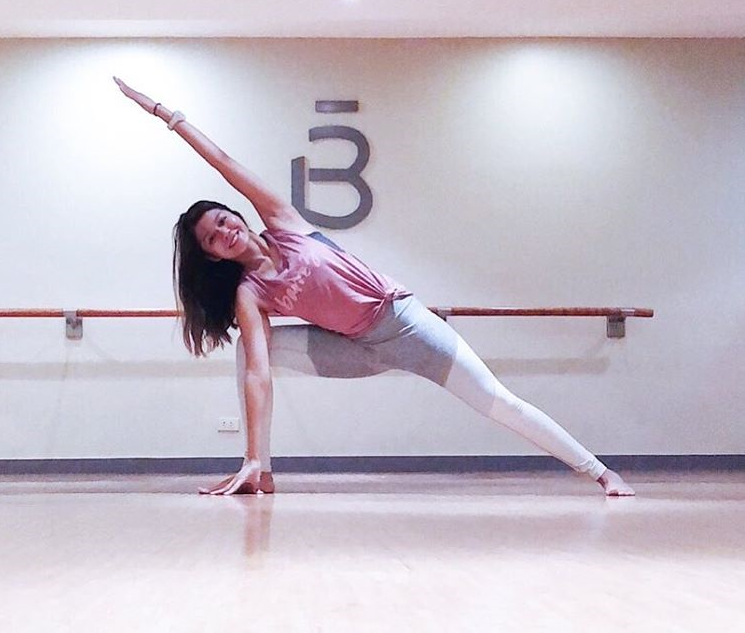 The year's almost at an end. But that doesn't mean 2018 is going to go quietly. Reunions, Noche Buenas and yearend parties, and all the celebrations in between, all but ensure that our social calendars will be packed.
Another certainty? There's going to be food. A lot of it.
I don't know about you, but I'm pretty sure my waistline won't survive the onslaught of delicious and generous amounts of food that's about to come without some outside interference. Historically, it never has.
I'm smarter this year though. So I signed myself up to an exercise studio: Barre3. I won't only get my body ready for holiday gatherings, but I'll also have an outlet for all the rich food I'll be enjoying.
What's Barre3?
Barre3 combines the elegance of ballet, the wisdom of yoga, and the strength of Pilates. Image from Barre3 Philippines
In a nutshell, Barre3 is the ballerina child of yoga and Pilates. It takes a typical dancer's workout and emphasizes building up your flexibility and core strength, as well as improving your posture. Each session's routine incorporates the use of ballet barres, resistance bands, weights, yoga mats, and fit balls — all, thankfully supplied by the studio.
Every movement and sequence contributes to a leaner and more toned body that moves with the grace of a dancer.
My Experience
Classes can be a mix of people, from women and men to families. Image from Barre3 Philippines
How'd I Get Into This Mess?
Signing up to Barre3 was more of a snap decision born out of FOMO when I saw their discount promo on Instagram than anything else. The idea of ballet (which I always wanted to try but never got around to) without having to dance appealed to me. I've also had experience with Pilates and some yoga and was pretty OK at it, more or less. It wouldn't hurt to try this one out.
Walking into My First Class
I was a little anxious walking into the studio for the first time. Though I was sure I could handle the physical demands enough not to be embarrassing; there would be other, fitter girls there — these things draw in the type like moth to a flame, after all. But I was pleasantly surprised to see a heterogenous turnout. My first class had a mother-father-son trio, some older women, and other awkward lost ducks like me.
Instructor, Friendly. Routine, Doable.
Instructors at Barre3 make sure you're safe as you go through the poses. Image from Barre3 Philippines
My first instructor, Raech, did a splendid job of easing me into the routine. She checked up on everyone, especially the new faces, and asked if there were any injuries she should know about. I'd later find that it's SOP for all the instructors to do this, but hearing it for the first time assured me that I was in good hands.
Another thing I love about Barre3 is that it isn't an expert-only type of workout. Newcomers can jump right in since all classes are open-level and instructors give alternative routine options to accommodate all skill levels. This instruction method sure helped me adjust when I was just starting out. I'm sure it'll be the same for anyone else.
Go High, Then Bring It Back Down Low
Every Barre3 routine starts with some aerobic exercise to get a little sweat going. It then moves on to barre and mat sequences. Weights are optional. Raech was very understanding of the limits of the newcomers and "listening to how your body feels today."
I was a little lost at first but once I got into my groove, it was game over. My anxiety with competing with the fitter, prettier girls, my lack of coordination, being in a completely new setting without knowing anyone — that was all background noise. I just concentrated on breathing.
In.
Out.
Perfecting my form.
Holding a pose beyond my limit.
Embracing the shaking of my arms and legs.
Doing it again.
Breathe in.
Out.
Now that I've had a little more experience with Barre3, I've come to realize that it isn't me vs. everyone thing. I need to turn inward and keep improving myself each session.
After-Session Notes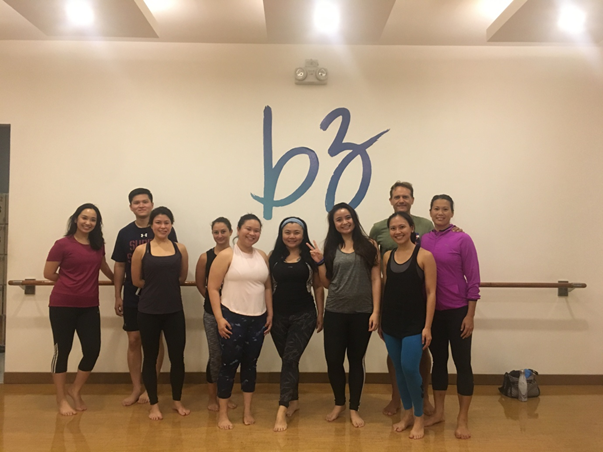 So that was my first time. I went home after that one-hour session and promptly passed out for the entire afternoon. My lord, I'm really out of shape. I'd like to think that my stamina's improving, though. Planking isn't quite as scary anymore, and I've been taking fewer breaks in between the routines. Hooray for perseverance! Nothing motivates me to do things like knowing that I've got to get my money's worth on this membership.
The Verdict
Since joining, I don't really think I've lost weight. Some of my clothes have begun to fit better, though. So I might just be converting fat to muscle. I'm 100 percent OK with that.
Come at me, holiday celebrations. I don't have to fear socializing and the food that comes with it anymore.