Love is complicated–there's no denying that. That's why for years, people (of all ages) have been decoding the mysteries of love. One good source of love lessons? Movies. Here are 10 love lessons that we have learned from our favorite Tagalog flicks: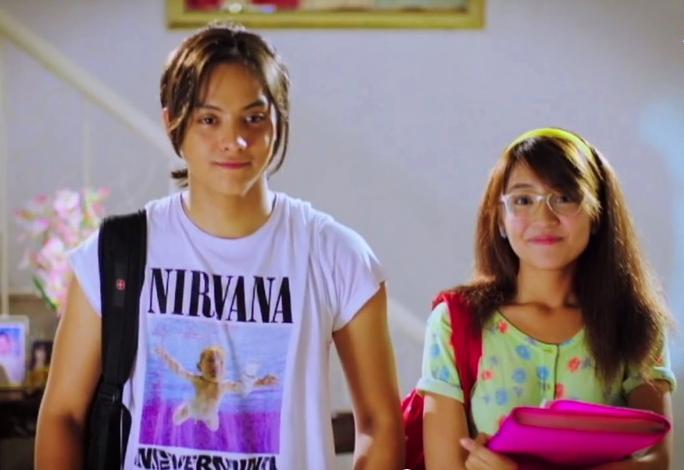 1. Every effort counts.
Loving someone is not easy. It takes a lot of work. Whether it's bringing your partner his or her favorite tea in the morning or surprising her with a romantic vacation to her dream destination, each gesture of love counts. After all, what's the use of loving someone when you don't express it? Take what Apollo did for Irene in My Amnesia Girl. Just to prove how much he loves her, he helped Irene with her work. He fetched Irene's camera gear, carried heavy camera equipment, and stood in for a model (even if his ego got bruised when the client rejected him because of his not-so-perfect body). Of course, you need not to cover every square inch of your partner's house with post-it notes just to show affection. Even small gestures count, like how Irene showed her love by appreciating Apollo's gift (a pair of sandals) by refusing to walk in the muddy streets while it was raining. Simply put: when you love someone, show it.
2. However, never let someone think you love them romantically.
Being friendzoned is such a bitter reality. Sometimes, people are not aware how their actions define their relationship with others. And when reality fails to meet our expectations, we get crushed. So it's very important that you do not lead anyone on. Take Wacky and Cat from She's the One. Wacky treats Cat like she is his "hilaw na girlfriend." His actions lead to Cat falling in love with him, causing her to answer to his every whim in the hopes that he would fall in love with her. When Wacky fails to commit, Cat gets her heart broken that creates a void in their friendship. So, if there's no intention of being in a relationship with your best friend, make sure that your intentions are clear. It's tough to lose a partner, but it's even tougher to lose a friend.
3. Love makes you discover new things about yourself.
Once you're in a relationship, you constantly learn new things about your partner. However, you also learn new things about yourself–just like how Laida Magtalas and Miggy Montenegro made their own self-realizations from their very complicated relationship(s). While in a relationship, both evaluated their personalities, their changing priorities, and their own capacity to love. From A Very Special Love, You Changed My Life, to It Takes a Man and a Woman, Laida and Miggy have grown, both as a couple and as individuals. And they owe it to each other.
4. Before you love someone, you must love yourself.
One of the best lines in One More Chance was spoken by Krizzy, Basha's friend. She said, "Don't you see it? Kung hindi nya pinili ang sarili niya, kung hinayaan nya na ikaw parati ang masunod, her heart would have been broken every moment she's with you." Loving herself was not a priority when Basha was with Popoy. In the beginning of the film, she always obeyed Popoy and accepted his criticisms. She rarely stood up for herself; when she did, they end up fighting. Because of this, she needed to find herself by letting go of their relationship. That's the thing with love; you need to have it for yourself before you can give it away. In relationships, you need to know who you are and how much love you're capable of to make it last. Otherwise, you might find yourself miserable that you'd throw away a good relationship.
5. Loving your partner includes loving his/her family.
When you love someone, you need to also love their family. Take a look at how Noel tried his best to love his lover's (Mark) mother (Shirley) in the movie In My Life. Even if Shirley did her best to show how much she disliked Noel, he still loved her unconditionally. Eventually, Shirley was able to realize this and learned to love him back. So, the next time your partner's mother criticizes you, take a deep breath and smile. Choose to love her. You might be surprised to learn how much she actually cares for you.
6. When you love someone, you must be ready to make sacrifices.
Making sacrifices is part of any relationship. Simple sacrifices, like adjusting to your partner's schedule for your date or watching the basketball game instead of your favorite sitcom, will be a daily part of any relationship's routine. However, when it comes to the things that matter—your religion, your career, your family status, etc.—how much are you willing to sacrifice? For Athena, she was willing to give up Kenji, her one and only love. In She's Dating a Gangster, Athena chose to break up with Kenji after learning about the reason why Kenji's ex-girlfriend Abi broke up with him. Knowing that Kenji's first love is Abi, she stepped aside so that their relationship can continue. She did it wholeheartedly and without any regrets. It just goes to show that no matter how small or big the sacrifice is, if it's show your love to someone, it's worth it.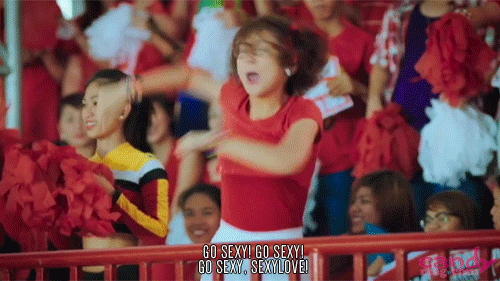 7. Take a step back and get some perspective.
When Tere left Julian after he spoke with his ex-girlfriend in English Only Please, everyone in the cinemas let out a groan. From the third-person perspective (aka the moviegoers), it was foolish of Tere to walk away from something good based on Julian's actions toward his ex-girlfriend, when her only basis was an audio-less conversation seen through a store's windows. In real life, there's always a need to step back from the rush of emotions. If only Tere decided to clarify things with Julian, she would've been spared of an undeserving heartache.
8. Sometimes, it's not meant to be.
Ever had that feeling that you're supposed to be with someone? Well, at times, those feelings are wrong. Just like when Ginny felt that she and Marco should be together in Starting Over Again. Even if Marco was already in a happy relationship with Patty, that did not stop Ginny to think that she should win back Marco. This is even when Marco clearly rejected her multiple times in the hopes of making him fall in love with her again, Ginny succeeded in only hurting herself. There are times when you can only see how your actions will benefit you. You fail to see how these actions will hurt others, especially your partner. In the end, you only end up hurting yourself. There's always a need to reflect on your current relationship status and check if it's still working. You may be the only one who thinks you and your partner are meant to be.
9. Love is never about longevity.
The formula for a successful relationship is never about the longevity. Yes, ots of couple strengthen their relationship with time. However, that doesn't mean relationships that only started a few weeks are not at par with longer relationships. Longevity will never be a basis for love. Just like in That Thing Called Tadhana, Mace was with his fiancé for eight years. They have laid out their plans of a life together, which were shattered when Mace's fiancé broke up with her. Then, she meets Anthony. She falls in love with someone whom she spends less than a week with. By the end of the movie, everyone was rooting for them to be together. So no, the longer you are with someone does not guarantee that your relationship will be successful.
10. Sometimes, you need to be patient with love.
In Miss You Like Crazy, Alan and Mia kept missing each other's perfect timing for love. Alan waited too long to pursue Mia that eventually she had to go to Malaysia. When he finally decided, Mia was already engaged to someone else. It seemed as if their relationship is never going to work out. But funnily enough, they were able to wait for their right time together. There are real-life stories that were similar to Mia. Some people found their love at first sight, and some had to wait. Sometimes, you have to wait for your love one to meet you. Sometimes, you have to wait for them to end their relationship with someone else. The key is to know when to wait and when to let go. If you found someone who you can fall in love with every single day, then wait for the perfect timing.
Overall, the best lesson I learned from Tagalog movies is this: being in love and in a relationship is hard, but when you've found the right person to love, you'll fight for him/her. Here's to hoping your lovelife is filled with joy and devoid of drama!
Lorey De Guzman
Lorey is a small girl with a big appetite for love, life, culture, and food. Yes, most especially, food.