We are all familiar with the saying that "you have to kiss a few frogs before you find your prince," and there is definitely a degree of truth to that statement. Sometimes, relationship after relationship ends and we start to despair that there are anything but frogs out there! In other cases, we might believe that we've finally found our prince, but as time goes on, his skin starts to turn green and you realize that he's a frog after all. Well, I have finally found my prince but I definitely had to go through a few frogs before I found the man I would want to spend the rest of my life with, so I can assure you—there's no reason to despair, your prince is out there too! If you're still looking for him, here's some facts that any woman who has found her life partner knows to be true that you can use to evaluate your suitors and help identify "The One" for you.
1. Honesty comes easy.
It's going to be nearly impossible to build a good relationship on a lie. When you've found your life partner, honesty comes easy. You will be completely comfortable to just be yourself and be honest to him about every aspect of your life and your relationship. If you meet a guy and your first instinct is that you need to lie to impress him or snag his attention—he's not the one, trust me. Wait for someone who accepts you completely for who you are and makes you proud to be yourself.
2. He isn't just your lover, he is also your best friend.
This goes in line with being honest and comfortable with your man. Spending the rest of your life with someone isn't just about having great sex together—although that is always a plus! A lasting relationship needs to be built on mutual respect and friendship. You should be able to laugh with him and share all your thoughts and feelings. He should be the one you want to share your news with, good or bad. Look for a man who doesn't just see you as a woman, but as a friend as well.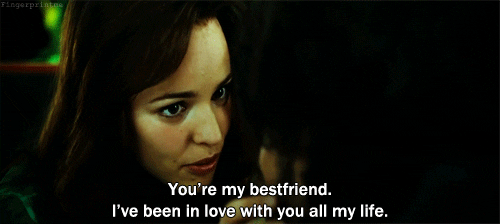 3. Money and looks don't matter.
While money can definitely make a new marriage easier and physical attraction is desirable, neither of these are as important as a real, personal connection when it comes to finding someone you want to spend forever with. When you share a real connection with someone, it will change the way you view him. Suddenly, he will be more attractive in your eyes than any hot, male celebrity, even if he's not what you consider your usual "type." Looks will fade, money will come and go, but a real connection will keep you together forever.
4. He makes you feel good about yourself, but also makes you want to be a better person.
When you're still looking for your life partner, something really important to consider is how he makes you feel about yourself. You should spend the rest of your life with someone who makes you into a better person and makes you into someone you can be proud of. You can't have a healthy, lasting relationship with a guy who makes you turn into a jealous monster or who destroys your motivations and desires to become a better person and achieve your dreams. Look for a man who encourages and helps you to become the person you want to be.
5. Real love just sneaks up on you.
Love isn't something you have to work hard to find and make grow. Real love just happens, as cliche as it sounds, it comes unexpectedly and naturally. When I first met my husband, I wasn't looking for a relationship, it just happened. When you meet the man you want to spend your life with, it will not feel forced, it will just feel right. While relationships require work to maintain, love itself should come easy and almost without even having to think about it.
[crp]
6. You can't expect your partner to change for you.
While being in love can sometimes inspire a person to reach for the best version of themselves, the reality is that most of the time, you can't change your partner. Don't enter a relationship with a playboy expecting that you can make him change his ways—it's just not going to happen. The only person that you can change is yourself. Your partner's annoying habits aren't going to magically go away just because you don't like them. You should never make a commitment to someone based on the hope or belief that he will change in the future. Instead, find someone who is compatible with you now. 
7. You have to love yourself first.
Before you can truly open up your heart to love, you have to be able to love yourself. Your partner is a reflection of who you are. If you are unhappy with yourself, it will be much harder to have a happy relationship. If you find that you have a tendency to get involved in unhealthy, unhappy, even abusive relationships, step back and look at yourself. Learning to love, respect and value yourself first is essential because if you don't, how can you expect someone else to? Standing up for yourself and embracing who you are will attract someone to the true you, resulting in a much better relationship.
8. He will help heal past heartbreaks.
While we can't literally erase bad memories and experiences from our past, when you find The One, he will make these things unimportant and forgettable. However much heartbreak you've been through, however many sad experiences you've suffered, the one you want to spend forever with will heal these scars of your past and they will not matter to you anymore. You don't have to worry about getting over past problems before you can find love because when you find love, it will make you get over them. He will help you accept them, and then move past them—or, at least, he will help you carry the burdens that weigh you down and do what he can to smooth the frayed edges caused by past hurts.
9. There is no such thing as "happily ever after."
Almost every fairytale ends with the princess marrying the prince and the words "and they lived happily ever after." But anyone who has found her life partner knows the truth—"happily ever after" is a myth. Relationships and marriages will always have ups and downs, and that's just the reality of life. Don't expect your wedding day to mark the end of all conflicts and complications. Instead, see it as a promise to work through all of your problems together. In order for a relationship to work, you need to decide that you want it to and put in the effort to make it happen.
Even though "happily-ever-after" may only exist in fairy tales, it's still very possible to have healthy, happy, long-lasting relationships, as long as you're looking for the right things both in your partner and in yourself. Apply these facts to what you know and stop kissing frogs! Find someone who values you for who you are, someone who you can be honest with and who helps you be the best version of yourself—everything else will follow!
Janessa Abigail Hizon
Abby is from the USA and moved to the Philippines to be with her husband, David Christopher Hizon, who also happens to be her photographer for most of her writing endeavors. A gamer, a bookworm, an animal lover and a self-proclaimed foodie, she is passionate about everything that she does and hopes that will come across in her writing. Follow her at http://facebook.com/WritersInTandem & http://www.thewritersintandem.wordpress.com