Myra Mortega
Myra is a writer and an editor. She has penned…
No doubt, Maine Mendoza is the It Girl of 2015. According to a report from GMA News Online, Maine Mendoza is now popular than the search term, "Yaya Dub" (Maine's on-screen alter ego), according to Google Trends.
And as a fitting end to a great 2015, Maine was awarded Best Supporting Actress at the Metro Manila Film Festival (MMFF), which was held on December 27.
Here are five reasons why we–along with practically the rest of the entire country–love Maine Mendoza.
1. She's a funny gal.
Maine Mendoza's claim to fame was her superb collection of dubsmash videos, which we just couldn't get enough of. Case in point: her Kris and Darla dubsmash video:
2. She's not self-conscious.
We love how Maine is totally game with making ridiculously funny faces and putting them up online for the entire world to see. After all, it takes a lot of guts and confidence to be a comedienne and to make of yourself. Good job, Maine!
3. She's talented.
This girl has star potential. Come on, just look at her videos. If that's not an artista, we don't know what is. Plus, she also plays the drums! Take a look at her killing it in her "In My Place" cover:
P.S. We love that she digs Coldplay, too.
4. She's a humble gal.
She's one-half of the power couple that has swept the entire country by storm (that's AlDub, in case you've been living under a rock) and broke the Internet with a Twitter world record, and yet, she still couldn't believe that she won the Best Supporting Actress award at the MMFF:
Bago pa ako ibash ng sambayanan, mauuna na ako.. Bakit ako? Pero maraming salamat po! Magandang umaga sa lahat!

— Maine Mendoza (@mainedcm) December 27, 2015
5. She's inspirational.
Self-esteem has been an ongoing battle for us women, and Maine is no different. But what we love about her is that she opened up on Instagram about her self-esteem issues and how she was finally able to say that she's proud of herself. This gal is certainly a good source of good vibes.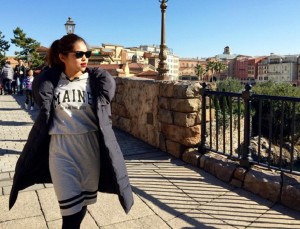 Myra Mortega
Myra is a writer and an editor. She has penned speeches, magazine articles, educational materials, and online content. She enjoys traveling, doodling, taking photos, and laughing to "Friends" reruns.