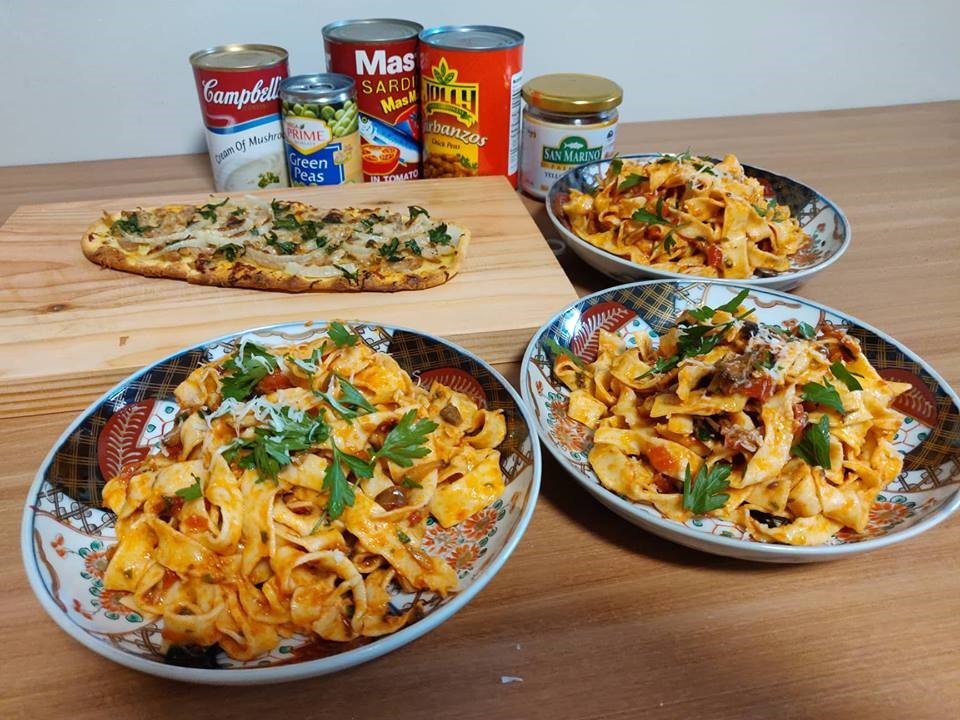 Food is best when made with fresh ingredients, but we don't always have the luxury of time and a well-stocked fridge. When my supplies are running low and I don't have money to order food online, I'd raid my pantry instead and whip up a meal with what's available. Or I'd hit the nearest convenience store and make up an entire recipe on the fly using canned goods with a few other ingredients.
And guess what, even with basic cooking skills, you can do a lot more than oil-drenched Spam and boring tuna omelette. Try these quick, easy, and delicious recipes using de-lata and basic pantry items.
Quick Hummus Dip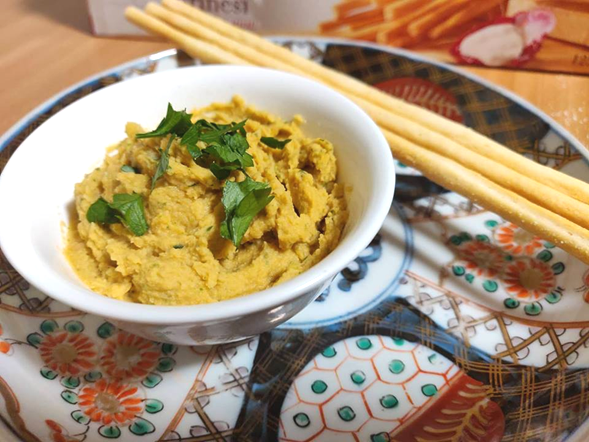 Hummus is a versatile and super easy Levantine dip. You can use it as a dip for chips and dried breadsticks to spice up your movie nights or serve it with sliced cucumber and tuna for a healthy snack. All you'll need is a food processor or blender and a few pantry items.
Ingredients:
1 can chickpeas (garbanzos)
1 tsp Spanish paprika
3 tbsp olive oil
2 cloves garlic
1 tbsp sesame oil (tahini substitute)
Juice of half of a lemon
½ tsp lemon zest
Salt and pepper to taste
Fresh parsley (optional)
Preparation:
Combine all ingredients in a food processor or blender and mix until the desired consistency is reached. If you don't have a blender, you can beat the ingredients together until you get a smooth, creamy texture.
Cream of Mushroom with Peas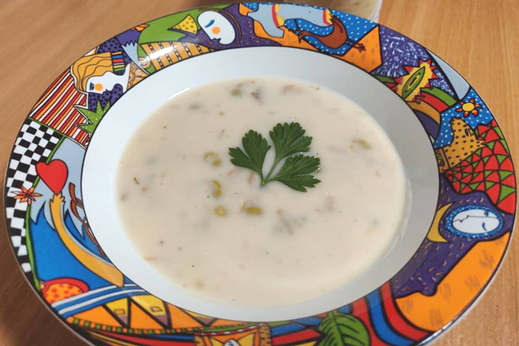 Feeling the Christmas chill? Warm up with this upgraded version of our favorite Campbell's Cream of Mushroom with peas and herbs for a nice zing.
Ingredients:
1 can mushroom soup
1 small can of peas
Dried herbs (oregano, basil, ground celery)
Fresh parsley or onion leaves (chopped)
Preparation:
In a saucepan, pour one can of mushroom soup and a can of water. Bring to a boil while whisking. After five minutes, add the peas and season dried and fresh herbs. Add a pinch of salt and pepper. Serve with bread or as is.
Toaster Oven Tuna Pizza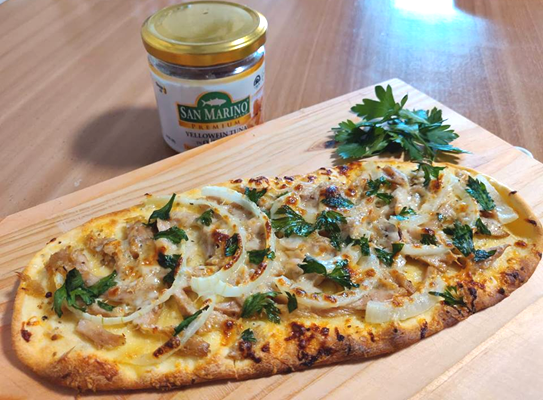 When I'm craving pizza, but can't afford to order online, I make my own using my trusty toaster oven. Try this easy but hearty tuna pizza recipe.
Ingredients:
Note: I used leftovers from my homemade pasta dough using semolina and all-purpose flour, but here's a real pizza dough recipe for your reference. If it's too complicated, get the store-bought crust.
Canned tuna
White onion, sliced
Fresh parsley
Salt and pepper
Red chili flakes
1 tbs olive oil
Monterey jack or mozzarella cheese
Note: You can use Magnolia quickmelt cheese, but it's not as tasty
You can also add canned mushroom
Preparation:
Coat your toaster oven tray with olive oil then place the dough. Spread more olive oil over the dough and add your toppings. Bake for 10 minutes, or until the cheese has melted and the crust is golden brown.
Homemade Tagliatelle with Tuyo Puttanesca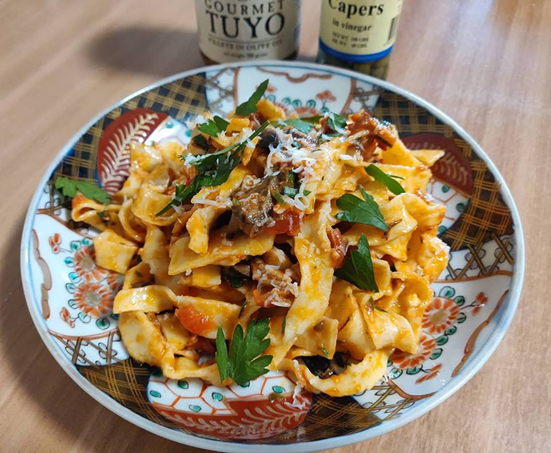 Pasta puttanesca is one of the least sophisticated Neapolitan pasta dishes, but it's just as delicious and vibrant. And the best part is that it was basically invented using ingredients from the larder. With a few simple tricks and canned goods, you can add "fancy" to a lazy night in.
Ingredients:
Spaghetti (any store-bought pasta variety)
Note: For this recipe, I made tagliatelle from scratch because I'm extra like that. I'll share the recipe in my next article.
Bottled tuyo (or dried herrings soaked in olive oil as substitute for anchovies)
1 can peeled tomatoes
1 tbsp tomato paste
Capers
Black olives
4 cloves garlic
Butter
Olive oil
Dried oregano
Fresh parsley
Cheese for garnish
Preparation:
Noodles:
Bring water to a boil and add ½ tsp of salt and 1 tbsp of cooking oil. Cook the noodles until slightly undercooked. Strain and set aside.
Puttanesca Sauce:
Preheat pot to medium heat and drizzle with olive oil. Sauté garlic, chili flakes, dried herbs, and tomato paste for 2 minutes. Then, add a heaping tablespoon of Gourmet Tuyo (don't overdo it because the fish is really salty) and peeled tomatoes. Stir well and simmer for 5 minutes until the sauce is thick.
Season with salt, pepper, and more dried herbs. Then, add a handful of black olives and a tablespoon of chopped capers. Simmer for another 2 minutes. Add the noodles and allow them to cook in the sauce for 5 minutes or until the pasta is al dente.
Turn off the heat, add half a knob of butter, freshly chopped parsley, and fold the ingredients gently. Serve with grated parmesan or Monterey Jack cheese.
Toaster Oven Pineapple Upside-Down Cake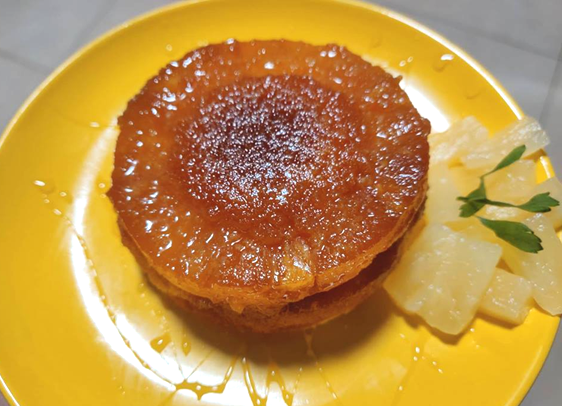 Ingredients:
Cake batter
1 cup all-purpose flour
2/3 cup granulated sugar
1 tsp baking powder
A pinch of salt
1/3 cup butter, melted
1 cup milk
1 egg
Caramel bottom
1 cup granulated sugar
1 tbsp butter
1 tsp vanilla extract
1 tbsp warm water
Pineapple slices
Preparation:
In a small nonstick pan, heat sugar, melted butter, water, and vanilla extract. Stir consistently until the liquid turns into a light brown syrup. Coat the bottom of your mini cake molds with the caramel.
In a bowl, combine your batter ingredients and whisk lightly until you reach a smooth and creamy consistency.
Coat the sides of the molds with butter, and place one pineapple slice on each mold. Fill the molds with the cake mix up to the rim. Put the molds in the toaster oven and bake for 10 minutes. Let it rest for a bit, then bake again for another 10 minutes or until the top of the cake is golden brown. Check the cake for doneness by sticking a toothpick into the center of the cake. If there's wet batter, it needs more time in the oven. If it comes out clean, it's done.
When the cakes are done, immediately place your serving plate upside-down over the pan and turn it over. Leave the mold over the cake to let the caramel drizzle over the cake. Remove the mold and serve warm.
Canned or bottled goods may not have a good rap in the culinary world, but they sure are useful when money is tight or the supermarket is closed. Try these recipes on your next pantry raid, and watch humble items transform into Instagram-worthy meals.