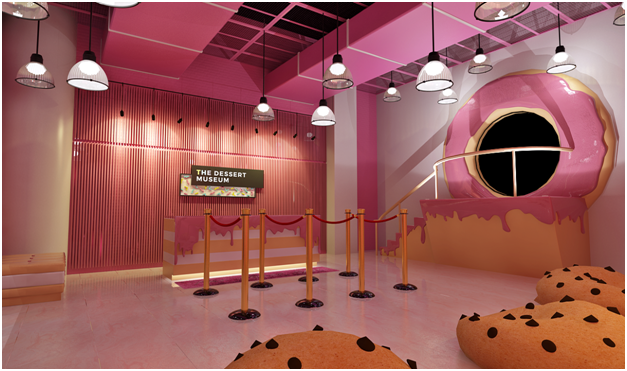 A magical Land of Candy actually existed in the heart of Metro Manila. Who would've thought?
All my "Willy Wonka and the Chocolate Factory" dreams came true when my friends and I visited the Dessert Museum. I first learned of the place when I was scrolling down my Facebook news feed. Photos of a place filled with giant gummy bears, strings of marshmallows, and a doughnut slide attracted my dessert-loving alter ego.  When I saw it, one thing popped in my head: "I HAVE GOT TO SEE THIS PLACE WITH MY FRIENDS."
Of course, unlike the Chocolate Factory, not everything in every exhibit room is eatable. But it was still worth a visit.
You Don't Need a Golden Ticket
Located in posh S Maison Mall at the base of the Conrad Hotel in Manila, the Dessert Museum is a magical attraction dedicated to sweets and candy. The museum opened on February 10, 2018 and boasts of eight dessert-themed rooms.
For Php799 (Php699 if you buy your ticket online), visitors enjoy a two-hour tour filled with IG-worthy moments and up to six free desserts. To move things along, each group can spend only 15 minutes in each room. So like, you've got to scarf not nibble.
If your sweet tooth is tingling and you want to drop by, here's what you can expect:
In a World of Sugar Creation
The Donut Room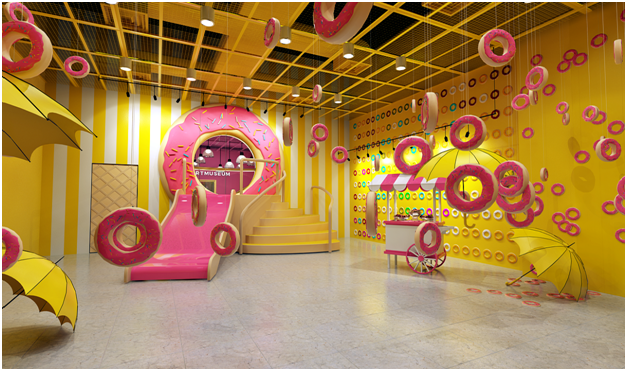 Our journey to this magical land of candy began with our descent through a pink donut hole. You can either use the stairs or slide your way down.
We were greeted by hundreds of sprinkled-glazed donuts hanging from the cieling. It was as if I was inside Homer Simpson's head, I kid you not.
Immediately, you'll know the place was made for Instagram. My friends and I spent most of the 15 minutes taking photos with the cascading donuts and pretending to eat the ceramic sweets above our heads.
Marshmallow Room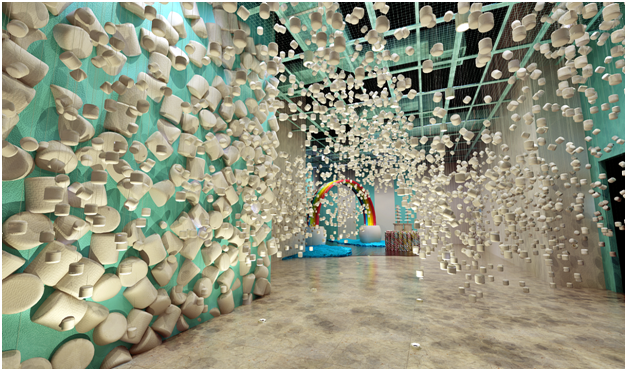 The next room is a stark contrast to the pink and yellow theme of the Donut Room. The Marshmallow Room is every smore's lover's nirvana. Fluffy and fat white marshmallows hung from the ceiling, giving the room a winter-like look.
Here we got the first of our free desserts. Before we started the tour, the receptionists strapped sky blue RFID bracelets around our wrists. We had to hold these up to get our free marshmallows. You can have yours dipped in strawberry, white chocolate, or ube (I absolutely loved this) coating.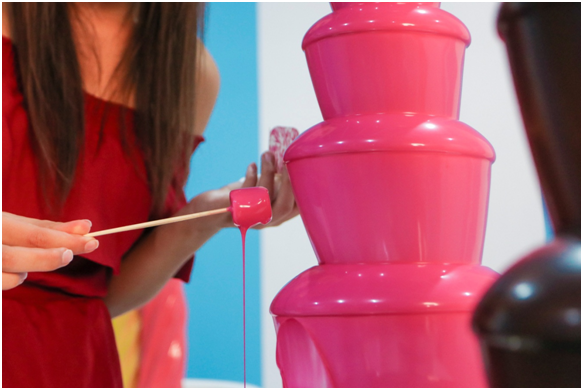 Candy Cane Room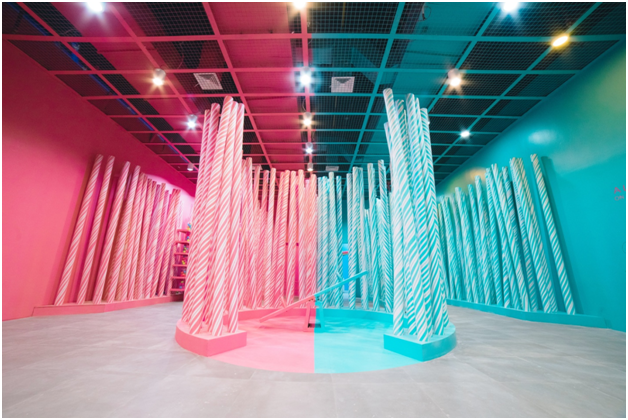 This room was absolutely THE prettiest. Before entering, you'll be asked to go through one of two doors: nice or naughty. Each door will lead you through a different corridor: Nice leads you through a hallway of pink candy canes while Naughty leads you to a forest of mint-green candy canes.
The room has different attractions: a big jump rope, a seesaw in the middle, and a swing. There are also two-themed nooks: one with colorful balls and another with hearts.
Naturally, the room has its trademark dessert. For the Candy Cane room, we got French macaroons.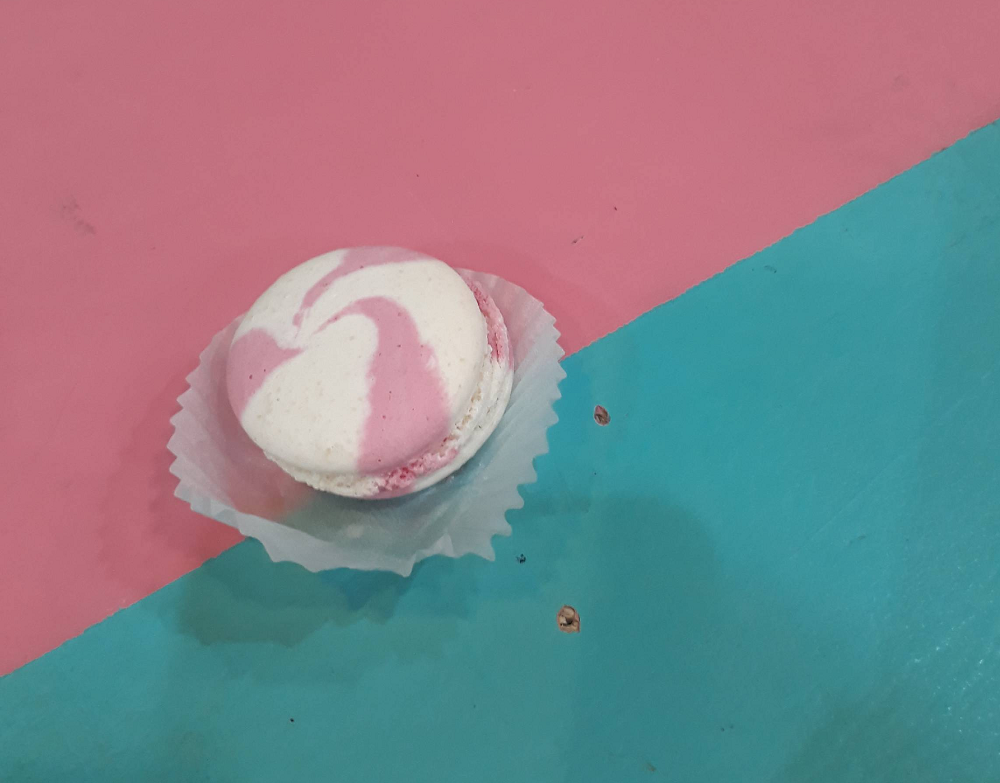 Ice Cream Room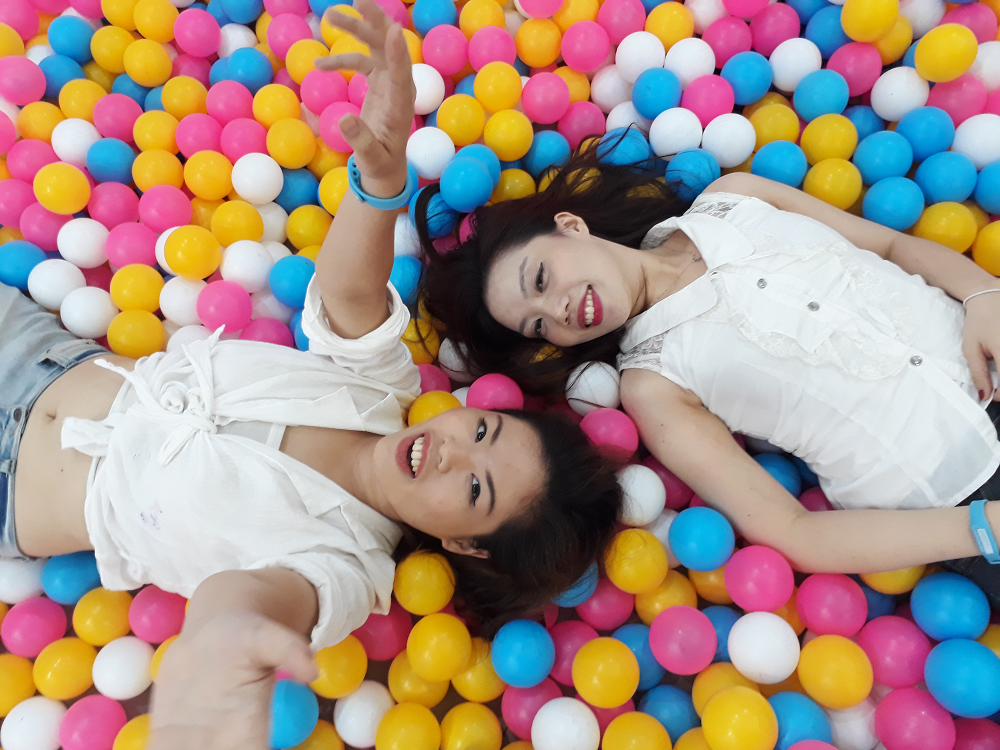 I love this room for three reasons: beautiful murals, WAY TOO MANY BALLS AND BALLOONS, and yes — the delicious popsicles.
We were greeted by a huge ice cream-shaped parachute in the middle of a colorful ball pit. Some of my besties and I jumped in while the others enjoyed their popsicles (you can choose from mango, kiwi, and ube).
It was the perfect room for Instagram posts, in my opinion.
Bubble Gum Room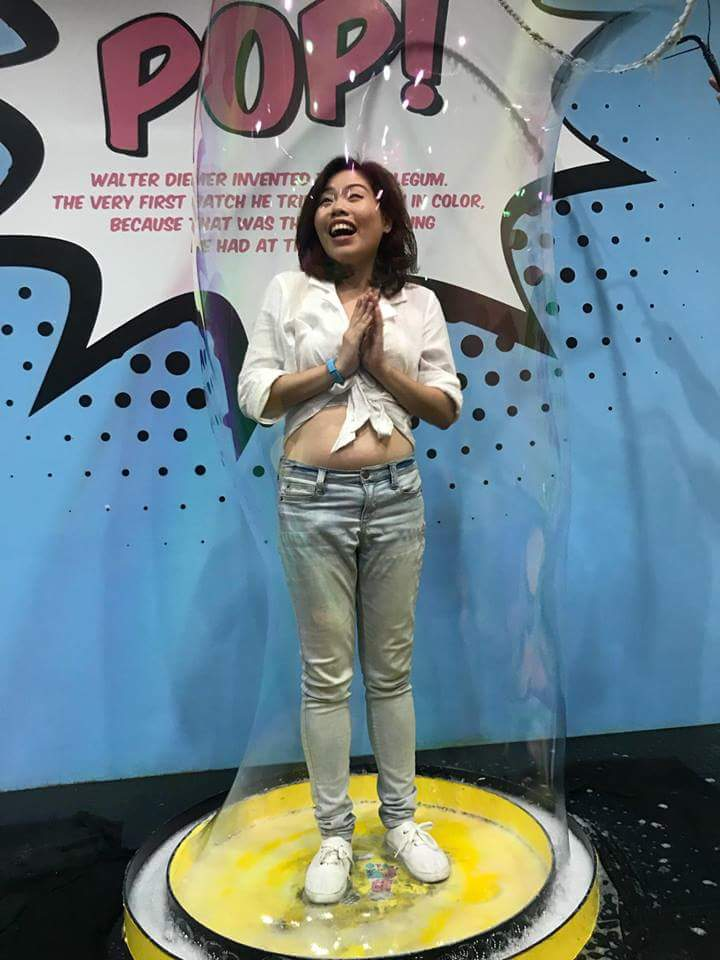 Violet Beauregarde would live in this room. At the center of the Bubble Gum Room is a giant version of a bubble gum machine. Tour-goers can disappear inside the dispenser's base and have fun with the balloons.
If you're not a big fan of gumball balloons (like me), you can stand on one of the platforms nearby and have one of the staff create a giant soap bubble around you.
Gummy Bear Room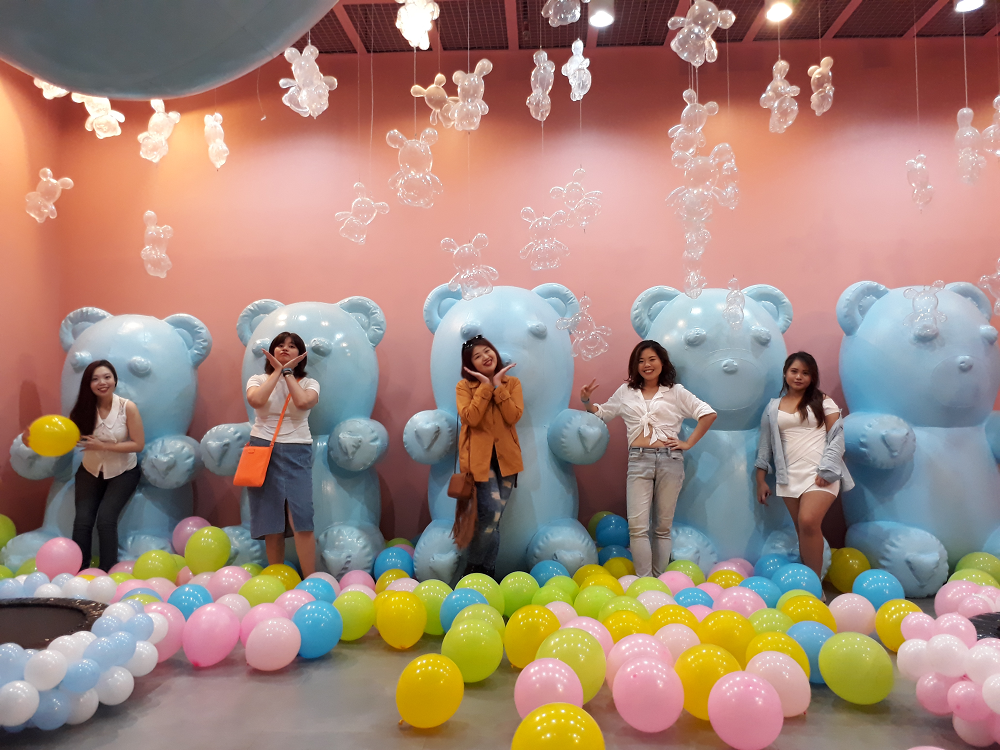 This room is every gummy bear lover's dream. Once we entered it, we were greeted by huge gummy bears everywhere. They also had mini trampolines (I had so much fun jumping on these) and bathtubs filled with balls and little toys.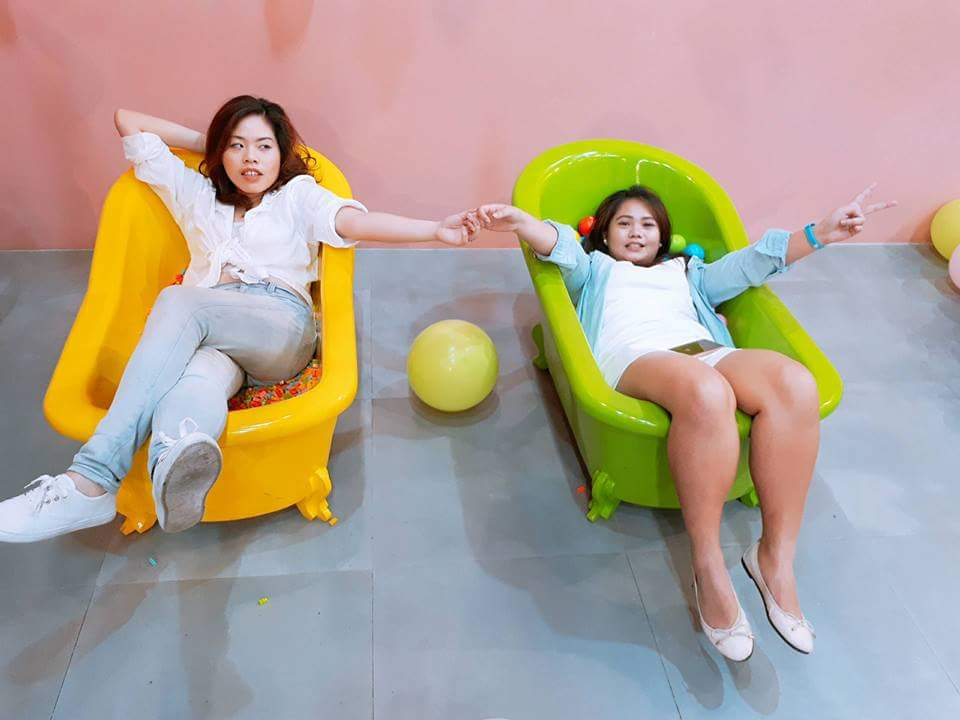 And guess what sweet treat we had in this room? Nope. Not another macaroon but regular-sized (awww . . . ) gummy bears.
Cotton Candy Room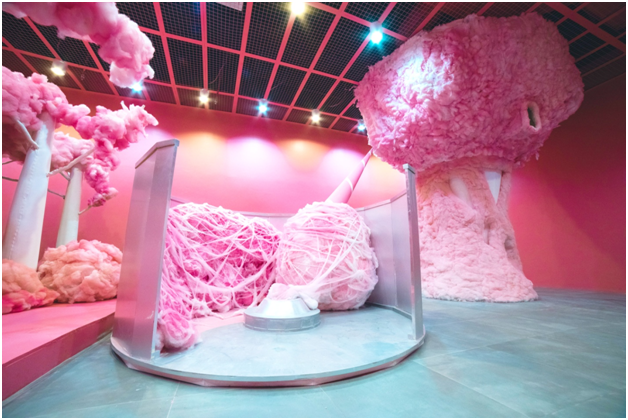 A room filled with fairy floss — welcome to the Cotton Candy Room.
This dreamy room is surrounded by pink cotton candy trees. It's so dreamy enough that it looks fragile, so be careful not to touch anything. We found it just a little hard to do because we've got sugar in our system.  Luckily, we were able to channel our giddy energies toward the free cotton candy.
Heaven.
Cake Pop Room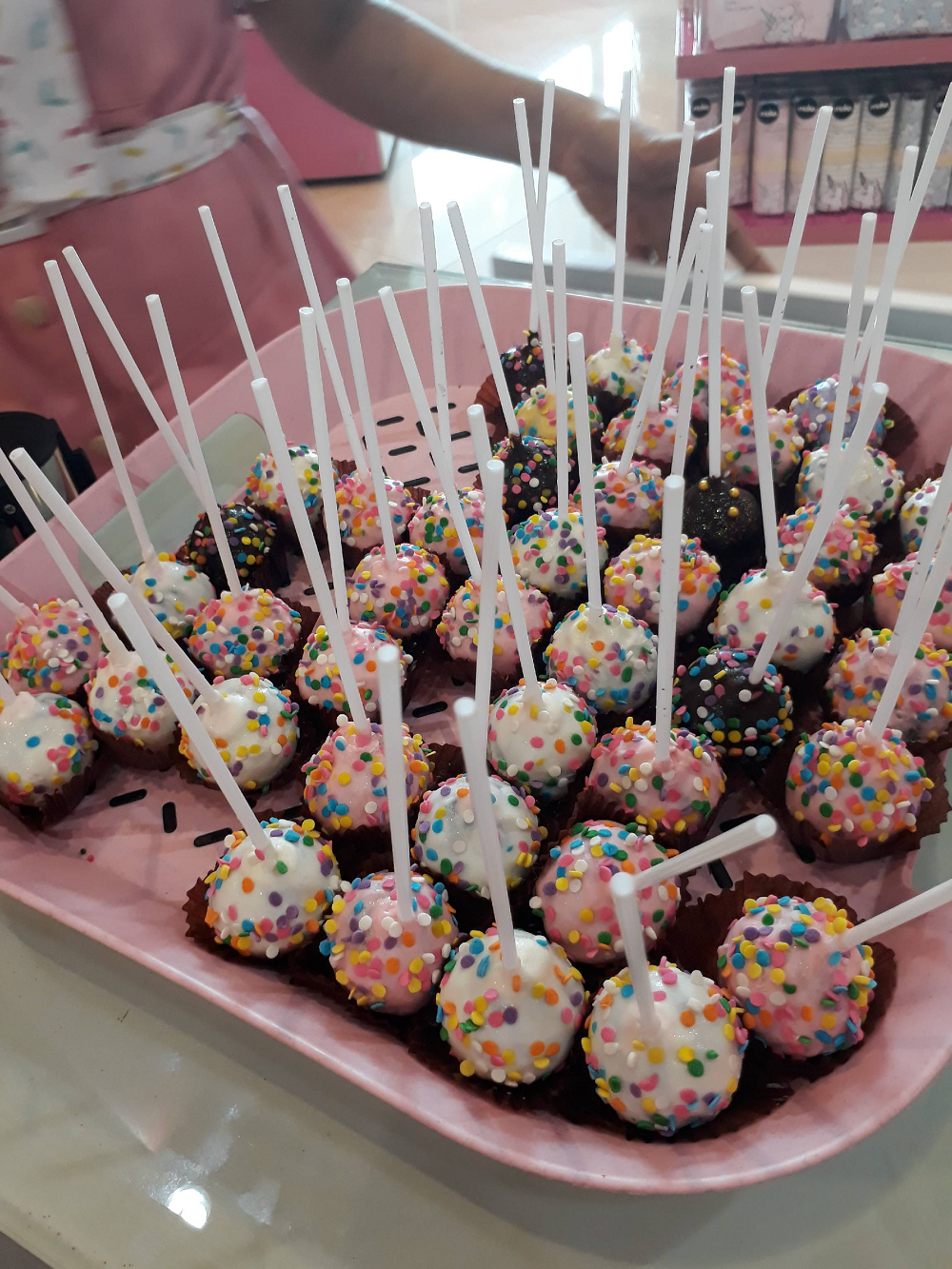 I looked forward to the last room because of two things: real cake pops (my fave desser) and BIG CAKE POPS (one I could sit on).
It's a rainbow-colored room with giant cake pop displays. My friends and I hopped on each one and asked a tour guide to take our photos. We also played cake pop basketball and munched on delicious cake pops.
Did I mention there were cake pops everywhere?
Sugar rush? What sugar rush?
At the end of the tour, we ended up in a souvenir shop filled with more sweets and candy notepads, ice cream plushies, and other sweet items.
The Sweet Conclusion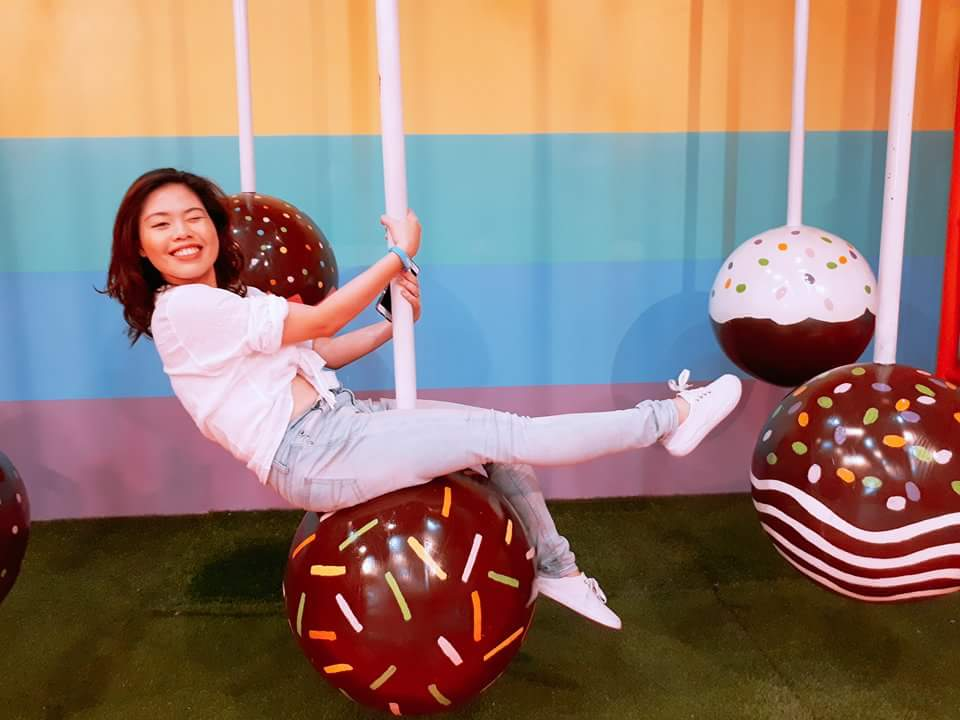 My friends and I had a great time at the Dessert Museum. Some of the desserts might not have been enough, but I loved the treats (especially the cake pop!). It's the best place to satisfy your love for quality Instagram-worthy pictures and sweet tooth. It's also the perfect itinerary for people who just want to run around in an area filled with large gummy bears, donuts everywhere, and giant candy canes.
The Dessert Museum is at Unit 124, 126, 127a, Coral Way, S Maison Mall, Conrad Hotel Manila, Mall of Asia Complex, Pasay City. For more information or online ticket bookings, visit their website at www.thedessertmuseum.com.
Ashley Petallano
Ashley is an awkward potato in love with words, Kpop, and corgis. She spends her free time dancing like one of those balloon things you see in malls.