Get ready for an even more scorching summer season, as some of the world's biggest music artists come to the Philippines for their first or their nth time, to play their music live. Keep reading for our list of concerts that'll rock the town between March and May of this year.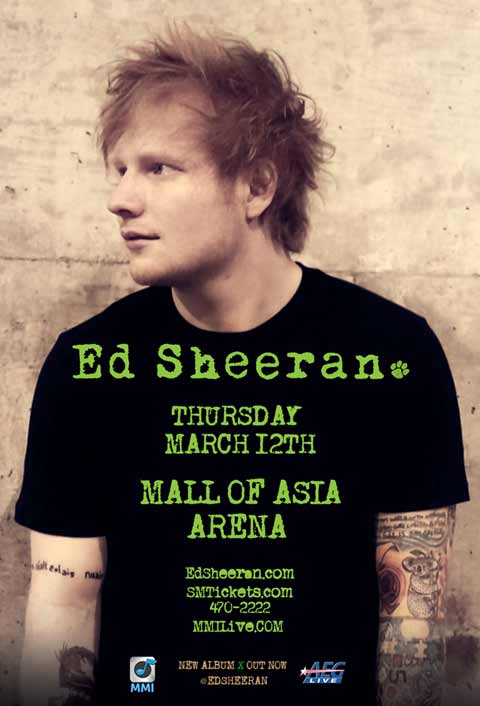 1. Ed Sheeran Live in Manila
Where: Mall of Asia Arena
When:  March 12, Thursday
How much: Tickets range from P1,050 to P8,450.
Unfortunately, tickets for Ed Sheeran's Manila concert was one of the fastest-selling, having been sold out only a day or two after they started.  Tickets for additional seats were also sold last November, but those sold in around 30 minutes to an hour after ticket booths opened.  Talk about rabid fandom, but then again, who can resist the charming redhead's amazing vocals and personally-written songs that give you the feels?  Not only did Ed Sheeran make us believe in old-fashioned true love and want to dance with our significant others due to his massive hit, "Thinking Out Loud," he also proved that he's a music genius worthy of Brit Awards and Grammy nominations.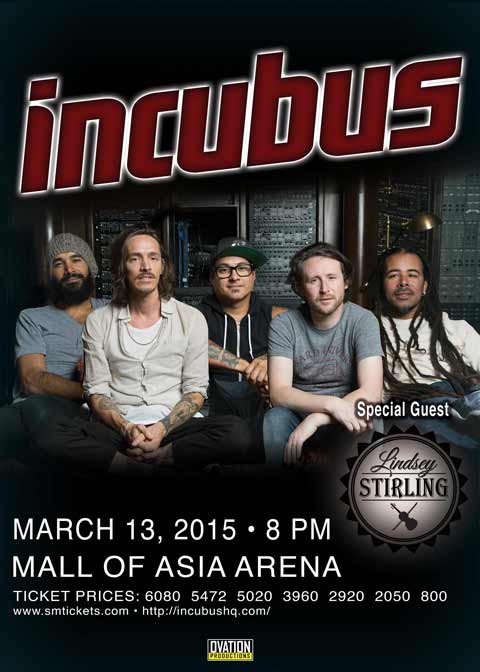 2. Incubus Live in Manila 2015
Where:  Mall of Asia Arena
When:  March 13, Friday
How much:  General Admission—P800, Upper Box—P2920, Lower Box B—P3, 960, Lower Box A—P5,020, VIP—P6,080
The return of Brandon Boyd and company is much anticipated. This will be their fourth show in Manila, and they'll have violinist Lindsey Sterling as special guest. Reminisce over old-school alternative rock hits such as "Drive" and "Pardon Me," and swoon over frontman Boyd, who, after all this time, still has it.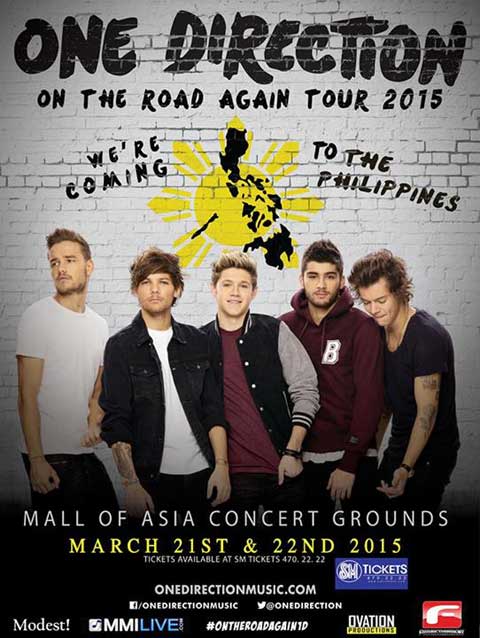 3. One Direction Live in Manila
Where: Mall of Asia Concert Grounds
When: March 21 (Saturday) and March 22 (Sunday)
How much: Tickets range from P1,150 to P17,950
Just like their fellow Brit, Ed Sheeran, One Direction's concert in Manila also sold very much like hotcakes, which eventually led to a second night.  It's also the lads' first time here, and with their clean-cut boyband appeal, and sweet, catchy songs ("The Little Things," "Night Changes," etc.), Manila's tween to teenybopper crowd, as well as the young at heart, should all be present on the two nights of One Direction's shows.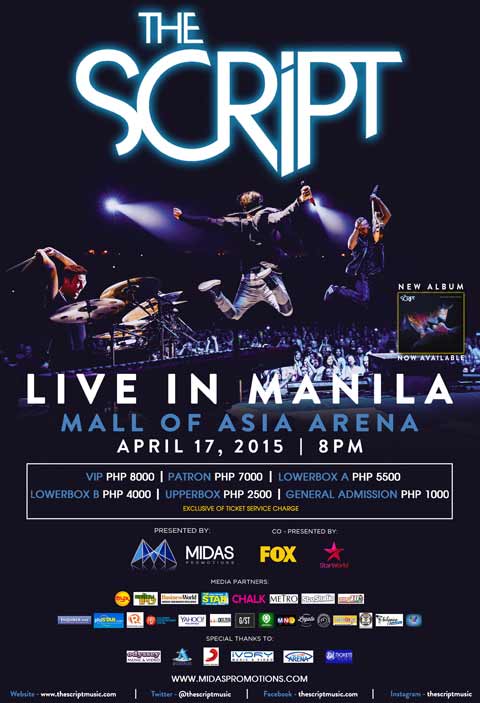 4. The Script Live in Manila
Where: Mall of Asia Arena
When: April 17, Friday
How much: General Admission—P1,050, Upper Box—P2,630, Lowerbox B—P4,200, Lowerbox A—P5,780, Patron—P7,350, VIP—P8,400  (Limited tickets available. Some sections are already sold out. )
The talented Irish band also responsible for a lot of our (well-written and well-sung) feels is back, this time their third in Manila.  The Script has been known for their very good performances even if you see them over and over.  Frontman Danny O'Donoghue not only displays that impressive voice of his, but also interacts with his audience at times (faking drunk dialing with them during the song "Nothing," for example). Aside from thoughtfully put-together set lists, The Script can make the crowd go wild with their energetic encores.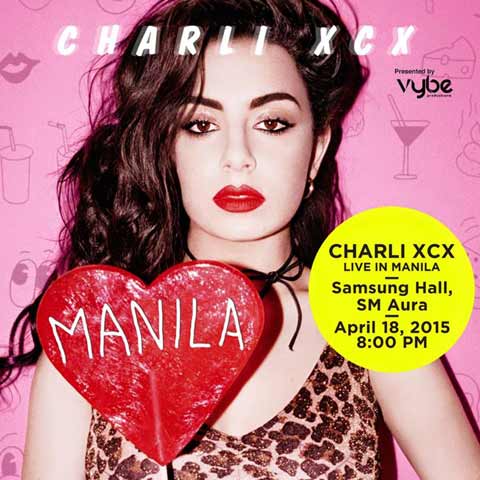 5. Charlie XCX Live in Manila
Where: Samsung Hall, SM Mall of Aura
When: April 18, Saturday
How much:  Gold—P2,581.44, VIP—P3,872.16, SVIP—P5,162.88
British singer and songwriter Charlie XCX, or Charlotte Emma Aitchison, graces Manila shores for the first time next month.  Her single "Boom, Clap" was all sorts of boisterous and funky and grabbed our attention when it was used in the film, The Fault in Our Stars.  Manila should get ready for the "dark pop" or "goth pop" that this lady is all set to sing.
[crp]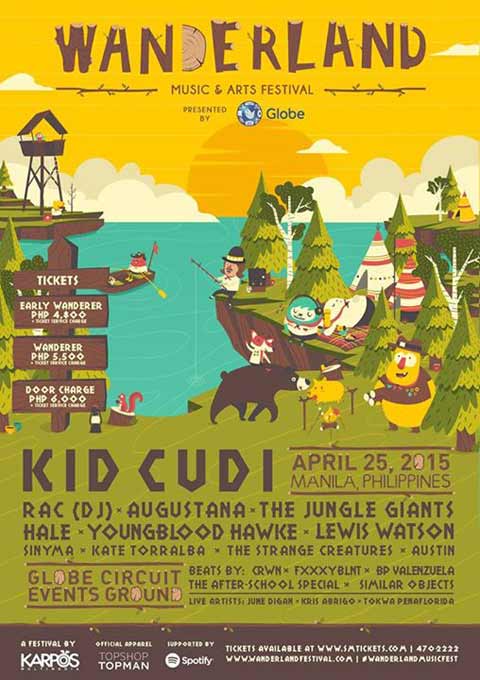 6. Kid Cudi & Augustana at the Wanderland Music and Arts Festival 2015
Where: Globe Circuit Events Ground
When: April 25, Saturday
How much: Early Wanderer (Jan 25-March 10 or until tickets run out) P4,800 + ticket charge and comes with Wandercard; Wanderer (March 11-April 24), P5,500 + ticket charge; Door Charge (April 25), P6,000 + ticket charge
This is the third edition of Wanderland, and this time it's headlined by Kid Cudi and Augustana, as well as local artists Hale and Kate Torralba. This time around, it's a camp festival theme, so get ready for some fun and indie music. A surreal camp experience await those who attend. Outdoor activities such as music exhibitions, live art, treasure hunt, and obstacle courses will fill this year's Wanderland, as well as a campsite complete with hammocks and that community atmosphere.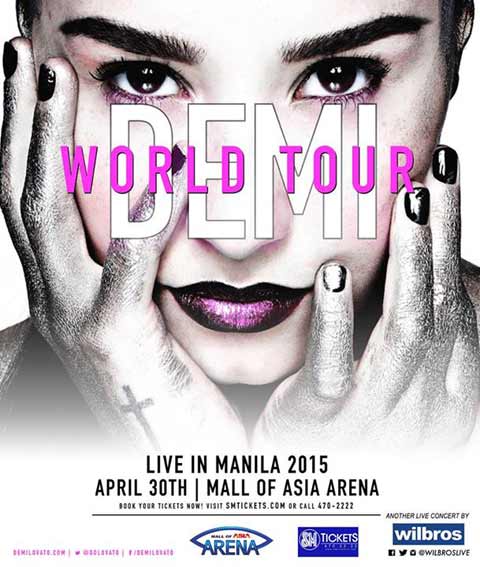 7. Demi Lovato Live in Manila
Where: Mall of Asia Arena
When: April 30, Thursday
How much:  General Admission—PhP1050, Upper Box—P2,630, Lower B—P4,200, Lower A—P5,250, Patron—P6,300, VIP—P7,880
Young, versatile, and multi-talented Demi Lovato comes back to Manila to perform her hits such as "Let It Go," "Skyscraper," "Heart Attack," and more.  The singer who has blockbuster movies, hit TV shows, and even a best-selling book under her belt will show again how she can command the stage and perform an unforgettable show for her Manila fans.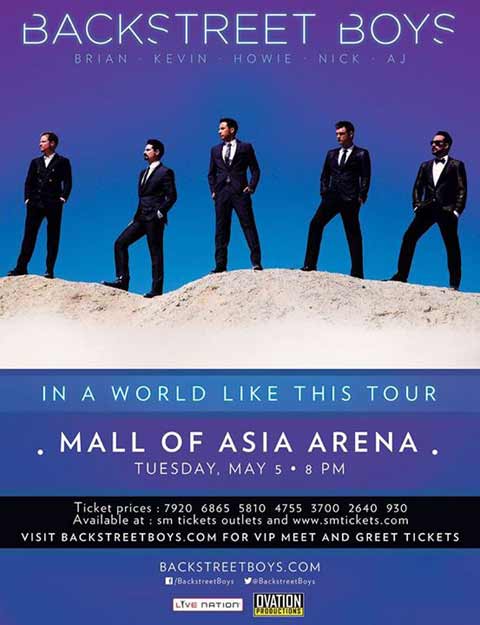 8. Backstreet Boys Live in Manila
Where: Mall of Asia Arena
When: May 5, Tuesday
How much: General Admission—P930, Upper Box—P2,640, Lower Box B—P3,700, Lower Box A—P4,760, Patron—P5,810, VIP—P6,870, Moshpit—P7,920
Nick, Brian, AJ, Howie, and Kevin. Five names that, when strung together, can create so much hysteria from screaming fans worldwide, even now. The Backstreet Boys, one of the biggest boybands in history, is coming back to Manila for the fourth time to perform their classics like "Quit Playing Games" and "Everybody," as well as newer ones that they sang into maturity. Fandom hasn't quite ceased in Manila, and fans better watch out for a movie that the Boys released worldwide, that might also be shown here in the country.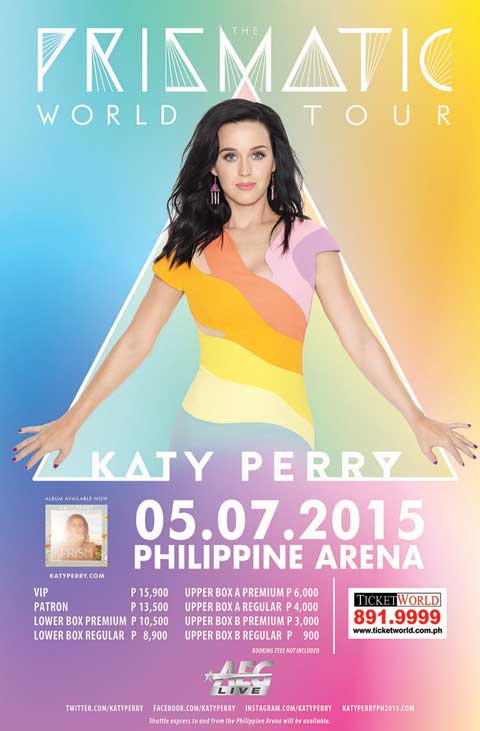 9.  Katy Perry, The Prismatic World Tour
Where: Philippine Arena
When: May 7, Thursday
How much: Upper Box B Regular—P969, Upper Box B Premium—P3,227, Upper Box A Regular—P4,303, Upper Box A Premium—P6,454. Lower Box Regular—P9,573, Lower Box Premium—P11,294
Katy Perry, with her iconic songs and their hugot lyrics that speak to everyone, is back. And the diva is ready to perform them on a stage, together with dancers and costumes that will astound everyone.  This concert is one of the first to be performed in the country's biggest concert venue, so get ready for a more epic experience this time around.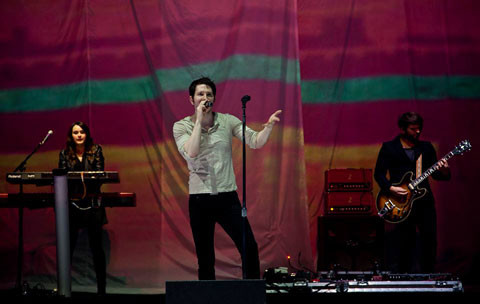 10. Owl City Live in Manila 2015
Where: Bonifacio High Street, Central Plaza
When:   May 8, Friday
How much: IT'S FREE!
Take advantage of one of the free shows by a great contemporary music artist this year in Manila.  Electronic band Owl City will visit Manila in a couple of months to perform feel-good, catchy hits like "Fireflies," "Good Time" and more.  Stay tuned for more details.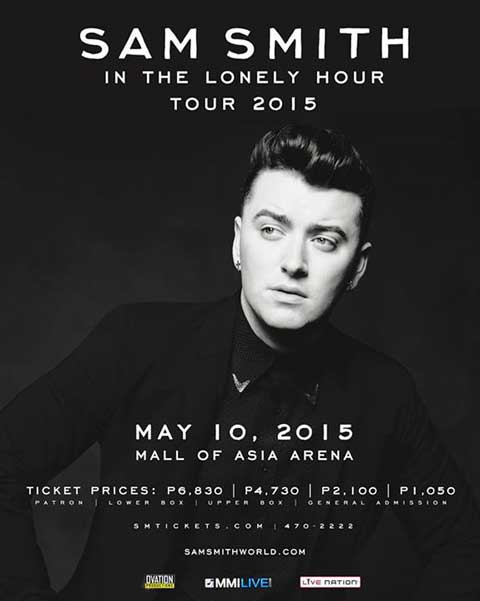 11. Sam Smith in the Lonely Hour Tour 2015 in Manila
Where: Mall of Asia Arena
When: May 10, Sunday
How much: General Admission—P1,050, Upper Box—P2,100, Lower Box—P4,730, Patron—P6,830
Following in the steps of Adele, this British crooner also turned his own personal heartbreak into success and won four Grammys this year. Smith will share his Grammy-caliber talent this May with Filipinos, and will sing hit tunes such as "Stay with Me," "Restart" and "I'm Not the Only One."
Got more concerts you're looking forward to this summer? Comment to share!
Melissa G. Bagamasbad
Dark chocolate, dogs, and adventure are just some of Mel's passions. Aside from doing her best to live life to the full, she plans on writing her own fiction one day.