Kallie Moreno
Kallie is just a little weird and doesn't like sunlight…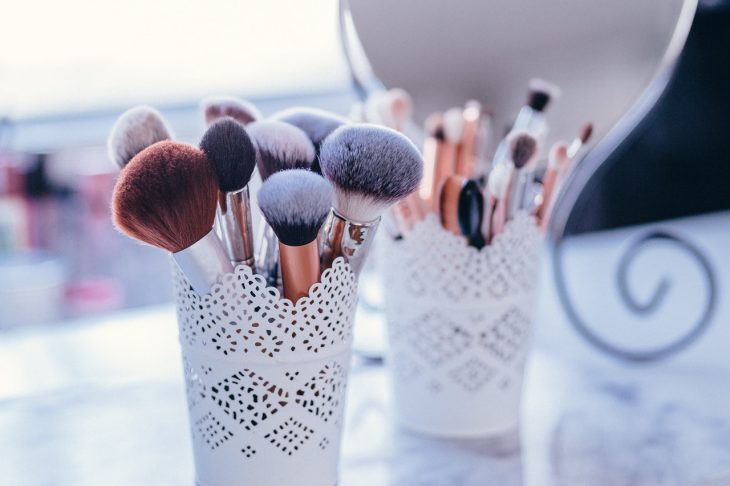 When I started wearing makeup, I applied eyeshadow with those tiny, teardrop-shaped sponge tip applicators that all palettes seem to come with. While sponge tips are convenient, it does make the whole makeup application process more complicated than it has to be. Blending was especially challenging.
Thankfully, makeup brushes are no longer limited to professional makeup artists. You can buy makeup brushes anywhere nowadays, and all girls should have a few in their arsenal if they really want to improve their makeup skills.
If you are like me and went all-out to buy a 20-piece set without even knowing what each brush is for, you may end up a little overwhelmed with all your options. There are just so many types of brushes, and some of you may not even know what each one does.
Here is a handy list to help you use every single brush in your collection:
Face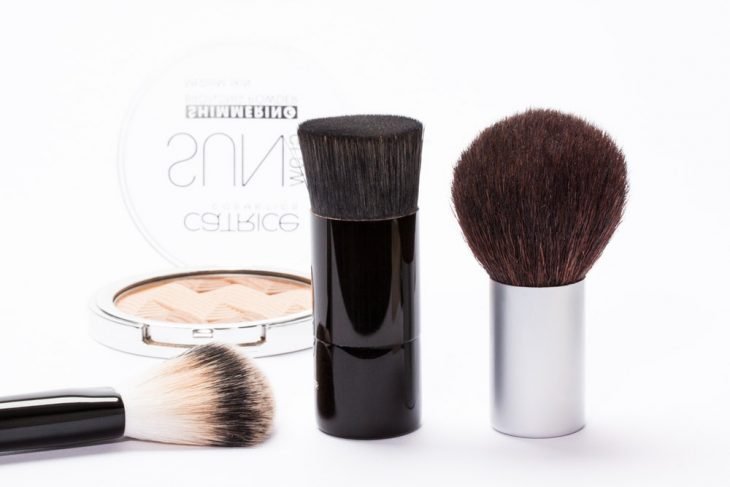 Powder Brush
The powder brush is often the biggest brush in your set and consists of fairly loose bristles with a large, rounded top. It helps you dust powder across your face to create light, even coverage. It is perfect for setting your foundation using a setting powder and other face powders.
Stippling Brush
A stippling brush is a large brush with a rounded base and flat top. It is usually made from two types of bristles – dense, thick bristles at the bottom, with fine fibers at the top. Unlike other brushes that you use with a sweeping motion, you use the flat side of the stippling brush to dab product onto your face.
This brush is ideal for achieving an even, air-brushed look, as it deposits foundation on your face in fine little dots. You can use it for liquid, cream and powder foundation.
Foundation Brush
The foundation brush is a large, flat brush with a rounded top, which you use to apply liquid or cream foundation. Its flat edge helps you spread out the foundation evenly and without streaks.
Angled Foundation Brush
The angled foundation brush is similar to a regular foundation brush, but has an angled shape to give you more precision. It is ideal for applying foundation to the creases of your face, such as around the nose. You can also use it for applying cream contour.
Blush Brush
A blush brush looks like a small powder brush and often has loose bristles and a rounded dome. The blush brush allows you to deposit color onto your cheeks in a soft, controlled fashion. This gives your blush a natural, blended look. It is best for use with powder blushes.
Angled Blush or Contour Brush
The angled blush or contour brush is similar to the blush brush, but is angled to give you a more defined line for contouring. You can use the contour brush with powder contour products to sculpt your face.
Sculpting Brush
The sculpting brush is much denser than the contour brush and has a flat, or sometimes flared or curved top. The sculpting brush is like the contour brush, but it's designed to be used with liquid or cream contouring products, hence the denser bristles. You need dense fibers to blend in liquids evenly.
Concealer Brush
The concealer brush is a small, rounded or V-shaped tipped brush with a flat profile. It resembles an eyeshadow brush, but has dense bristles to help you apply concealer precisely. Its pointed shape helps you apply concealer in hard to reach places, such as around your nose and the corner of your lips.
Fan Brush
The fan brush is a light, fan-shaped brush used primarily for sweeping away fall out and excess powder from your face. Fan brushes are very light and thin, but denser versions are also available. Fan brushes may also be used to apply a small dusting of highlighter, to give you a soft glow.
Eyes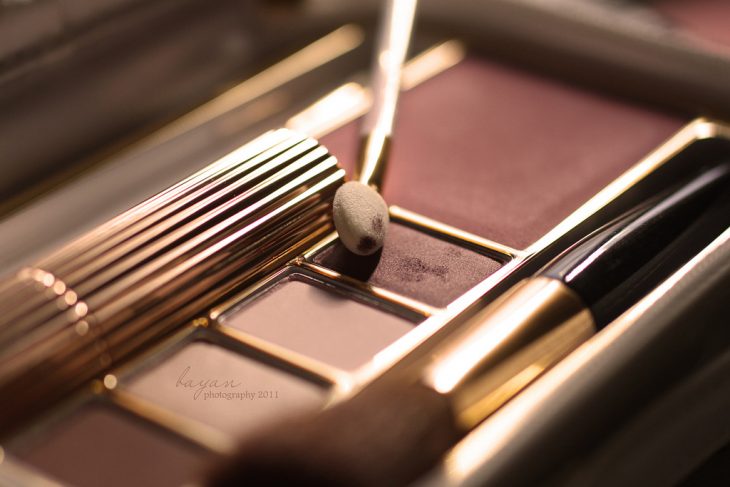 Eyeshadow Brush
Eyeshadow brushes are small, flat brushes with a rounded tip. They come in a variety of sizes to fit different eye shapes. As the name suggests, you use it to apply eyeshadow to your lids. They are often densely packed to maximize the color payoff of your shadows.
Angled Eyeshadow Brush
The angled eyeshadow brush is like a contouring brush for your eyes. Perfect for creating smoky eyes, it allows you to deposit color around your lids and crease in a controlled fashion.
Blending Brush
The blending brush is a fluffy, rounded brush that helps blend into your eyeshadows. It is a must-have for anyone who wants perfectly blended eyeshadow.
Smudger Brush
The smudger brush is a short, dense eyeshadow brush with a flat shape. The tip can either be flat or rounded. You use the smudger brush for depositing and blending eyeshadow on your lower lids, or to smudge out your pencil eyeliner for a smoky look.
Crease Brush
The crease brush is a small, round brush with short bristles that you use to deposit intense color onto your crease. Perfect for cut-crease looks, this brush is dense and precise enough to create solid definition around your eyes.
Angled Eyeliner Brush
The angled eyeliner brush is a small, flat brush with an angled tip that is used to apply cream or gel eyeliner. It creates a fine, precise line around your eyes and can be used for both the upper and lower lid.
Fine Eyeliner Brush
The fine eyeliner brush is ideal for applying liquid eyeliner. It is a very small brush with a sharp tip, making it ideal for drawing cat eyeliner and similar eyeliner looks. Best used with the upper lid only.
Eyebrow Brush
The eyebrow brush resembles the angled eyeliner brush, but is often thicker and denser. It helps you draw in your eyebrows with precision using either powder, gel or cream brow products.
Lash Comb and Brow Brush
Often attached to just one head on either side, one side features a brow brush and the other side a lash comb. The brow brush tames any flyaway hairs for neat, arched eyebrows, while the lash comb separates your lashes after wearing mascara.
Spoolie Brush
The spoolie brush is a combination of the lash comb and brow brush. This stiff, spiral brush, which resembles a mascara wand, can be used to comb brows and to separate lashes.
Lips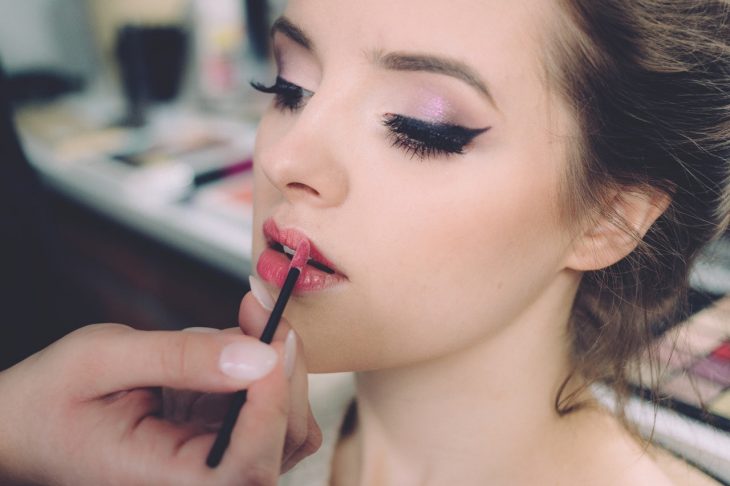 Lip Brush
Lip brushes come in different sizes. They are often a small, flat brush with a rounded tip, which helps you draw in your lipstick with more precision.
Flat Lip Brush
The flat lipstick brush has a flat, squared tip. Like the rounded lip brush, it helps you apply saturated lipstick in a clean, precise manner. The flat lip brush is especially useful for creating very sharp, defined lines and cupid's bow.
Specialty Brushes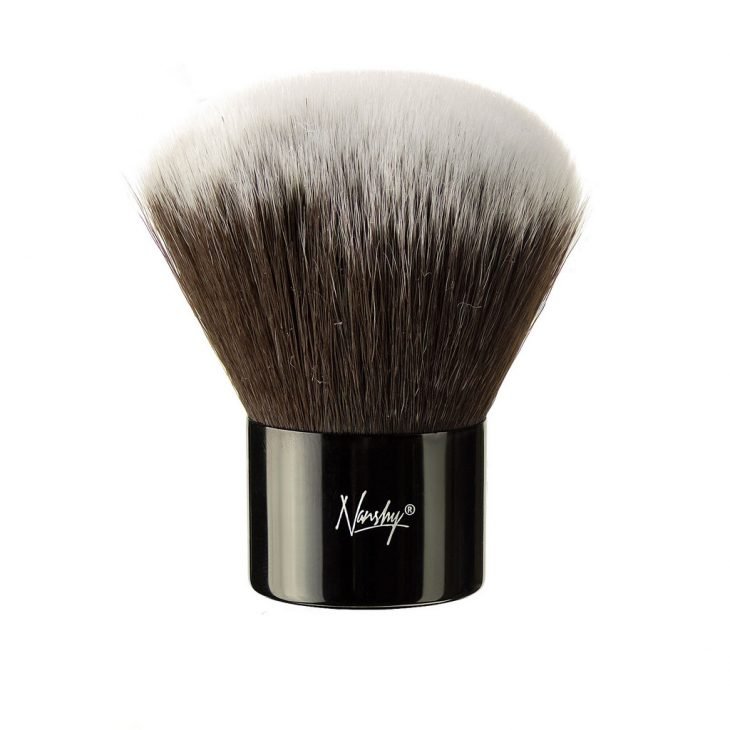 Kabuki Brush
The kabuki brush is a large, round brush with loose to dense fibers and a short handle. As the name suggests, it was the brush of choice for the Japanese kabuki theatre, where actors apply thick, white makeup all over their faces.
The kabuki brush is an all-purpose face brush for applying loose powder on large surfaces of the face. You can use it for face powder, foundation and blush.
Mushroom Brush
The mushroom brush is another large brush with a short handle, short bristles, and a dense, mushroom shaped top. Like the kabuki brush, you use it for applying makeup on large surfaces. Unlike the kabuki, however, you can use both powder and liquid foundation with the mushroom brush.
Oval Brushes
Oval brushes are just the oval-shaped versions of regular makeup brushes. While most makeup brushes resemble paint brushes, with the bristles sticking up straight from the top of the handle, the bristles of oval brushes stick out from the side of the handle, resembling a hairbrush.
They function in the same way as regular makeup brushes, but some may find them easier and more comfortable to use because of the angle of the bristles.
And that is how you use every brush in your makeup brush set. I hope this comprehensive list helps you to finally use out of all of your brushes!
Did I miss any essential makeup brushes? Comment below.
Kallie Moreno
Kallie is just a little weird and doesn't like sunlight very much. She subsists on tea and fancy lip balms.