When it comes to beauty and motherhood, a long list of celebrities and #momgoals instantly come to mind, including gorgeous celebrity mom Danica Sotto. We chatted with the super fab mom for some beauty and travel tips at the Del Monte Giant Spaghetti Christmas Tree lighting at Eastwood Mall, which was led by Danica and her family.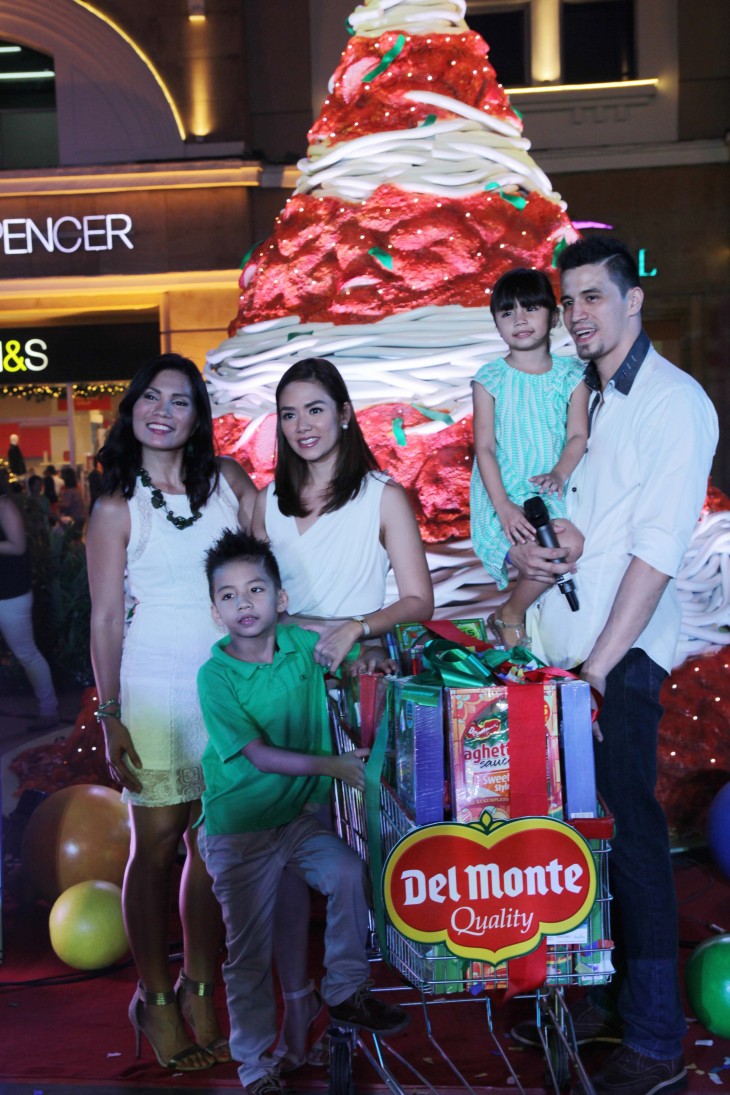 Beauty secret 1: "Never forget eye cream."
The skin under our eyes are very delicate, and it needs lots of TLC. Luckily, eye creams do that for us. They prevent collagen damage and keep the skin hydrated. You wouldn't want a dry, wrinkly eyes, right?
Beauty secret 2: "Moisturize."
Moisturizers repair dry skin, protect it from skin damage, and stimulate the skin for better blood circulation, preventing wrinkles from showing up. Plus, moisturizers make for pretty good primersm too!
Beauty secret 3: "Take retinol or Vitamin A supplement."
Retinol is an antioxidant that makes skin look and act younger. It also get rids of acne, eczema, skin discolorations and wrinkles.
Beauty secret 4: "Don't miss the sunscreen."
Sunscreen helps us keep a healthy, youthful-looking skin and protects us from skin damage.
Beauty secret 5: "Use lip balms."
Good lip balms can seal the cracks on chapped lips. Honey, that new plum-colored lippies will look better when you got rid of those dry lips.
Aside from staying healthy and beautiful, Danica also loves travelling with her husband and kids. They've been to some really great places like, the US, Paris, Italy, and Switzerland. According to the couple, their most favorite travel destination is France, but they're really excited to visit and explore Japan, which is next on their travel list. Here are some family-friendly traveling tips from the couple:
1. Put all documents, passports and other necessary things in one pouch or bag.
This will ensure that you got all the important papers without the hassle of looking for them on every bags upon check-in.
2. Allot one backpack where you can put all the kids' things.
This includes extra clothes, toiletries, snacks, favorite toys and other little things that the children might need and ask for during the trip.
3. Keep your money in different pockets and places.
It is safer than putting everything in just one wallet. Better safe than sorry, right?
4. Make sure your phones are charged.
We use our phones to keep in touch with our loved ones, but it's also a handy device for storing all travel-related documents like your itinerary and hotel reservations. Make sure the battery is full to avoid any trouble along the way.
5. Check and research about the place.
Make sure you're prepared enough for a certain destination and this will also guarantee that the area is safe, accessible and kid-friendly.
Yza Tolentino
A 20-year old girl who has a big heart for the local indie music scene, sunflowers, cats, summer, art, city lights, beaches and anything and everything vibrant. She's currently into PR, Events and Marketing and cheerfully works for freebies, free passes and free food. Say hi on twitter and instagram, @yzatolentino.