Pia Rojas
Pia Rojas has been writing about fashion, beauty, and health…
We know you can't live without your beauty tools—those beloved brushes and sponges help with precise eyeliner application, blending foundations and shadows, contouring your face shape, and more. But these same instruments may also be guilty for causing breakouts and skin irritations when they're not cleaned properly or often.
Keeping your beauty implements hygienic doesn't have to be expensive—you don't even need to buy pricey brush cleansers. All you need is some mild shampoo and water, and you're all set! Continue reading below for our quick how-to on cleaning your fave beauty helpers.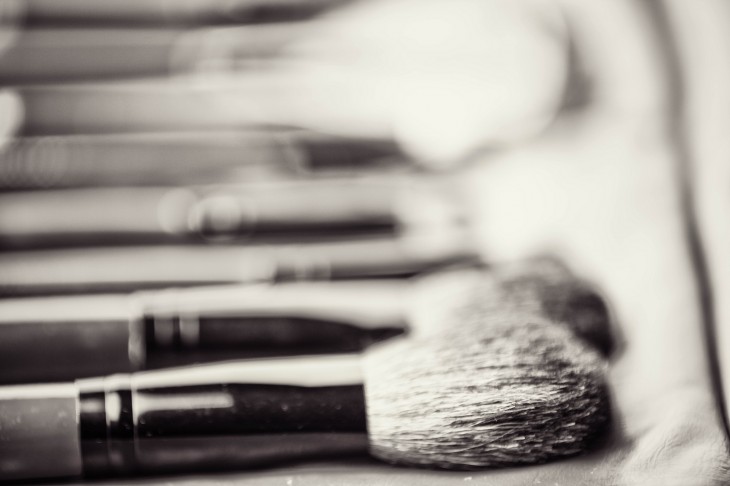 Brush Cleaning 101
Step 1: Remove any residual powder, liquid, or cream from your brushes by gently wiping them on a clean paper towel or soft tissue paper.
Step 2: Wet your brushes carefully—use a small bowl of lukewarm water and gently dip them there one by one. Make sure to rinse the strands only, making sure to keep the base of the handle dry.
Step 3: If you have baby shampoo (or any mild shampoo), squeeze a small amount onto your palm and gently twirl your brush strands there, taking care not to bend the bristles out of shape or get the base wet. You can also swirl your brushes one by one in the same bowl of lukewarm water mixed with a few drops of shampoo until clean.
When using soap, choose a mild, unscented bar and gently wipe your wet brush back and forth against the soap. This will help it lather up and remove dirt and residue until the brush is clean.
Step 4: Place your clean, soapy strands under running water to rinse them out. Squeeze out excess water or wipe gently against a towel before laying flat on your sink—leave the strands hanging over the edge of the basin—to air-dry. Make sure to reshape them after washing to prolong their life since buying brushes can be expensive.
Sanitizing Your Sponges
You can wash sponges with the same shampoo or soap you used for your brushes and lay them on a paper towel to dry. Make sure to clean them after a few uses to get any makeup out as quickly as possible, or they develop a higher chance of becoming a breeding ground for germs. Good quality sponges can be washed a number of times though once you notice any signs of wear and tear, toss them.
Using a Brush or Sponge Cleaner
A brush cleanser is a quick and easy way to disinfect your tools and keep them germ-free. Just spray it on your bristles or sponge, making sure their soaked. Gently wipe against a paper towel to clean and dry them.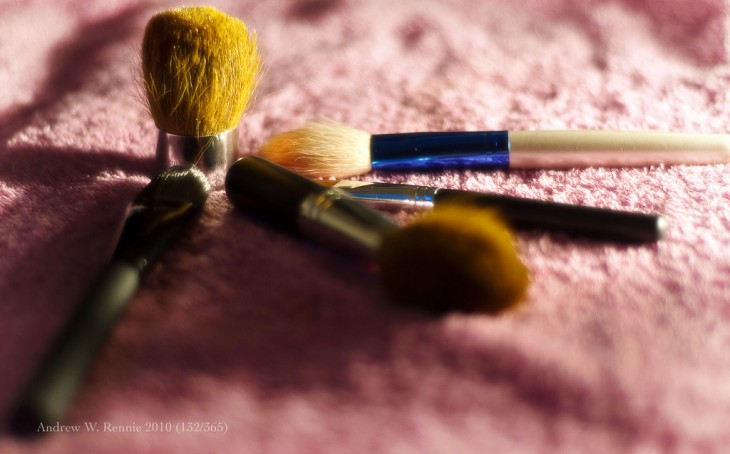 A Few Tips
Always make sure to keep the base or barrel of your brushes dry since this contains the glue that holds the bristles to the handle, and getting them wet can cause some of your strands to detach and fall over time.
Don't store your brushes upright when drying since water or moisture can seep down into the base.
Always reshape your brushes after rinsing to preserve your brushes.
Finally, if you find hard-to-clean makeup deeply embedded on your brush, you can use a few drops of olive oil or baby oil to loosen its death grip on your brush. Just rinse with warm water and let dry. Olive or baby oil is also a great way to condition the bristles of your brushes.
Pia Rojas
Pia Rojas has been writing about fashion, beauty, and health for 17 years. She's happily married with dog, and spends most of her time working and applying weird skin potions to her face.