Marian Bartolome
Marian is an interior designer turned freelance writer who loves…
Earlier this month, I shared my experiences trying out some of Aqua Mineral's most popular products. I was largely pleased with how the results of my quick sampling, but we all know that when it comes to skincare items, you won't really know how effective they are until you get to try it over a period of time. Luckily, the folks at Aqua Mineral were kind enough to give me my own set of Total Silk Body Scrub and Blissful Body Butter, and I was more than happy to put it to the test.
As with the rest of Aqua Mineral's offerings, both the body scrub and butter are based on minerals sourced from the Dead Sea. They make use of all-natural ingredients, which are clearly noted on the jar labels, so you won't need to worry about unknowingly putting your health at risk. After all, Aqua Mineral aims to create products that not only keep your skin looking youthful, but most importantly, promotes healing. I've been using the body scrub and butter for over a month now, and I can honestly say that these are two products that meet expectations.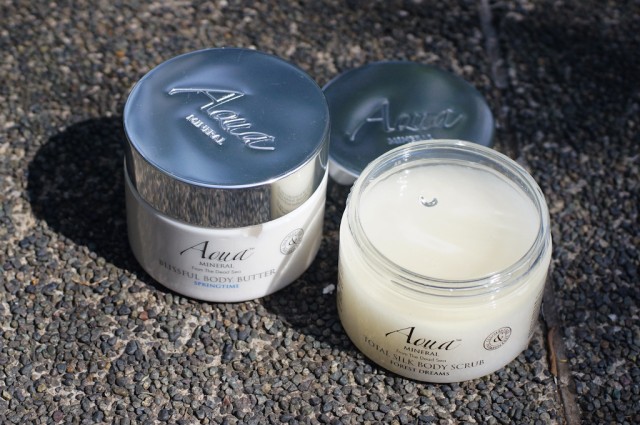 Total Silk Body Scrub
The body scrub is available in two fragrances—Forest Dreams and Enchantment. It comes in 475-ml jars, and as you can see, it's packaged nicely with a seal to ensure that you won't spill the contents in your excitement to use them. That layer of liquid you see on top of the scrub is actually a combination of sunflower seed oil, jojoba oil, and argan oil, all of which help to soften and nourish your skin. You can separate these oils to use on your face, but I preferred not to, so that I'd get the full effect of the scrub.
As recommended, I use only a spoonful of the scrub each time, which was more than enough. The application process is surprisingly relaxing. The oils tempers the coarseness of the scrub, and with its subtle woodsy scent, it reminds me of being pampered in a luxurious spa. As I rub it in, I immediately feel my dead cells coming off and my skin smoothing out. I've seen the long-term benefits particularly on my elbows and feet, which used to be quite rough and dark. As a plus, my tan line has also evened out. I've grown to look forward to this new addition to my bathing ritual, but I limit its use to once a week to avoid over-exfoliating.
Blissful Body Butter
Available in 350-ml jars of Springtime and Starlight Glamor, this body butter is one product I'm happy to use every day. Unlike other products in the market, it isn't greasy or sticky at all. It smoothes out easily, leaving my skin supple and soft to touch. Like the scrub, a little amount goes a long way, but since I apply this daily, I'm sure I'll consume this faster than the scrub. I love how my skin feels almost energized after application and how the Springtime fragrance smells pleasantly like powder. I've noticed that my skin is no longer dry despite the cooler weather we've been having, so I definitely recommend this—together with the body scrub, of course—to any modern Filipina who wants to give her body a healthy treat!
For more information on Aqua Mineral, visit their website or Facebook fan page.
Plus, if you're planning on picking up the butter and scrub anytime between now and the end of January, you can print out the coupon below (or simply present it when making your purchase) to avail of a special offer in which you can also get Aqua Mineral's nail kit at at a discount.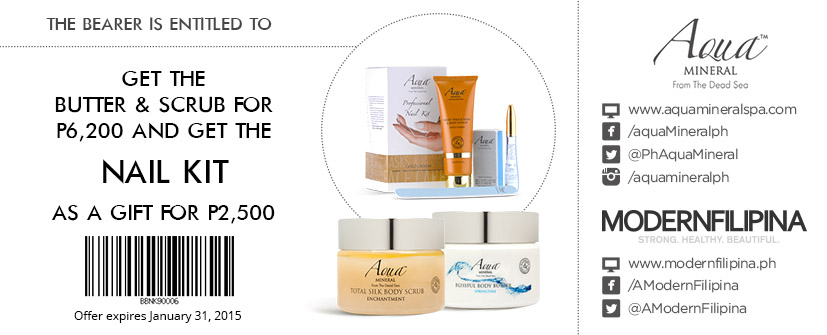 Marian Bartolome
Marian is an interior designer turned freelance writer who loves exploring the world on her feet and through her Kindle. Her favorite things to write about? Travel, lifestyle, coffee, and happily ever afters.