For many of us, Zoom meetings are a double-edged sword. While there's no denying that the online conferencing platform is a great alternative for collaboration in a time where remote work is a must, it also gives your colleagues a peek into your personal life. This intimacy, (unwelcome or not) can put a certain pressure on you to curate both your space and your image when you hop on camera. While the kind of space you create for yourself certainly helps, there is nothing like a killer video call makeup look to transform your presence in the digital workplace. If you have been looking for a no-frills guide to hacking the perfect makeup for zoom meetings, then this might just be the perfect read for you. Discover the perfect video call makeup look for every situation and find the best match for you below!
Woke Up Late: The 5-Minute Glow-Up
Time Needed: 5 Minutes
This Zoom meeting makeup look is the perfect solution for an AM meeting you woke up late for. Even if everyone has gone online for the new normal, virtual meeting etiquette still calls for punctuality. As they say, there's no use crying over spilled milk so use the ten to fifteen minutes you have before your zoom call wisely. Pick out a simple top that looks chic and put-together like a textured blouse or a knit sweater in muted colors before following this routine for a 5 minute makeup look.
Step 1: Quickly wash your face with your favorite cleanser and swipe on a nourishing moisturizer for a gorgeous #wokeuplikethis glow.
Step 2: Dot on some concealer under your eyes and your T-zone and gently blend them outward into your bare skin. Elevate this step by dotting highlighter over your cheekbones and the inner corners of your eyes for a look that seems fresh and lit from within.
Step 3: Look polished for your virtual meeting by brushing up your brows with a spoolie and filling them in with a trusty tinted brow gel or pencil. Top it off by curling your lashes and swiping on two coats of mascara for peepers that look attentive and awake.
Step 4: Add a healthy flush of color to your face by dabbing on a lip and cheek cream or tint to the apples of your cheeks and over your lips.
Pro-Tip: When in a rush, opt for cream or cream stick products that will look great even when blended over bare skin for effortless video call makeup!
Under the Weather: The Photo-finish Pick-Me-Up
Time Needed: 5 to 10 Minutes
We over at the Modern Filipina team are all too familiar with video call burnout. The New York Times has reported a spike in fatigue levels brought about by the remote work setup – and women are at higher risk for it. Unless you have the perfect setup and lighting in place, web cams tend to wash us out. And when you're feeling under the weather, this can make you look even worse. While the long-term solution is to figure out how to cope with Zoom fatigue, this sick day makeup look is a great pick me up for getting you through the work day!
Step 1: Apply skincare as normal but layer on a brightening Vitamin C serum for an extra boost of radiance. (Only do this if staying indoors!!)
Step 2: Dot light to medium coverage foundation or skin tint over your face and blend it in for an even, healthy complexion. Be sure to blend down to your neck as well!
Step 3: The eyes, chico–They never lie! Do your brows as per your usual! Opt for eyebrow powder or gel for budge-resistant arches all day or go simple with your favorite browcara or pencil. Make your eyes look alert and awake with a small wing on the outer corner for effortlessly fierce beauty. Finish off your eye makeup by curling your lashes and apply two to three coats of your favorite formula if desired.
Step 4: Add a healthy dose of color to your face with a swipe of your favorite lip tint and tap a little bit onto your cheeks to fight back the appearance of pale, sickly, skin!
Pro-Tip: When feeling under the weather, less is definitely more. Don't try too hard to layer multiple products and complicated techniques for your Zoom meeting makeup. Instead, focus on resting up or just file a leave! You will look much better after some bed rest and maybe a bowl of your favorite soup. In these times, a compromised immune system is the last thing anyone wants!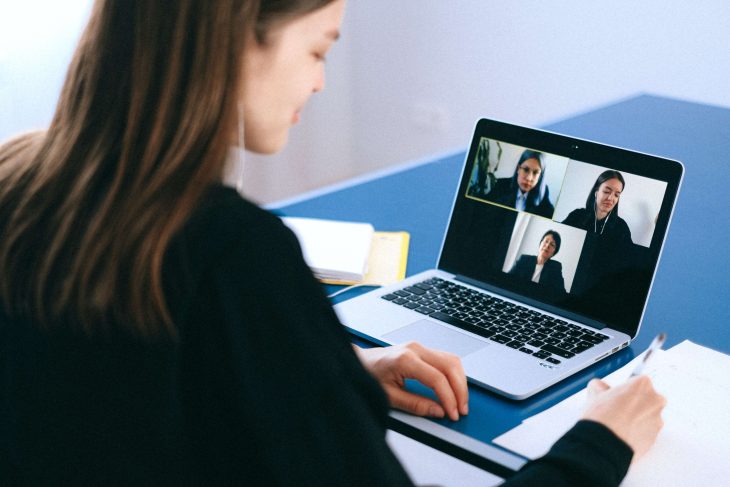 Dressed for Power: The WFH Glamazon
Time Needed: 10 to 20 Minutes
Don't let remote work stop you from glamming up! Whether you are doing your makeup for an important business meeting or preparing for an online job interview, the way you beat your face can give you an aura of power and confidence. Shrug on a bright blazer for a pop of color and follow this makeup look for style that will dominate the bandwidth.
Step 1: Cleanse your face before exfoliating with a peeling gel to slough off dry, dull skin. Apply the rest of your skincare as normal before topping off with your preferred primer.
Step 2: Dot on medium to full coverage semi-matte foundation for a base that looks healthy and shine-free. Blend into your skin using a damp beauty sponge or your favorite foundation brush. Set with powder of your choice.
Step 3: Create striking eyes with peachy or neutral tones and choose a base color for your entire lid. Contour the outer corner with a darker shade before swiping on some shimmer in the center of your lid. Add some drama by making a small wing on the outer corner and complete the look by curling your lashes and applying a few coats of mascara.
Pro-Tip: Avoid the infamous spider lashes by wiggling your mascara wand as you apply outward.
Step 4: Highlight and contour the natural shape of your face for a look that is flattering on camera. When contouring, opt for a cooler brown shade and create two number threes on your cheeks that frame your forehead and chin. Blend well with a beauty sponge or makeup brush. Apply highlighter to your cheekbones, the tip of your nose, and your cupid's bow.
Step 5: Finish off the look either by going bold and brave with a bright red or go for a sophisticated nude or peach.
These fool-proof video call makeup looks are only a few of the possible #FOTDs you can try out even with the remote work setup. Part of why we do them is the sense of normalcy and empowerment they can afford us, even in these turbulent times. Take control of your individuality and beat your face the way you want to if it helps boost your confidence. At the end of the day, the best person to glam up for is no one else but you.