Justine Lubag
Justine is a Slytherin who loves cosplay, horror fiction, and…
Since my last article detailing my first time on an online dating app, things have changed quite a bit.
Nice Bumble Guy and I are still friends on social media, but we don't really talk anymore. And then I met another guy who I went on three dates, only to be hurt and disappointed on our last date and realized I didn't want to see him anymore.
Despite all that I've experienced, I still think online dating apps are a fun way to meet potential friends and dates. However, I've found that it's not for everyone. Although most people on these apps provide their best photos and bios hoping to attract their ideal match, your real self and the person you put forward online aren't always the same. So in a way, even with many photos on your profile, online dating is still a lot like going on a blind date.
But is that really a bad thing?
Because according to OKCupid, photos are no longer the thing that matters most on a dating profile.
OKCupid: Bio Selfies as a Deciding Factor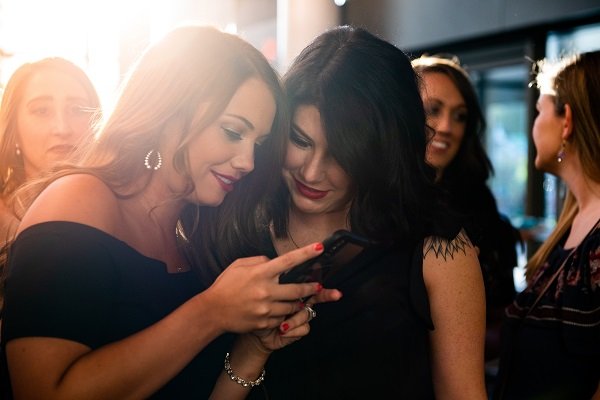 In a recent press release, OKCupid claims that the dynamics of online dating in the Philippines has changed. Despite Makati earning the title of the "Selfie Capital of the World" from TIME Magazine, Filipinos are less interested in looks than other factors when it comes to finding a romantic partner. Instead, around 39 percent of Filipino men and 41 percent of Filipino women prioritize a potential date's personality, whereas only 20 percent of men and 8 percent of women value looks the most.
Since selfies "highlight what people deem to be their best physical assets," you're bound to find dating profiles with one or two (or six) selfies. But when it comes to personality traits, not all apps provide a lot of ways to know about a potential match's personality at a glance.
And since most dating apps focus more on photos than descriptive bios, you don't usually have a lot to go on when deciding to swipe left or right if you're focused on personality over appearance.
But the developers at OKCupid want its users to "match on what matters," which is what makes the app stand out among all the other online dating apps available. Believing that personality trumps appearance, OKCupid has a personality-matching algorithm that shows users their potential matches based on personality traits, values, and other indicating factors.
The Challenge: Are Photos Really Necessary When Swiping?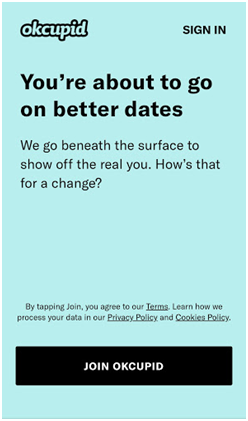 Unlike other apps that merely provide a user-given photo and a short description (assuming the user even chooses to write something about themselves since it's optional), OKCupid has a lengthy registration where they ask you a lot of questions about yourself and the kind of person you're looking for. So when you finally get to the swiping, you can see how much percent you and another user match in terms of interests and personality.
Having tried OKCupid's registration and reading their PR about online dating in the Philippines, I decided to make a challenge out of it. Since online dating apps require you to have some amount of faith in a stranger, almost like blind dating, what if I used the app without looking at any photos and based my decision solely on what potential matches had written down?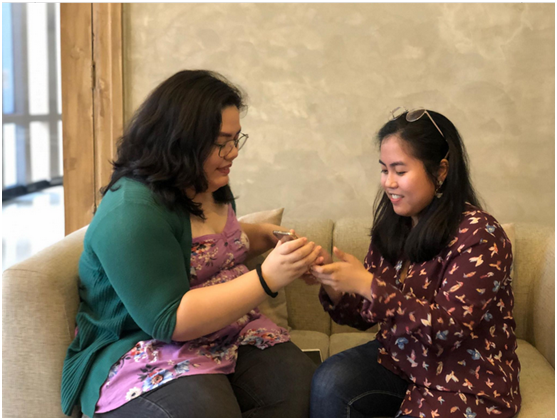 After creating my profile and adding as much information as I was comfortable with (and there were a lot of questions, including my preferred pronouns, my spoken languages, and customized questions about the topics I liked to talk about), I asked another writer, Sharee, to help me out with this challenge.
The rules were fairly straightforward:
Sharee would hold my phone and read out loud the potential matches' bios, descriptions, and anything she thinks I need to know.
I can't see the photos on the profile, and I have to make my decision to swipe left or right based on what she says.
Aside from the personality questions, I put my age limit at 22 up to 32 years old, open to all genders, and interested in friends and short and long-term relationships. After we went through many profiles, I browse a list of people I swiped right to see whether or not I'd have done the same if I looked at their photos.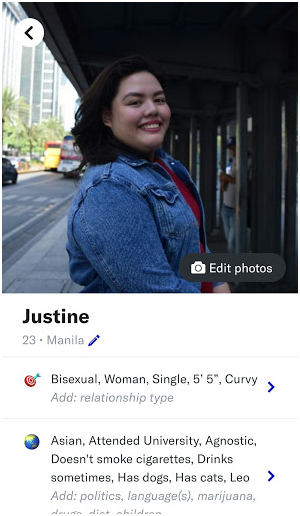 This challenge would help me see if OKCupid's claim that bios and descriptions are a good way of basing your dating preferences rather than looking at one's photo.
Before we began, I was already expecting to be disappointed. Although I believe personality, humor, and values outrank physical attractiveness, I'm not a hypocrite who'll say that appearances don't matter because, to an extent, they do.
I'm not talking about physical traits like height, weight, skin color, and other factors people can't control, though. What I mean is I'd rather date someone who dresses smartly and clearly practices personal hygiene (it means they want to leave a good impression and are actively trying to do so) than someone who can't be bothered to put their best foot forward appearance-wise.
Also, from my experience in dating apps, I've found that not a lot of people can be bothered to write something meaningful in their bio, and some people can't even be bothered to write anything at all. Even if they do, I've found that (in my age group, at least) people tend to write the same clichés that don't say anything about them. To name a few of them:
"I don't like small talk"
"I'm loyal." (Seriously, if you're looking for a long-term relationship, being loyal is literally the bare minimum. Aim higher, ladies and gents.)
"I'm bored. Let's chat."
Basically all the other different ways to write "I'm bored, let's chat," except these people have thesauruses. "World-weary human seeking conversation on this app" – no thanks.
And I thought that if I had to go through plenty of those kinds of profiles, I expected I wouldn't be making much progress in this challenge.
Looks Do Matter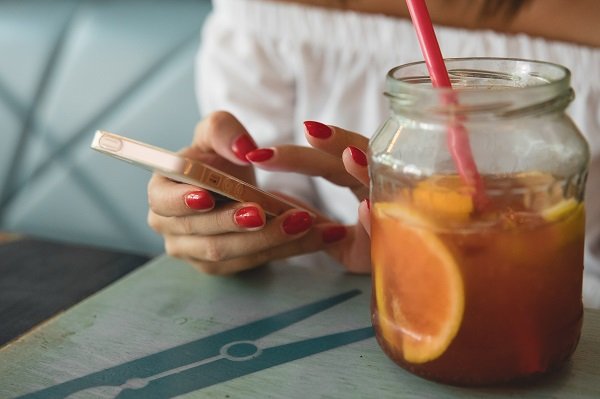 Most of the first few bios weren't descriptive and were mostly people asking others to drop them a message on the app. Unlike other apps where you can't send messages unless you match, OKCupid allows a short first message to introduce yourself. Premium users on the app can see the list of people who liked them. But if you're a regular user, the only way to tell a person liked you is if you come across their profile and it says they left you an intro.
I swiped left on people asking to start a conversation with them on any other messaging app because it felt a bit sketchy to me. I also swiped left on descriptions explaining they were looking for hookups, FUBUs, a side-chick for an open relationship, or a third member to join a threesome since that wasn't what I was looking for. Still, not gonna judge them for their sexual preferences – at least they were straight to the point.
As someone who loves puns and wit, it was difficult deciding on people whose descriptions were funny or had smooth pick-up lines that weren't too overly sexual. As much as I wanted to swipe right on people whose descriptions made me laugh or made me go, "OK, that was a good pick-up line," I wanted to base my decision on something more. Unfortunately, a few of these profiles didn't really have anything else.
Eventually, I just decided to swipe right on those that left a good impression.
Finally, I swiped right on those I had similar interests with. This could be people who said they were writers, loved the same movies and shows, had the same hobbies, or just mentioned something I could talk to them about.
After swiping on a lot of people, I got my phone back and went through the people Iswiped right. Just by looking at their photos, I could tell there were some people I just weren't physically attracted to. Some of them looked a bit too intimidating, younger, or older than the type I'm usually attracted to. I also noticed that Sharee didn't mention our compatibility score, and while their biosdid catch my attention, their answers for certain questions were a sign I wouldn't get along with them. By the time I was doneremoving people from the list, I was down to a handful of potential matches.
Now that the challenge was over, I had to wait and see if any of these people would match with me. Out of the people on the list, two liked me back. One was a pink-haired girl around my age who had a "strong independent woman" vibe I was attracted to. Based on her photos of herself in funny situations and references to certain memes, I wouldn't have known we had similar personalities.
The other one was a guy slightly older than me who had a thing for dad jokes and a dark sense of humor. The thing about his pictures, though, was that while it made me laugh, I probably would have swiped left if I didn't read his bio. While the girl and I have yet to talk, the guy and I are going back and forth with jokes and occasional flirting. And I would have missed out on someone fun like him if I had focused on his photos alone.
But Looks aren't Everything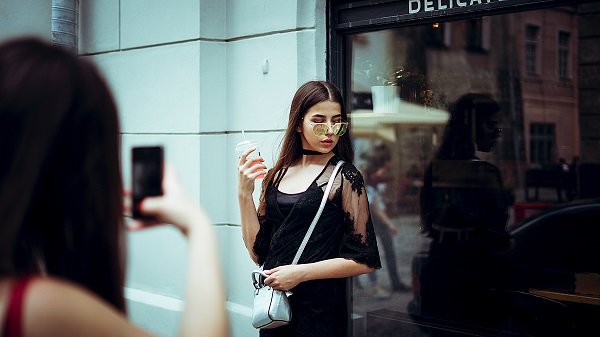 Just for fun, I tried reversing the challenge: swiping left or right based on the photos without looking at the bios. This was only a brief trial that barely lasted a few minutes because I didn't feel attracted to enough people to want to continue.
Sure, there were a few attractive individuals who caught my eye and got me to swipe right, but when I went to my list of people I liked, I saw how mismatched we were and ended up unmatching a lot of them.
In one case, I swiped right on a guy who was physically attractive, but when I checked why we had a less than a 50 percent match, he turned out to be someone who was very carefree (I'm not),extremely religious (I'm not), supports the drug war (I don't), aspires to be normal (I don't), and thinks there shouldn't be more women in government positions (yeah… no).
And even if we did have a high personality match, not reading users' bios led to some very awkward moments because we weren't looking for the same thing. I matched with this guy who scored a 92 percent compatibility with me. So, I was surprised when he messaged me minutes after we matched asking if I had really read his bio and was "interested." Turns out, he was explicitly clear in his description that he was exclusively looking for hookups. Even though we were 92 percent compatible, the other 8 percent was that I was looking for something long-term while his ideal relationship should only last one night – a small percentage, but a very important factor when forming relationships.
The Verdict: Appearances Matter, But It's Not a Priority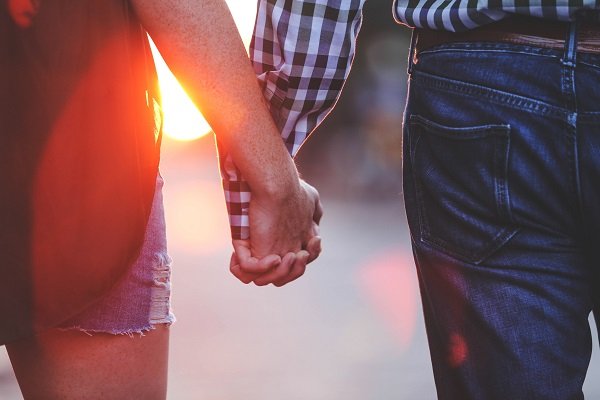 If you asked me, I would say that what a person writes and how they introduce themselves affects the way they but their best foot forward more than their photos do. But if I told you that looks didn't matter, I'd be lying. So when it comes to online dating, a good photo can get people to stop and look, but an interesting bio and a good description that lets people know you better can get them to swipe right.
That's why OKCupid provides features for people looking for matches based on appearances and personality. But the company also understands that some of aren't drawn to a pretty face alone and provides a long list of questions, profile details, and other factors that can help us know more about a person at a glance.
I'd recommend OKCupid for people who want to focus on personality and compatibility with their date. If you're looking for something long-term or more on the romantic and emotional side, you may be surprised to see how well you can click with another person who, based on their physical appearance alone, you wouldn't expect to match with in the first place.
Justine Lubag
Justine is a Slytherin who loves cosplay, horror fiction, and puns. She is the certified favorite human of her dog, Pud.