Crystel Paner
Only child, Spoiled with Love. Hopeless-Romantic writer. Party goer. Bitter-Sweet…
Only a couple days left before Christmas, and soon enough, we'll be bidding goodbye to another busy year. We understand that it has been a very tough year to squeeze in late night dinners, afternoon dates, special occasions and celebrations with your boyfie, right? Every in-love modern Filipina must really have felt the hassle and stress because of this, but worry no more! The holidays are here, and with it comes the holiday break!
Have you been enjoying the breezy afternoons and cooler evenings? Research indicates cold weather results in an increased tendency to cuddle, so let's make the most of this cuddle weather! One way to do it would be to have daily movie sessions, or even spend a whole afternoon and evening on a marathon of romantic flicks both you and your guy will enjoy.
Get your popcorn ready, and check out our list of recommended movies.
1. Silver Linings Playbook
Synopsis: After a stint in a mental institution, former teacher Pat Solitano (Bradley Cooper) moves back in with his parents and tries to reconcile with his ex-wife. Things get more challenging when Pat meets Tiffany (Jennifer Lawrence), a mysterious girl with problems of her own.
IMDb Rating: 7.9/10
I know also for a fact that most of the modern Filipinas do love movies and books equally. Which is why movie adaptations of our favorite books are what we look forward to the most (hands up if this is true for you!). There are already a lot of much-loved books that got the big-screen treatment over the past years. One of these is the 2012 romantic-comedy written and directed by David O. Russell and adapted from the novel written by Matthew Quick, the Silver Linings Playbook.
What You'll Love: People Magazine's Sexiest Man Alive in 2011, Bradley Cooper, is on the big screen! Need I say more?
What He'll Love: This flick won JLaw her first Oscar for best actress.
Check out the official trailer below:
2. The Break-Up
Synopsis: When art dealer Brooke (Jennifer Aniston) and tour bus driver Gary (Vince Vaughn) finally call it quits on their relationship, neither is willing to move out of their shared condo. With their friends suggesting a series of underhanded tactics that fail to get either Brooke or Gary to cave, the only solution is to become hostile roommates.
IMDb Rating: 5.8/10
Na-uh! We're not shipping you to breakupland! Mind not the title but the movie's story. The Break-Up is a 2006 romantic comedy (an ex-rated comedy to be exact, according to it's tagline) directed by Peyton Reed and starring Jennifer Aniston and Vince Vaughn. This movie was written by Jay Lavender and Jeremy Garelick and produced by Universal Pictures.
What You'll Love: You might get tips from Jennifer Aniston on how you should handle tough times and keep the sparks going in your relationship.
What He'll Love: Jennifer Aniston in the buff!
Check out the official trailer below:
3. Love and Other Drugs
Synopsis: Maggie (Anne Hathaway) is an alluring free spirit who won't let anyone—or anything—tie her down. But she meets her match in Jamie (Jake Gyllenhaal), whose relentless and nearly infallible charm serve him well with the ladies and in the cutthroat world of pharmaceutical sales. Maggie and Jamie's evolving relationship takes them both by surprise, as they find themselves under the influence of the ultimate drug: love.
IMDb Rating: 6.7/10
Love and Other Drugs stars Jake Gyllenhaal and Anne Hathaway; this 2010 romantic comedy was written and directed by Edward Zwick. The concept of the story is based on the nonfiction book Hard Sell: The Evolution of a Viagra Salesman by Jamie Reidy.
What You'll Love: Oh, hello there, Jake Gyllenhaal!
What He'll Love: Hello too, Anne Hathaway! She is hot, hot, hot in this one!
Check out the official trailer below:
https://www.youtube.com/watch?v=WKtrLiQTSM8
4. No Strings Attached
Synopsis: Lifelong friends Emma (Natalie Portman) and Adam (Ashton Kutcher) take their relationship to the next level by having sex. Afraid of ruining their friendship, the new lovers make a pact to keep things purely physical, with no fighting, no jealousy and no expectations. Emma and Adam pledge to do whatever they want, wherever they want, as long as they do not fall in love. The question then becomes: Who will fall first?
IMDb Rating: 6.2/10
This 2011 romantic comedy was written by Elizabeth Meriwether and directed by Ivan Reitman, and top billed by the beautiful Natalie Portman and just as beautiful Ashton Kutcher. This movie is perfect if you and your guy started out with friendship that blossomed into love.
What You'll Love: This movie will remind you that while your boyfie is a great cuddle buddy, it's also important for you guys to be great friends as well.
What He'll Love: Natalie Portman is total eye candy, and it may drive a few truths about love and friendship home for him as well.
Check out the official trailer below:
5. Going the Distance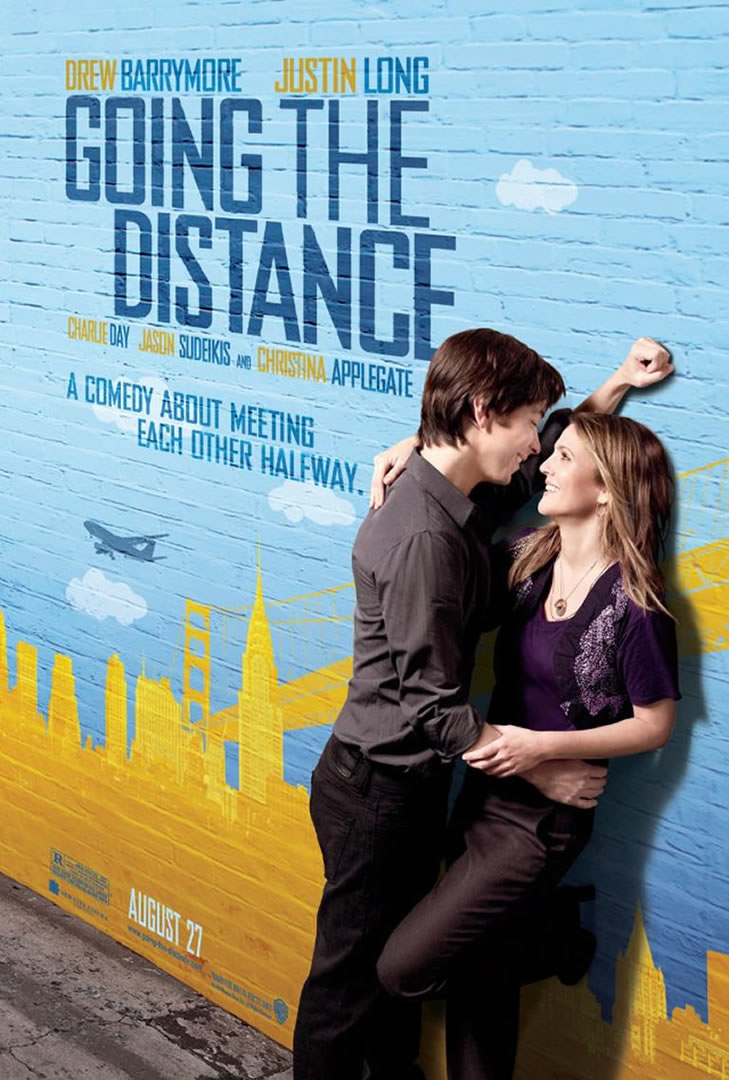 Synopsis: Erin (Drew Barrymore) and Garrett (Justin Long) are very much in love. When Erin moves to San Francisco to finish her journalism degree and Garrett stays behind in New York to work in the music industry, they gamely keep the romance alive with webcams and frequent-flyer miles. But just when it seems the lovers will soon be reunited, they each score a big break that could separate them for good.
IMDb Rating: 6.4/10
Going the Distance stars Drew Barrymore and Justin Long and was written by Geoff LaTulippe and directed by Nanette Burstein. If you and your long-distance honey are enjoying a much-deserved reunion, this is the perfect movie for you as we're sure you'll find some similarities between Erin and Garrett's situation and your own. Even if you and your guy stay close, though, this might help you both appreciate the challenges of keeping the love alive when life gets in the way.
What You'll Love: No love is defined by distance—take it from Erin.
What He'll Love: The tips on how to make an LDR work, you go brah! *fist bump*
Check out the official trailer below:
6. Date Night
Synopsis: Dragged down by the daily grind, suburbanites Phil (Steve Carell) and Claire (Tina Fey) try to reinvigorate their marriage by visiting a trendy Manhattan bistro. They get more than romance when mistaken identity hurtles them into an incredible adventure involving corrupt cops, a mob boss, and a crazy cab driver.
IMDb Rating: 6.2/10
Okay, time to take a break from the super romantic movies. Ending this list is the 2010 comedic crime flick directed by award winning director Shawn Levy and starring Steve Carell and Tina Fey, Date Night. They say laughter is one of the must-haves in a working relationship, and this film will have you both in stitches, while reminding you how important it is not to take each other for granted.
What You'll Love: This movie still has a lot of lovey-dovey feels, even if it isn't your usual rom-com.
What He'll Love: Who can help laughing along with Steve Carell? Dads seeking for new adventures in their marriage,  this is the perfect film for you!
Check out the official trailer below:
Crystel Paner
Only child, Spoiled with Love. Hopeless-Romantic writer. Party goer. Bitter-Sweet Explorer. God's Believer. Go getter!