Dyan Carolino
Dyan is a 25-year-old writer with a sense of humor…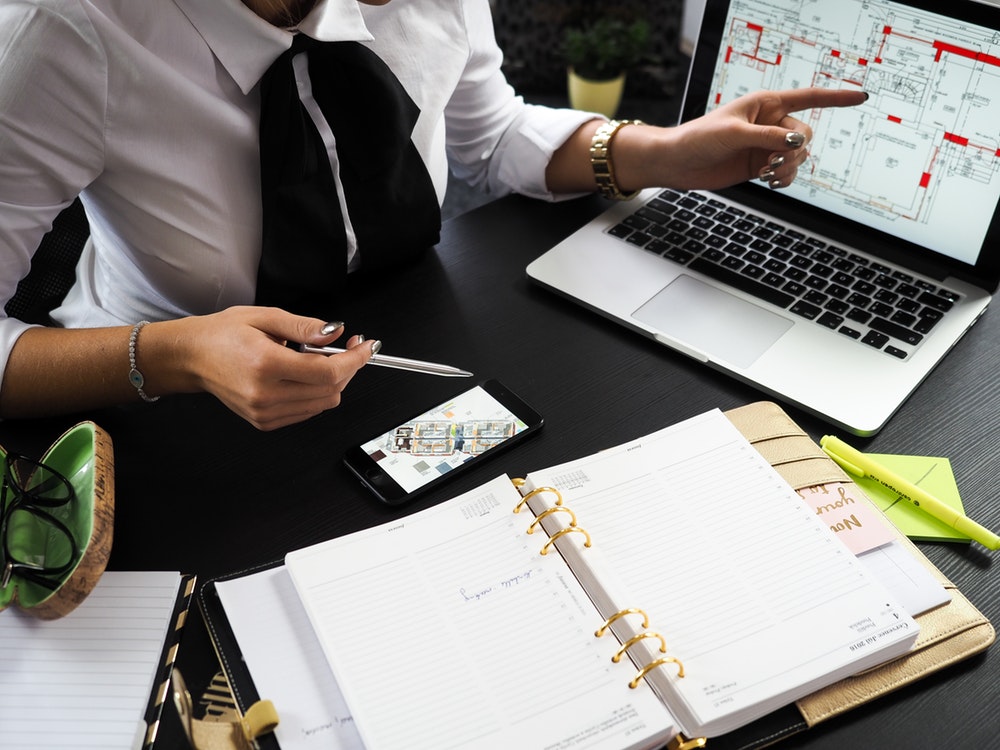 Does being a woman ever cost you a dream job or a promotion?
You're not alone.
Gender discrimination in the workplace is still rampant in the Philippines. Employment portal Jobstreet.com conducted a study, which reveals gender stereotypes seem to persist when it comes to where women end up being hired.
In a separate study by Monster.com, 76% of Filipinas deal with prejudice and inequality on a daily basis.
Au Soriano, CEO and co-founder of PinoyTravel, Inc., can attest to that.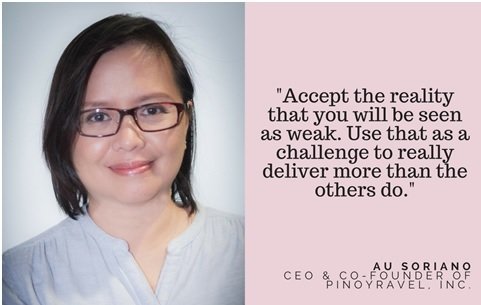 "At the beginning of my career, there were higher executives who tried to make passes on me. My male colleagues were always teasing me and would belittle my presence." At the time, Au was working in telecommunications — a male-dominated industry in the late '80s to '90s.
Thankfully, this girl boss contributed so much to the company that she was promoted to Assistant Vice President at the age of 24.
"Accept the reality that you will be seen as weak. Use that as a challenge to deliver more than the others do," she advises.
Other than Ms. Au Soriano, here are other #girlbosses who experienced sexism in the workplace — but finally triumphed over the long-standing issue:
1. April Cuenca, CEO, Tripkada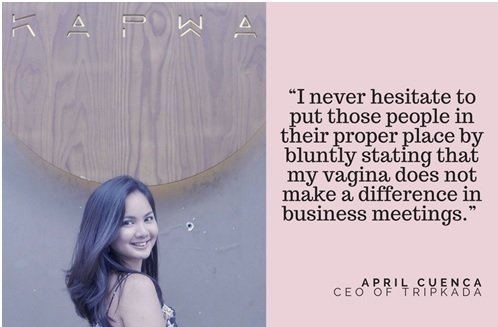 April Cuenca, the CEO of renowned travel agency, Tripkada, has also been subjected to gender discrimination among her peers. "It's common for me to hear side comments that I got this or that simply because I'm a girl. 'Babae ka kasi' is my most hated line ever," she said.
How did she deal with the discrimination? "I never hesitate to put those people in their proper place by bluntly stating that my vagina does not make a difference in business meetings," the 27-year-old said.
2. Churchille Montealto, Co-founder, Katutubong Kamay Handicrafts Co.
"There are occasions when I felt like I've been subjected to sexism," Churchille Montealto, co-founder of Katutubong Kamay Handicrafts Co. and a senior communication specialist at Peace and Equity Foundation said.
The 27-year-old deals with the discrimination and bias by not minding the comments, and simply focusing her energy on the things she's capable of doing.
"I don't mind being considered and being treated like a delicate flower. Sometimes, we just have to accept the fact that men and women are different, and we complement each other," she said. The young co-founder added that there would be a lot of discomfort and challenging days.
"You just have to pursue and keep learning, because if there's comfort, there's no growth," she added.
3. Angelique Uy, Co-founder and Marketing Director, ZAP Group Inc.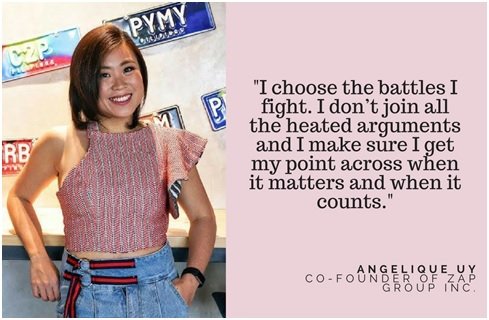 Angelique Uy is the co-founder and currently the marketing director of ZAP Group Inc. The 30-year-old graduated from Ateneo de Manila University with a degree in Management, minor in Economics. She co-founded ZAP after having the desire to optimize Philippine-based websites and build brands through data. Now, the company is happily supporting over 800 merchants in Manila.
"I was the only female founder among four," she recounts. "And I have gladly accepted the role of being the pacifier; men have their egos to protect after all. I choose the battles I fight," she said.
Angelique makes sure her voice is heard, and that she gets her point across when it matters and when it counts. "I think it's also up to women to know when to say no," she added.
But it's not bad news for every woman trying to climb the corporate ladder. Some, such as Maricor Bunal and Natasha Bautista of QBO Innovation Hub, have been lucky enough not to experience workplace discrimination based on their gender.
4. Maricor Bunal, COO, Loansolutions.ph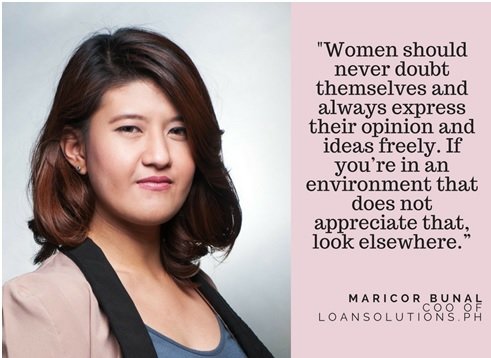 When asked when she has been subjected to sexism in the workplace, Maricor Bunal of Loansolutions.ph said, "I don't notice these things. Everyone treats each other the same. I mean, the hierarchy starts and stops in accountability and decision-making. We treat each other as friends who go out for drinks and well, talk of ideas."
But it wasn't a smooth ride for Maricor. She started out as a newbie copywriter and was put in senior positions without any experience or formal training. "I really struggled to grow into those roles," she said.
When asked what her advice is to women aspiring to become a girl boss, the Loansolutions.ph COO said women should never doubt themselves and always express their opinion and ideas freely. "If you're in an environment that does not appreciate that, look elsewhere."
Natasha Bautista, Operations Head, QBO Innovation Hub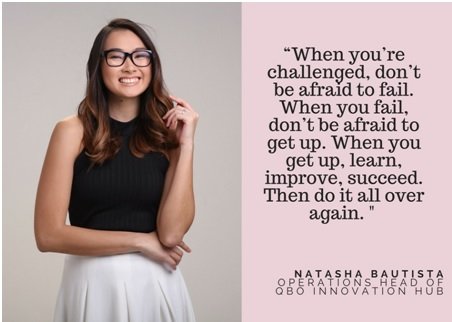 Natasha Bautista, the former Deputy Country Manager of Grabcar Philippines and now Operations Head of QBO Innovation Hub, climbed up the corporate ladder faster than most. She started as an intern in MyTeksi in Malaysia and soon became one of the few members of the founding team of Grab Philippines. From intern, she jumped to Marketing Manager to Marketing Vice President to Deputy Country Manager of GrabCar.
"I had to prove myself to a lot of people—my own team, our partners, but most especially to myself. I worked hard to get a seat on the table," she said. Natasha believes that the challenges she has encountered along the way weren't because of gender discrimination.
"I don't believe I've ever encountered sexism in the workplace. In fact, it's more like the opposite — everyone, especially here in the Philippines, was more welcoming and excited about having more women in the tech space," she said.
She advises young women aiming for a management position to always challenge themselves. "When you're challenged, don't be afraid to fail. When you fail, don't be afraid to get up. When you get up, learn, improve, succeed. Then do it all over again. "
It seems that the workplace is still a man's world, at least for some women. Until gender equality becomes a reality, a woman's work is never done. But despite the gender biases, the status quo should not stop you from getting the dream job and position that you want.
Dyan Carolino
Dyan is a 25-year-old writer with a sense of humor of a prepubescent male. On weekends, she hibernates.