Where did the weekend go? We can't deny that time goes by fast when its' a weekend. Dreading a long Monday at the office? Well, here are some good and adorable animal GIFs to help you get through another work week.
1. Wake up! It's work time.
Stretch, stretch, STRETCH! Take a cue from the little kitty and stretch your legs. It'll help you wake up. Plus it's a great way to  start the day!
2. Now, that you're awake, take a bath.
But if you're anything like this dog, you probably don't want to. Especially if you do not have a heater. What's worse than waking up early for work? An ice cold shower in the morning.
3. But, you still have to take a bath.
So, try to find ways to make you enjoy it. How about some good-smelling liquid bath soaps, scented candles, and your favorite duck-shaped loofah? Learn to enjoy your bath time as much as the tiny hedgehog above.
4. Get ready for the commute!
If you're taking the bus or MRT, you can definitely sympathize with this bird. With today's traffic and transportation problems, you may feel like you're riding on a turtle as you inch your way to the office. However, let's appreciate how this bird is just enjoying the ride instead of taking flight. Try to enjoy your transpo's slow crawl to work today too!
5. Eat good food.
Make sure you have enough energy to power through another Monday. Stop frowning that you're eating the same chicken meal again and watch these adorable cats turn a fast food packaging into fashionable wear.
6. Still hungry?
How about getting pizza delivered to your office? Take a cue from this cute hedgehog and reward yourself with pizza. You'll enjoy it from the smell to the last bite of cheesy crust. Come on, you deserve it!
7. Still sleepy?
You're probably sleepy after eating pizza (no judgement here). Try your best to stay awake. Your office mate might be filming you as you're falling asleep like this cutie right here.
8. Walk around the office!
Still sleepy? Go crazy like these penguins. Walk around the office. How about some really quick and easy exercises you can do in the office? You can also try these desk de-stressers to refresh for a bit. Or you can simply mimic these penguins and start jumping for joy.
9. Still stressed? Get a massage.
If your stress levels are still high, treat yourself, relax, and get a massage the end of the day,. Just look at how relaxed and happy this pug is while the cat busily works on its back. The dog is definitely getting a good bargain out of that massage.
See Also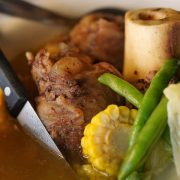 10. End the day right by snuggling in your comfortable bed.
Rest and relax in your comfy bed. Don't forget to bundle yourself up with soft cottony sheets. Enjoy your downtime and try not to think about the work ahead.
P.S.
And if you're still stressed, here's a GIF of man being attacked by puppies. Now, imagine yourself being this lucky guy! Aaaaahhhh! Cuteness overload!
Featured Image from Up courtesy of Walt Disney Pictures
Lorey De Guzman
Lorey is a small girl with a big appetite for love, life, culture, and food. Yes, most especially, food.