Myra Mortega
Myra is a writer and an editor. She has penned…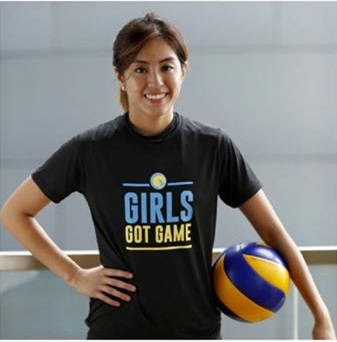 Professional volleyball player and TV host Gretchen Ho remains one of the most influential local female athletes today. This was evident when she recently graced the Girls Got Game sports camp, where girls aged 10 to 12 years old went wild for their idol.
And just like the participants, her love for sports came at an early age. She recalls how she badly wanted to be part of  a basketball team back when she was still in grade school. However, her school didn't have a basketball team back then, so she shifted from basketball to volleyball—the only varsity team her school had at the time. And the rest, as they say, is history. She went on to become one of Ateneo Lady Eagles' star players when she was in college, and she was part of the elite "Fab Five" volleyball players who were known for their skill and intensity on the court.
Modern Filipina was able to chat with Gretchen, who gamely talked about sports and dished out advice on how to make time for exercise, no matter how grueling your schedule might be. Get the lowdown in our interview below:
Modern Filipina (MF): How does sports continue to influence you now?
Gretchen Ho (GH): So many things, especially now, I'm in a bigger world, I see the influence of sports to me in a much bigger scale. I'm able to compare myself with other people. Parang iba talaga ang lifestyle namin as athletes, e. I think, pag athlete ka, you're so so concerned about your fitness and well-being all the time, and when you miss out on a workout, or you go for a month without playing a sport, you feel incomplete. You feel there's something missing, and you have to go back to it again. Whatever exercise that is, whatever sport that is, kailangan balikan mo, constantly gagawin mo. Kasi pag wala 'yun, parang hindi ka fit, parang hindi ka healthy, parang iba ka mag-isip. So that's number one.
Number two, I think, would be priorities. We know what's good for us, [and] we know what's bad for us, so we try to stay away from things that will hinder us from our goals. So for example, if partying late at night would hinder you from playing your best the next day, we don't do that. If eating junk food would affect your jump and your play and your overall fitness, we don't do that.
Third, the desire for balance in all aspects of our lives. We've been balancing a lot of things from the start when we were young, and if you throw anything at us, we can balance it. We want to balance it because we're used to being able to control everything. Hindi kami papayag na hindi kami mag-perform sa kahit anong aspect. Gusto namin, kahit anong pinasukan namin, we have this drive for excellence.
MF: Can you share your daily routine with us?
GH: I try to wake up every day early morning; I drink coffee—that's my early morning routine. I want to step up my game in a good mood: iba 'yung nakapag-kape ka sa umaga tapos tahimik, tapos nakapagbasa ka ng dyaryo, so 'yun, every morning. And then in the afternoon, I do work—may it be shoots, hosting, or anything in ABS or anything with my businesses. Then sa gabi, it's my workout. I have training for beach volleyball. If I don't, I go to the gym, and if I can't go to the gym, I run. So talagang nakahati talaga siya. Kailangan may alone time, and then work, and then workout.
MF: How much time do you invest on working out every day?
GH: "At least an hour every day, but I usually go beyond two hours, two to three hours every day. Pero usually, hindi ako makapag-work out ng one hour lang, kailangan more time."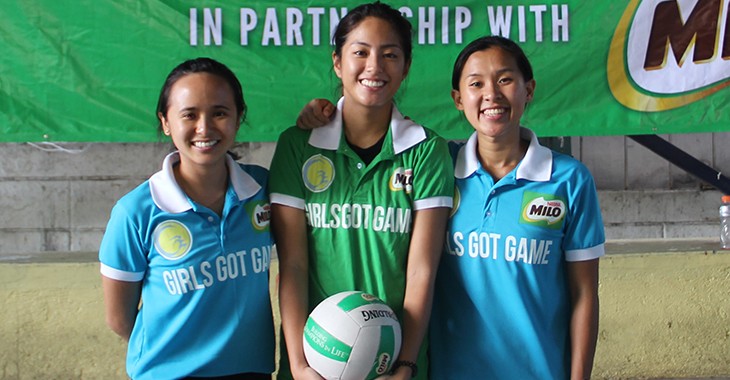 MF: Can you give us tips us on making time for working out, especially for those who have busy schedules?
GH: "Everybody's busy, we are all busy, but how come some people can still work out despite their busy schedules? There was a time I was too busy to work out, I was too tired, I didn't have the energy anymore to squeeze in an hour's work out. But then, I realized that the only thing that's hard is at the start–when your body has to adjust to working out. But once your body has broken through that, it's going to be easy. You're going to realize that working out will actually give you more energy. Every time you work out, you feel you're more positive, you're more healthy, you have more energy for work. Suddenly, there's a lot more time to do everything. Kasi, pag puro work lang ang ginagawa mo every day, nade-drain ka. Pag nade-drain ka, wala ka nang ibang gustong gawin na iba. But if you just let work be work and after that, you don't think that your body's getting drained, and then mag-work out ka agad, just the workout that's enough for you, that won't really sap out your energy. After that, buhay ka pa, ang dami mo pang gustong gawin."
And then, it's a matter of establishing that habit, just setting a schedule, maybe two or three times a week, but sticking to that schedule no matter what. What's important is being able to attach a positive response to it—whenever you think about practice, you don't feel down, you don't feel tamad, kailangan, whenever you think about work, you feel excited about it. Maybe it's your release, you have a goal for your body, you have a goal for fitness, it makes you feel more confident as a person. Kailangan pag nag-eexercise ka, positive lagi yung tingin mo dun sa ginagawa mo. So, pag nagawa mo na yun, madali nang mag work out, parang hindi mo na sya matatanggal sa sistema mo."
MF: Lastly, can you share your insights on the future of volleyball here in the country?
GH: "A lot of attention is being given to volleyball right now. There are both good effects and bad effects. What's good is that we're gaining more support, a lot more girls are getting into the sport, a lot more players are coaching the younger ones, there are more opportunities to play inside and outside the Philippines, there are more leagues. The sport is growing in essence. But just like any organization, there's a good side to it, and there's a bad side to it, and we just have to focus on the good side.
For more information on Girls Got Game, check out our previous article on the program and its co-founders, like facebook.com/GirlsGotGamePH and follow instagram.com/GirlsGotGamePH. You can also check out www.girlsgotgame.ph.
Myra Mortega
Myra is a writer and an editor. She has penned speeches, magazine articles, educational materials, and online content. She enjoys traveling, doodling, taking photos, and laughing to "Friends" reruns.