Daphne Bual
A lover of stories, parks, animals, rainy days, and hot…
[video src="https://www.instagram.com/p/BiUNvHMFTPz/?taken-by=paperboatcreative"][video src="https://www.instagram.com/p/BiM8RPYAg4F/?taken-by=paperboatcreative"][video src="https://www.facebook.com/thepaperboatcreative/photos/a.109818992397762.4889.109728482406813/1869281113118199/?type=3&theater"]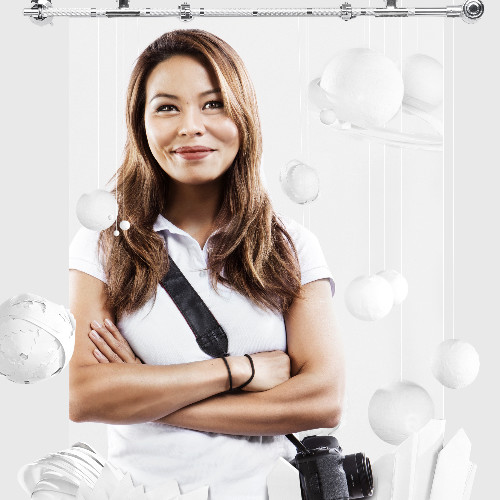 Guts. The word never came up during the 60-plus minutes we spent talking about her career, beliefs, family, and dreams, but it suits Rebecca van Ommen perfectly.
She was tenacious in studying art when the course she chose didn't live up to her expectations. She boldly approached industry professionals and asked to be an apprentice of sorts so she could learn about various mediums of art. Just when she was finally making a name in Philippine advertising, she had the guts to quit a lucrative partnership with Francis Abraham, the country's top commercial photographer.
Those two-years were fun; she just couldn't stomach having to take photos of models holding their phones to their ears or raising a drink bottle for the rest of her professional career.
So Rebecca quit her high-paying job and moved to Holland, her dad's home country. A new country, different culture, and an advertising industry that's tougher to break into than the one she left behind. Later, she moved to London and became a senior art director for Getty Images. She was only 24 years old.
Her gutsy attitude, confidence, and desire to learn and explore creative media took her career to great heights. Her personal life also blossomed. She's now 34, and already an accomplished commercial photographer, post-production photo editor, art director, business owner, mentor, wife, and mother.
"Anything is possible."
Rebecca would say this phrase repeatedly for the next hour. It's like a mantra of sorts, a philosophy that's reflected in her style of photography and digital illustration. Her pictures are edgy, creative, and sometimes whimsical and otherworldly. She incorporates fantasy into photographs and transforms an ordinary setting into something remarkable. A look at her company, PaperBoat Creative's Instagram account shows you this.
PaperBoat Creative is a photography and post-production company that offers photo manipulation services and retouches photos for commercial clients. During its early years, however, the company also offered web and graphic design, photography, animation, music production, and so forth.
She respects photographers who advocate raw images and don't do any retouching on their photos. It's just that, for her, if clients have an idea that they can't achieve with traditional photography (i.e., a child somersaulting in the air with toys flying around a room), her job is to see it through.
"You can do anything. You can think of anything. And we'll make it happen," is what she says to PaperBoat's clients.
Anything is possible shaped her creative style and empowered her to take financial and business risks. Fortunately, they all paid off; and her life today is the reward for her years of hard work.
 "What am I doing as an art director? I should be a photographer!"
Rebecca displayed incredible tenacity and passion for creating art all through college. While she was learning how to manage clients and run creative projects in school, she'd spend three to four hours off-campus learning different artistic mediums. She also learned and drew inspiration from every artist she knew, regardless if he or she were in the theater, photography, or any creative industry.
By the end of it all, Rebecca had beefed up her creative skills; but not her portfolio, unfortunately. She was still intent on getting into an ad agency as an artist, but people in the industry finally set her straight. "You're not an artist. There's a name for it: You're an art director," they said. "I was like, oh, OK. So, can I do commercials now?" Rebecca laughingly recalled.
And make commercials she did.
She started with Rexona's successful First Day High campaign, working with a team. She then went on to do jobs for Axe and Citibank, and soon moved to DDB Group as the art director for Pepsi campaigns. Handling an account for Gatorade inspired her to do commercial photography.
Gatorade loved her work. Upon learning the amount the company paid for them, something clicked: she could do photography, be as creative as she likes, and earn more all at once.
That was when she approached Francis Abraham for an apprenticeship. Abraham, however, didn't take her on as an apprentice but as a partner. During their partnership, Rebecca booked some of the country's biggest clients, including Globe Telecom, Adidas, McDonald's, Nokia, Neutrogena, Nestle, Unilever, and MTV.
From Getty Images to PaperBoat Creative
Soon after, she moved to London to live with her sister. She was walking past the offices of Getty Images one day and remembered contacting the company while she was still in the Philippines. Could she send her photos for them to review? She never got a response. As she was standing at Getty Images' doorstep, she decided to take the plunge. She gave her CV at the front desk, got a call a few days later, and went through a month-long interview and screening process.
The experience was grueling, but Rebecca's persistence paid off: Getty Images hired her as a senior art director.
As awesome as her time was with Getty (she had free rein to conceptualize creative photoshoots, and was one of only four senior art editors retained after the economic crash of 2008), deep inside, Rebecca wanted to be her own boss.
"The biggest creative freedom is when you're creating on your own," she says.
After two years and three months with Getty Images, Rebecca started the path to entrepreneurship. She poured her life savings into paying the down payment for a commercial space. She got second-hand tables and chairs, painted the entire place white, and rented out spaces to London artists. That was the beginning of PaperBoat Creative.
Motherhood and Mentorship
Rebecca believes a person's word is his or her bond. She held firm on this belief as a service provider, and later, as a mother and mentor.
She didn't grow up with her mother, so she made a promise: she will be a hands-on parent and breastfeed her child, among other things. All these she did for her daughter, Lily.
As a mentor, Rebecca says she's very hands-on. Her interns are talented 19-year-old artists whom she'd personally supervise. Sometimes she'd sit with them and teach them practical skills. "It's a really amazing feeling to be able to encourage the younger local artists. The craft is there. Now, just hone that idea and bring the craft higher." She believes our country has great potential in digital arts; we may even compete with other leading countries like Singapore and China.
"We have the same tools. We see the same stuff. It's only a matter of time before Singaporeans hire us to do artwork." This is the future she sees for PaperBoat Creative.
Rebecca's Advice for Young Women Entrepreneurs
"A woman needs to remember who they are, first of all." Rebecca believes women should play by their strengths.
But while "modern women" strive to prove that they are as skilled, if not more skilled, than men, Rebecca thinks real feminists are also feminine. "They would embrace that part of them." Women are emotional, for example, and some might want to have families.
"That doesn't make [women entrepreneurs] less of one thing. It just makes you more of you." She says women should not be scared of becoming a mom, wife, girlfriend, or partner.
There's no need to choose one role. "[Many women become depressed] because they think, oh, I'm not what I used to be; I'm half of what I am. But if you change that mindset to now, I'm 120 percent more . . . I think that makes you more fulfilled."
Daphne Bual
A lover of stories, parks, animals, rainy days, and hot chocolate, she believes that the best remedies for bad days are three servings of french fries and one whole rainbow cake.