Love can seem scary at times. It feels as if the more real it is, the more vulnerable you would be. The TV series On The Wings of Love (OTWOL). It depicts several types of fears that we experience when we learn truly love someone. Here's a list of seven fears we have about love, according to OTWOL: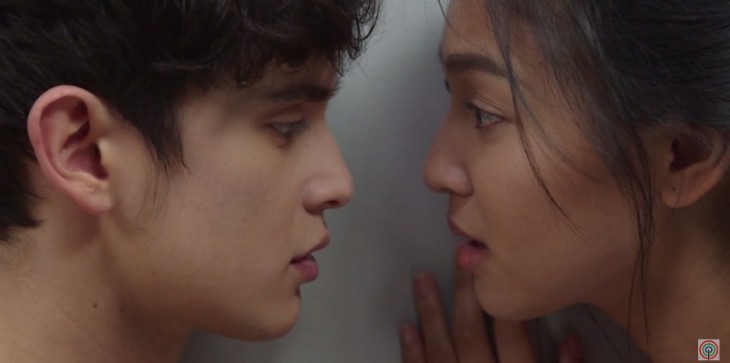 1. What if love hinders me from reaching my dreams?
Some of us fear that love might be a hindrance when it comes to reaching our goals. This is what Leah and Clark felt before meeting each other. Clark was focused on working hard for his family and did not have time to think of love. He feared that this would only distract him. Leah, on the other hand, feared that she might not achieve her American dream because of Jigs (her ex-boyfriend) who did not allow her to come to the US without him.
2. What if I love someone too much?
Remember Manang Tiffany's advice to Leah? She warned Leah against loving too much, to the point that Leah ends up neglecting her own needs. Loving entails giving and sacrificing. But sometimes,too much love could lead us to compromise and forget our own needs.  In reality, people love to be loved. They invest feelings expecting a return. But what if that investment has no return? Are we still willing to love?
3.What if we end up hurting other people?
Love is complex. Sometimes, no matter how we try, there someone stills end up getting hurt. The only question is, who would it be? Are you ready to hurt people around you even if they're important to you? Jigs's and Tita Jack's hearts got broken into pieces when they learned that Leah and Clark were in love.
4.What if we can't overcome the challenges that come our way?
Love could be sweet, but it isn't a bed of roses. True love is tested by the challenges. Will you be strong until the end or will you let go of your love? Leah and Clark had to go through the same thing–while trying to sort out their feelings for each other. They were torn between family and love, which remain top priorities for them. Who can ever choose between that?
5.What if our feelings for each other change?
As they say, change is the only permanent thing in this world. The same may apply with love. Our love for someone might be overflowing right now, but will it stay the same after several years–or will it fade away with time? This is one of Leah's greatest doubts about her love for Clark. She feared that their love for each other might change through time and that all the time and emotions they spent might be put into waste.
6. What if I get hurt?
All the fears about love boils down into this. Being left behind by the one that you love might be greatest fear all. It is truly heart -breaking and everyone who experienced it can testify to this. On this note, Leah was very much afraid to be left behind. "Pag mahal ka, babalikan ka" was her motto. However, this phrase seemed no longer true when she discovered what her mother did to their family. She already experienced being left behind by one of the most important people in her life, and she couldn't afford risking it with Clark.
7.What if we end up like them?
Leah and Clark both came from broken families, so they're naturally afraid of commit the same mistakes their parents did. This applies especially to Leah, who lost her faith in love because of what she learned about her mother. Leah also witnessed the pain that her sister had to go through when she was left by her boyfriend. Seeing failed relationships around us just makes us fear love and back off from it.
Love could be scary. They say that it is a gamble, and you don't know whether you're going to win or lose. However, the capability to love is what makes us human and not robots. Committing your love to someone is no joke and you should be sure of it. Fear is part of love but fear goes away with trust. Trust that whatever happens, whether you get hurt or not, you will still believe in love, a love that's unconditional and true.
Roxanne Agbayani
Rox Agbayani is a trainer and a writer who loves to chill and sing with her ukulele. She loves to cook and taste food from different cultures, a nature lover and a scientist by heart. She finds serenity in her quiet time and thinks best when doodling. She dreams of healing people's hearts through her God-given talents.