Given the juggernaut success of her movies on the Philippine box office, it's hard to believe the petite Antoinette Jadaone remains as grounded and self-deprecating as she does, but the moment we started conversing with her, we found her ready to shoot hirits with her trademark kalog humor. At 31, Antoinette is the director of recent Pinoy romcom hit You're My Boss, starring Toni Gonzaga and Coco Martin, and the massive cult hit, That Thing Called Tadhana; she  also co-wrote the screenplay of English Only, Please.
She's also been called the "future of mainstream [Philippine] cinema," a prediction she shrugs off and laughs about. "Pang-ano lang nila 'yun," she told us, chuckling. "Hindi nakaka-pressure. Kaya siguro ganun, kasi I work for mainstream cinema, for Star Cinema. Pero in reality, ang daming [other good directors and filmmakers]. Siguro naha-hype lang 'yung akin, kasi mainstream 'yung akin. Parang mas naaangat nila 'yung flag ng Pilipinas, in terms of filmmaking."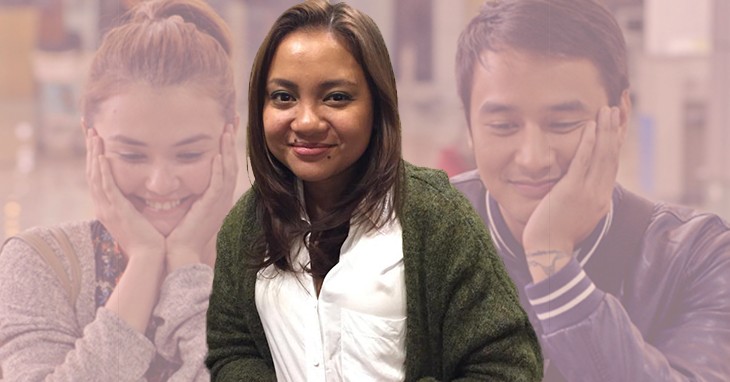 On Getting Her Start as a Filmmaker
Antoinette's love of filmmaking began when she was in high school in St. Paul College, Pasig, where she took video production as her elective. "Over the course of fourth year high school, nagustuhan ko na 'yung video production," she explained. "Pumasok ako sa UP [Diliman] na Broadcast Communication, [but] after one year, I shifted to film."
Her filmmaking journey in the real world began after graduating. "Tinapos ko na muna talaga 'yung college, tapos nag-apply ako kay Direk Joyce Bernal," she said. Bernal had always been one of her idols in film, as well as mentor. "On the side, I would always join short film festivals. I would still do short films, even after college." She wrote scripts which she entered in the Cinemalaya and Cinema One festivals, and when she got in, that was when she was able to create her first full-length film under Cinema One Originals. "Doon nag-start," she said. "Kasi when you already get into one festival, parang sunod-sunod na siya. Mas madali na makapasok sa mga festival."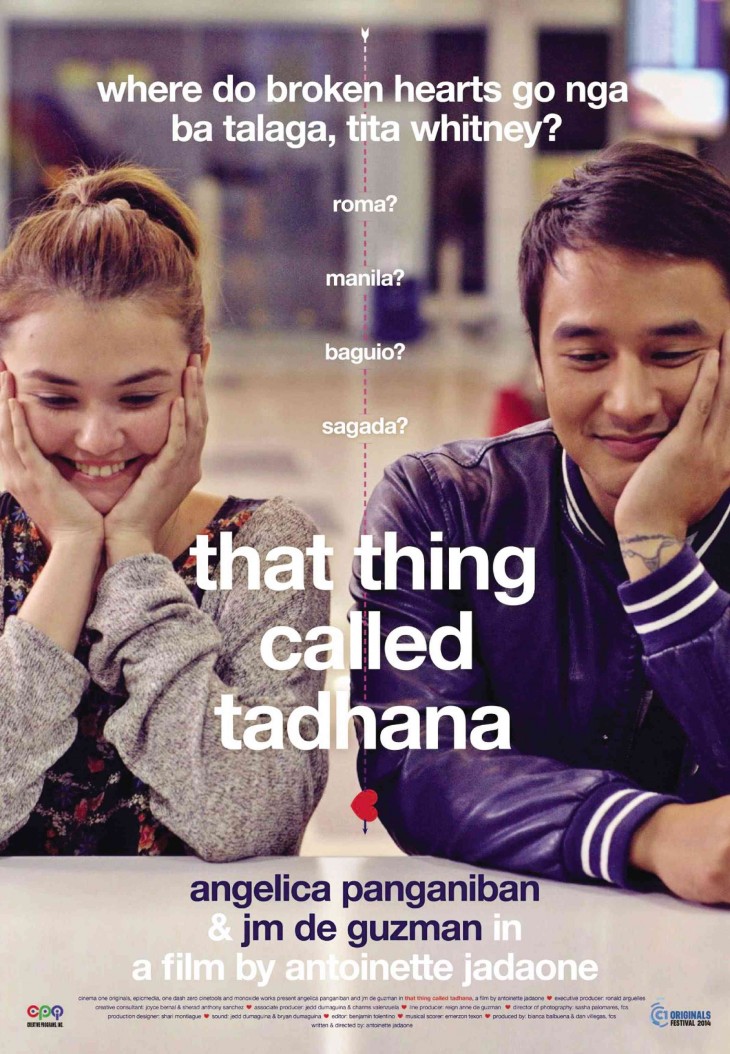 On the Pop Culture Phenomenon Known as That Thing Called Tadhana
Antoinette didn't expect That Thing Called Tadhana to make it big in the box office and reap awards or that it would be the pop culture phenomenon that it is today. It won at the Palanca Awards, where it took third place in the category Dulang Pampelikula. It was here that Antoinette's persistence paid off. "Lagi akong sumasali ng Palanca, pero never sa Dulaang Pampelikula, or Screenplay, category," she explained. "Ang sinasalihan ko, Short Story, or Short Story for Children. Pero hindi ako nananalo. So when they submitted dun sa category na Screenplay [it was my first win]."
The film, which is Antoinette's favorite among all of her films and is the most personal to her (it's the film that she compares all her succeeding films to, and is also her way of measuring if what she is doing in film is right), was an attempt to make a romantic comedy that was different. "'Di ba sa film school, sabi nila, 'show, don't tell'?" she said. "Gusto ko naman, 'tell.'"
Originally, Antoinette's goal with the film was just to have it released commercially so they could get back their investment, so all their decisions during filming were made with that goal in mind. No one expected Tadhana to be as big as it was or gain such a huge following, and it surprised those involved with the film when people started doing the Tadhana pose, mimicking JM De Guzman and Angelica Panganiban's poses on the movie's now-iconic poster!
"'Di namin in-expect na ganun 'yung magiging effect niya talaga," Antoinette explained. "'Di namin in-expect na magiging iconic 'yung pose dun sa poster. We were looking for a poster na very simple lang, kasi ['yun] ang vision namin for the film… 'Yung pose kasi, it's a film grab. It's from the film. So we didn't have a pictorial. Namili lang ako ng five options for the artist, or poster designer, tapos 'yun 'yung napili niya." Antoinette said that she just really wanted a nice, simple shot from the film on the poster that had an indie feel, but would still reach out to her audiences and would have her actors' faces on it, reminiscent of those from the Sundance Film Festival.
On Those Blaming Her for Sagada's Recent Overcongestion
The sudden fame and success of a film may have drawbacks, and this could include some pointing fingers at Antoinette and her film for the recent huge crowds and overcongestion in Sagada, one of the locations featured in Tadhana. Antoinette's critic called him or herself "a small person who loves nature" and had the letter for Antoinette published in a blog post entitled "That Thing Called 'Wasak ang Kiltepan': An Open Letter to Director Antoinette Jadaone," dated April 7. In the letter, the devastation caused by the mountain town's sudden popularity was blamed on the hype it enjoyed thanks to the film.
Antoinette said she believes that letter writer's intentions were in the right place, but the way it was written was what gave offense. "It was written in a very condescending manner," she said. "It left a bad taste with the people who read it, especially us, na gumawa ng pelikula. Pero kung maganda yung pagkaka-word niya, I'm sure iba 'yung take ng mga tao."
Antoinette acknowledged that the film may have been a factor in more people visiting Sagada, but it isn't the only factor. "Kung meron namang nagawa 'yung film, more of sa tourism ng place," she explained. "More of positive. 'Yung surplus ng tao, nagkataon lang na sobrang dami. I think it's asking for too much, kung pati 'yun, i-ha-handle namin. It's an aftermath of the film. Hindi kasalanan ng movie. It's a personal [thing] na after the movie. It's up to people."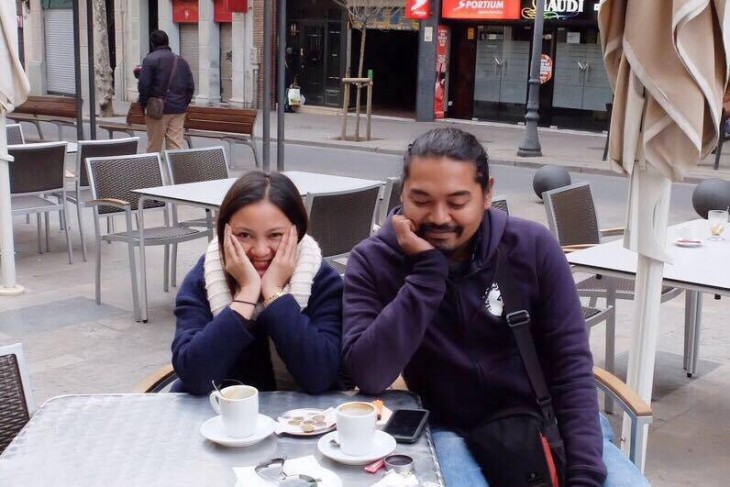 On Balancing Her Love Life with Her Professional Life
Antoinette is in a relationship with Dan Villegas, a fellow filmmaker and the director of one of the films she co-wrote, English Only, Please. How does she juggle the relationship with work, and make sure that it one doesn't work against the other? She acknowledges that there are both pros and cons, but said that the pros outweigh the cons. One of them is their creative clashes. "Nag-ca-clash 'yung creativity namin, kasi iba 'yung tingin niya, iba 'yung tingin ko," she explained. "E pareho kaming mag-push ng sariling vision. Siyempre kapag writer ka, may sarili kang vision. E, ang nangyayari sa amin, we both are directors, we visit each others' sets. When we need each others' opinions, we ask, so nagiging collaborative each project, kahit 'di ako part ng project. Kunwari, sa You're My Boss, pinapanood ko sa kanya so nagiging collaborative na siya. You get an instant creative partner. "
Antoinette said that with their kind of relationship, they are able to tell each other pretty much everything, even if it can hurt each others' feelings. "Ang mahirap dun minsan, 'yung work 'tsaka personal life, parang isa lang siya," she said. "Minsan, nate-take mo personally ['yung comments and criticism], lalo na pag emotional ka or stressed. Pero afterward, pag tapos na 'yung pelikula, mare-realize mo na it's all for the best of the film."
[crp]
On Her Business, Witty Will Save the World
Aside from her filmmaking, Antoinette also has her business, Witty Will Save the World, on the side. She started the enterprise when she was still a production assistant in 2009. Work had gotten routinary, so she teamed up with one of her friends for the business. She said that they initially really wanted to come up with the "Anti-Starbucks planner." This "anti-Starbucks planner" eventually got called the "Relaks, puso lang yan, malayo sa bituka" planner. "'Yung content is mga hirit," she said.
True enough, one can recognize Antoinette's trademark humor in the material. The description on their official Facebook page goes, "Tita Witty's products speak like us, have fun like us, and laugh at the same jokes that we find funny. All in the hopes of saving lungkot and pag-ibig-stricken Pinoys one witty product at a time."
The planner also contains special holidays that they made up, and it was designed by the same artist who designed the Tadhana poster. Aside from the planner, they also sell slumbooks, calendars, and will be releasing a notebook. Tadhana fans are in for a treat, as Antoinette said, "'Yung humor niya is same humor as the planner—same humor as Tadhana."
More of Tadhana fans' dreams will come true, as the screenplay of the film will also be turned into a book. Antoinette said that this will feature the scenes that were cut out from the version shown in theaters during the film's commercial release. Another book to be released from the brand and the film is the fictional book featured in Tadhana, titled The Arrow with a Heart Pierced Through Him, written by Antoinette (or Mace Castillo in the film) and illustrated by Onin Pilotin (or Anthony Lagdameo in the film). The book is set to be released this late May.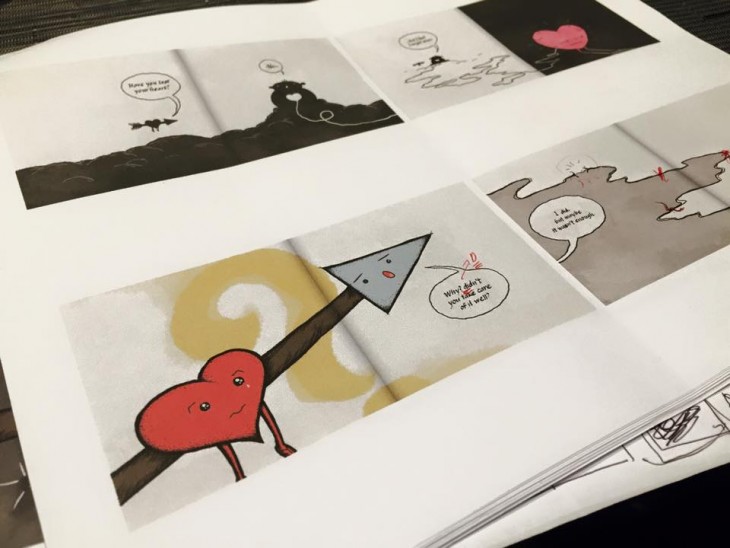 On Issues in Philippine Cinema
With her being called one of the bright hopes for the future of local cinema, what is Antoinette's two cents on some of the most pressing issues in the field? Antoinette cites the lack of government support as one of the biggest issues, more specifically the high amusement tax that producers need to pay. "Unang-una, dapat 'yung amusement tax ng movies, dapat babaan, kasi kapag bababa 'yung amusement tax na binabayaran ng producers, mas bababa 'yung ticket prices, mas maraming makakanood," she said. "Hindi ka manonood ng sine na P200—manonood ka ng pirated na P40. Napakalaki ng amusement tax, e." In relation to this, she explained how important the impact of the CEB, or Cinema Evaluation Board rating was, when it came to the pricing of cinema tickets. "Kaya 'yung CEB rating, kaya importante, ibigsabihin, kapag CEB rating A, wala kang babayaran 100 percent. Kaya importante 'yun sa producers. 'Yung CEB rating B, 75 percent. So important, nag-ma-matter. Pero kung across the board, bababaan talaga 'yung tax. Dati, magkano lang 'yung tickets sa sine."
She also said that definitely not enough theaters are allocated to local filmmakers, though she understands that in the end, it's still a business. "Dapat may support 'yung government sa theater owners," she said. "Dapat mas may support for Filipino films than Hollywood films. Fast and the Furious 7, kung merong 10 theaters, four to five sa Fast and the Furious 7. Hindi napupuno 'yun. Pero kunwari, Filipino film, You're My Boss, [hindi kasing dali na] mabibigyan ka ng theater. Tapos kunwari, Avengers, wala siyang kasabay. Hindi mo siya sasabayan kasi siyempre theater owners, lahat 'yan, Avengers. So kung may support ng government, ili-limit nila yung pasok ng foreign films. Kaya tingnan mo 'yung Korean films—nagkaroon ng Korean film culture na umaabot sa atin. Pero sa atin, Hollywood films pa din [yung lamang]."
On Actors She's Worked With
If Tadhana is her favorite film, are the stars of that film, JM De Guzman and Angelica Panganiban, her favorite to work with as well? Yes, Antoinette says, especially the latter. "Magaling siya. 'Tsaka the way Tadhana came to be, and the aftereffect—sobrang laki ng natulong ni Angelica sa success ng Tadhana."
Antoinette is adamant that if it wasn't Angelica who played Mace's role, the character and the movie would've turned out differently. "Kasi ang ginawa niya, loveable si Mace, e," she explained. "Even if she was whining, nagmumura lagi… Kung ibang artista 'yun na walang restraint, hindi alam kung papano iha-handle 'yung character, sobrang pangit lalabas. Pero dahil si Angelica 'yun–natimpla niya, e. Natimpla niya kung kelan siya magiging nakakairita, kung kelan siya magiging lovable. Wala akong narinig na parang hindi [na-endear] kay Mace, e. Mace talaga siya na movie. Sa dulo lang naging Anthony's movie."
Antoinette said that she hopes to work with John Lloyd Cruz in the future, as well as Judy Ann Santos and Piolo Pascual.
Antoinette added that she has been lucky with the actors she has worked with, also talking about how game Toni Gonzaga and Coco Martin were in her latest film, You're My Boss. "Sobrang cooperative nila. Wala namang attitudes. Game sila, hanggang promo. 'Tsaka binigay talaga nila [yung best nila]. [Like si] Coco, hindi naman talaga siya nag-co-comedy, e. [It was a first for him.] Si Toni, ganoon naman siya talaga."
She also said that her memories of making You're My Boss are "a blur," since filming only took 20 days. She said she wishes it didn't look rushed, but with the film raking in P200 million even if though was shown alongside films like Fast and the Furious 7, it looks like moviegoers approved of the finished product, regardless of how quickly it was shot.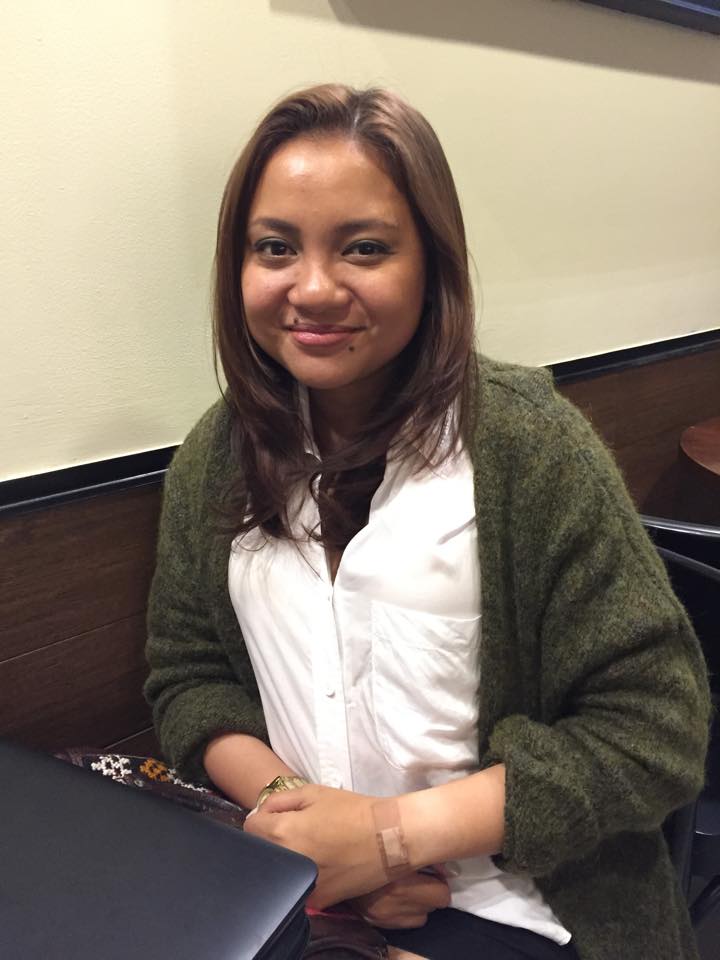 On Plans for the Future
So will there be a Tadhana Part 2? Like most of the film's fans, Antoinette dreams of filming a sequel to her baby, but it might not materialize anytime soon. "Gusto namin ng Part 2, kaya lang ang problem namin is, all sequels and anything na gagawin namin na Tadhana is owned by Cinema One," she explained. "So that means walang mapupunta sa amin. So kailangan namin mag-ipon so we can just buy out the contract. Kasi mas mahal 'yung sequels."
Antoinette is also directing On the Wings of Love, a romcom primetime teleserye on ABS-CBN starring love team Nadine Lustre and James Reid.
She also reunites with the team behind English Only, Please, as she teamed up with Anj Pessumal to co-write the script for The Breakup Playlist, an upcoming film starring Piolo Pascual and Sarah Geronimo and directed by her boyfriend, Dan Villegas. The film will be released in the middle of the year.
While romantic comedies will always be Antoinette's forte, she said that she hopes to make a romantic drama in the future.
Her star is also definitely on the rise now now that she's one of the new post-paid ambassadors of Globe Telecom and she has a new column in The Philippine STAR's Supreme section entitled "Dear Tita Witty," where she will be giving advice on love problems using Tita Witty's persona. (She plans on "saving the world from katangahan sa pag-ibig one love letter at a time," as the ad reads.)
On Challenges Met and Lessons Learned
Antoinette recalled one of the hardest challenges in her film journey so far, which was the time she had to juggle the showing of three of her films within a span of two months. "Emotionally and physically, nakakapagod siya," she said. "You have to have the right people around you. Masyadong stressful."
And with all of her amazing, one-of-a-kind success at a young age, what does Antoinette advise those who want to follow in her footsteps? "Work from the bottom," said the young director. "'Wag magmadali. Be patient. You might want to quit. You will learn all the ins and outs if you start from the bottom. Work with the right people, people you trust."
Want to learn more about this director? You can follow Antoinette on Instagram @tonet_jadaone. And if you're a Tadhana fan, check out the film's Facebook fan page.
Melissa G. Bagamasbad
Dark chocolate, dogs, and adventure are just some of Mel's passions. Aside from doing her best to live life to the full, she plans on writing her own fiction one day.