Geri Osorio
She loves writing because it's the perfect excuse for her…
F*** Korean idol groups. Tell me who your Salazar sibling bias is. Mine is definitely Bobbie, AKA Ms. Bakit Parang Kasalanan Ko?
I bet you know what movie I'm referencing here. But if you don't, well then, this article is for you.
The Salazar siblings in question are from the 2013 Star Cinema movie "Four Sisters and a Wedding." Directed by Cathy Garcia-Molina, the film tells the story of four sisters who come together to dissuade their baby brother from marrying his fiancée.
Toni Gonzaga plays the eldest, Teddie, who works as a teacher in Spain. The second sister is Bobbie, played masterfully by Bea Alonzo, who's a successful corporate communications manager in New York. Alex, the third sibling, is the Salazar family's "black sheep" and works as an assistant film director, a character that stood out, thanks to Angel Locsin's performance.
Shaina Magdayao portrays the fourth sister Gabbie, a school teacher who takes on the peacemaker role in the family. Then there's Enchong Dee as CJ or Rebreb, the youngest who shocks his family with his abrupt decision to marry his fiancée.
As the four sisters try and put a stop to their bunso's wedding, the personal problems they've run away from to spend time with their family start to catch up with them.
Chaos ensues.
Honestly, it's not the best-written movie from Cathy Garcia-Molina, but I still think it's worth a watch.
Here's why "Four Sisters and a Wedding" is an iconic, must-see flick for women by women.
It's got complex female characters
Our lead actresses did their roles justice – even Shaina Magdayao who had to work with the constraints of Gabbie's calm, goody two-shoes personality. They were able to give their characters depth and nuance even though they're clearly based on stereotypes, with Bobbie being the cold, career-driven, girl boss type and Gabbie representing the "old maid" figure typical of Filipino movies.
As the movie progresses, it gradually reveals the layers of the sisters' personalities without confusing their characterizations. Their actions are logical because you understand their motivations and values. Bobbie, for example, showed a lot of vulnerability despite her cool and distant demeanor, but the way she did it stayed true to who she is and how we initially knew her.
The lines are memorable and memeable
The best thing about "Four Sisters and a Wedding" is its memorable dialogue, from which came dozens of memes and hugot lines.
The most iconic lines from the movie are, of course, Teddie's "Ma, I'm sorry, Ma" and Bobbie's "Pero bakit parang kasalanan ko?" These lines were uttered in the same scene during the climax of the film, where the siblings and their mother come into a confrontation.
It's relatable AF
This film is highly relatable even if you're not a sister nor have siblings.
Have you always been an underappreciated overachiever? Are you someone of middling competence who never excelled in anything? Have you been cheated on? Hindi ka paboritong anak ni Mama?
If you said yes to at least one of those, then this movie is for you.
It gives us a realistic depiction of sisterhood
The actresses successfully played off of each other, which created this authentic bond between their characters. We clearly see the roles each sister plays in their family, with Gabbie being the peacemaker for example.
Besides the undeniable chemistry between the four sisters, the conflicts they experience are also realistic. We see them getting jealous of each other, feeling left out when their mother pays more attention to one child, and being stuck between prioritizing their family or their own selves.
Ultimately, the tension present in the Salazar's sisterhood other is something anyone with siblings can easily relate to.
Some Letterboxd reviews also compare this movie with "Little Women," which is a classic tale about sisterhood.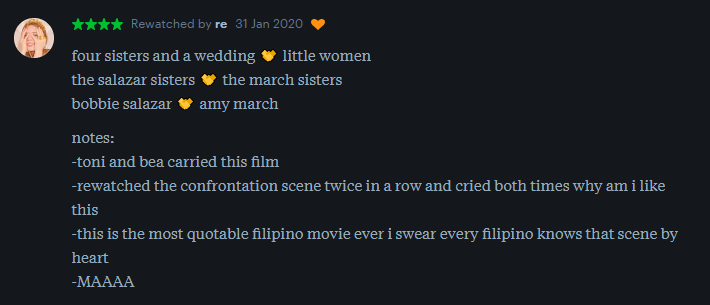 It's a movie for every occasion
Lastly, "Four Sisters and a Wedding" is the type of movie that suits any occasion. Whether you're in the mood to cry, laugh, or both, this film will definitely give you what you're looking for. It's also the perfect movie to play in the background as you finish your work or do some chores.
Even better: You get to watch Angel Locsin drag Mocha Uson by the hair
Enough said.
You can stream both "Four Sisters and a Wedding" and its sequel "Four Sisters Before the Wedding" on Netflix.
Geri Osorio
She loves writing because it's the perfect excuse for her to make more puns.