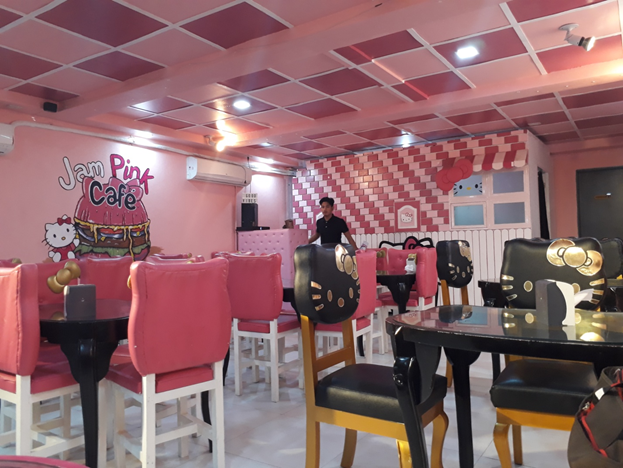 I'm a sucker for cafés and restaurants. Scratch that — I'm a sucker for THEMED cafés and restaurants.
A few months ago, I satisfied my Potterhead feels by visiting the Witches Brew Diners in BF. After that conquest, I wondered if there were other themed cafés in the South. My friends said the best cafés are usually in the North (aka Maginhawa and UP Town). The Southerner in me isn't a big fan of heading North just to satisfy my love for themed food places.
So when I stumbled upon Jam Pink Café's ad on Facebook, I was sold.
Hello Kitty Hits the South
The first Jam Pink Café I heard of was the one located in Casimiro Avenue in Las Piñas. That's still pretty far for a girl living in Parañaque, but I was willing to visit anyway. Fortunately, they opened another branch that's closer to where I live.
Located in San Antonio Avenue, San Valley 1, the Parañaque branch of this Hello Kitty café is just a jeep and trike away. It sits on Borough Square, located near the city's municipal hall. The café opens at noon and closes shop at 10 PM.
Jam Pink Café sets itself apart from other Hello Kitty-themed restaurants by being the most affordable option. While the Hello Kitty café in BGC boasts of splendour and French-themed meals, not everyone can drop by or splurge on food. So if you're looking for an affordable Hello Kitty fix, this café is just for you.
All Things Pink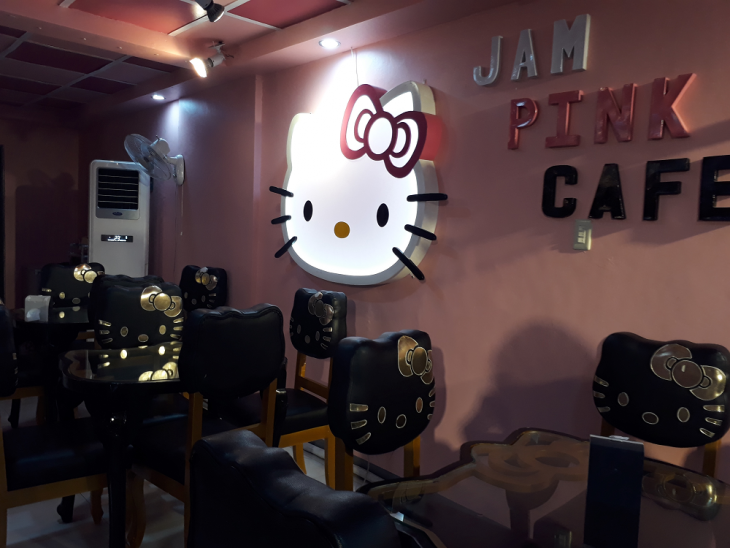 Once you enter the café, you'll see nothing but pink, gold, and black. The restaurant is decked with Hello Kitty chairs and ribbon-shaped tables. The walls are pink and adorned with Hello Kitty decorations and paintings. It's the ideal hang out place for any Hello Kitty fan.
Even the menus are pink, by the way.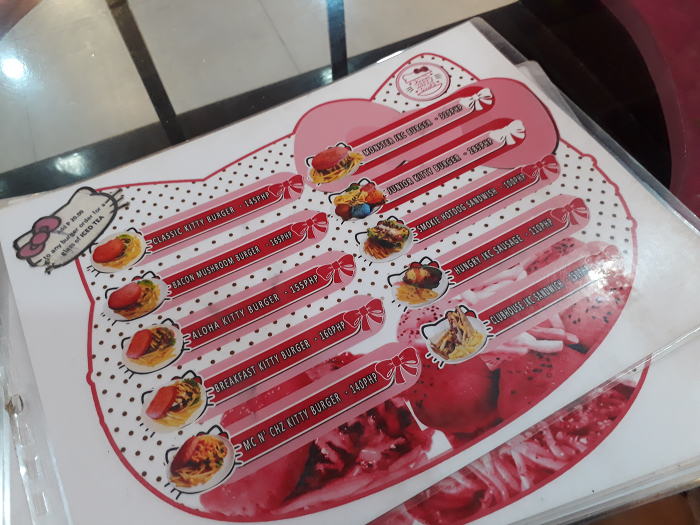 I only have only one bone to pick with the location. The door was broken when we arrive. Granted, there's a sign that warns us to close it gently. But not all customers read signs and sometimes, you just can't gauge your own strength; my friend and I felt the door would fall off when we handled it.
But the place is pretty and decent. If you're looking for an IG-worthy location, it passes Instagram's standards.
Food Fix: Is It Worth It?
Their selection of meals ranges from P90 to less than two hundred bucks, which makes it perfect for students and Hello Kitty fans looking to save. One of the café's bestsellers is its burger selection. The colored Hello Kitty burger buns set off the "girlishness" of each meal. My friend ordered the bacon mushroom melt burger and fries. Pasta lover me, on the other hand, had the café's baked mac and cheese.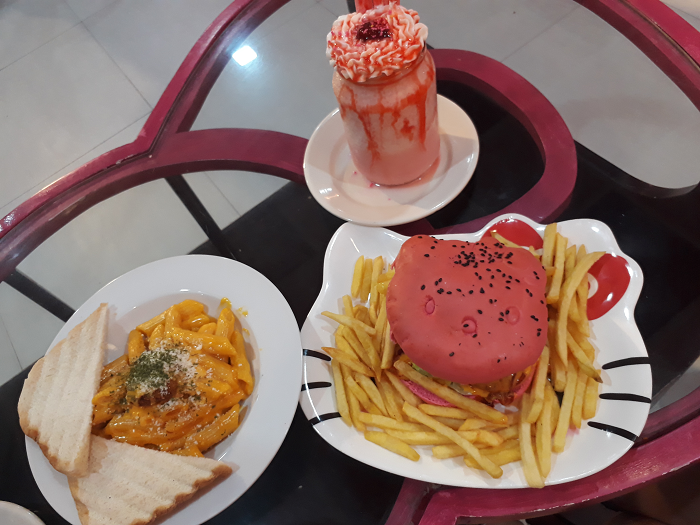 To cap off our meals, we each had Jam Pink Café's milkshakes. I had the Oreo flavor while my friend had the strawberry one. We couldn't stop taking photos of our orders (especially the milkshakes) since they looked so pretty with the pink background.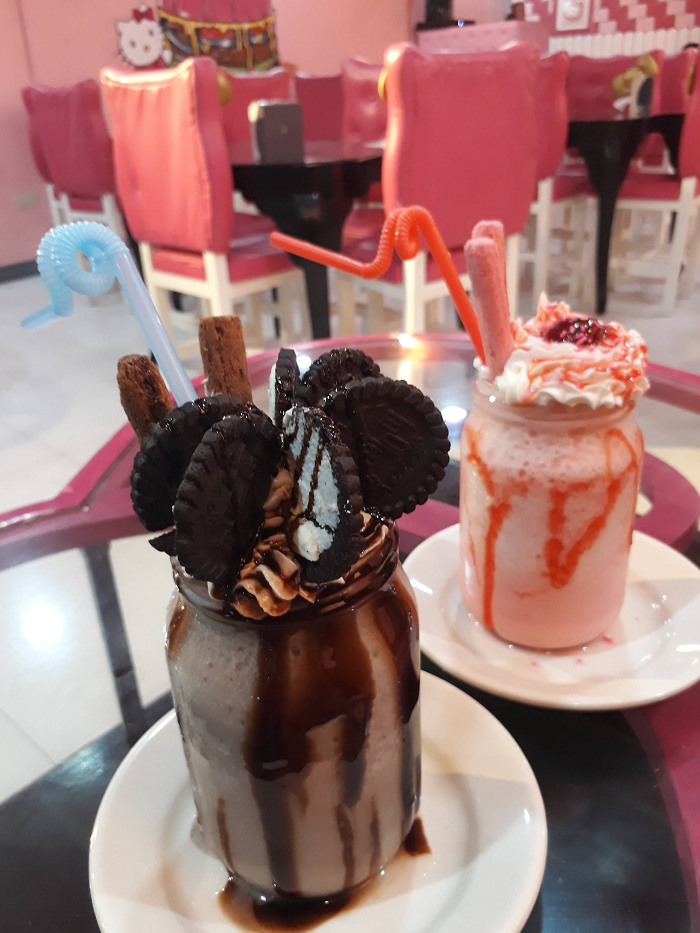 OK, let's talk about the taste.
For P100, the mac and cheese was pretty good. I'm not a big fan of the bread that came with it, though. It was just plain bread, which isn't the usual partner to mac and cheese. As for the milkshake, it satisfied the Oreo lover in me. I'm a big fan of the cookies and the whipped cream combo. My P95 was definitely worth it.
My friend Dancille, on the other hand, wasn't too happy with her burger. The pretty presentation was OK, but she expected more from the taste.  She says the burger would've been excellent if they used tomato ketchup instead of banana.
She enjoyed her milkshake. For the price, it was pretty good, she said.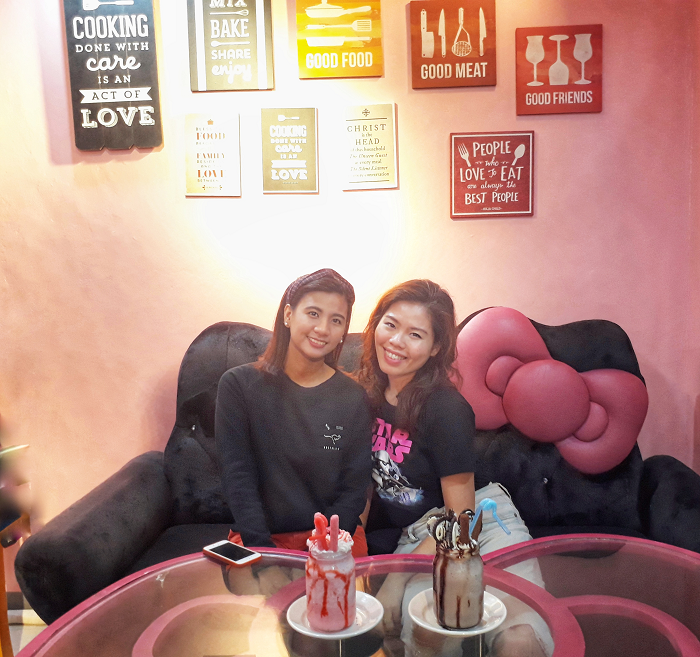 Overall, Jam Pink Café is one of the best places to be if you're looking for an affordable themed café in the South. Head over to this little café and tag your Hello Kitty fanatic friends with you!
Jam Pink Café is located at Borough Square, 143, San Antonio Avenue, San Valley 1, Parañaque City.
Ashley Petallano
Ashley is an awkward potato in love with words, Kpop, and corgis. She spends her free time dancing like one of those balloon things you see in malls.