Dyan Carolino
Dyan is a 25-year-old writer with a sense of humor…
[video src="https://www.instagram.com/p/BTDhVMuhSqY/?taken-by=hannashi_2013"][video src="https://www.instagram.com/p/BF8fybJCz3_/"][video src="https://www.instagram.com/p/1R7beaE0JG/"][video src="https://www.instagram.com/p/BQ9c_GkFRtO/"][video src="https://www.instagram.com/p/BDdU4CLJDKF/"]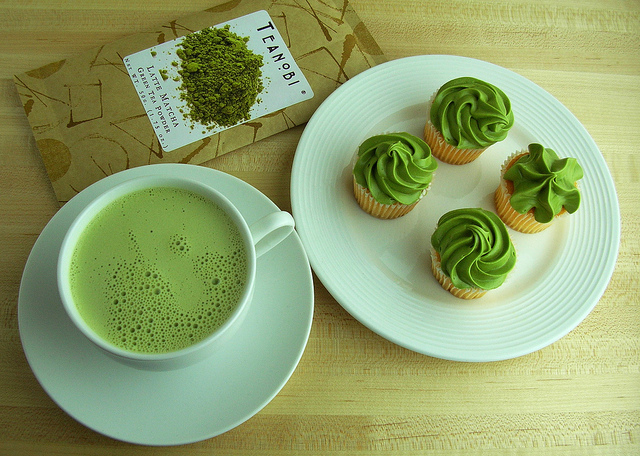 As in fashion, trends in the food scene come and go – but the matcha craze isn't one of them.
In the two years since matcha came into the Philippines, this green tea flavor has only become a bigger star. This versatile ingredient has made its way to the menus of sprouting cafes in Manila. These businesses create their very own green tea desserts, which isn't so surprising, since matcha is known to be an all-around ingredient that comes in varying levels of sweetness.
Plus, matcha is healthier than a cup of joe – a single cup of matcha will keep you energized longer than a cup of coffee.
With that said, here are some of the matcha desserts that have caught our eye:
Matcha Parfait – Kissako Uji Matcha Café
Kissako is known for all things matcha, but one of their best is the Matcha Parfait, which has layers upon layers of scrumptious matcha ice cream, matcha sponge cake, and matcha jelly. It also has shiratama (a type of mochi), anko (red bean paste), corn flakes, nata bits, and whipped cream.
Location: Pioneer St., Kapitolyo, Pasig City
Matcha Soufflé Pancake – Le Petit Soufflé
If you want something light, Le Petit Soufflé's Matcha Soufflé Pancake is perfect for you. A French-Japanese fusion dessert, this pancake is topped with matcha powder and icing sugar. It is also served with maple syrup and crème anglaise,  a light pouring custard. Each order is Php180.
Location: Century City Mall, Makati City
Matcha Lava Cake – Green Cheese
Other than serving the "Happiest Cheesecake in the World," Green Cheese also offers the famous Matcha Lava Cake. Made of soft and fluffy green tea dough and topped with creamy vanilla ice cream, this cake has an oozing matcha center.
While one order takes about 20 minutes to make, this gem is definitely worth the wait.
Location: Hole in the Wall, Century City Mall, Makati City
Matcha Sesame Cookies – Scout's Honor
Scout's Honor, a cookie haven at Hole in the Wall in Century City Mall, has all sorts of cookie monsters lining up for their craft cookies – including their Matcha Sesame Cookies. At Php95 a piece, this crunchy green tea cookie-sandwich is filled with roasted black sesame and white chocolate filling.
And if you're craving for more, you can wash the cookie down with the Matcha-Flavored Craft Milk.
Location: Hole In the Wall, Century City Mall, Makati City
Thick Toast Green Tea Nutella – UCC Clockwork
This majestic block of thick Matcha toast is slathered and drenched with Nutella and chocolate sauce. Topped with green tea and vanilla ice cream and anko, it's definitely a must-try.
It's also quite expensive, costing Php340 an order.
Location: Branches in Bluebay Walk, Pasay City and Estancia Mall, Capitol Commons, Pasig City
Now who's up for a matcha food trip?
Dyan Carolino
Dyan is a 25-year-old writer with a sense of humor of a prepubescent male. On weekends, she hibernates.