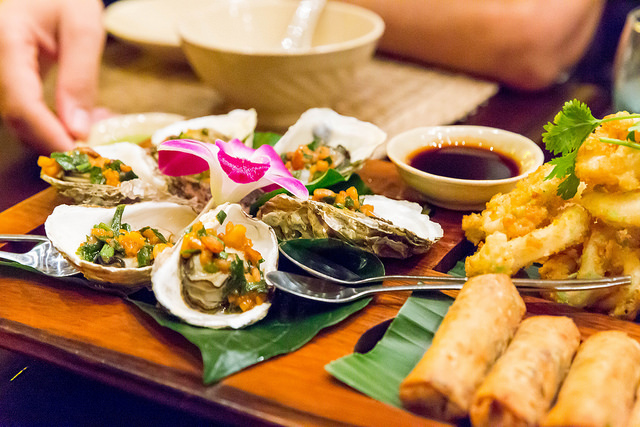 The Philippines caters to all kinds of travelers. Intrepid nomads can head up north to the Mountain Province or down South in Central Mindanao for challenging hikes; beachgoers can simply pinpoint any location in the map and find a dazzling stretch of beach tucked away in a secluded cove. If you're into history and that old town charm, there are also a handful of destinations that offer that experience.
But what's also worth noting are the diverse gastronomic adventures offered across the country. If you're a foodie like me, who are always seeking for unique regional eats, here are five places to visit:
1. Iloilo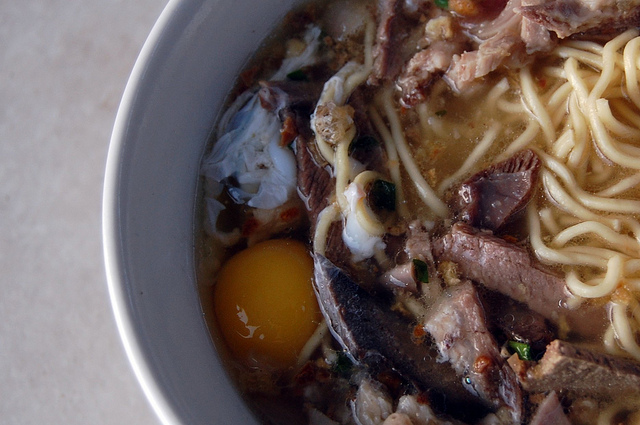 Ilonggo cuisine takes the top spot for me, not because I lived there for a year, or I grew up eating Dinagyang siopao or KBL (Kadyos, Baboy, Langka). Iloilo's culinary heritage is truly refined and special. In fact, many of its staple dishes, like the arroz caldo, batchoy, native lechon manok, and chicken binakol, are recognized around the country and even abroad.
You'll also find a smorgasbord of fish and seafood delights, some of which are sourced from nearby provinces Capiz, Aklan, and Antique. The fish and seafood are so fresh all they do is grill or steam them and the flavor of the sea explodes in your mouth. And the best part is, many of the famous restaurants in Iloilo are located on the beach or along the river.
Where to Eat:
Tatoy's Manokan and Seafoods
Nes and Tats Beach Resort
Camiña Balay nga Bato
Breakthrough Restaurant
Netong's Original Special La Paz Batchoy
Ted's Oldtimer La Paz Batchoy
2. Bacolod City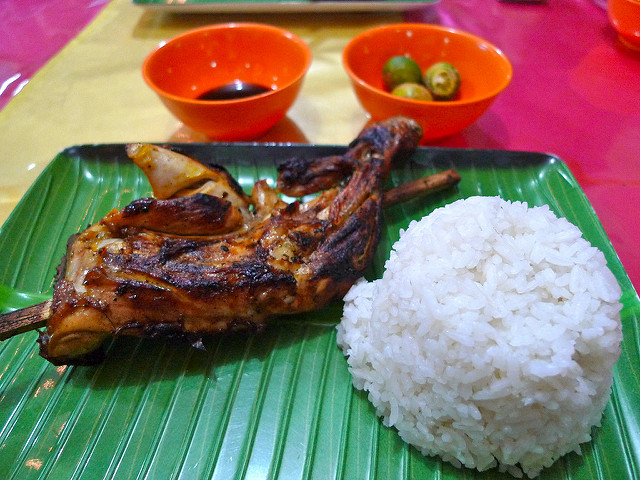 Great things come from port cities. And Bacolod City is a living proof. While it's a boat ride away from Iloilo, this foodie haven in Negros Occidentalhas carved its name in the culinary world. In addition to the famed chicken inasal and cansi (bone marrow soup), Bacolod is also known for its grilled seafood fare. Panay Island has fresh oysters and Bacolod has diwal, an endemic shellfish that has a chewy texture and succulent taste.
As the sugar capital of the country, the city is famous for its dizzying array of mouthwatering desserts and pastries. Just thinking about biting into that flaky, heavenly, custardy napoleones already makes me drool.
Where to Eat:
Aboy's
18th Street Pala-Pala
Sandok Comfort Food
Bistro Negrense
Felicia's Pastry Café
Calea
3. Vigan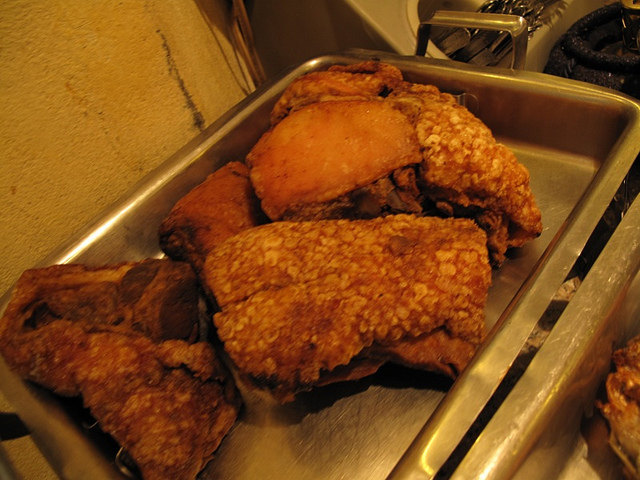 While Vigan is best known for being a UNESCO Heritage colonial town, it's a go-to foodie destination, as well. It's where the scrumptious empanada and longganisa comes from. And who would forget the crispy, succulent bagnet, and healthy but tasty pinakbet and dinakdakan.
Calle Crisologo has a handful of restaurants that highlight the region's distinct cuisine. But if you're looking for the best empanada, head down to the town plaza. There's a lot of food stalls there that offer different versions of the delicacy.
Where to Eat:
Café Leona
Hidden Garden
Celedonia Garden
AF Aniceto Mansion
Bistro Amarillo
Uno Grill
4. Sagada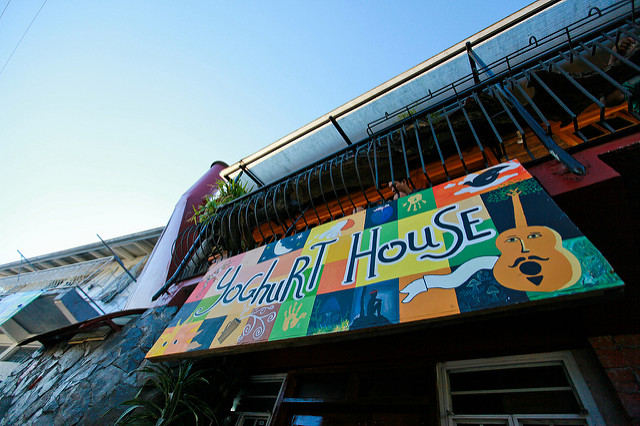 Sagada has had an influx of visitors over the last few years. Without a doubt, it's a world away from the bustle of the city, a chilly, mist-shrouded destination to ease one's worries. But it offers more than just thrilling hikes and breathtaking scenery. It's a foodie destination for veggie-lovers, as well. As part of the Cordillera, a.k.a. the Vegetable Basket of Luzon, you can easily buy a wide array of cheap, locally-grown vegetables in the market or straight from the farms.
You can have them prepared by your host, if you're staying in a lodge or homestay, or cook them yourself if your accommodation allows it. There are also a few restaurants in town that are worthy of your taste buds. Just take a walk down the hilly town proper, and you'll find a range of options. Of course, a Sagada trip won't be complete without a cup of locally-brewed coffee.
Where to Eat:
Sagada Lemon Pie House
Gaia Café and Crafts
Yoghurt House
Salt and Pepper
Kimchi Bar
Rock Inn
5. Cagayan de Oro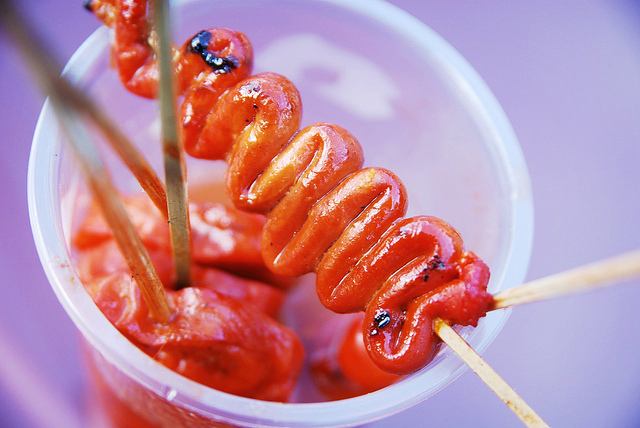 Home to exhilarating whitewater rafting and river-trekking tours, Cagayan de Oro is also a haven for food lovers. In fact, its vibrant city life, peaceful nature retreats, a variety of outdoor activities, and thriving arts and culture scene make it an ideal place to live. But it also offers exciting eats, ranging from street food to fine dining fusion.
The city is best known for its pastel, a velvety baked bun, and fried proben or chicken stomach, a favorite street food sold in the Divisoria Night Market. Homegrown restaurants serving innovative and fusion cuisine are also popping up across the city, adding to its rich collection of local fare.
Where to Eat:
Kagay-anon Restaurant
Cucina de Oro
Panagatan
Restaurant Damaso
Sentro & Circa 1850
Divisoria Night Market
If you're hungry for more gastronomic experiences, you'll never run out of places to go in the Philippines. So on your next EAT-inerary, make sure to include these destinations.