Ruth M. Mazo
Ruth M. Mazo is a part-time writer, part-time illustrator, part-time…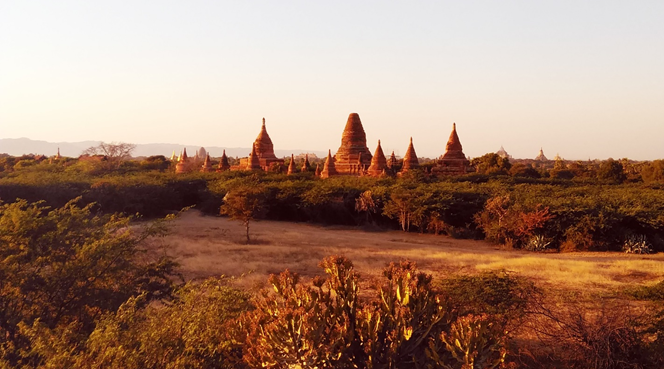 The road was long and straight, and we knew where we were going: Gawdawpalin Pahto, the nearest temple near the Bagan Riverview Hotel, where we were staying. It made sense to visit the first temple we saw once out of the hotel grounds.
As we walked, a guide informed us that we could not wear shoes inside the Buddhist temple. I was quite thankful that I wore socks that day because the thought of walking on the cold stone floors made me feel chill already.
"You need to remove your socks, too," my friend told me.
"What? Even the socks?" I knew I sounded shocked. Or appalled might have been a better word, but I tried to stay calm.
"No socks."
I looked at the locals smiling at me benevolently. I felt like the most uncultured brat that ever walked inside that temple, but I took off my socks and proudly trod the cold and dusty stone floors and grounds like one of the locals. I didn't realize it would be the obsession of my whole week in Myanmar.
No shoes.  No maps. No problem!
Exploring Bagan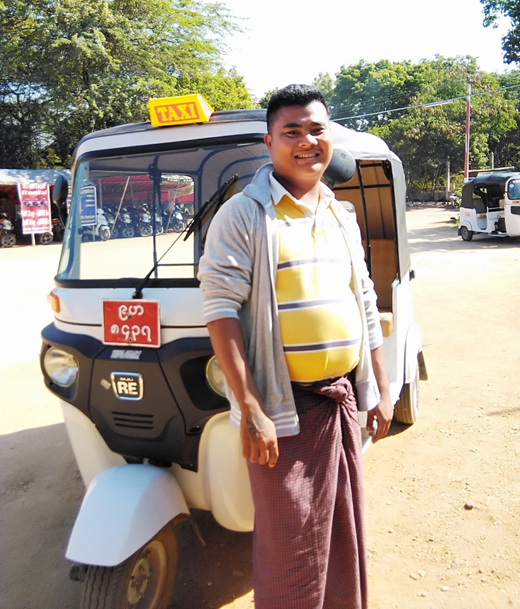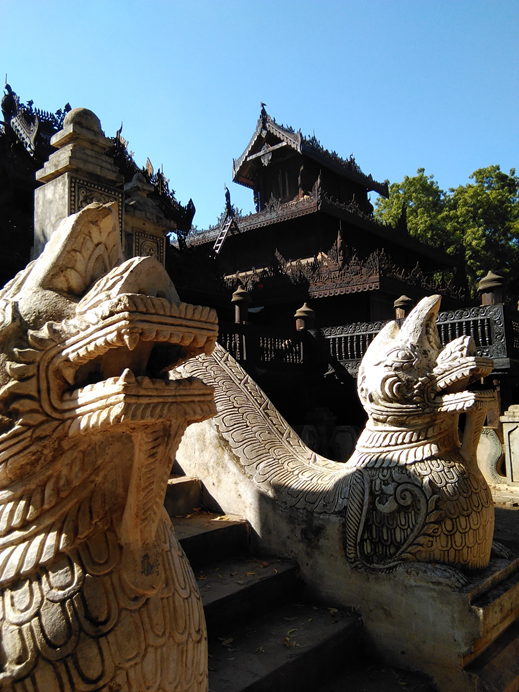 I'm no stranger to adventure. I have gone white water rafting, touched a full-grown tiger, went through jungles to wade in mud and insects, rode a smelly elephant, went snorkeling through a coral reef though I barely knew how to swim, and even stood near a flock of flamingos (try it and see if you can withstand the smell of their shallow, brackish, nesting site that will remind you of rotten eggs, algae, and bird excrement.)
So when my college buddy Ms. K invited me to go on a tour of Bagan, I was elated.
I had long wanted to see Myanmar, once Burma, once part of the British Raj; the home of the Irrawaddy, one of the most storied rivers in Southeast Asia; and the home of Cobra-kissing priestesses. Of course, all of these were true, but they belonged to a Myanmar that was now largely a memory.
Bagan was a prime example of this mixture of the politically turbulent present and the romanticized view of medieval Myanmar's Pagan kingdom, as it was originally called. It was the first unified empire in Myanmar, and at its height from the 11th to the 13th centuries, its kings and queens would build more than 10,000 Buddhist temples and pagodas. Now this area constitutes the Bagan Archaeological Zone, roughly 13 kilometers of the old kingdom, most of it lying in ruined splendor, while the rest are kept in good condition and still have gigantic Buddhas that beckon the faithful.
Gawdawpalin Pahto was only the beginning.
Myanmar prides itself on using green energy, and Bagan boasts of a thriving electric-bike tourism industry that is the rage for many European tourists. For only 30,000 kyats (P1,032), you could rent the bike for a whole day and tour Bagan at your own time and pace. This was all that Dr. H and Ms. K excitedly gushed about on the long road to Bagan from the airport.
I, despite my adventurous spirit, was skeptical. For one, I did not know how to drive any vehicle, let alone an electronic bike; second, I did not know the mindset of the ordinary Myanmar driver.
Fortunately, after four long hours on the road from Mandalay Airport to Bagan (four hours of controlling our hunger, thirst, bladder, and sore behinds) Ms. K and Dr. H now realized that the red dust of Myanmar could be distracting, and the conditions of the road would be unpredictable even in the best of circumstances. Also, we didn't know where to find the most significant temples, as Bagan still had 2,000 of them.
Luckily for us, there were tuk-tuk taxi cabs waiting just outside of our hotel. La Leh, as he introduced himself to Mrs. H, explained that he would be our tour guide, driver, and translator for the low, low price of 30,000 kyats a day.
We immediately grabbed the chance.
A Friend Named Dingdong Dantes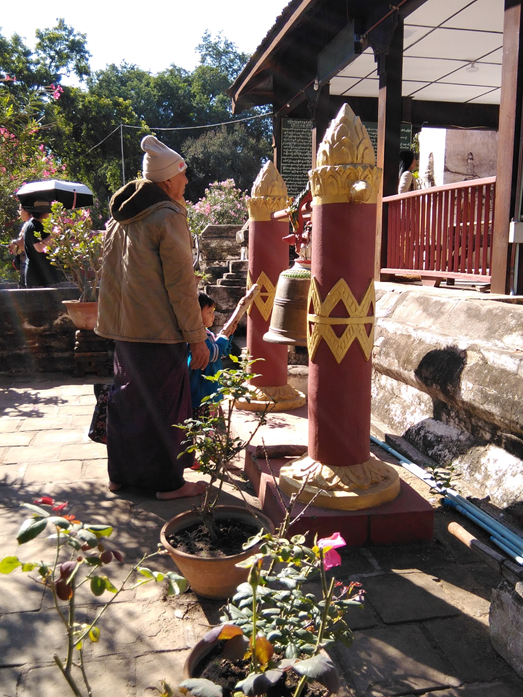 La Leh took us to the biggest and most famous temples, which included the Mahabodhi Temple, built in the style of the Mahabodhi in Bihar, India. La Leh had told us to walk around the temples counter-clockwise from left to right, as this was for good luck. Of course, we would do this! Good luck was always something one needed when traveling.
As we entered the temple gates, we met a young woman who greeted us and showed us the sign to remove our shoes. She greeted us with a smile, and she had thanaka on her cheeks, a traditional sunblock and beauty cream that both men and women wear in Myanmar. She asked us our nationalities.  When we mentioned we were Filipinos, she smiled and said she had a Filipino friend who visited her at the Mahabodhi several years ago.
His name was Dingdong Dantes. "He is my friend," she beamed proudly, and that one moment encapsulated the Myanmar character for me: they were an open, friendly, and respectful people, slow to forget and respectful of the bonds of family and friendship.
Outside, as we completed our walk around the temple, there was a man imploring his son to ring the bell. In Buddhist tradition, bells could call monks, but they could also ward off evil spirits and ask for protection. I found the image touching, as two generations bonded over centuries of tradition.
Modern Tourism, Myanmar Style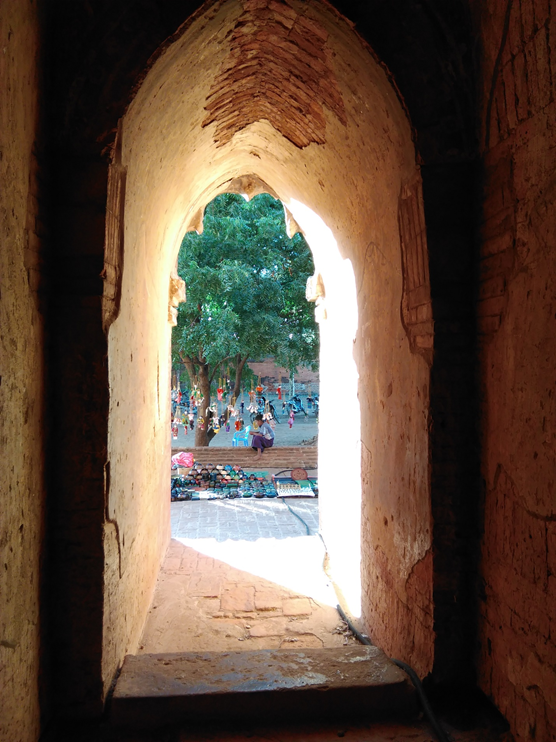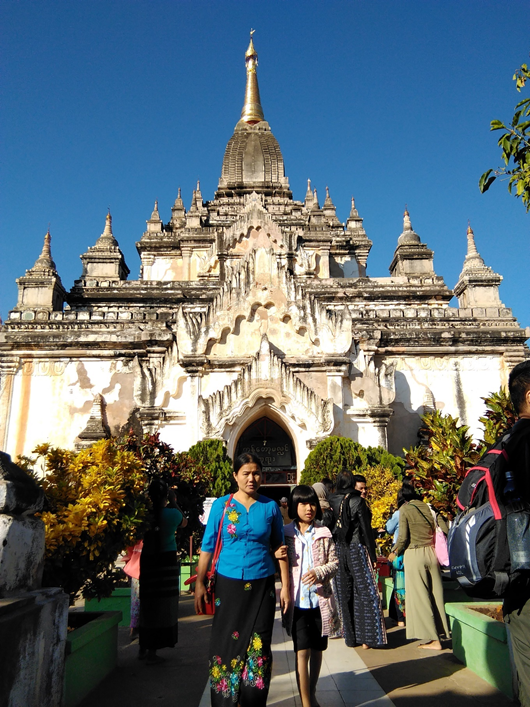 But the kindness of the people shouldn't fool you.
They are also straightforward and honest and are trying to survive in a world where capitalism, politics, and Buddhism intertwine. We were also not immune to this, as tourists we needed to pay the Bagan Archaeological Zone fee, (25,000 kyats per person) to visit the sites. The exception was the Museum and the Palace in Old Bagan. These places required travelers to pay US$5 per person.
We stuck with the archaeological zone and toured the temples and even climbed one of them, affording us a view of the plains of Bagan and several of the pagodas in the area. In the afternoon, our guide took us to one of the best temples to see the sunset. As he took us back to the hotel, he promised to take us to a place where we could see the hot-air balloons fly over the temples. The only hitch was that we would need to get up at 4:30 am, and we had to pay 20,000 kyats for a half-day tour.
Of course, we also said yes. Hey, if we couldn't ride the hot-air balloons (US$350 per person), the best thing to do was watch them, right?
Of Black Balloons, Lacquer, and Tamarind Candies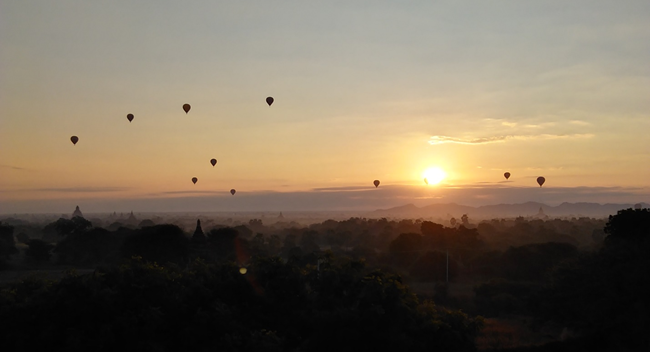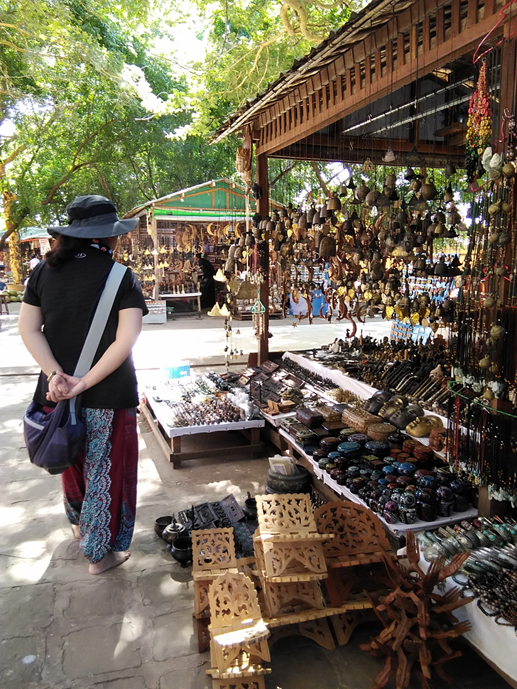 Early the next morning we were up at 3 am. We planned to return to the hotel for breakfast after our morning trip and made plans to find some local cuisine in the nearby area.
Bagan was still dark, and the air was cold and nippy.
La Leh took us to an old and abandoned temple. There were no lights, and the stairs were cramped and low-ceilinged. We used our phones to guide each other, and we were thankful that for once we did not have to take off our shoes. The stairs were mostly broken stone and covered with dusty sand. There was a faint stench of a dead rodent, which inclined Ms. K to believe there was a snake somewhere in this abandoned temple.
I was thinking, "Oh great! We're scrambling in the dark on broken stone four or five floors high, and now there might be snakes?!"
Of course, there were none. The temple, though old and had a faint scent of decay, was a safe place. We reached the top of the temple and breathed the fresh morning air. There were several people already there, setting up their cameras and looking for the perfect place to set up their shot, just like we planned to do. We were able to get a fine spot, but the wait lasted an hour and a half, and all I got was a shot of an exciting sunset with some black dots floating across the golden sky. (I've provided a picture for posterity's sake.)
I realized that maybe next time I'll take the hot-air balloon ride, even if it meant a hefty price.
The remainder of the day was spent visiting more temples and looking for possible pasalubongs and souvenirs. Our faithful guide La Leh took us to a wholesale longyi dealer (Mrs. H and Ms. K bought several for their friends), and we tried to look for candied tamarinds our hotel offered as freebies in our rooms. Dr. and Mrs H were obsessed with these, but we never had the chance to buy some. There were so many things that you might find yourself inundated with. Each temple was surrounded by myriad vendors selling all kinds of items: sand paintings, puppets, paper umbrellas, T-shirts, lacquered bowls, and bracelets.
Of all these, the most exquisite and truly local was the lacquer work, which Myanmar once exported all over the world. Chinese emperors and European royals sought the best from Myanmar's artisans. Now, Myanmar's primacy in lacquer work is still unquestionable, but world demand has trickled down, and though still considered precious, many visitors in Myanmar were not keen on buying it.
The visitors in Burma now crave something else: experiences, sights, and perhaps even a bit of enlightenment. There were those who looked for peace in the temples and those who enjoyed the calm and simple life of the locals. There were no fast food restaurants or malls, and the most western thing you could order was pasta and pizza (just stick to the local fare. They're more delicious.)
Enlightenment, Finally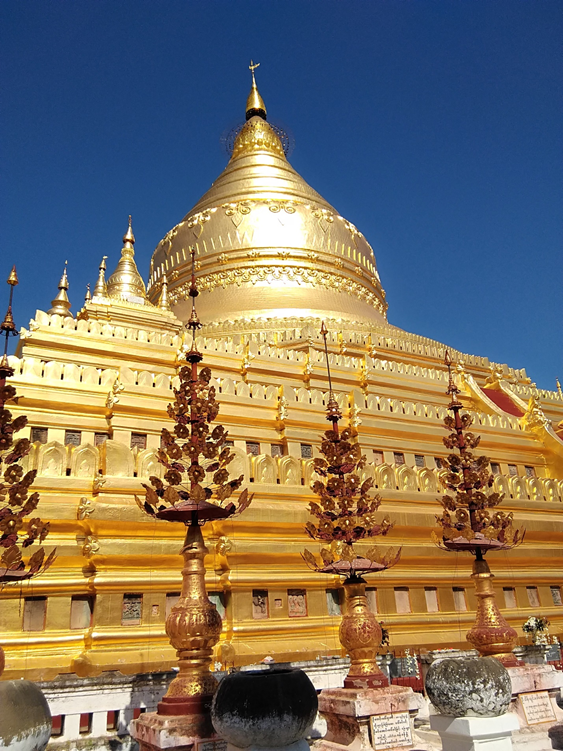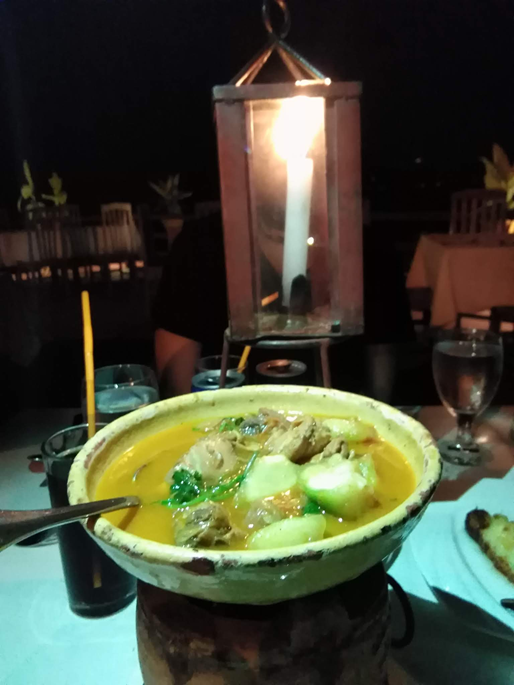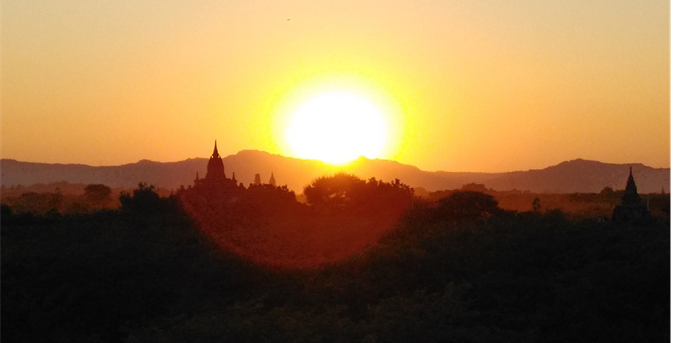 By day three we had seen the Ananda Temple, Hitlominlo, the Dhammayangyi, the Shwezigon, the Sulamani Phaya, a dozen other temples and stupas all in the gu-style (four-facing) of temple-making, and even a couple of monasteries covered with intricate wood carvings. We had seen seated, standing, and resting Buddhas. We saw sand painters, lacquer workers, and were even offered gemstones. We were perhaps searching for something else too; but we're trying too hard not to feel the cold and the dust on our bare feet that we had failed to enjoy experiencing Myanmar.
In Shwezigon, we saw an elaborate ritual where people looked into a bowl of water for a sign from the Buddha. Dr. H said he had seen something red, like a petal. Our guide told us this was good luck. Though Dr. H shrugged it off, I took it as a sign that the rest of our trip would go well.
But before we left Bagan, I wanted to see the sunset on the Irrawaddy.
Luckily our hotel provided us with a view. We went to the hotel's outdoor balcony that overlooked the river. The waters were calm, and the mountains across framed the sun's golden light as it touched the waters. We ordered some drinks and food, served over hot charcoal as is the style in Myanmar, and enjoyed the view. As the night fell, the lights were lit in the ancient pagodas inside the hotel compound (the Shinpinthettawshay and Shinpinthattawya) and we finally shook the dust off our feet.
On our last day, we wanted to go back to a restaurant recommended by La Leh: Queen. This place was so popular and always had a large number of patrons. They served the best watercress with garlic that I ever had that we decided we would go back for dinner. We stood outside the hotel and wanted to hire another cab, but the other tuk-tuk drivers recognized us and called La Leh on his mobile.
When he arrived, we were surprised that he had his wife and two children with him. They had been to the temple for a family celebration. He introduced us to his lovely wife and their new baby.
He told us, "Now you know my family, we are friends."
Which basically, is the highlight of my trip in Myanmar: meeting new people from another culture, experiencing customs, exploring new ideas, and seeing life from a different point of view, even if we had to do it on foot.
Myanmar Travel Tips
If you only carry Philippine pesos, you could only have it changed at the airport for kyat or baht. Myanmar money changers do not accept pesos, so it's best to buy US dollars before your trip.
There are no direct flights to Myanmar from the Philippines. Buy a ticket headed to Bangkok or Chiang Mai and then buy a transit flight to Mandalay or Yangon.
If you don't want to leave your slippers by the temple doors, bring a shoe bag.
Temples and pagodas in Myanmar have a strict dress code, so leave the shorts, mini skirts, and spaghetti straps behind. Wear pants or long skirts.
Last names are not used in Myanmar, so people only use their first names, like Madonna or Cher.
Ruth M. Mazo
Ruth M. Mazo is a part-time writer, part-time illustrator, part-time adventurer, and a full-time student of experience and learning.