There's no denying it: One Direction is one of the biggest boy bands in the 21st century. With four albums, numerous awards, and powerful vocal abilities, these British lads have made girls all over the world fall more in love with them.  On March 21 and 22, the boy band finally visited the Philippines, and every Filipina fan went wild.
With songs that directly strike every girl's heart, One Direction has been successful at describing love and its various faces. From the painful heartbreak to the thrill of first love, these Brit boys have lyrics that will stir your emotions.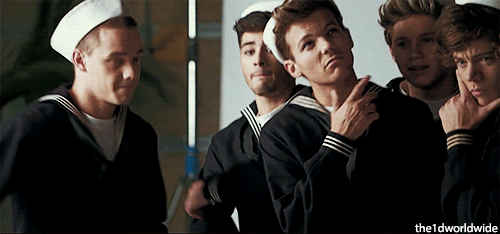 Despite the departure of the well-loved Zayn Malik (dry your tears, Mrs. Maliks), the songs from him with Harry, Louis, Liam and Niall will forever remain and reflect what love is and the feelings that surround this complicated subject matter.
Don't believe us? Here are 10 hugot lines about love, as sung by One Direction:
When you need assurance that despite changes in life, your love will remain the same: "Night Changes"
Hugot line: Everything that you've ever dreamed of / Disappearing when you wake up/ But there's nothing to be afraid of /Even when the night changes / It will never change me and you
Change is everywhere, and it affects everything—even love and relationships. You and your special someone will definitely face the inevitable. Sometimes, it will shake your bond. You get a new job, he moves to a new place. So many things can change in the course of a few months, and certainly over years. "Night Changes" reflects on the sturdy nature of true love. Change can drive you both crazy; sometimes, even to the brink of fearing what tomorrow brings. But despite all the ups and downs, the departure of the old and the arrival of the new, your love will always be the same. The circumstances will never change the both of you.
When you feel insecure and you need a little reassurance from your guy: "What Makes You Beautiful"
Hugot line: If only you saw what I can see / You'll understand why I want you so desperately / Right now I'm looking at you and I can't believe / You don't know /Oh oh /You don't know you're beautiful  
Everyone feels insecure from time to time. Despite the constant assurance that beauty is only skin deep, we can't help but feel inferior to the women we see on the pages of a magazine or on billboards. We try our best to fill our face with makeup and other beauty products, hoping to be as beautiful as the models we see every day. "What Makes You Beautiful" (WMYB) is a great song to remind you that no matter how ordinary or unpretty you might think you are, there's likely a special someone who sees your gorgeous self.
When other people think you and your man won't last: "You and I"
Hugot line: I see what it's like for day and night / Never together / 'Cause they see things in a different light /Like us, but they never tried /Like us / You and I / We don't wanna be like them / We can make it 'til the end
All relationships have their share of ups and downs. Sometimes, they are easily resolvable. Unfortunately, the same cannot be said for others. When couples face rocky situations, sometimes the people who are supposed to support them end up discouraging them instead. Because of the popular belief that turbulent relationships won't last, some friends and family believe that rocky relationships aren't for keeps. But if you believe in forever and working it out, "You and I" is the perfect anthem for you.
When you're just overcome with kilig: "Kiss You"
Hugot line: So tell me girl if every time we touch / You get this kind of rush / Baby, say yeah, yeah, yeah, yeah / If you don't wanna take it slow / And you just wanna take me home / Baby, say yeah, yeah, yeah, yeah / And let me kiss you
Nothing expresses affection better than a well-deserved kiss. "Kiss You" has a playful tune that reflects the sparks you feel when you're snuggled in your special someone's arms. Every couple needs a cute cuddle now and then to unwind and express your love in each other's arms. After all, a kiss a day chases all the stresses away.
When love turns sour and you feel lost: "Where Do Broken Hearts Go?"
Hugot line: Now I'm searching every lonely place / Every corner calling out your name / Tryna find you but I just don't know / Where do broken hearts go?
Unfortunately, some love stories are not for keeps. Despite its beautiful and heart-warming nature, love can turn sour and result in painful separation. If you've been or currently are in the middle of a breakup, you are no stranger to the feeling of loss. "Where Do Broken Hearts Go" echoes the sentiments of every person coping with heartbreak. Some of us remain incapable of letting go, still stuck with the memory of our exes. You look for him everywhere, despite knowing that you'll never find what you lost. Sometimes, you wish you never let him go and even wonder if he could ever love you again. If you're going through this stage, you may want to put this song on repeat.
When you're not sure if you should go for it with a guy: "Live While We're Young"
Hugot line: Let's go crazy, crazy, crazy 'til we see the sun / I know we only met but let's pretend it's love / And never, never, never stop for anyone / Tonight let's get some and live while we're young
When you find yourself instantly attracted to a guy you just met, your heart beats like crazy. You start to sweat and find yourself at loss for words. If you're lucky, he feels the same. The beauty of attraction at first sight holds many possibilities. You want to jump in—but you're held back by uncertainties about the future. What if it ends like this? What if it ends like that? You may get in your own way because of your doubts. "Live While We're Young" convinces you to let loose and take a risk, something we are often too hesitant to do.
When it seems like you've been in love with the same guy forever: "18"
Hugot line: I have loved you since we were 18 / Long before we both thought the same thing / To be loved, to be in love / All I can do is say that these arms were made for holding you / I wanna love like you made me feel / When we were 18
Are you suffering from unrequited love? Or maybe the guy feels the same way about you and has for ages, but your own history with him gets in the way. For example, maybe you like each other but don't want to risk ruining your friendship for what might be a passing romance. This lovely acoustic number written by Ed Sheeran has got all your feels if you've fallen for a long-time friend.
When you have that ONE crush: "One Thing"
Hugot line: So get out, get out, get out of my head / And fall into my arms instead / I don't, I don't, don't know what it is / But I need that one thing / And you've got that one thing
Almost everyone's got that ultimate crush. Whether it's at work or in your neighborhood, you've had that one guy who serves as your kryptonite—because the sight of him makes you weak. 1D's "One Thing" expresses the thrill and frustration you deal with when it comes to your crush. You try playing it cool, but one look at your crush gives you heart palpitations. He's in your head 24/7, and you wish he'd just realize that you've been right in front of him all along. This catchy 1D tune celebrates the wonders of crushing on a clueless person. Despite your multiple efforts to block him out, he will always have that one thing.
When you're out on an adventurous "just do it!" date night : "Midnight Memories"
Hugot line: You and me and all our friends / I don't care how much we spend / Baby, this is what the night is for, / I know nothing's making sense / For tonight let's just pretend / I don't wanna stop so give me more
There's nothing wrong with having a simple dinner date. How can you go wrong with a three-course meal and some romantic candlelight? While romantic dinners make for wonderful date nights, sometimes, you need a little more adventure in your relationship. "Midnight Memories" encourages you to seek those thrills with your special someone. Ditch the stereotypical dinner and get lost in the streets of the city. Don't just settle for a quiet hotel stay; go bungee jumping or trek up a mountain. Sing karaoke at the top of your lungs, ignoring the weirded out expressions from your neighbors. Life's too short to remain uncertain—just do it.
When you get the feels from small gestures your man makes: "Little Things"
Hugot line: I won't let these little things slip out of my mouth  / But if I do, it's you, oh it's you, they add up to  / I'm in love with you and all these little things
Sure, big romantic moments bring out the kilig in everyone, but sometimes it's those small gestures or habits or traits that really get us hooked on a guy. And guys feel the same way too, if this song, which was co-written by Ed Sheeran, is any indication. The truth is, sometimes it's the little personality or behavioral quirks in your significant other that serve to endear them to you (and vice versa).
We just love how One Direction's songs just give us the feels. Their tunes inspire and resurrect feelings about the complicated thing called love. How about you? What's your favorite 1D hugot line about love? Or maybe you've got an entire song that just epitomizes all your feels? Leave a comment to share!
Featured image from Eva Rinaldi via Flickr Creative Commons
Ashley Petallano
Ashley is an awkward potato in love with words, Kpop, and corgis. She spends her free time dancing like one of those balloon things you see in malls.