Katrina Tankeh
Writes, eats, and dances with an incomparable vigor but is…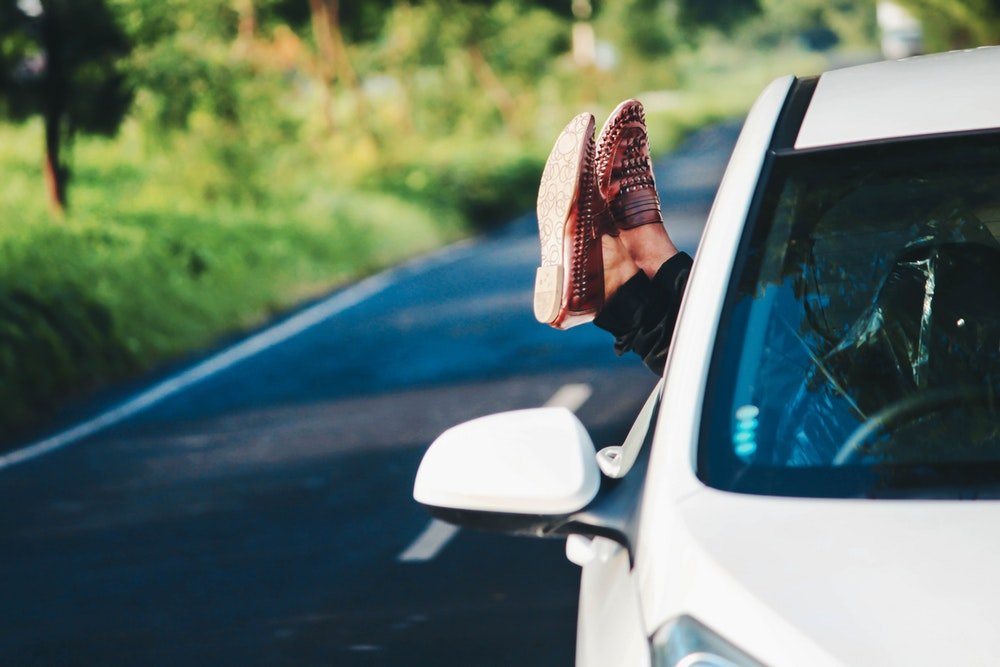 There's something about music that turns every moment into a picturesque scene in a movie. Without Bonnie Tyler's "Holding Out for A Hero," the tractor scene in Footloose wouldn't have been as fun and badass.
Like that film, you also deserve a soundtrack for your summer. Whether you're headed to the beach, or you're out for a midnight drive with your friends, this summer road trip playlist is for you.
Different Shades of Blue by The Buildings
"But things don't go that way/ In every shade of gray/ And I belong on this side of the sea."
Although I love The Buildings for their noisier, grittier tunes, "Different Shades of Blue" has a special place in my heart. It has the band's quintessential guitar intensity coupled with Mariah Reodica's sweet vocals, making it the perfect first song to play to wake you up in the morning.
Balewala by Brisom
"Damdamin kong nakatago pa rin/ Magbabago kaya bukas?/ Salat sa init ng mundo kong hilo/ Ikaw lamang ang lunas."
Borrowing from the distinct 80s synth background, Brisom makes a melancholy song a great one to bang your head to. I imagine blasting this in a car with the windows rolled down, driving by the fields of Laguna.
Siberia by Ang Bandang Shirley
May dumating na pag-ibig/ Sa malayo nanggaling/ Distansiya ang kalaban ng/ Naglapit na damdamin."
I wanted to add almost every Ang Bandang Shirley song to this playlist, but I had to settle with "Siberia." This song has the band's brilliant heart-wrenching lyrics and a melody that almost feels like a warm hug and a cup of hibiscus tea, a great companion for the road.
Drunk by Cheats
"A dreamer reaps what his parents sowed/ A dreamer sleeps when he's left alone."
"Drunk" is only one of the Cheats songs I like. I love listening to Jim Bacarro's voice and Saab Magalona's backup vocals more than I do the instruments and this song gave me the balance I need for a road trip playlist.
Inconsistencies by Oh! Flamingo
"Take me as you please/ Filter out my maybes/ Blown just like debris/ Scattered inside me"
A song from the shoegaze genre, you can expect Oh! Flamingo to prick your heart. This song is for smoother night drives when the moon is up high in the sky and the wind gets a little cold.
Krokodil by The Gory Orgies
I can never create a playlist without adding at least one song from The Gory Orgies. This song is my favorite from them, and one that I listen to a lot while I'm in transit. I honestly couldn't catch the lyrics, but I guess with this song, the words don't really matter. Just sit back and hit play.
My World – Mellow Fellow
"Sunshine/ When will you come back?/ Tell me/ What I still lack."
When I saw Mellow Fellow live a few weeks ago, his songs have been on repeat in my phone nonstop. This particular song is one that I couldn't forget. It reminded me of the summers I spent in Taal, Batangas with my cousins just running around the casa we stayed in.
Markers of Beautiful Memories by The Camerawalls
"Your face is a welcome interlude/ Life a lift back into school/ It's all hearts and flowers"
The Camerawalls doesn't appear in the local indie scene a lot anymore, but their songs will never fail to move you. "Markers of Beautiful Memories" is an eloquent letter to an old love and a lovely tune to listen to while lying on a hammock in the beach.
Peach by Identikit
"Ayoko sanang magtanong/ Ipapabukas nalang."
If you haven't listened to Identikit, "Peach" is a beautiful song to start with. It starts with a Japanese interlude that leads into a distinct sound that Identikit has established for themselves over the years.
Naked at Three – Ian Penn
"I'm just passing through"
As the last song to this playlist, I wanted a stripped-back tune that captures the view of the sunset and the calm ocean – there is no better song than Ian Penn's "Naked at Three." I won't say anything else. Just listen.
If you want to listen to the entire playlist, click here.
Katrina Tankeh
Writes, eats, and dances with an incomparable vigor but is only really good at one of those things.